What's The Cost Of Cat Boarding? (2023 Price Guide)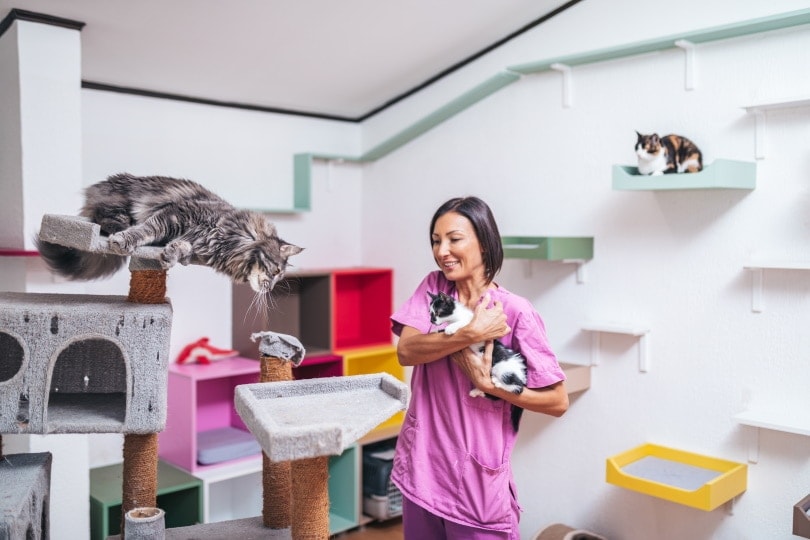 Travel and adventuring with your cat may be a popular trend, but the truth is that not every cat or owner will enjoy going on vacation together. At some point, most cat owners will need to figure out what to do with their precious pets when they go out of town. One option is to board your cat at either a dedicated boarding facility or a veterinary clinic that also boards pets.
The cost of cat boarding may vary based on where you're located, the facility you use, and any extra services you want your cat to receive during their stay. To help give you an idea of what to expect as you search for boarding options for your cat, we've broken out the average cost of boarding in different regions of the country. We'll also discuss what to expect when boarding your cat.
Cat Boarding Costs: An Overview
A typical cat boarding facility charges a set fee per night for boarding. If you have more than one cat or another pet boarding at the same place, there's often a reduced fee for the additional animal. Additional fees may be charged for special services.
The cost of cat boarding may vary not only by region but by other factors as well. If you live in a more rural area with fewer boarding options available, that will likely impact your cost. More densely populated areas like cities usually have a lot more boarding facilities available and the competition will impact the prices.
The cost of cat boarding can be impacted by the overall cost of living in your area. If you live in an area where general costs for most products and services are higher, cat boarding probably will be as well.
Cost Of Cat Boarding by Region
The following chart gives an estimate of what you can expect the cost of cat boarding to be based on what part of the country you live in. Again, keep in mind these costs will vary based on some of the factors we already discussed.
| | |
| --- | --- |
| Region | Cost Of Boarding |
| Southern United States | $24/night |
| Midwestern United States | $23/night |
| Southwestern United States | $24/night |
| Northwestern United States | $24/night |
| California | $35/night |
| Northeastern United States | $25/night |
As you can see, the highest cost of boarding is found in regions of the country with higher costs of living and densely populated cities like New York City and Los Angeles.
These costs reflect the rates of dedicated boarding facilities. If your cat has special health needs, ask your veterinarian if they offer medical boarding services. If they do, expect to pay twice as much or even more per night to have your cat boarded under the watchful eye of their doctor and medical staff.
Additional Services
In addition to the base boarding fee, many cat boarding facilities offer a range of services and amenities you can add to your pet's visit for an additional cost. Some possible add-ons and estimated costs are listed below:
Brushing Session: $10/day
Extra Playtime: $10/day
Medication Administration: $5/day
Some cat boarding facilities also offer a pet taxi service to pick up and drop off your cat from boarding. Others may charge a higher fee per night for a larger and more luxurious boarding room. For example, if the standard cat room is $35/night, an upgraded room might be $45/night.
What To Expect When Boarding Your Cat
Before boarding your cat, make sure they are in good health, up to date on shots, and free of fleas and other parasites. Reputable boarding facilities should require proof of vaccinations before allowing your pet to board. Make sure the facility has a vet on call or a policy to deal with any accidents or illnesses that might occur while your pet is boarding.
To avoid stomach trouble, it's usually best if your cat eats their normal diet while boarding. Confirm with the boarding facility that you're allowed to bring your cat's own food and treats. And of course, you should bring any medications your cat is taking as well.
If you want to bring your cat's bed, toys, or other personal belongings with them to the boarding facility, double-check that the facility allows this. Many boarding facilities may limit the number of personal belongings allowed.
For your peace of mind, you may want to ask for a tour of the boarding facility before making a reservation. This will give you a chance to ask any questions of the staff and view where your cat will be staying.
Conclusion
Leaving our cats can be stressful for both them and us. It can be hard to leave your fur kid in the hands of strangers and in a strange place no less. Because of this, many cat owners choose to make other arrangements for their cats, such as hiring a pet sitter to come to their home. Whatever you choose to do, make sure you and your cat are as comfortable as possible with the arrangement. Then enjoy your trip and prepare to give your cat plenty of attention when you get home to make up for leaving them!
---
Featured Image Credit: hedgehog94, Shutterstock