15 Celebrities and Their Famous Cats (with Pictures)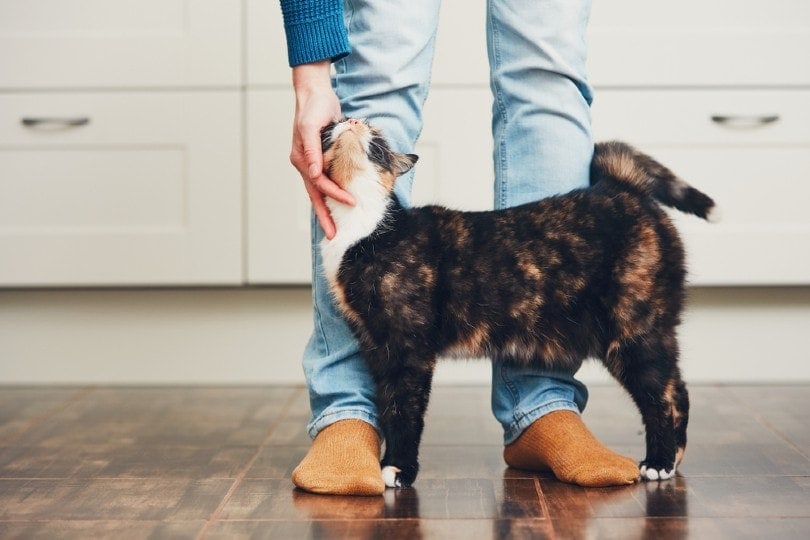 Under the glitz and glamor, celebrities are just like us, right down to their pets. From well-bred felines to rescue stories that tug at your heart strings, celebrities are leaning into their inner "cat lady" and sporting a feline as their signature look.
Check out these 15 celebrities and their famous cats, including A-listers like Taylor Swift, Kate Beckinsale, and Ricky Gervais.
The Top 15 Celebrities and Their Famous Cats
1.

Taylor Swift and Meredith Grey and Olivia Benson
Taylor Swift is a self-proclaimed "cat lady" and owner of several adorable cats named for television characters. In 2011, she introduced her cat Meredith Grey, who's named after the star of Grey's Anatomy. Then, in 2014, she added Olivia Benson to her group, named for the detective on Law & Order: SVU.
---
2.

Lea Michele and Sheila
While filming Glee on the Paramount lot, Lea Michele found her tortoiseshell cat, Sheila. The bond is strong between these two, with Michele calling her a "perfect companion" and the "greatest cat in the whole world."
---
3.

Ian Somerhalder and Moke and Sohalia
A well-known actor from The Vampire Diaries, Ian Somerhalder has two cats with his wife Nikki Reed. Their cats are Moke and Sohalia, and they also have three dogs and a bunny. In addition, the family fosters kittens and started the Ian Somerhalder Foundation, a non-profit dedicated to animal welfare. He also attended 2017's CatCon in Los Angeles.
---
4.

Ellie Goulding and Wallace and Eve
Ellie Goulding is a proud cat lady with two feline companions: Wallace and Eve. She likes to show off her family on social media, often jokingly referring to herself as being one of "those people" who share a lot of animal photos on her accounts. She also calls herself "Catwoman" jokingly.
---
5.

Mayim Bialik and Addie
A regular on The Big Bang Theory and neuroscientist, Mayim Bialik has a love for cats and all animals. In 2017, she adopted a special-needs cat, Addie, who was born without a pectoral muscle. Bialik also works with PetSmart on the #MeOut campaign to help animals find forever homes.
---
6.

Ed Sheeran and Graham
The Grammy-Award-winning singer-songwriter Ed Sheeran is known for his love of his cats. In 2014, he adopted a kitten scheduled for euthanasia, Graham. The cat has risen to stardom on social media as a result, and he now has multiple cats.
---
7.

Kesha and Charlie, Mr. Peeps, and Queso
The edgy music star Kesha fully embraces her "cat lady" persona with her three cats: Charlie, Mr. Peeps, and Queso. The cats are shared on her Instagram often and are the center of her universe. She also jokes that they may be on an album cover.
---
8.

Katy Perry and Kitty Purry
Katy Perry is a world-renowned star on her own, and she's made her cat, Kitty Purry, almost as famous. The cat was the mascot of her California Dreams tour and was once nominated for a Teen Choice Award for best celebrity cat.
---
9.

Ricky Gervais and Ollie
Ricky Gervais is a famous British actor and well-known animal welfare advocate. When he appeared on The Jonathan Ross Show in 2003, he was gifted a cat. Gervais brought the cat, Ollie, home and has been with him ever since.
---
10.

Bella Thorne and Lola and Louis
Bella Thorne may be one of the best-known celebrity cat ladies. Her cats, Lola and Louis, are her best friends and stay by her side all the time. Recently, she went from cat mom to cat grandma when Lola gave birth to kittens.
---
11.

Russell Brand and Morrissey
Hollywood "bad boy" Russell Brand and his cat, Morrissey, are the best of friends. Brand has been quoted as saying that his cat is the "dominating, supreme being of the home." He and his wife, Laura Gallacher, also have a daughter, Mabel.
---
12.

Kate Beckinsale and Clive and Willow
The Underworld star is a huge cat lover and shares her home and Instagram with Clive and Willow. Beckinsale often jokes about her cats with love, saying that Clive "loves to dress up" and is "quite stupid." She also claims he has a "resting b*tch face" and looks angry.
---
13.

Martha Stewart and Empress Tang, Princess Peony, and Blackie
Martha Stewart is a passionate cat lady and shares her picture-perfect home with three cats: Empress Tang, Princess Peony, and Blackie. She often shares updates on her cats in her blog and keeps them in the lap of luxury with a private kitty buffet and run of her expansive space.
---
14.

Mandy Moore and Addy
Mandy Moore goes above and beyond for her cats. Her cat, Addy, developed a habit of howling all night, so Moore called a pet psychic. She learned that Addy cries because he enjoys hearing himself sing and that he prefers the name Figaro, Fig for short. Once Moore changed his name, the crying stopped.
---
15.

Jason Mraz and Holmes
The popular singer-songwriter loves his cat, Holmes, so much that he has altered his career path. When Mraz had a role in Broadway's Waitress, he questioned whether to extend his time because he didn't want to leave his cat for that long.
Conclusion
Celebrities go above and beyond for their pets. The celebrities on this list show true unconditional love for their feline companions and fully embody the idea of a "cat mom" or "cat dad," featuring them on their social media posts, rearranging their schedules, and pampering them in every way possible.
---
Featured Image Credit: Jaromir Chalabala, Shutterstock