100+ Cockapoo Names: Ideas for Fluffy & Playful Dogs

The Cockapoo is an adorably fluffy pup who would make a lovely addition to any family. Also referred to as the Cockerdoodle or Spoodle, this sweet dog is a crossbreed between the Cocker Spaniel and the Miniature Poodle. If you've adopted one of these beauts, know that they are considered a less common breed, so much so that they are not yet recognized by the American Kennel Club or any other major kennel club. 
Deciding on a name for your new pup is exciting! There are a ton of factors to consider – do you choose something adorable to match their teddy bear faces, perhaps something petite that compliments their size, something humorous for their endearing personalities. Truly the options are endless! 
Below we have noted the most popular picks for females and males, mini ideas, adorable ideas, fluffy suggestions, and finally few comical names. 

Female Cockapoo Dog Names
Mella 

Aggy 

Cece

Java

Minx

Gia 

Pearl 

Lexi 

Eden 

Aja 

Maude 

Lotus

Kit 

Petra

Kenya 

Cleo

Bessie 

Jinx

Liv

Jade

Eevie
Male Cockapoo Dog Names
Bowie 

Clover 

Elf 

Gizmo 

Maple

Jaws

Dillie 

Luca

Jude

Rio

Mitzi

Opal

Boo 

Kinsley 

Levi

Rowan 

Emery 
Mini Cockapoo Dog Names
A Toy Cockapoo reaches only to about 10 inches in height and a staggering 12 pounds … maximum! We then see the Mini weighing between 13-18 pounds. Rare but they do exist is the Teacup Poodle registering in at only 6 pounds. Each has the same great qualities as the average Cockapoo, only they are bite-sized! A name from this next list would be suitable for any of the above! 
Peewee

Winsey 

Sprout

Ziggy 

Tiny 

Petite

Buttons 

Winnie 

Chip

Willow 

Roo

Peanut

Turk 

Zip 

Micro 

Hiccup 

Mouse 

Dash

Uno 

Olive 

Beans 
Cute Cockapoo Dog Names
There is no shortage of cuteness when it comes to this crossbreed. The long ears and poised demeanor of the Cocker Spaniel mixed with curly fur and playful disposition of the Poodle. You truly get the best of both worlds with the Cockapoo. Each develops its own delightful qualities that are icing on the cute-pup cake! Here are our favorites for adorable pup names:
Alfie

Boo 

Happy 

Ollie 

Cosmo

Dora

Tot

Fin 

Poe

Gigi 

Pogo 

Milo

Tilley

Baja

Lucky 

Corky 

Mila 

Ellie 

Kai

Nori 

Mavis 

Basil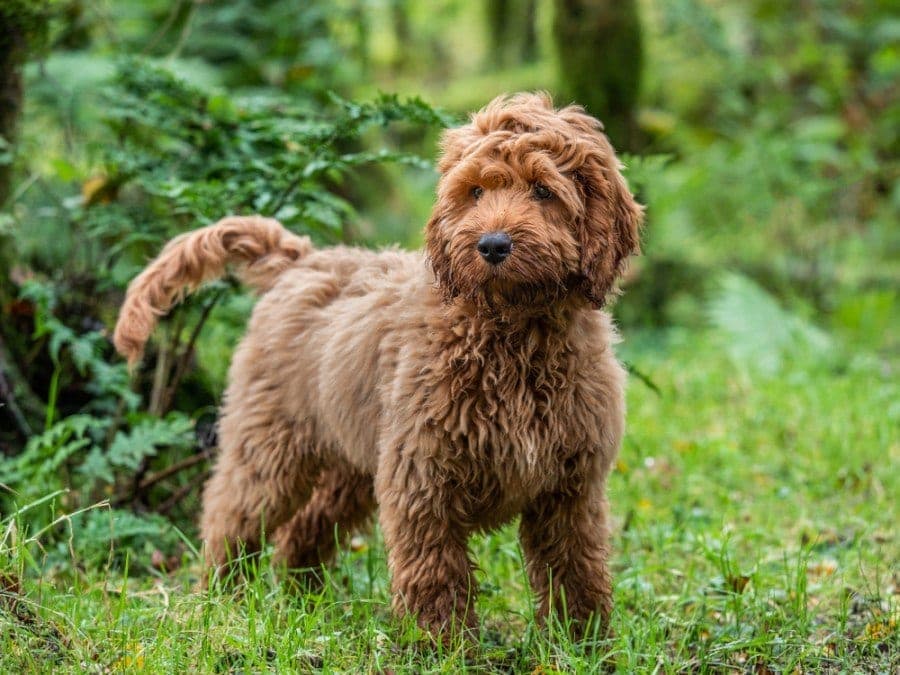 Fluffy Cockapoo Dog Names
If you've already brought your Cockapoo home, you know how incredibly soft they are. With a little shout out to their inner poodle, we can't help but swoon over their bouncy locks! Available in a wide variety of colors and patterns, the one sure thing they can guarantee is that they will be fluffy! 
Teddy 

Fluffy

Harry

Furby

Fox 

Bear

Plush

Fuzzy 

Poof 

Shaggy

Paddington 

Cotton

Softy 

Curly 

Ringlet 

Cloudy 

Furry 

Snuggles or Snugs

Cozy 

Charmin 
Funny Cockapoo Dog Names
Truthfully, the breed name in itself is a little funny. Pairing your Cockapoo with a name as goofy as the breed sounds might not be a bad idea. You may also be interested in a funny name for your new furball because they have the most comical of personalities. They might even be all the entertainment you need! 
Fluffington 

Chewbarka 

Piddles

Sir Fluffs A Lot 

Ms. Frizzle

Hairy Pawter

Shredder

Kitty 

Brutus 

Bacon 

Ewok

Winnie the half Poodle 

Tank 

Mary Puppins 

Orville RedenBarker

Doc McDoggins

Moose

Jimmy Chew 

Captain Floof 

Finding the Right Name for Your Cock-A-Poo
Once you've decided it's the right time to adopt a pup or dog, you've prepared your home, found the perfect breed to fit your lifestyle, and finally brought them home – the only major thing left to do is get them all trained up!  Choosing their name should be a fun part of adoption, and while this may not be something that happens instantly, you will find the more you get to know your new pup, the easier this process will be. Take your time, don't overwhelm yourself by reading every name article ever written, and if that doesn't help narrow it down – below we have noted a few tips to benefit not only you but your new pup too: 
Think of the personality your puppy has (or is likely to have).

Once your pup has settled into their new environment – their personality will shine! Give them a week or two to get comfortable and then start your name search. Until then –

puppy

will suffice! 

Pick a name and stick with it

. You've done your due diligence, chosen a name, used with your pup for a while so it may not be in your pups best interest to change it up. Sudden and frequent changes will confuse your pup and they won't be sure when you are speaking to them. Nicknames can be established once they are familiar with their name.   

See how your pet reacts when you say it out loud.

Testing the name out on your pup is actually a fairly helpful tool! They might indicate they love a name with a wag or puppy kiss, and let you know which they don't love by a whimper or simply walk away.
Hopefully, you found the perfect match among these Cockapoo name suggestions. if not, you may check out one of our other popular posts as names are universal and you might find the inspiration you have been searching for.
See also:
---
Feature Image Credit: Simon Wooler, Pexels