100+ Cocker Spaniel Names: Ideas for Regal & Loyal Dogs

Sweet, gorgeous, and intelligent beyond belief, the Cocker Spaniel is one of the most popular breeds in the world. Although they are renowned for their long ears, adorable faces, and exquisite coat, this hunting breed is more than just a cute dog! Keen on hunting, the Cocker Spaniel originally got its name from flushing out birds for its owners. Despite their hunting skills, they are a nonaggressive breed that get along great with other pets and children. Their gentle and easy-going personalities validate their roles as wonderful companions. 
So if you've adopted a Cocker Spaniel of your very own, you're probably looking for a name that's just as multifaceted and special as your pup! Below we have gathered a list of the most popular and even a few unique names for you to consider. The top-rated names for female and males, elegant suggestions, adorable ideas for Cocker Spaniel puppies, mini names, and options based on their coat colors. There is sure to be a charming name perfect for every dog! 

Female Cocker Spaniel Names
Abby 

Daisy

Calista 

Bessie 

Haddie 

Oasis

Gretel

Noelle

Yumi

Dolce

Penelope

Sophia

Ingrid 

Flora 

Ellie 

Acadia 

Roxy

Cherish 

Tinsel

Gracie 

Bumble 

Prima

Diamond

Hope

Foxy

Evita 

Aggie 

Velvet

Carmen 

Baja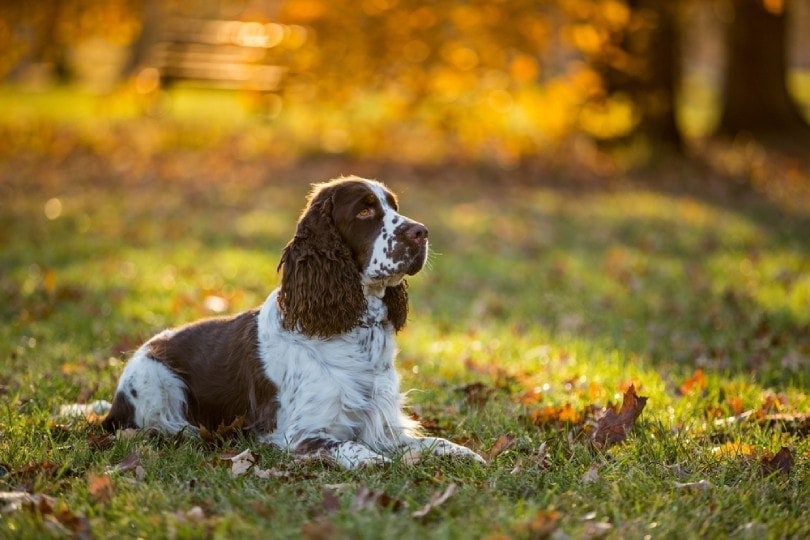 Male Cocker Spaniel Names
Toby 

Jack 

Bing 

Gizmo 

Jasper 

Doodle

Harley

Cairo 

Razz 

Rory

Mango 

Davy 

Cain 

Paddington 

Ripley 

Duncan 

Otis 

Plato

Franklin

Irish 

Deuce 

Ace 

Capone 

Jude

Buddy 

Alfi 

Bluff 

Everett

Kirby

Magoo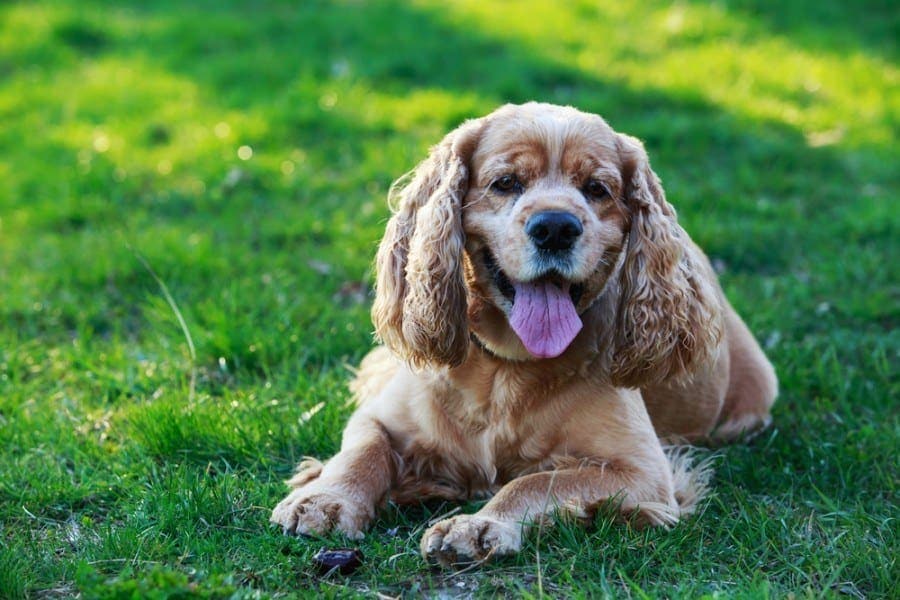 Elegant Cocker Spaniel Dog Names
Cocker spaniels are pillars of grace and poise in the dog world. Their intelligence makes them easy to train and among some of the most obedient. Any Cocker Spaniel would be perfectly matched with an elegant name that represents their regal personalities. 
Preston 

Barkley 

Ella 

Grace 

Winston 

Clancy 

Hudson 

Emerson 

Abigail

Dorothy 

Pandora 

Astrid 

Violet 

Edison 

Isadora 

Portia 

Cecil

Horacio
Cocker Spaniel Puppy Names
Now, your puppy won't stay little forever but an adorable puppy name is bound to grow with your new addition as they get older. You would be surprised how well each of these suggestions age. After all, your puppy will always be your baby no matter their age. 
Hiccup 

Buckets 

Dash 

Peanut 

Zip 

Donut

Roo 

Fang 

Nugget

Sprout 

Dill

Uno 

Willow 

Mew 

Ziggy 

Prim 

Nacho 

Chomp 

Mini Cocker Spaniel Dog Names
The same gorgeous breed, only bite-sized! If you are looking for a pup that carries all the same remarkable qualities as a Cocker Spaniel but is a fraction of the size, a mini Cocker Spaniel is for you. A name that's as tiny as they are might just be the only thing that makes this gracious breed even more adorable. 
Bean 

Chip

Chico

Paco

Minnie 

Pip

Stout 

Buttons 

Goliath 

Noodle 

Bits 

Olive 

Moose 

Micro 

Napoleon 

Shortie 

Tiny 

Tank 

Rampage 

Turk 

Black Cocker Spaniel Dog Names
An all-black coat has a stoic heir of mystery and charm. Although these dark beauties are considered all-black by the AKC, they may actually have a slight white patch on their resembling that of a tuxedo. 
Bamboo

Soot 

Boots 

Nyx

Astra 

Knight 

Nova 

Moon 

Celeste 

Ash 

Cosmo 

Onyx 

Darth

Ebony

Jett

Eclipse 

Indigo 

Luna 

Red Cocker Spaniel Dog Names
Red Cocker Spaniels are rising in popularity as their direct coat is considered one of the most beautiful and desired. You might even find that some of these pups are in fact crossbreeds that are a result of an even deeper red coat color. 
Russet 

Feisty

Pinot 

Siesta 

Ruby

Berry

Vino 

Cardinal 

Auburn 

Crimson

Chestnut 

Finch 

Maroon 

Rusty 

Pippi 

Elmo 

Merlot 

Poppy 

Ginger 

Fox/Foxy 

Clifford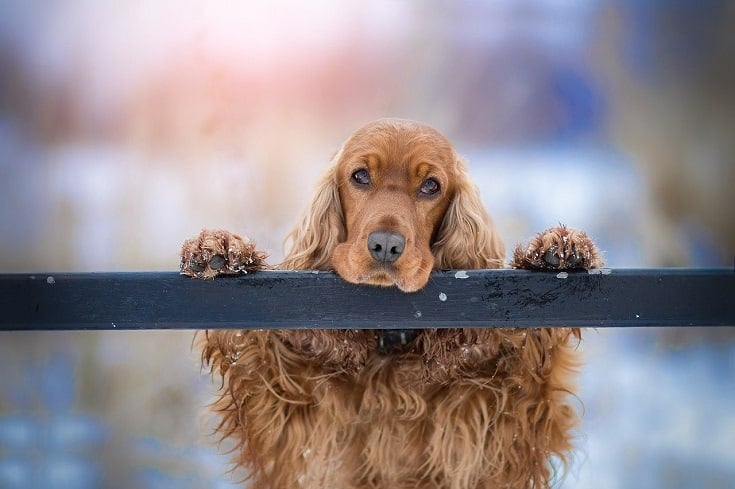 Tan Cocker Spaniel Dog Names
Sun-kissed and sandy – here are our favorite picks for an all tan-colored coat. As we suggested with the black coat, white might poke out a bit around the chest and a few spots on the feet. Overall, any of these bronzed beauties would make for excellent tan Cocker Spaniel makes. 
Biscuit 

Earl Grey 

Almond 

Sandy 

Cannoli 

Honey 

Sahara 

Fawn 

Cashew 

Hickory 

Moose 

Acorn

Teddy 

Cookie 

Terra

Sesame 

Nestle 

Latte 

Java

Multi-Colored Cocker Spaniel Dog Names
One of the names from this list would be ideal for any bi-colored or tri-colored Cocker Spaniel. The pattern combinations of the above-noted colors are truly endless and make for some of the most gorgeous coats! 
Domino

Freckles 

Pepper 

Checkers 

Patches 

Spot 

Pearl

Dotty 

Flash 

Jester 

Sprinkles

Calypso 

Skittles 

Pockets 

Finding the Right Name for Your Cocker Spaniel
Finding the perfect name for your new addition can be tricky as the options are endless! Whether you choose a name inspired by their coat color, youthful yet graceful demeanor, or beauty and elegance, there is bound to be something fitting among our list of Cocker Spaniel names. 
If you're still having some trouble deciding, we have included a few loose guidelines you may wish to follow, sure to help narrow down your search. 
One or two syllable names are easier to say.

Really long names are a pain, especially during training, so just keep that in mind if you find one you love. A little "Queen Elizabeth the 3rd" may be the fitting name for your regal pup, but using that as her proper name and calling her Lizzie will probably serve you and her much better. 

Think of the personality your puppy has (or is likely to have).

Most dog breeds have specific qualities, so even before your puppy comes home, it is somewhat easy to pick a name. Or, you may choose to have your furry friend at home with you for a few days while you get to know him or her and then pick the name to express their character.

Pick a name and stick with it

. Once you have the name, don't change your mind. And don't bring out the nicknames until your puppy feels confident with the official name (you don't want a confused little furball). Say the name a lot, in all different tones so your puppy learns it quickly. 

See how your pet reacts when you say their name out loud.

This may be a clear indication that they love or hate a name. If an option provokes an alarming bark, we know that's not the name for your pup! If you get a curious head tilt or a few puppy kisses, we can bet you have found a winner!
You might be interested in checking out a few other posts too. Here are a few of our most popular:
---
Feature Image Credit: Eudyptula, Shutterstock