Colorpoint Shorthair Cat
When you hear the name Colorpoint Shorthair, you might not instantly think about the Siamese or the Abyssinian, but these cats formed what we know today as the Colorpoint Shorthair breed. While the name might describe the physical appearance, it does not come close to describing the unique and unforgettable personalities of these beautiful cats.
If you would like to learn more about these chatty and entertaining cats, read on as we go over the origins of this breed as well as some interesting facts.
Origins & History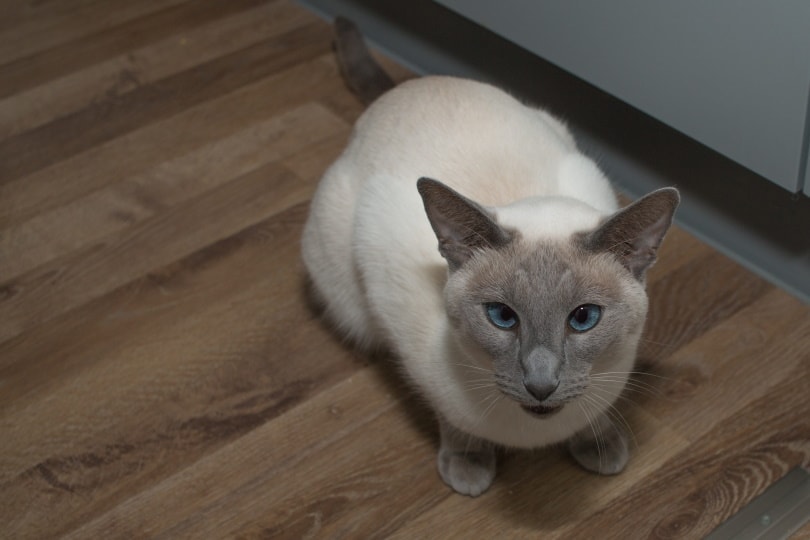 The Colorpoint Shorthair came into existence back in the 1940s when cat breeders wanted a Siamese—but in red! So, Abyssinians were bred with the Seal Point Siamese as well as the red tabby American Shorthair. Years were spent perfecting the breed, which was crossed with the Siamese again to give the Colorpoint Shorthair a close personality and appearance to the Siamese.
These cats have 16 point colors, which is distinctly more than the four colors that are recognized for the Siamese.
3 Facts About the Colorpoint Shorthair
The Cat Fanciers' Association (CFA) gave the Colorpoint Shorthair the Champion status in 1964 for the cream with red points. The tortie and lynx points were advanced in status as well in 1969.
 The Colorpoint Shorthair comes in a number of colors, including parti-color. However, these cats are almost always female, just like the calico.
The name Colorpoint Shorthair was given to these cats by the CFA as a means to acknowledge the pointed cats that have Siamese ancestry. However, other countries use the Colorpoint name for cats that are more alike to Persians that have points (like the Himalayan).
Appearance
The Colorpoint Shorthair can be quite similar in appearance to the Siamese, except for the variety in color. They can appear quite elegant with their long, graceful bodies and narrow lines. They have slender legs and a slim tapered tail with a wedge-shaped head, almond-shaped blue eyes, and large, triangular ears. They are medium in size and typically weigh about 5 to 12 pounds and can be 21 to 23 inches in height.
As already mentioned, they come in about 16 color variations, which includes the famous red point as well as the most common:
Cream point
Fawn point
Cinnamon point
Chocolate point
Seal point
Lynx point
Lilac point
Blue point
Tortie point
Torbie point
Personality
It should come as no real surprise that these cats have very similar personalities to the Siamese. These extroverted cats love attention and will talk to you incessantly to gain your complete love and devotion.
Colorpoint Shorthairs are very loyal and affectionate and are active and smart enough to be able to learn tricks. They do tend to bond closely to one or two people in the household, and they are most definitely lap cats.
Colorpoint Shorthairs are also very sensitive to moods and have been known to attempt to comfort someone that has been crying.
You might also be interested in: Donskoy Cat
Where to Buy
Your best bet is to start looking online for a breeder or cattery near you. Always double-check any breeder you're considering dealing with, as you certainly do not want to purchase a cat or kitten from a kitten mill. This not only helps support the unethical treatment of cats (including neglect and abuse), but you're risking bringing home a kitten with severe health and behavioral issues. Ask the breeder lots of questions and visit them at their location.
You can also post your intent to find a Colorpoint Shorthair through social media. This may put you in connection with people that may be able to help you out.
Lastly, think about adopting. Purebred cats don't always show up in rescue organizations, but it does happen. Adopting a cat or kitten will end up giving you a companion that will stick to you like glue, and you'll be giving her a new chance at a much better life.
You might also be interested in: How Long Do Domestic Shorthair Cats Live? (Average & Max Lifespan)
Conclusion
The Colorpoint Shorthair might have initially started off as mostly Siamese. And she might have a similar appearance and temperament. But overall, this cat is a blend of something unique and fascinating.
So, if you would love a cat that will talk to you. A lot. And if you're looking for a beautiful companion that will shower you with love and attention, then perhaps the Colorpoint Shorthair is the right cat for you.
---
Featured Image Credit: Daniel Gale, Shutterstock