How Much Do Continental Giant Rabbits Cost? 2023 Price Guide
Continental Giant rabbits are among the largest rabbit breeds in the world. They have been lovingly nicknamed "Contis," and many owners find them docile, friendly, and intelligent companions. Not only will the Continental Giant rabbit need a lot of space, but it will also need a lot of care. Sometimes, this can translate to spending quite a bit of money. You can expect to spend around 150 – $650 per month. If you want to know more about how much a Continental Giant rabbit costs to own, we'll discuss the expenses in detail below.

Bringing Home a New Continental Giant Rabbit: One-Time Costs
When you first bring home your Continental Giant rabbit, there are a few one-time costs to anticipate. This includes items such as the enclosure or feeding bowls. While you may need to replace feeding bowls a few times, replacing them should be infrequent enough to be little more than a one-time expense.
You also need to be prepared to pay the acquisition expense, which can vary depending on whether or not you find your Continental Giant rabbit free, adopt it from a shelter, or purchase it from a breeder.
Free
You may find someone who's willing to give away their Continental Giant rabbit. Although it's nice to save money on purchasing a pet, you have to be careful when checking online ads for pets. Some posts are fraudulent, and you should avoid sending money before you meet the rabbit. Also, if you find a free rabbit, make an appointment with your vet for a full examination to ensure the bunny is healthy.
Adoption
If your local animal shelter houses rabbits, you can visit and ask if they have any Continental Giant rabbits up for adoption. Continental Giant rabbits may have been surrendered by a previous owner who was unable to care for them any longer.
Adoption fees may vary depending on the shelter and your location, but they aren't typically much higher than $100 for rabbits. Much like with free pets, it isn't easy to find a Continental Giant rabbit to adopt from a shelter since rabbits aren't surrendered to shelters as often as other pets.
Breeder
A reputable breeder will be the simplest, surest way to find a Continental Giant rabbit. It is also going to be the most expensive. At a minimum, you can expect to pay around $300, but some Continental Giant rabbits can easily cost $500. In addition to high costs, you should anticipate a long waiting list.
Initial Setup and Supplies
Once you've brought your Continental Giant rabbit home, the expenses don't stop. You will need to invest some money in an enclosure and a hutch for your rabbit, which can cost more than $200.
You will need to provide feeding supplies, litter, and grooming tools. You will also need to buy bedding and chew toys, and depending on the quality of these items, the price will either go up or down. It is best to buy high-quality items for your rabbit's well-being.
List of Continental Giant Rabbit Care Supplies and Costs
| | |
| --- | --- |
| Hatch | $150 – 200 |
| Bowls | $10 |
| Hay Feeder | $50 – 75 |
| Litter Box | $10 |
| Play Pen | $75 |
| Nail Clippers | $25 |
| Chew Toys | $20 |

How Much Does a Continental Giant Rabbit Cost Per Month?
Although many of the initial costs may be taken care of, you must also prepare yourself for ongoing costs. To give you a better understanding of the expenses, we'll discuss the monthly expenses. You must budget for health care, environmental maintenance, entertainment, and other miscellaneous factors.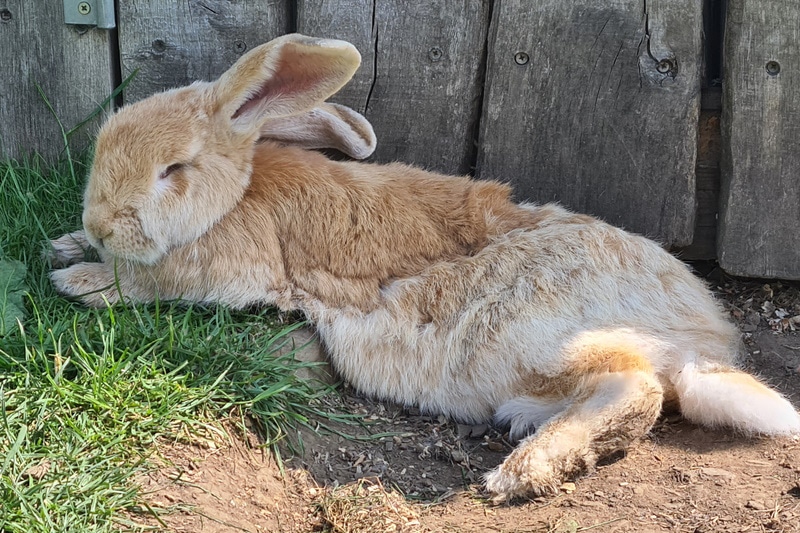 Health Care
Health care is an instrumental part of being a good pet owner. Without adequate health care, your Continental Giant rabbit may suffer from injuries or illnesses that can be entirely preventable.
Some critical elements for caring for your Continental Giant rabbit's health include purchasing the right food, providing it with grooming care, and receiving regular vet check-ups. Due to the expensive nature of veterinary bills, pet insurance costs will also be considered under this category.
Food
Feeding your Continental Giant rabbit quality food will support its health and well-being. Hay and veggies are the core of your rabbit's diet. The type of hay or vegetables you buy will heavily influence the price, but you can expect to spend a minimum of $40 per month for decent quality food.
Grooming
Grooming is essential for Continental Giant rabbits. They have thick coats where dirt or fleas can easily become trapped. Regular brushing and maintenance will be necessary to keep your Continental Giant rabbit clean and comfortable.
Likewise, your Continental Giant rabbit's teeth may become overgrown without proper care. This can be painful and distressing for your rabbit, so it is best to visit the vet for regular dental check-ups.
Regular Vet Check-Ups
Your Continental Giant rabbit must visit the vet for general check-ups, just like any other pet. Your vet is likely to focus on the teeth and the feet, which can develop serious problems over time.
Besides these key target areas, your vet can also examine your Continental Giant rabbit for signs of illness, injury, or other issues. Putting aside some money for regular check-ups is the best way to stay ahead of any health complications that may arise.
Pet Insurance
You may wonder if pet insurance is worth the cost, and the answer is yes. Without pet insurance, you will be left to handle the thousands and thousands of dollars it may cost to treat your Continental Giant rabbit from any accident or illness that may occur. Budgeting a small amount for pet insurance each month is well worth the cost.
Not all pet insurance providers will insure rabbits, so be sure to research which insurance plan is right for you.
Environment Maintenance
Maintaining your Continental Giant rabbit's environment involves ongoing expenses rather than a one-time cost. This can include bedding, litter, chew toys, and environmental repair. Thankfully, these items individually are not outlandishly expensive. For environmental repairs, there may not be a related expense each month. An excellent way to ensure that environmental maintenance costs are minimal is to supervise your rabbit closely to cut down on destruction-oriented costs.
| | |
| --- | --- |
| Bedding | $20/month |
| Litter | $50/month |
| Chew Toys | $0 – 10/month |
| Environment Repair | $0 – 200/month |
Entertainment
Continental Giant rabbits are not difficult to entertain, as much of their entertainment will be found in their food. If you rotate different foods throughout the week, you can save a lot of money by not needing to buy as many other entertainment options for your pet.
Still, you should provide some toys for your rabbit—but that won't necessarily be needed each month.
How much money you need to spend on your Continental Giant rabbit's entertainment can also be determined by how much time you can spend with your pet. If your pet is left to entertain for most of the day, you must spend more money on entertainment options. But you will spend less money if you are around your rabbit frequently and can keep it entertained.

Total Monthly Cost of Owning a Continental Giant Rabbit
Compared to other common pets like dogs and cats, the Continental Giant rabbit is fairly cheap. However, you still need to be prepared to pay extra every now and then to keep your Continental Giant rabbit's quality of life looking sunny.
Additional Costs to Factor In
Some expenses are impossible to anticipate, but you need to be prepared to pay them in the event that they arise.
Emergencies are a prime example. If your Continental Giant rabbit suffers from a sickness, an accident, or other unexpected crisis, you may be expected to pay thousands of dollars. To cover such astronomical expenses, you must have an emergency fund set aside. This is when pet insurance becomes a life-saver!
Likewise, if your Continental Giant rabbit has ongoing medical problems, you are going to spend more than your regular veterinary check-ups. Make sure you have enough money set aside to cover these issues.
Owning a Continental Giant Rabbit on a Budget
Although rabbits are less expensive than cats or dogs, that doesn't mean that they're cheap. There are expenses you simply cannot avoid, such as food, medical care, and teeth trimming, and over time, those costs can stack up. Thankfully, there are ways to own a Continental Giant rabbit on a budget.
One of the ways you can save money is to build your Continental Giant rabbit's hatch rather than purchasing it. While this is only a one-time cost, it can still take a large chunk out of the upfront expenses and allow you to put that money toward other elements of your rabbit's care.
Saving Money on Continental Giant Rabbit Care
There are also ways to save money on your Continental Giant rabbit's continuous care. One of the simplest ways is to shop for hay or vegetables that are on sale. Likewise, you can look for coupons and online discounts for toys and equipment.
The best way to save money on veterinary bills is to attend regular check-ups with your vet. Preventative care can go a long way to combating the progression of serious, costly conditions. Likewise, pet insurance can save you money if your Continental Giant rabbit is ever in a serious accident that costs thousands of dollars.

Conclusion
Owning a Continental Giant rabbit is not a cheap affair, but it is incredibly rewarding. The up-front costs are high, but the continuous costs truly determine if you can financially provide for your pet. If you are not in a place in your life to afford a pet, don't rush into getting one. Pets are expensive, and we are responsible as pet owners to provide for their needs.
Beyond the financial investment, there are non-monetary expenses you will need to budget for: your time, energy, and attention. Pets are an investment of more than just money; they are an investment of care and love. Even if you need to own your Continental Giant rabbit on a budget, it will be more than content if you provide the proper care.
---