100+ Creative Dog Names: Unique, Rare & Clever Ideas

When it comes to a creative dog name, everyone's interpretation may be a bit different. "Creative" could embody something truly unique, something completely out of the box. It could touch on a funny topic, it could be innovative in the sense that you've created it all on your own. You are likely here because you are searching for a name that's just as diverse and individualistic as your pup. You want a name that no other canine at the dog park has.
If that's the case for you, this is the right spot to start your exciting name search! We have gathered a comprehensive list of the most original and inventive names for you to consider – including male and female options, and clever, odd, and adorable suggestions. We have even listed a few charmingly weird ideas. Feel free to let your mind wander and create your own rendition of these names!
Which will you choose?! Read on to find out!
Click below to jump ahead:

Creative Female Dog Names
Haisley
Twila
Marlowe
Perla
Bay
Nolia
Maude
Wren
Cybil
Rory
Amora
Tinsley
Bessie
Hattie
Zalea
Holland
Ambella
Etta
Creative Male Dog Names 
Henley
Calloway
Donte
Cecil
Arlo
Ellio
Declan
Avi
Beckett
Knox
Silas
Zed
Dewey
Quint
Brice
Booker
Dax
Zeke
Kai
Clever Dog Names 
Witty names for pups are hilarious – if you want your pooch to have a funny name like no other dog out there, this is the list for you! Some of these references are for those versed infamous quotes, quirky people, fun places, and things.
Muttley Crew
Jurassic Bark
LL Drool J
Puparazzi
Pawsh
Indiana Bones
Rover-dose
Pawl
Santa Paws
Pupcorn
Pupsicle
Dogma
Bark Twain
Beau Dacious
Hotdog
Jabba the Mutt
Paw-Casso
Chew Barka
Karl Barx
Jimmy Chew
Bark Wahlberg
Jude Paw
Hairy Pawter
Bark Obama
Droolis Ceaser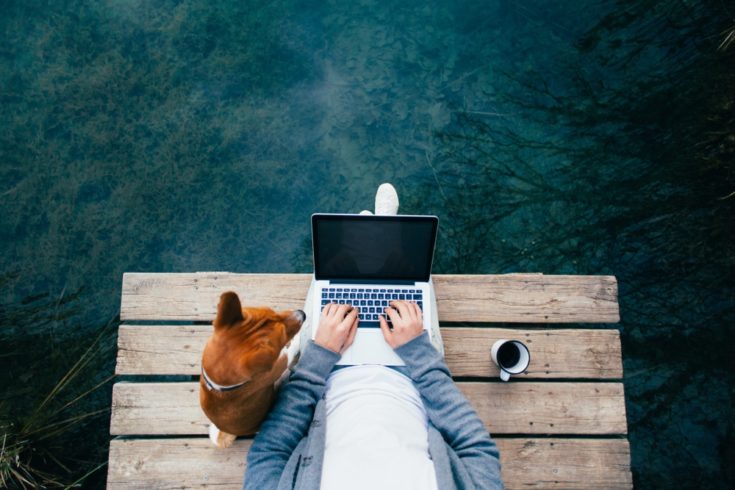 Odd Dog Names
Although some of the names on this list will have you saying hm, they are great alternatives for pet names. Your dog doesn't necessarily need to be an oddball, so you speak, to be paired with one of these!
Wacko
Curious
Kink
Rogue
Batty
Prodigy
Jinks
Nutso
Loony
Atrocity
Bizarre
Hoax
Boho / Bohemian
Kooky
Hazard
Marvel
Notion
Mutant
Anomaly
Fluke
Splendor
Misfit
Deviant
Glitch
Offbeat
Outlander
Extra
Oddity
Sport
Doxy
Absurd
Quirky
Loco
Adorable Creative Dog Names
You may be looking for something a bit more original than typical cute names such as Fluffy and Bella. Your adorable pup deserves a name that shines just as bright as they do! Here you'll find the most unique and endearing names for the sweet pup in your life.
Acorn
Tweed
Blip
Hibiscus
Pastel
Wisp
Memo
Glam
Pots
Doop
Hiccup
Dream
Melancholy
Orna
Scoop
Nourish
Blink
Lashes
Cactus
Blush
Groove
Totoro
Vegan
Weird Dog Names
For the true visionaries, names so far out there that people might thank you're a bit strange, we have our next list of wild and weird names. This might just be the most creative list that we have compiled!
Wires
Rubix
Moss
Puzzles
Link
Doiley
Taffeta
Roots
Fern
Aerogel
Slug
Gossip
Meta
Lie
Alter
Vice
Chatters

Conclusion
We know choosing the perfect name for your pup is hard. You want something that's going to suit them while they're young, but complement their changing personality as they grow and mature. What's the best part about naming your dog? There really is no wrong answer. They will love whatever you decide because it came from you! Creative puppy names are a great place to start.
We hope that you were able to put your artistic side to work as you filter through our list of 100+ Creative Dog Names. With fun, strange and cute ideas, we are paws-itive that there's a winning name for every type of unique and loving pup!
If these weren't quite right, no problem! We have many other dog name posts that you can refer to for additional inspiration!
---