10 Homemade Diabetic Dog Food Recipes (Vet-Approved)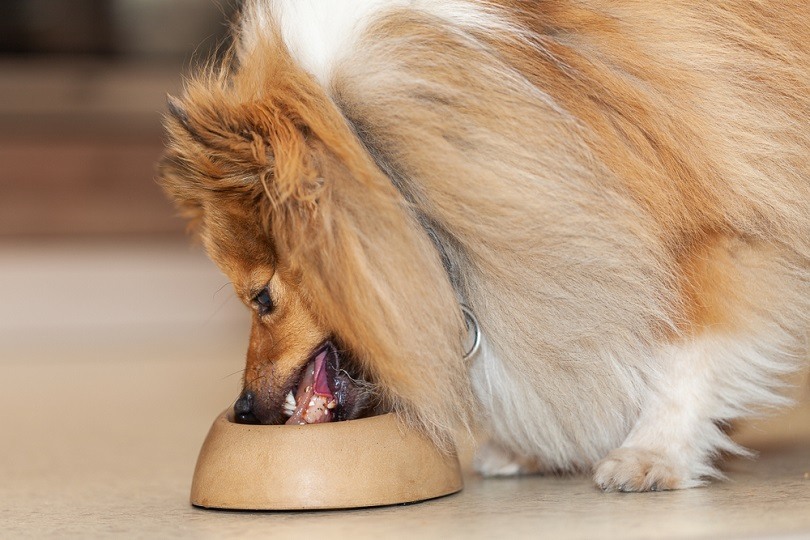 If your dog has diabetes, you may want to try learning how to make homemade diabetic dog food so you can control the ingredients. But not just any dog food recipe will do the trick!
We've gathered 10 delicious, healthy, and simple diabetic dog food recipes from around the 'net. All of these recipes use diabetes-friendly ingredients with low glycemic scores. They also have plenty of delicious flavors and vitamins to keep your pup happy and healthy! Before you settle on a dog food recipe, we recommend talking to your veterinarian. Then it's time to start cooking!

What is Canine Diabetes?
Diabetes is a chronic disease caused by problems with glucose and insulin. This disease occurs in humans and animals like dogs, cats, pigs, and horses.
The most common type of diabetes in dogs (type one) happens when the body doesn't produce enough insulin. A less common variety happens when the dog's body is producing insulin but isn't using it effectively to pull nutrients from food. This type (type two) is more common in older, overweight dogs.
The most common symptoms of diabetes in dogs are:
Weight loss
Increased thirst and appetite
Extra urination
Lack of energy
Vomiting
Dogs with diabetes have trouble maintaining stable blood sugar levels. That's why it's so important to monitor your dog's food. Making homemade dog food can be a great way to control your pup's diet, but you'll want to get the ingredients just right. Before choosing a recipe, make sure you talk to your veterinarian about the best diet for your dog.
What are the Best Ingredients for Dog Food?
Diabetes-friendly ingredients have a low glycemic index, meaning they're slowly digested and won't contribute to a spike in blood sugar. Foods with a low glycemic index score include sweet potatoes, barley, oats, chickpeas, kidney beans, and carrots.
Don't Miss This Deal
50% OFF at Ollie

The 10 Healthy Diabetic Dog Food Recipes:
1.

Diabetes-Friendly Stew
This recipe, inspired by a diabetic dog named Ruby, combines lentils, black-eyed peas, and barley with chicken, turkey, and vegetables to make a diabetes-friendly stew. Get the recipe here.
---
2.

Beef & Barley Dog Food
Treat your pup's tastebuds with this dog food recipe, which pumps up the flavor with drippings and chicken stock. Barley provides a satisfying carb to keep your dog energized! Get the recipe here.
---
3.

Simple Diabetic Dog Food Recipe
This dog food recipe uses simple ingredients like chicken, brown rice, and green beans. It also adds bone meal for extra nutrition. Get the recipe here.
---
4.

Chicken, Asparagus, & Broccoli Dog Food
Simple ingredients like brown rice, breath-freshening parsley, and chicken breast make this an affordable and healthy homemade dog food. Simmer for half an hour and you're good to go — though you'll probably want to skip the garlic. Get the recipe here.
---
5.

Low Glycemic Dog Food
Chickpeas, turkey, and kidney beans anchor this low-glycemic dog food, which also includes plenty of nutritious vegetables like carrots and okra. Best of all, this dog food recipe comes together quickly and freezes well! Get the recipe here.
---
6.

Beef & Butternut Squash Diabetic Dog Food Recipe
Want a recipe that's incredibly easy to make? Try this simple dog food recipe, which uses low-glycemic ingredients like kidney beans and carrots. Throw it in the CrockPot for a few hours and you'll have tasty and healthy dog food! Get the recipe here.
---
7.

Customizable Diabetic Dog Food
Want to experiment with different ingredients? Here's a dog food recipe that will let you choose your dog's favorite foods. Pick a lean meat source, a whole grain like barley or brown rice, and raw vegetables of your choice. Mix together and serve! Get the recipe here.
---
8.

Gourmet Dog Food with Vitamins
Here's a gourmet dog food recipe that's packed with vitamins and diabetes-friendly. Basics like beef and barley combine with unexpected ingredients like wheat germ oil and brewer's yeast to make a top-notch food! Get the recipe here.
---
9.

Fish & Turkey Breast Diabetic Dog Food
The Whole Dog Journal offers lots of tips on customizing your diabetic dog's diet — plus a recipe to get you started. You can hardly go wrong with ingredients like fish, turkey breast, rolled oats, and carrots! Get the recipe here.
---
10.

Turkey & Vegetable Dog Food
Our final homemade diabetic dog food recipe uses low glycemic ingredients like turkey, brown rice, and carrots. Better yet, it comes together in under an hour! Get the recipe here.

Conclusion: Homemade Diabetic Dog Food Recipes
There you have it: 10 homemade diabetic dog food recipes that teach you how to make great food that your dog will love! Don't forget to consult your vet before changing your pup's diet and take into account any food allergies or dietary restrictions. Your furry best friend will be licking the bowl clean — and maintaining healthy blood sugar levels at the same time.
Looking for more dog food recipes?
---
Featured image credit: filmbildfabrik, Shutterstock