Diamond Puppy Formula Dog Food Review 2023: Recalls, Pros & Cons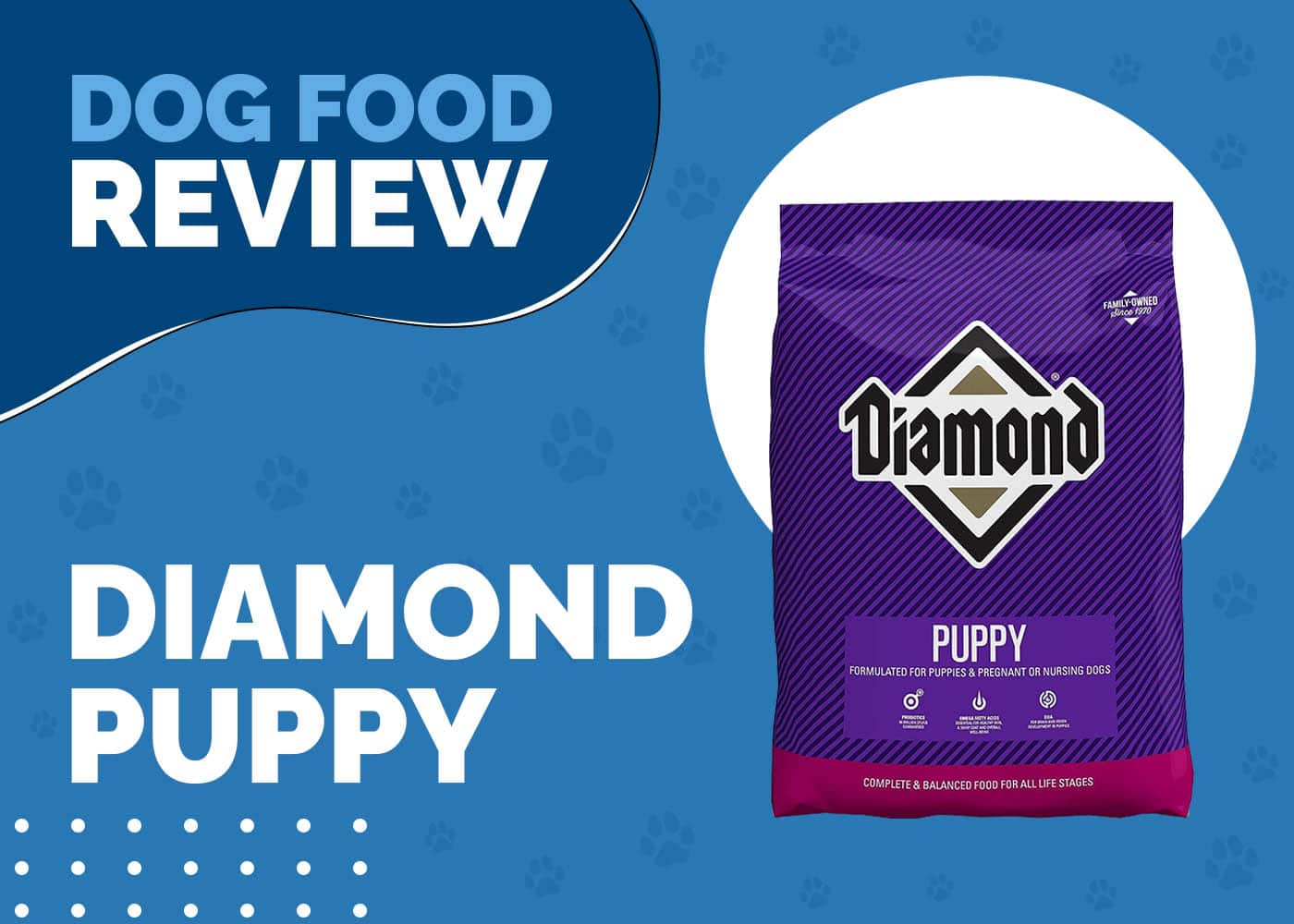 Review Summary
Our Final Verdict
We give Diamond Puppy dog food a rating of 4.5 out of 5 stars. 
When you bring home a new puppy, you want to be sure you're giving them the most remarkable start in life. That all starts with giving them solid nutrition so their bodies can grow adequately. So, if you have come across Diamond Puppy, you probably want to know if the formula is worth the fuss.
We have to give Diamond Puppy a solid 4.5 out of 5 stars. We'll break down why we give the brand this rating so you can decide for yourself if it's right for you.
Click to skip ahead:

The Diamond Puppy Dog Food Recipe
Rating
Image
Product
Details

Our Favorite

Diamond Puppy Formula

Grain-inclusive formula
Excellent source of DHA
Live probiotics and antioxidants
Check Price
Diamond Puppy Dog Food Reviewed
About Diamond Pet Food Products
Diamond Pet Foods creates various products to nourish dogs of various health and life stages. They offer several lines of grain-inclusive and grain-free recipes that cater to various target dietary health aspects.
Who Makes Diamond Puppy and Where Is It Produced?
In the beginning, two brothers-in-law set out to make a pet food company—and we'd like to point out that they succeeded. Starting in Meta, Missouri, Diamond Pet Food's humble beginning turned into a multi-million dollar enterprise.
Diamond Pet Foods makes the Diamond Puppy formula. Diamond operates four different facilities in the United States, including Meta, Missouri; Gaston, South Carolina; Lathrop, California; and Ripon, California.
Diamond Pet Food also owns Taste of the Wild, NutraGold, and Nutra-Nuggets.
Which Types of Dogs Is Diamond Puppy Food Best Suited For?
Diamond Puppy is geared toward growing puppies after weaning until they reach roughly a year old. It contains all the right ingredients to kickstart a terrific beginning in life.
In addition to being fabulous for puppies, it also has the right ingredients to support pregnant and weaning mothers. It has a high caloric count, terrific protein content, and essential fats to promote optimal health.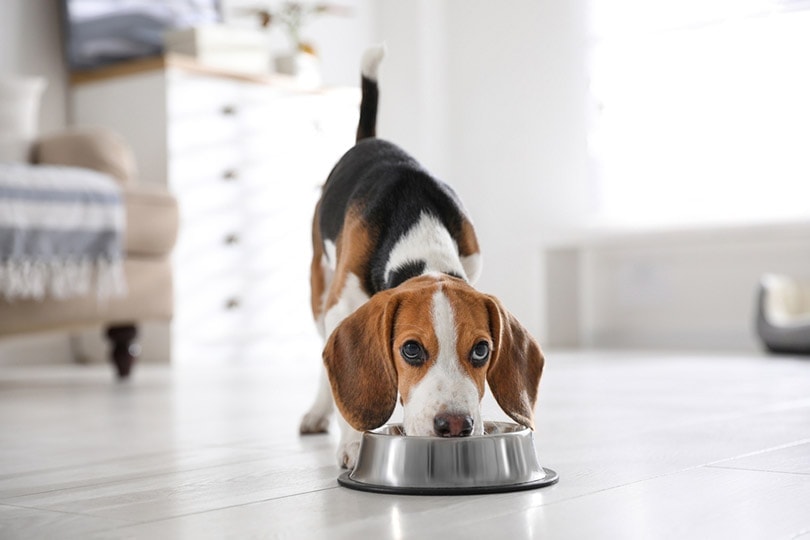 Which Types of Dogs Might Do Better with a Different Brand?
Adults and seniors will need another Diamond dog food to maintain routine health and everyday maintenance. If you have a healthy adult dog over a year of age, you might try another Diamond dog food, like Diamond Maintenance.
Dogs with certain food sensitivities might do better with a recipe in the Diamond Naturals lineup. If you have a senior, you can feed them one of many Diamond all-life-stages formulas or try Diamond Naturals Senior.
You might be shopping around if you have a puppy but aren't sure which dog food would work best for you. Both Blue Buffalo and Taste of the Wild make exquisite puppy chow. While this dog food is enough to promote a healthy start in life, you might want to go a little more premium.

Recall History
Diamond Pet Foods have had a few recalls.
March 2013—Potentially low levels of thiamine
April/May 2012—Positive for salmonella
December 2005—Aflatoxin contamination
Discussion of the Primary Ingredients (Good and bad)
In this example, we will be picking apart the Diamond Puppy formula bit by bit. Examine these ingredients to see what the recipe has to offer.
Chicken by-product meal is a concentrated protein source, but it's often considered the less desirable portion of meat. So, remember that even though this is a direct protein source for your puppy, it might not taste as yummy or have some of the same benefits as a whole protein source.
Whole grain ground corn provides an easily digestible carbohydrate source in your dog's diet that serves as an energy base.
Wheat flour is another grain source in this recipe. Wheat is often an allergy trigger, so look for potential symptoms.
Chicken fat as another protein source from animal content that is very high in linoleic acid, otherwise known as omega 6. It aids in skin and fur development.
Dried beet pulp is used as a type of fiber in this recipe. It promotes excellent intestinal health and is used in several commercial dog foods.
Egg product is a commonly used ingredient in dog food that provides an extra form of protein and is excellent for coat health.
Natural chicken flavor in dog food is just enough chicken fat to add some flavor without actually containing chicken meat.
Flaxseed is a terrific nutritionally beneficial seed that mainly targets digestive system function.
Fish meal is a super concentrated protein source packed with omega fatty acids.
Salmon oil is also a huge supply of Omega fatty acids that nourish skin, coat, and immunity.
Tons of Omega Fatty Acids = DHA
As you can see from the ingredients list breakdown, there are quite a few fish-related ingredients on the list. This is an excellent indication of a high amount of DHA in the product. The DHA content is more than favorable with ingredients like salmon oil, fish meal, and egg product.
DHA plays a vital role in a puppy's central nervous system, retinal, and brain functions.
Corn, Wheat, Soy, Eggs, Byproduct—What's the Deal?
In today's marketing world, there is a lot of negative talk about promoting new products. One of these misconceptions is that corn, wheat, and soy contribute to grain allergies. While this is true, it is extremely rare. In fact, gluten allergies are one of the most infrequent allergies in a dog's diet.
By-products might get some confusing ideas around the entire term. Essentially, byproduct refers to all the parts of an animal considered less desirable. For instance, pig feet, cow tongue, and so on. Does it mean that it's any less nutritious?
Slightly, but not enough for it to matter. In this recipe, you will see chicken byproduct meal as the first ingredient. This means it contains various parts of the chicken, even ones that are less desirable.
Allergies and Sensitivities
These sources come together to form a highly concentrated meal that is packed with protein. However, there is a chance that some dogs can find them irritating. If that is the case, you might notice specific symptoms crop up, like hotspots, itchiness, or frequent ear and skin infections.
If you notice any odd symptoms, you should get them to the vet. Your vet will likely start food trials to determine the underlying trigger.
No Whole Protein Source
As the pet food companies expand, there's a focal point on natural nutrition. In these recipes, it's refreshing to see a whole protein source as the first ingredient. Even though by-product meal contains a concentrated amount of high protein, it lacks in other areas, including flavor.
So, some consumers might feel on the fence about offering a product that has a byproduct meal as the first ingredient.

Diamond Puppy Dog Food Review
| | |
| --- | --- |
| Main Ingredients: | Chicken by-product meal, whole grain ground corn, wheat flour, chicken fat, dried beet pulp, egg product |
| Calories: | 441 per cup/ 3,890 per bag |
| Protein: | 31.0% |
| Fat: | 20.0% |
Diamond Puppy dry dog food formula contains all the necessary components your puppy needs to have a great start in life. Diamond Puppy has a recipe designed explicitly for puppy and juvenile dogs, full of protein, healthy fats, and tons of vitamins and minerals.
This recipe contains DHA from salmon oil which aids in the brain's health, developing a sharp mental process. Salmon oil also promotes healthy skin and coat. It also has important vitamins and minerals, like calcium, phosphorus, zinc, selenium, vitamin E, and vitamin A.
In addition to brain and immunity support, it contains no less than 80 million live probiotics for optimal gut health.
We really love this recipe for its overall excellent content. It is a very top-notch, slightly above average, grain-inclusive recipe for puppy health.
Grain-inclusive formula
Excellent source of DHA
Live probiotics and antioxidants
Contains potential allergy triggers
Ingredients Analysis
| | |
| --- | --- |
| Crude Protein: | 31.0% |
| Crude Fat: | 20.0% |
| Crude Fiber: | 3.0% |
| Carbohydrates: | 36.0% |
| Moisture: | 10.0% |
| Vitamin E: | 150 IU/kg |
Calories per cup breakdown:
| | |
| --- | --- |
| ½ cup: | 220.5 calories |
| 1 cup: | 441 calories |
| 2 cups: | 882 calories |

What Other Users are Saying
Many users are impressed by the Diamond Puppy dog food formula. Their dogs seem to enjoy the flavor, it's small enough for even toy breeds to enjoy, and it's packed with nutrition. There are some concerns about byproducts and potentially allergy-triggering ingredients like chicken, wheat, soy, and corn.
However, veterinarians reassure us that corn, wheat, and soy products are not fillers in any way. These ingredients are wholesome carbohydrate sources in a variety of premium dog foods. So, it is up to you whether you buy another brand or formula.
Diamond Puppy offers complete protein and other necessary ingredients for puppy health—like DHA, calcium, phosphorous, and live probiotics. Even Dog Food Advisor is pretty impressed with the recipe.

Conclusion
Overall, Diamond Puppy is a substantial recipe for various young dogs. Even though certain dogs with allergies won't find it fitting, most puppies can benefit greatly from this recipe. Diamond puts a big emphasis on providing quality products for pets all over.
They have an outstanding reputation despite having had three recalls in the past. We think that this particular puppy chow is highly healthy for your dog, Diamond also offers a wide selection of other recipe lines that are just as fantastic.