8 DIY Cat Litter Box Plans You Can Make Today (With Pictures)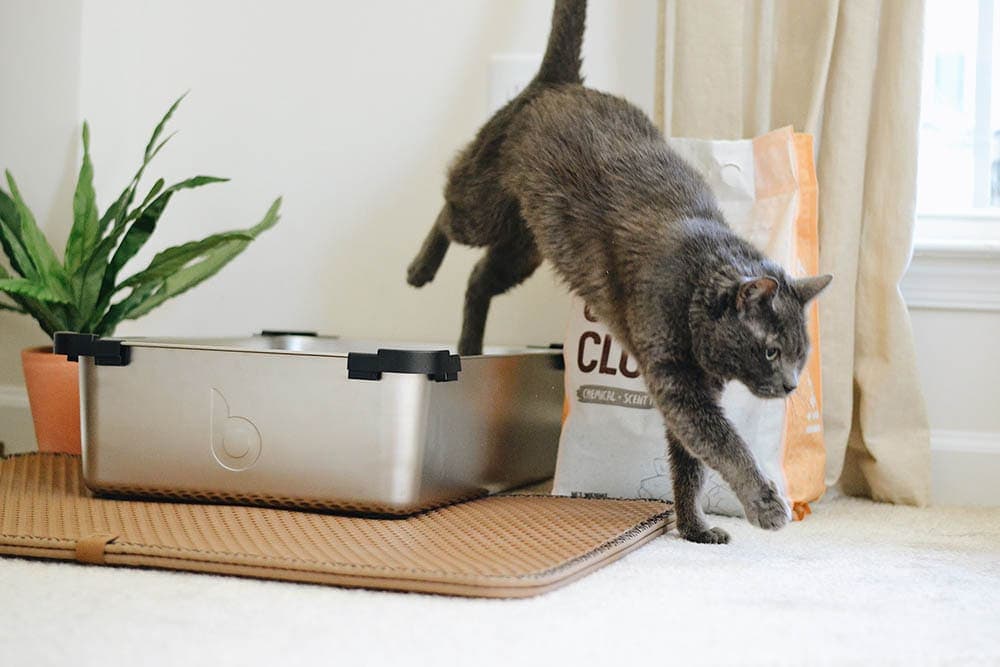 With all the other supplies that you have to buy when you welcome a new cat into your family, a new litter box can make a sizeable dent in both your wallet and the space that you have available in your home. If you're short on funds or simply don't have much room, there are plenty of simple and snazzy ways to create a DIY litter box, without spending a small fortune.
We put together this list of DIY cat litter box plans so you can save space or hide unsightly litter trays from your guests. Whether you're looking for a simple litter box, hidden litter boxes, or sifting litter boxes, you're bound to find a DIY solution that suits your needs.
The 8 Best DIY Cat Litter Box Plans –
Simple Litter Boxes
1.

Sterilite Litter Box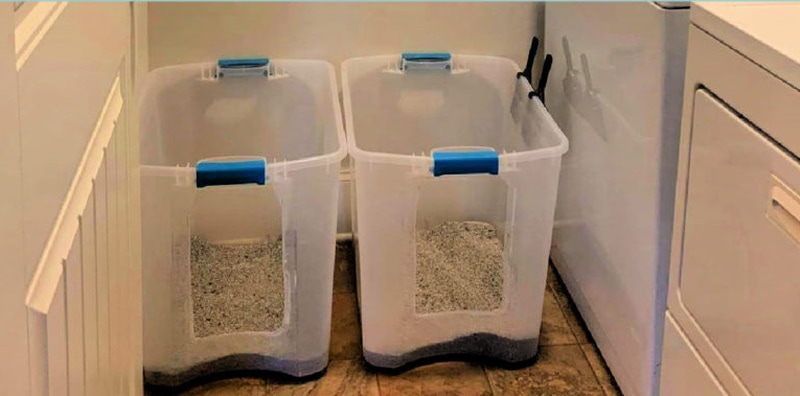 Cats can make a huge mess, and some of them always kick litter out of even the tallest litter boxes or somehow manage to do their business outside the box. This design uses
26-gallon Sterilite boxes
to create an enclosed litter box with high enough sides that your cat will find it harder to make a mess.
---
2.

Litter Box Holder
Walking barefoot anywhere near your cat's litter tray is a recipe for disaster, especially if you use crystal litter. Those tiny crystals can hurt when you step on them. This litter box holder might not look like much, but it gives your cat space for the litter to fall off their feet before they hop onto your carpet, saving your toes from sharp surprises.
---
3. Upside-Down Tote
This design is a similar idea to a DIY top-entry litter box. If you have a
big enough tote already but lost the lid for it
, this is a snazzy way to hide the litter tray, anyway. It doesn't require much work either. Just cut a cat-sized hole in the side, and flip the whole thing upside down over the litter tray.
hometalk.com/…/-no-mess-diy-kitty-litter-box-16405347
Hidden Litter Boxes
4. Plant Pot
Litter trays are an eyesore and don't often match your home décor. If you can't afford the fancy litter boxes styled after furniture, you can make a DIY enclosed tray
disguised as a fake plant
. It'll help keep your décor looking interesting and give your kitty somewhere private to do their business. Plus, if you decide that the litter idea doesn't work, you can use the same design as a snazzy cat bed instead.
---
5. Revamped Toy Box
Buying litter boxes that look like furniture can be a brutal blow to your wallet, especially if you want something that matches your existing décor. While the choices with litter boxes are limited, this
repurposed toy box
is a great way to breathe new life into old, unused furniture or repurpose a cheap cabinet that you found in a yard sale.
---
6. De-littering Catwalk
With a built-in catwalk to dislodge those pesky pieces of litter stuck to your cat's paws, this design is a cabinet
you can build from scratch
. It takes more work than revamping an old cupboard, but if you fancy a challenge for your carpentry skills, you can customize this design to fit your space restrictions and the size of your litter tray. Better still, the litter box is completely hidden, giving your cat privacy and keeping unsightly trays out of the way.
---
7. Deck Box Litter Box
Many DIY ideas use plastic totes to hide litter trays, but
deck boxes
work just as well and they even offer your cat more space. This idea requires a bit of craftsmanship to build a sturdy slope covered with sisal rope for your cat to scratch. It's a great way to keep litter off your floor and repurpose an old deck box that you don't use anymore.
Sifting Litter Boxes
8. Aluminum Tray Litter Box
Cleaning out the litter tray is the worst thing about owning a cat. You can buy sifting litter boxes but they're not always as effective as we want them to be, which is where this design comes in. Using aluminum trays and a sturdy, plastic enclosure, you can make a DIY
sifting litter box
for your cat and keep it away from inquisitive canine noses.

Conclusion
Making a DIY litter box is a cheap and easy way to cater to your cat's needs, keep things tidy, and match the rest of your décor. You can use anything from aluminum trays and plastic totes to old furniture to make a litter box or an enclosure to hide it in. Hopefully, these designs gave you a few ideas for your cat's bathroom!
---
Featured Image Credit: Litter Robot, Unsplash