7 DIY Cat Wheelchair Plans You Can Make Today (with Pictures)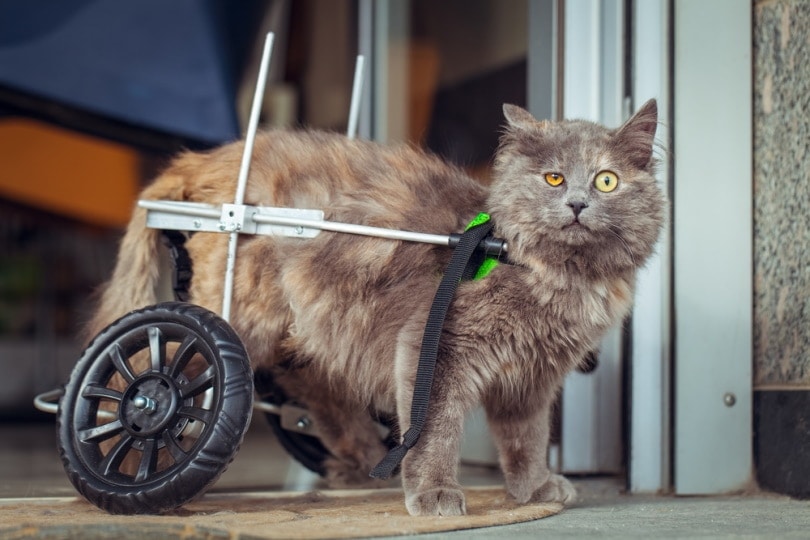 As pet lovers and cat owners, we all want our beloved felines to have the best life possible. Even after years of bliss, some cats can find themselves in situations where their quality of life has diminished, especially as they age.
The good news is if your cat loses mobility due to age, arthritis, illness, or injury, it doesn't mean their days of running around are over. A range of technology is available to assist your cat with mobility impairments to live a full life, such as wheelchairs designed for cats.
However, some of these commercially made wheelchairs are so expensive many pet owners cannot afford them. Instead, this article will show you how to make your own DIY wheelchair that's just as effective for mere pennies!
Top 7 DIY Cat Wheelchair Plans
1.

A Simple and Affordable Cart
| | |
| --- | --- |
| Materials: | PVC pipe, PVC joiners, wheels, bandages, dowel, water pipe insulation, strapping, snaps |
| Tools: | Drill, glue |
| Difficulty Level: | Moderate |
Our first up is a design originally made for a dog. However, the plan is super customizable and could be easily adapted to your cat simply based on measurements. Only a handful of cheap and common materials are needed as well as minimal tools to create a simple but effective pet wheelchair.
This YouTube video details the whole project from start to finish by the man who designed it. Even those with little DIY experience can create a wheelchair for their cat without spending hundreds of dollars.
---
2.

A Secure Wheelchair for Active Cats
| | |
| --- | --- |
| Materials: | PVC pipe, PVC joiners, wheels, straps, harness, clips |
| Tools: | Drill, saw/grinder |
| Difficulty Level: | Moderate |
This DIY wheelchair plan is like the first plan on this list, but it incorporates harnessing straps to increase the security of your cat during romping around in their wheelchair. It was also originally designed for a cat, so you will have fewer adjustments to make over an adaption of a dog wheelchair.
While this design appears to be complicated, this YouTube tutorial shows just how simple it can be achieved with cheap materials. The added straps and harness can be customized for your cat's own harness so you can securely fit your cat into the contraption, meaning they can happily gallivant around.
---
3.

A Twenty-dollar Taxi
| | |
| --- | --- |
| Materials: | PVC pipe, harness, bolts, wheel, foam, sweatshirt string, PVC cement |
| Tools: | PVC cutter, drill |
| Difficulty Level: | Easy |
Forget paying thousands of dollars to commission a custom-built wheelchair for your cat; this DIY plan only costs the posters $20. Additionally, the plans themselves are relatively easy compared to more complicated models.
While this wheelchair is simple, it is fit for purpose to help to taxi your cat around the home and improve their lives vastly. Its simplicity also means this design isn't very bulky, so your cat can easily navigate the home. Find the easy instructions here.
---
4.

A Physical Therapy Walker
| | |
| --- | --- |
| Materials: | PVC pipe, joiners, castor wheels, regular wheels, straps, clips, harness, bolts |
| Tools: | PVC cutter, glue |
| Difficulty Level: | Hard |
At first glance, this DIY wheelchair design is a bit complicated, right? Well, you'd be correct. This design incorporates many more techniques and components to create a more complicated design. However, this design elevates this gadget from a simple wheelchair for mobility to a tool for physical therapy.
The careful design allows for the correct support for a recovering cat who may yet walk again. Find the brief written instructions here and a more thorough YouTube tutorial here.
---
5.

This PVC Puller
| | |
| --- | --- |
| Materials: | Towel, wheels/castors, PVC piping, joinery |
| Tools: | Sewing tools, drill, pipe cutter |
| Difficulty Level: | Moderate |
With this limited material build, putting together an affordable wheelchair is well within reach for most DIY-ers. However, the instructions are all written and may be hard for visual learners to follow closely. If you are confident in your DIY abilities, this won't hinder you. But if you need to be closely guided through the process, this design might be a bit of a challenge for you.
However, since the design is simple, there is plenty of space to customize and adjust if you are an experienced DIY-er. If you are looking for a basic frame to make a wheelchair special for your special cat, this plan will certainly be handy.
---
6.

A Super Supportive Cradle
| | |
| --- | --- |
| Materials: | Castor, PVC pipe, pipe joiners, fabric hammock, wheels/castors |
| Tools: | Drill, saw |
| Difficulty Level: | Easy |
This extra supportive wheelchair/walker comes with a detailed DIY video that clearly outlines all materials, tools, and steps. This is a great DIY for those who are not very confident or experienced, as you can be virtually guided through every step.
This wheelchair does not resemble a classic wheelchair but rather a fully supportive walker. This can be well suited for cats who struggle with their mobility in general, not just those lacking the use of their back legs. The supporting hammock takes the weight off your cat's joints for ease of movement.
---
7.

A Simple Quad Walker
| | |
| --- | --- |
| Materials: | PVC pipe, pipe joinery, castors, fabric |
| Tools: | Glue, sewing tools |
| Difficulty Level: | Easy |
If you are more proficient with fabric DIYs than rough materials, then this wheelchair plan is for you. Very minimal tools and materials are needed to construct a simple but effective four-wheeler for small animals.
The most challenging part of constructing is the hammock with sleeves sown to connect to the PVC without using materials or tools. If you are worse with fabric than with pipe, perhaps you could kindly ask a friend or family member to help you with this.
Final Thoughts
We hope that one of these plans can help your favorite feline be more mobile. We all want what is best for our pets, which is why DIY plans are becoming more popular. Helping our pets live their best lives does not mean we have to spend hundreds of dollars. Instead, we can make wheelchairs with easily accessible materials at a cheaper cost.
See also:
---