11 DIY Dog Booties You Can Make at Home Today (With Pictures)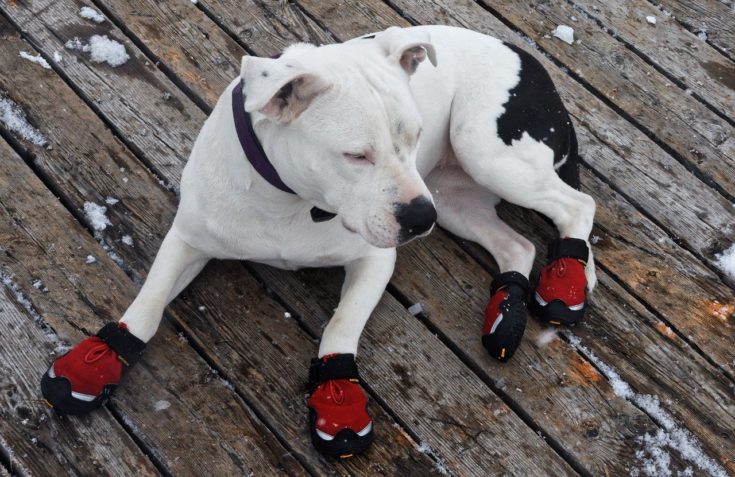 If you've ever lived in cold or hot climates, you know that walking your dog outside can be painful for your dog. Dog booties were made to solve this problem, with a wide variety of colors and styles to choose from.
However, dog booties and dog apparel, in general, are often overpriced, so you may be considering other options. Or, your dog hates the expensive booties you bought and refuses to wear them. Regardless of your reason, you may think you're out of options.
Luckily, there are many DIY plans and patterns available that can teach you how to make dog boots that can be quick and easy to make at home. If you need a pair of dog booties and you have some spare materials available, here are 11 dog booties you can make at home.

The Top 11 DIY Dog Bootie Plans
1.

DIY Duct Tape Booties – Wonderpuppy
For a more durable DIY solution without taking up your entire evening, these DIY Duct Tape Booties are easy to make and hold up pretty well for an at-home solution. Just do yourself a favor and use a cheap pair of scissors instead of your nice fabric ones.
Materials
Duct tape
Stick-on and sew-on Velcro
---
2.

Dog Booties – Martha Stewart
Martha Stewart has a pattern and recipe for everything, including doggy accessories. These DIY Dog Booties are the perfect dog booties plan to keep your dog's feet warm and protected from the elements. They're fairly easy to make but require a sewing machine.
Skill Level: Easy-Intermediate
Materials
¼ yard of water-resistant fabric
Durable patching fabric
Elastic trim, 6-15 inches
All-purpose thread
Tools
Leather sewing needle
Measuring tape
Fabric scissors
Pinking shears
Sewing machine and supplies
---
3.

Crochet Puppy Boots – Cuteness
If you know the basics of crochet, these DIY crochet booties will take you less than an hour to make. They're perfect for a last-minute dog bootie without requiring a sewing machine. This pattern is also easy to read for crochet beginners.
Skill Level: Easy-Intermediate
Tools
Crochet hook
Scissors
Tapestry needle
---
4.

Easy DIY Dog Boots – Romp Rescue
If you have a sewing machine and a few minutes, these quick DIY Dog Boots are easy to make and can be fully customized for your dog's needs. They're also perfect for when you need a last-minute dog bootie pattern.
Skill Level: Easy-Intermediate
Materials
Velcro
Elastic
Fleece or other comfy material
Vinyl material to use as the non-slip sole
---
5.

Sew Your Own Winter Dog Boots – Domestik Goddess
With basic hand-sewing skills and some extra fleece, you can make these Winter Dog Boots. They're great for inclement weather and overall paw protection from ice-melting salt on the roads. They're also easy and relatively quick to make, too.
Materials
Fleece
Gripping material for the bottoms
Thread
---
6.

Paw Socks Pattern – ChemKnits
For the more experienced knitter, this knitted Paw Socks pattern is a perfect winter project at home. If you've got the knitting skills, these dog socks work up very fast. They may not be suitable for outdoor use, but they're still useful indoors.
Skill Level: Intermediate
Materials
Worsted weight yarn
Ribbon or extra yarn
Tools
Size 5 double-pointed needles
Tapestry needle
---
7.

DIY Paw Protectors – Crafty Chica
If you know the basic double crochet stitch and the chain stitch, these DIY Paw Protectors will be your new favorite DIY dog bootie plan. They're easy and fast to make if you already know how to crochet but can be done at a slower pace by a beginner as well.
Skill Level: Easy-Intermediate
Materials
Lightweight cotton yarn
24 inches of ribbon
Tools
Size J crochet hook
Tapestry needle
Measuring tape
Scissors 
---
8.

Paw Protectors and Winter Dog Boots – Sewing.org
These Paw Protectors are not only easy to make, but they're adorable as well. With less than an hour and some fabric, you'll have winter-ready dog booties in no time. Your dog will be more comfortable when you're outside in the cold.
Materials
¼ yard of strong, non-slip fabric such as Cordura nylon, packcloth, upholstery fabric, or suede
(4) 4-inch lengths of 1-inch-wide sew-in hook-and-loop tape
Thread
---
9.

DIY Dog Shoes – SheKnows
If you're skilled with a sewing machine and you have some extra materials in your craft room, you'll always have a dog bootie pattern available with these DIY Dog Shoes. They're not the easiest ones to make but they'll last you all winter.
Skill Level: Intermediate
Materials
Velcro
⅓ yard of fabric (water-resistant nylon or microfiber polyester recommended)
Thread
Tools
Sewing machine
Scissors
Fabric pins
---
10.

Fleece Doggie Booties – Daily Puppy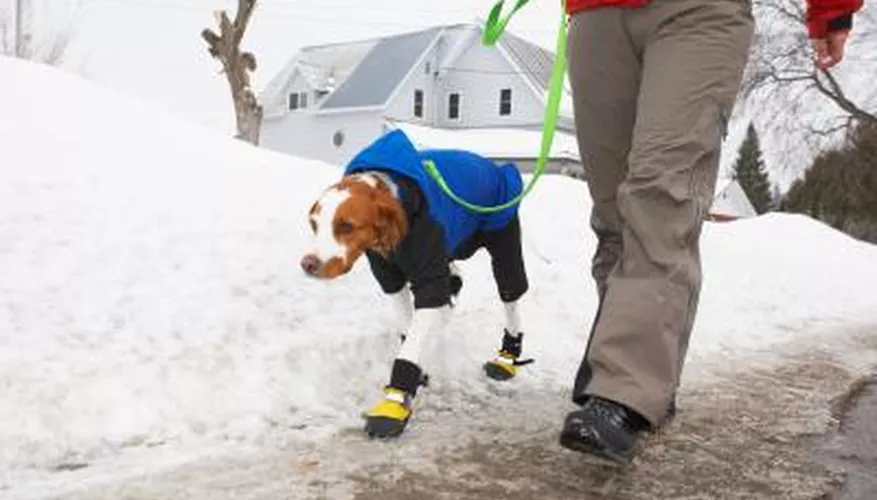 These easy Fleece Doggie Booties only require a little fabric and basic hand stitching to make a durable DIY dog bootie. These can be made with any fabric, but fleece, nylon, and upholstery fabric are the best options. They're also relatively quick to make if you're in a hurry.
Skill Level: Easy-Intermediate
Materials
Fleece or other durable fabric
Velcro
Thread
---
11.

How to Make Dog Boots – Condo Blues
This dog boot pattern is fairly straightforward to make if you know how to use a sewing machine but can be difficult if you're new to sewing and DIY. Learning how to make dog boots like this are not only adorable, but they'll keep your dog's feet warm and safe from the elements.
Skill Level: Intermediate
Materials
Paper
Fleece fabric
Sole fabric – leather, suede, or a waterproof fabric
Ribbon or elastic
Thread
Tools
Pen
Measuring tape
Sewing hook
Sewing machine
Scissors
Pins
See also:
---