How to Make DIY Dog Shampoo (3 Vet-Approved Recipes)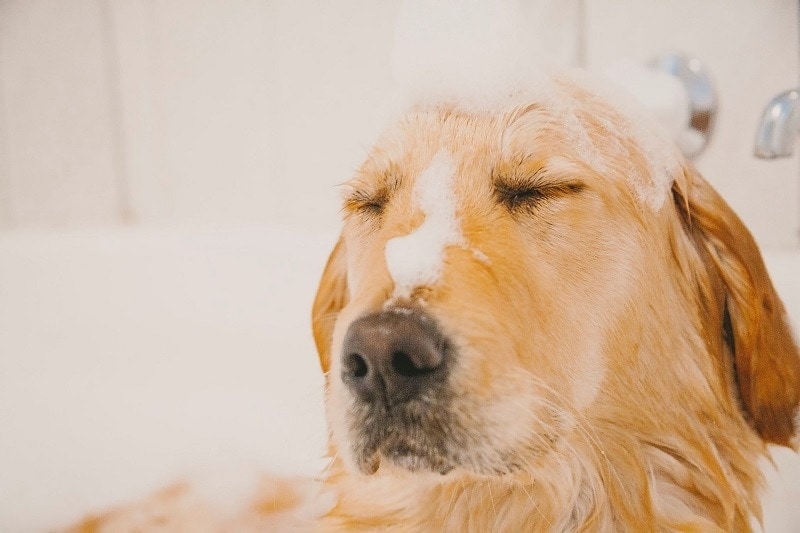 Have you ever looked at the ingredients in dog shampoo? You aren't the only one struggling to make sense of why so many things are needed just to get an effective clean.
In reality, half the things added to store-bought shampoos are not even necessary. You can make your own shampoo with ingredients that are easy to find and that you probably already have on hand. Your dog's coat will be fresh and clean with no ingredients added. It's a win-win situation for both parties. Read on for three ways that will teach you how to make the best homemade dog shampoo.

The 3 DIY Dog Shampoo Recipes
1.

Skin Refresher Shampoo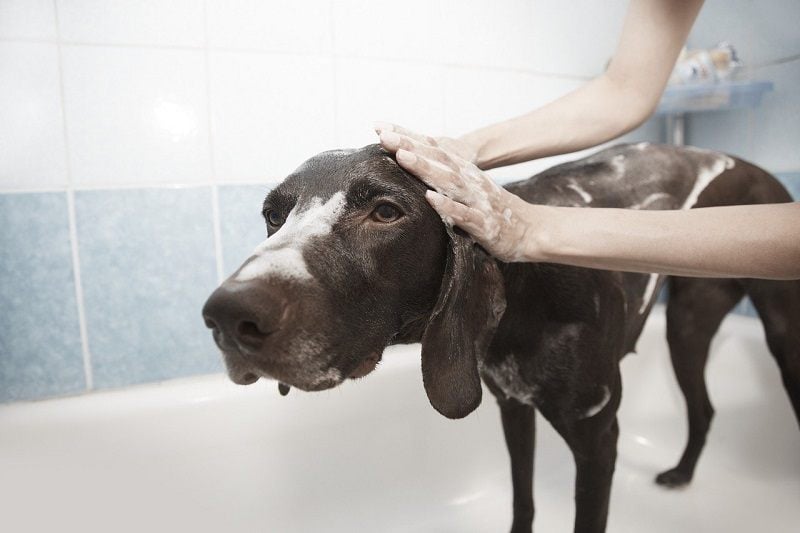 Oatmeal is great for relieving dry, itchy skin, so this is good during the winter months, but it works nicely any time of the year. Baking soda is a deodorizer, so there is no need to add extra fragrances to this recipe. With three simple ingredients, this is the best homemade dog shampoo, is easy to make, and works well for cleaning your dog's coat.
Ingredients
1 cup oatmeal
1 cup baking soda
4 cups warm water
Instructions
Blend the oatmeal into a fine powder, then combine it with the other two ingredients in a mixing bowl until it forms into a paste.
Rub it into your dog's coat, giving them a nice massage while you are at it, and then allow the shampoo to sit for 5 to 10 minutes. Rinse thoroughly, and try not to let your dog ingest any of the shampoo because large quantities of baking soda are toxic.
Notes: This will not lather like your store-bought shampoos, but it doesn't have to lather to clean effectively. Find something to distract your dog while the shampoo does its work and you will see more results from this mixture.
---
2.

Deep Cleanse Shampoo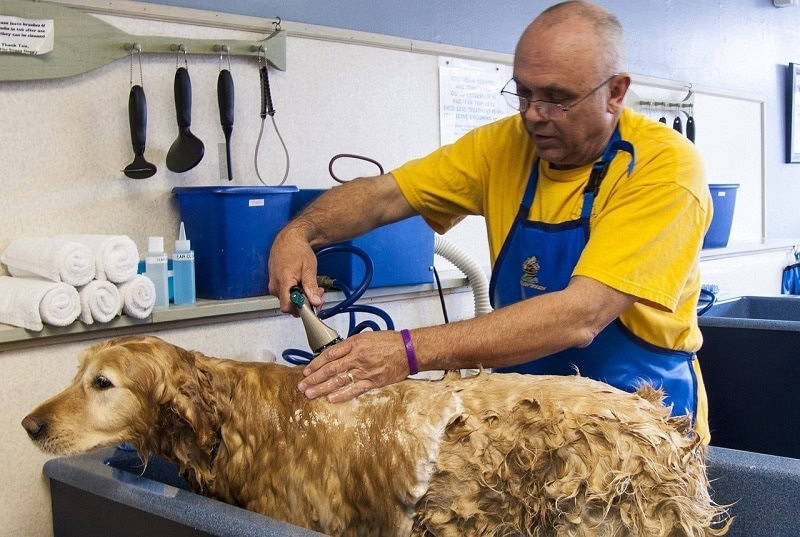 To get a deep clean and fresh scent that kills fleas like a boss, mix up this shampoo the next time your dog needs a bath. We recommend Dawn Dish Soap, since it effectively kills fleas and removes oily residue.
Cider vinegar is good for treating itchy, flaky skin, relieving hot spots, killing skin bacteria, and repelling fleas. The dish soap cuts through the strong smell of the vinegar, so there isn't any unpleasant odor when washing your dog.
Ingredients
1 quart water
1 cup apple cider vinegar
1 cup dish soap
Instructions
Mix well and lather up on your dog's coat. Leave to soak in for 5 to 10 minutes; this gives the detergent time to act on those pesky fleas. Rinse well and repeat if needed.
Notes: This shampoo will lather since it has dish soap as an ingredient. The negative is that it does take time to rinse it free from the coat if you have a long-haired dog.
---
3.

Silky Smooth Shampoo
For a shampoo that smells great, moisturizes, and kills bacteria, this is a great option.  Coconut oil will moisturize and nourish the hair to prevent shedding and keep the hair strong. White vinegar is ideal to decrease bacteria on the skin and will leave the hair shiny and smooth. The last ingredient is baking soda — it deodorizes and removes the buildup of oils on the hair.
Ingredients
3 cups of water
¼ cup distilled white vinegar
1 tablespoon coconut oil
1 tablespoon baking soda
Instructions
Add all the ingredients to a bottle and shake to mix. Keep in mind that the baking soda will react with the vinegar, so do this slowly at first. If your coconut oil is solid, melt it a little in the microwave so it can incorporate with the other ingredients.
Apply to your dog's coat and let the shampoo sit for 5 minutes to allow the vinegar and baking soda to do their magic. Then rinse thoroughly.
Notes: This shampoo will not lather, but it does a great job at cleaning regardless.

Conclusion
Give these easy homemade shampoo recipes a try. Learning how to make dog shampoo is easy and can provide great benefits to your dog's coat and skin. You have control over what goes on your dog's body, and with these shampoos, you can be sure of the ingredients and know that you are providing the best treatment.
What's even better is that they are so simple to put together that you will wonder why you didn't start making your own shampoos sooner. Here's to happy mixing and even happier washing.
Related Reads:
---