9 DIY Dog Stairs & Steps You Can Build Today (With Pictures)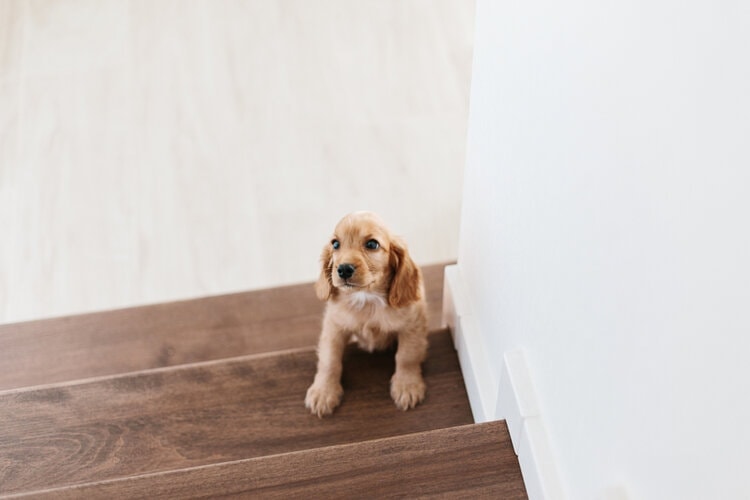 Do you maintain a no-dogs-on-the-furniture household? Or is bedtime a literal snuggle fest? If you're like us, then it's probably the latter! If you own a toy or small breed, however, getting on and off the bed (or sofa) can be not just difficult but outright dangerous for your pup.
Jumping off of tall furniture can wreak havoc on your dog's joints, especially if they're predisposed to conditions like hip dysplasia or arthritis. On top of that, there's a good chance that they won't be able to get back up on the bed, couch, or their favorite armchair after jumping down.
With a set of dog stairs, you can relax knowing your dog has the freedom to go wherever they want without hurting themselves in the process. Here are the DIY projects that teach you how to build dog stairs at home.

The 9 DIY Dog Stair Plans
1.

Dog Stairs With Built-In Storage, From HGTV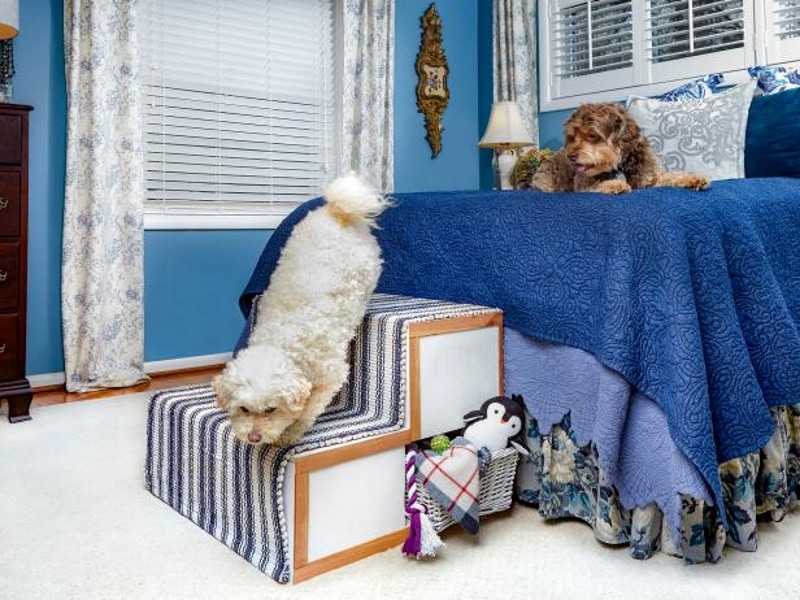 Why waste valuable floor space with a set of bulky pet stairs? HGTV offers easy-to-follow instructions for how to build dog stairs with convenient storage space hidden underneath — perfect for tucking away dog toys when not in use.
The best part about this project is that it's easily tailored to your home décor with paint and your choice of rug.
Materials
Plywood
Pine board
Trim molding
Wood glue
Finishing nails
Flat rug
Non-slip rug mat
Small basket
Tools
Jigsaw
Tape measure
Straight edge
Hammer
Masking or painter's tape
Circular saw (optional)
---
2.

Easy Dog Steps for Small Dogs, From IKEA Hackers
With this tutorial from IKEA Hackers, you can eliminate the hard work of building a set of dog stairs and jump straight to enjoying them in your own home. All you need are a few affordable supplies from your local IKEA (if you don't live near an IKEA retail store, these items are also available online), glue, and staples.
You can customize the final look of your steps with paint and your choice of fabric color.
---
3.

Classic Wood Dog Stairs, From Live Laugh Rowe
Live Laugh Rowe has a detailed tutorial on constructing simple but elegant dog steps with just a few pieces of lumber and tools. While you'll need specific tools and hardware to get this project done, it's quite simple as far as woodworking goes.
Once your new dog stairs are constructed, apply a layer of primer and your favorite paint color. If you're feeling ambitious, you can also add carpeting or cushions to the steps.
Materials
Lumber
Wood screws
Pocket screws
Wood glue and filler
Paint
Tools
Drill
Sandpaper
Handheld saw
Kreg jig
---
4.

Soft Foam Dog Stairs, From Instructables
If wooden stairs are a bit too heavy duty for your needs or you want a set of stairs that are ultra-portable, check out this tutorial from Instructables. These foam dog stairs are quick and easy to make and don't require an extra layer of carpet on top.
You can leave the foam exposed or create a fabric cover to go over the stairs. The latter option might take a little more time but will allow you to customize the look of your new pet steps.
Materials
Dense upholstery foam
Spray adhesive
Fabric (optional)
---
5.

DIY Dog Steps, From Build Basic
Are you looking for something that looks professionally made but without the hefty price? If you or a loved one have woodworking experience under your belt, then this project from Build Basic is exactly what you're looking for.
Once complete, these stairs can be customized with paint, wood stain, fabric, cushions, carpet, and more.
Materials
Plywood
Lumber
Wood glue
Finishing nails
Fabric/carpet (optional)
Paint/wood stain (optional)
Tools
Drill
Miter saw
Circular saw
Staple gun
Nail gun
Tape measure
Framing square
Speed square
---
6.

Quick and Easy Cardboard Dog Stairs, From Mild Mile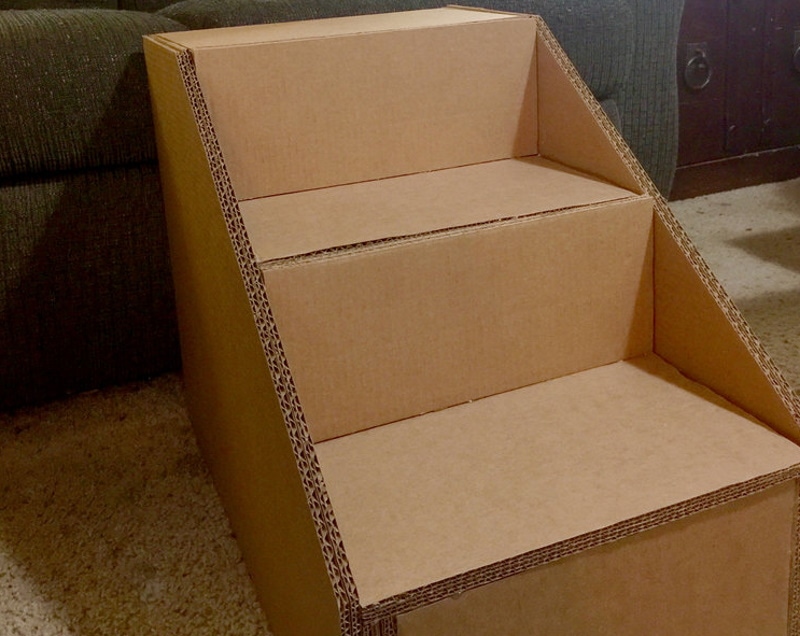 For owners of toy and small breed dogs, heavy-duty wood stairs aren't always necessary. This ingenious tutorial from Mild Mile shows how to construct the set of pet stairs by Build Basic with double-walled cardboard instead of lumber.
If you want to spice up this set of stairs, we suggest applying ready-to-stick wallpaper to the cardboard before putting all the pieces together.
Materials
Double-walled cardboard
Mounting tape
Wallpaper (optional)
Tools
Box cutter
Hot glue gun
Straight ruler
---
7.

Dog Stairs for Tall Beds, From Digital Peer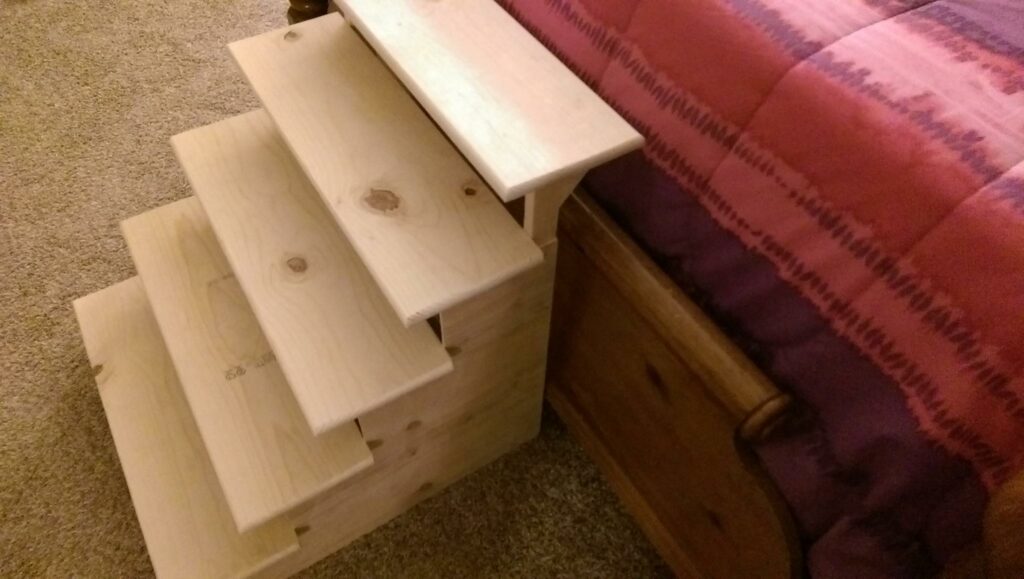 Most ready-made dog stairs are designed for sofas and low beds. But if you have an extra-tall bed and a pooch who loves to snuggle, then the custom dog stair plans from Digital Peer may just do the trick.
Of course, you can always use a wood stain or paint to match your new doggie stairs to your existing home décor.
Tools
Jigsaw
Circular saw
Cutting table/sawhorses
Drill
Measuring tape
Square angle
Sandpaper
Roundover router
---
8.

Rustic Scrap Wood Dog Steps, From Instructables
If you have access to a bunch of scrap lumber, then you're probably not too interested in building dog steps that require buying even more wood. Fortunately, this tutorial from Instructables will show you how to use old scrap wood to create a set of functional pet stairs.
The author of this project also notes that these stairs are reversible — you can lay the stairs on their "back" to create a shorter staircase for your sofa or other low furniture.
When using scrap wood, make sure you know what, if any, treatments it may have been subjected to. Some wood treatments may be unsafe for your dog.
Materials
Scrap lumber
Finishing nails
Drywall screws
Tools
Saw
Measuring tape
Drill
Hammer
Sandpaper
---
9.

Wooden Crate Dog Steps, From Hometalk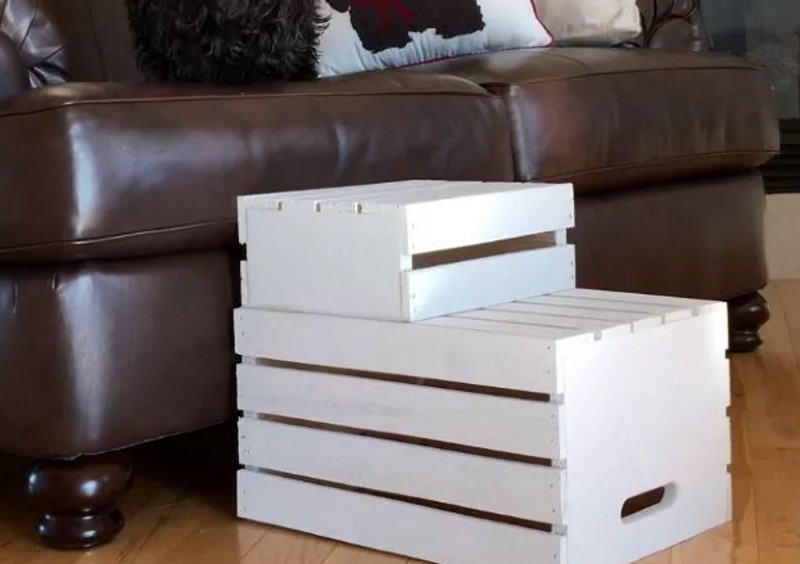 Don't have easy access to an IKEA store? Fret not, because you can easily make a set of dog stairs from almost any wooden crate! Hometalk shows us how to use affordable crates from Michael's to create a functional set of steps for a small dog.
As you can see in the picture above, this project also works great for dogs that are too small to jump into your vehicle on their own.
Materials
Two wooden crates (one full- and one half-sized)
Chalk paint
E6000 adhesive
---
Conclusion
Whether you're looking to avoid the expense of store-bought pet stairs or just want to roll up your sleeves for the day, these are just a few of the great projects you can build for your four-legged friend. There are even multiple options for dog owners who don't have the equipment or skills needed to construct a set of stairs from wood.
As always, don't be afraid to adjust these DIY dog stairs & steps to fit your own needs — change paint colors, step heights, or whatever else you see fit. Assuming you have the tools and experience necessary, there's no limit to your creativity!
So, what are you waiting for? A set of custom-made steps for your dog are sure to make your and your pup's lives a little bit easier.
How does your dog get on and off the furniture? Have you ever used a set of pet stairs?
See Also:
---