15 DIY Halloween Costumes for Cats To Make Today (With Pictures)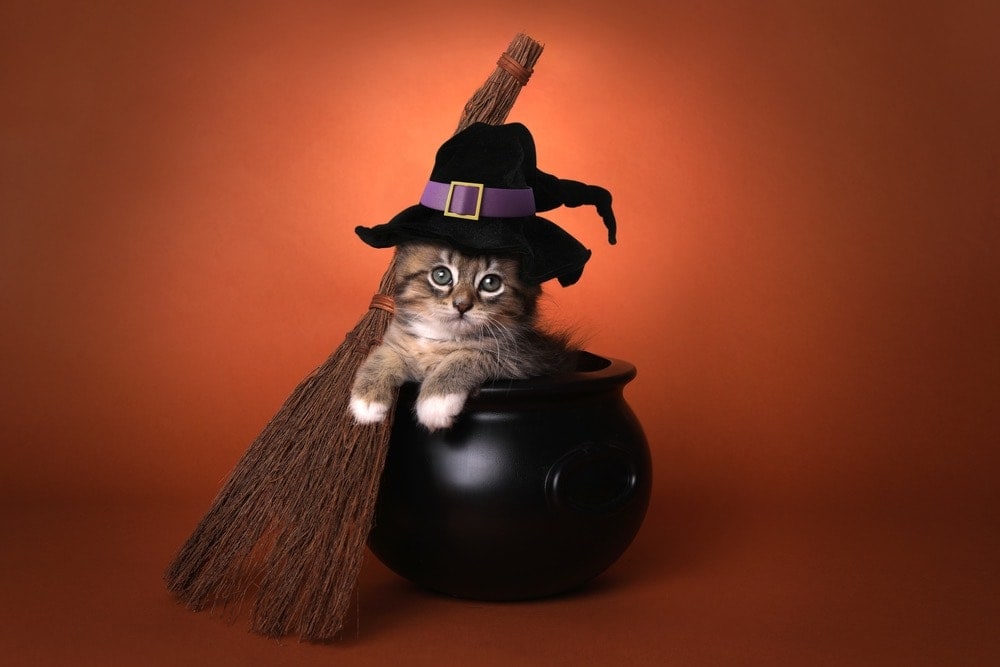 It might not always be typical to dress your cat up for Halloween, but it is a great deal of fun. Our cute little feline friends dressed to look like something else entirely for a night makes their little faces even cuter. And who doesn't love a well-constructed DIY costume?
If you are searching for a costume that you could make for your cat, check out this list of 20 fantastic options. From challenging to simple and cute to squeamish, we have got all kinds of costumes for you and your Halloween-loving friend. While a few examples picture a dog in the costume, these will easily work for a cat's costume.
The 15 DIY Halloween Costumes for Cats
1.

Clown Cat – Martha Stewart
To some, clowns are symbols of laughter and fun. For others, they are the scariest creatures in the world. From funny circus acts to terrifying horror films, there is quite a range of material and dressage that you can opt for while crafting this costume. In our example, the costume's focus is on a frilly tulle and a conical clown hat formed with paper and tape.
---
2.

Dumpling Cat Costume – Instructables
Perhaps you are looking for a costume that speaks more to your cat's character than the actual holiday. Some cats are incredible nappers, unwilling to move for almost any reason. A dumpling costume might be the perfect thing for them. There are all kinds of food products that you can use as a costume for your cat, but this dumpling cat costume is undoubtedly adorable. It requires a bit of sewing skill but is still a pretty basic costume to make.
---
3.

Flower Power Costume – Martha Stewart
For some cat owners, the costume for their furry baby has to be all about cuteness. Embrace the love of fall and all the other seasons with this adorable felt flower custom. You can use one of their old collars or create a temporary Velcro collar with felt to fasten the flower around their neck.
---
4.

Bat Cat – VetKidz. Blogspot
Here comes Bat Cat! With felt and paper magic, you can create a bat suit for your fearless feline. Use Velcro to keep it fastened around the front of their neck and behind their legs. You can also add costume wire if you want to keep the wings up all night long.
---
5.

Minion – 2 Cats & 1 Doll
If you're handy with a sewing needle, this Minions costume is an adorable option. This costume requires several supplies to bring it to fruition, including brown and yellow felt, Styrofoam balls, a toilet paper roll, and Velcro. Don't worry, though; it's not as complicated as it sounds and shouldn't take more than an hour or so to assemble.
---
6.

French Chef – HGTV
This sweet French chef costume from HGTV is a simple DIY that you can put together with supplies you likely already have on hand. It requires some exact measurements and patience, but the end result is an adorable costume complete with a chef hat and neckerchief.
---
7.

Crocheted Bat Wings – Catventurous Crochet
If you're an avid crocheter, put your skills to good use by crafting these bat wings for your kitty. There are eight different stitches and techniques you'll be using to make the costume, so you should be at least a little familiar with crocheting before tackling this project. Thankfully, the YouTube tutorial is very thorough and step-by-step, so even beginner crocheters should be able to follow along with the creator.
---
8.

Knitted Lion Mane – Ravelry
This knitted cat's mane costume is a great choice if you prefer knitting over crocheting. The Ravelry website provides step-by-step instructions for this project. You may need to adjust the gauge or pattern depending on the yarn, fabric elasticity, and size of your kitty's head. The creator recommends measuring up to your pet as you go along to ensure you're getting the sizing just right.
---
9.

Catahedron Cat – Instructables
This catahedron cat costume is an adorable way for a math or geometry whiz to showcase their love of platonic solids. This project is a bit more involved than some of the others we've looked at, but if you're comfortable behind a sewing machine and love a little bit of a challenge, this is right up your alley.
---
10.

3D Armor – Instructables
If you have a 3D printer at your disposal, this realistic 3D armor costume is a must-do. The creator provides the files you need to print your 3D pieces; all you need to do is assemble them. The entire outfit can be made from 3D parts, or you can use brass fasteners to hold the armor together.
---
11.

Nyan Cat – Instructables
Nyan Cat took the world by storm in 2011 when a YouTube video of a hybrid cat/Pop-Tart flying through the sky went viral. Twelve years may have passed since the video was first posted, but the part-pastry-part-feline meme is as recognizable today as it was then. This Nyan Cat costume is very easy, requiring the use of cardboard boxes, colored tape, and a printout of a Pop-Tart.
---
12.

The Sims – Meowbox
The Sims™ is the biggest-selling PC game franchise, so making a Sims-themed costume for you and your cat is perfect if you want a clearly recognizable costume. This simple Sims costume tutorial needs just a few materials, most of which you probably already have at home. You'll cut out the trademark "plumbob" (the green diamond shape that indicates a Sims mood) from construction paper, secure it to a wire, and attach it to your cat's collar.
---
13.

The Catbus – Sweet Ipomoea
The 1988 Japanese animated film My Neighbor Totoro is one of the best anime productions ever created. If the film takes you back to your childhood, transforming your beloved kitty into the movie's Catbus is a creative way to honor the characters and what the film meant to you as a child (or even as an adult). To make this Catbus costume, you'll need felt, cardboard, hot glue, and a little know-how with a sewing needle.
---
14.

Shark – Instructables
This DIY shark costume is simple and easy to make. All you will need is fabric glue, felt, elastic, cardboard, and a sewing machine or needle and thread. And the best part is that when Halloween is over, you can reuse this costume during Shark Week!
---
 15. 1980s Aerobics Kitty – Obsessively Stitching
Whether you have a love of the 1980s or just want your cat to look like it stepped out of a 1984 aerobics class, this legwarmer costume is an easy project to tackle in an hour. The brighter and more neon socks you can find to transform into kitty leg warmers, the better and more authentic this outfit will be.
Related Reads: 
---
Featured Image: Katrina Brown, Shutterstock