DIY Halloween Costumes for Cats (with Pictures)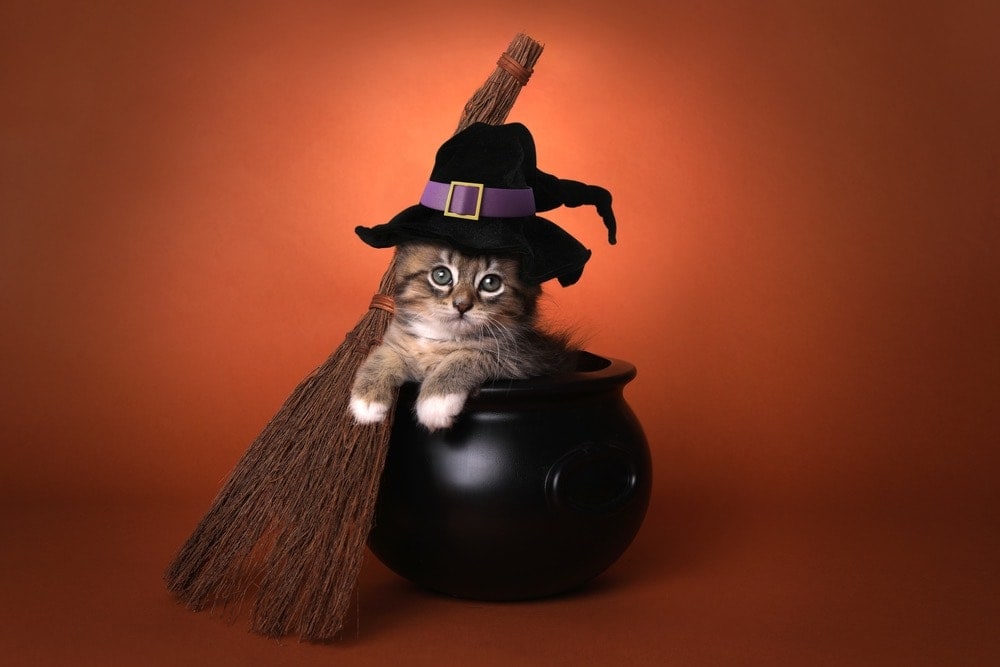 It might not always be typical to dress your cat up for Halloween, but it is a great deal of fun. Our cute little feline friends dressed to look like something else entirely for a night makes their little faces even cuter. And who doesn't love a well-constructed DIY costume?
If you are searching for a costume that you could make for your cat, check out this list of 20 fantastic options. From challenging to simple and cute to squeamish, we have got all kinds of costumes for you and your Halloween-loving friend. While a few examples picture a dog in the costume, these will easily work for a cat's costume.
1. Jockey Cat
Finding a bit of felt fabric and a Ken barbie doll is almost all you have to do to get this look. You can decide to make clothes for the Ken doll or paint him your cat's jockey colors. It is an apt costume for young kittens that love to race around at night and a funnily ironic choice for those lazier Garfields of the world.
---
2. Play Dead
This costume works incredibly well if you are among the few people who have managed to train your cat how to do a trick like "play dead."
All you need is a white T-shirt and red food coloring. Of course, you shouldn't use real blood of any kind because it will be confusing for your cat, and they could make themselves sick in such a costume.
---
3. Clown Cat
---
4. Dumpling Cat Costume
---
5. Witchy Cat
---
6. Flower Power Costume
---
7. Starbucks Coffee
They can wear the same costumes, but can pugs and cats get along? Click here to find out!
---
8. Rocker Cat
---
9. Robin Hood Cat-In-Tights
---
10. Cat Gnome
---
11. Sushi Roll Costume
---
12. Corona Cat
---
---
14. Bag of M&Ms
---
15. Loopy for Fruit Loops
Use different colored sponges and cut them into donut shapes to make them look like fruit loops. You can glue them in place so they won't fall out when your cat begins to walk around. Just make sure they aren't too heavy and won't strain your cat's neck. You can also use tin foil to look like milk being poured into their "bowl."
---
16. Fun Little Football
Cut out felt or white cardboard to look like the seams along the top of a football. You can try to tape it in place or hold it there with a thin headband or string if that doesn't bother them too much.
You might also be interested in: How to Get Your Cat to Play
---
17. Halloween Catcake
---
18. Bat Cat
---
19. Ahoy, Matey
---
20. Nerdy Cat
You might also be interested in: 
---
Featured Image: Katrina Brown, Shutterstock