3 DIY Mess-Free Litter Box Plans (with Pictures)
Scooping up cat poop is rarely a person's favorite activity, and it gets worse when you not only have to scoop out the box but also clean the floor around it. Mess-free designed litter boxes are tempting, but they can be expensive and have a lot of moving parts that can make our cats uncomfortable. Here are three comprehensive DIY options for mess-free litter boxes!
The Top 3 DIY Mess-Free Litter Box Plans
1.

DIY Top Entry Bin
One standard mess-free litter box style is the top entry litter box. These feature a completely covered litter environment with a hole in the top of the bin for cats to enter and exit from. The cover keeps the litter inside the box, and since the entry hole is in the top, it's not in the spray zone when your cats kick the litter around.
However, that top entry hole may not be accessible for senior cats or those with mobility issues. So, keep that in mind before you get to work. A DIY top entry litter box is pretty simple to get started with. You only need one item!
Materials
Plastic storage bin with lid
Box-cutter
Pot cover to trace
Hot glue gun
Drawer liner
File
Scissors
To turn the storage bin into a covered litter box, use the pot cover to trace a hole in the top of the bin lid for your cat to enter and exit. File the rough edges of the hole. Hot glue the drawer liner around the edge of the hole for extra protection for your cat. Place a litter box with clean litter into the bin. Then latch the bin closed so that your cat can't knock the lid off.
Completely covered and prevents litter from getting kicked out of the box
Top entry allows you to control the spread of debris on feet
Senior cats may have trouble getting into the litter box
---
2.

DIY Dresser Box
This is a side-entry covered litter box that hides your litter box away by disguising it as furniture! You can use a dresser with drawers, a cabinet, or a trunk for this one. You'll probably want to thrift shop for it since it will be used as a container for a litter box; no reason to get something fancy, you know?
Materials
Old dresser
Measuring tape
Jig saw
Pencil
Sandpaper
Paint or stain (optional)
Linoleum or vinyl (optional)
This one will take a little more skill to put together since you'll need to cut a cat door side, which requires that you take a handsaw or jig saw to the side of the dresser.
Additionally, if the dresser has drawers, you'll need to remove the faces of the drawers and glue them to a piece of plywood fitted for the front look of your dresser to give the appearance of a functional dresser.
Next, use the saw to cut an entry for your cat on the side of the drawer. It is recommended that you measure the dimensions of the door and trace it out first before making any cuts. Sand the edges of the door until smooth. It is also recommended that you line the bottom of the dresser with linoleum or vinyl to protect the wood from any urine or feces. Lastly, if you are feeling creative, put a fresh coat of paint or stain on this dresser.
Looks like regular furniture
The low entry point is easy for senior and mobility-impaired cats to access
Requires a saw to install
---
3.

DIY Sifting Litter Box
Sifting litter boxes make cleaning up after your cat a breeze! This DIY plan requires some measuring and cutting, but the final product will be worth all the effort.
Materials
4 plastic trays that fit inside each other snugly
Printed templates
Rubber cement
Ruler
Box cutter
First, you want to take four trays that fit inside each other snugly. You don't want room between the bottoms; they should touch. The plan has some templates that need to be printed out to help cut the slits in some of the trays.
You fit the grated tray inside one non-grated tray and pour the litter into the two totes. When it's time to clean the box, lift the grated tote out of the box, sift the waste, and empty it into the trash!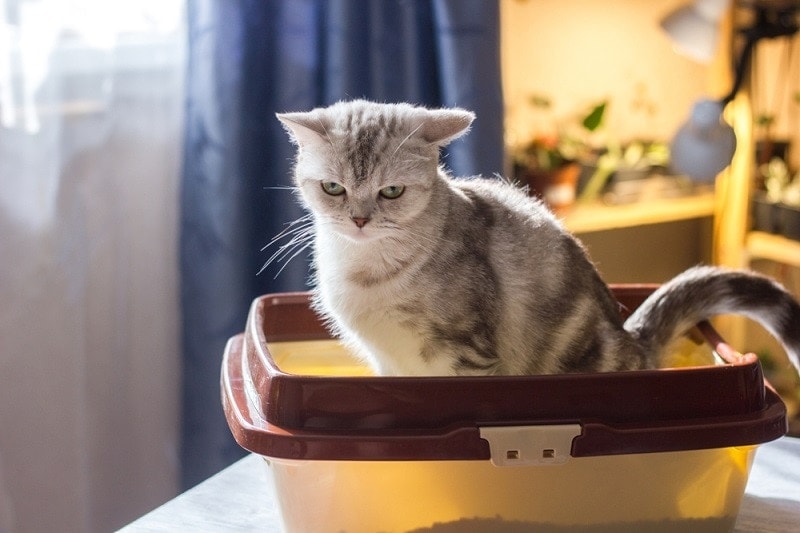 Benefits of a DIY Mess-Free Litter Box
While many of these systems can be purchased from retailers, there's an apparent reason to do it yourself in the cost. You could potentially get a pretty good deal on what might otherwise be a several hundred dollar venture if you're willing to put a little elbow grease into it! Here are three good reasons to consider doing the work yourself!
1.

It's Cheaper (Usually)
It's usually cheaper to build your items than buy them pre-built. One of the highest costs when purchasing a new article is manufacturing. If you do the manufacturing yourself, you'll avoid that cost entirely.
Especially when it comes to furniture pieces, it can be more cost-efficient to thrift for a furniture piece that you can alter if you already know how to do that.
---
2.

It's Easier to Service
It's more accessible to self-service the item when you know precisely how a piece of equipment was built. Whether cleaning or repairing a broken piece, it's more accessible to self-service something when you know where all the parts came from.
When you build your items, you know exactly what each part needs to function. There are no mysteries or manuals to scour. You have the receipts on hand.
---
3.

Know Where Parts Are Sourced From
Knowing where our products are made and how is something many more people consider when buying materials. No one wants to support a business that conducts its work unethically. When sourcing materials for a DIY project, you have more control over the overall sourcing of your final product. You won't have to settle for less because you have complete control.
Final Thoughts
There are many reasons to choose a DIY project instead of buying a pre-assembled item. No matter what your reason is, there's a mess-free litter box plan out there waiting for you to bring it home! These plans cover all kinds of mess-free setups for all different households and life stages. Just because your cat has special needs doesn't mean they need to make a big mess!
Related Reads:
---
Featured Image Credit: Zoran Photographer, Shutterstock