6 DIY PVC Cat Tree Plans You Can Make Today (with Pictures)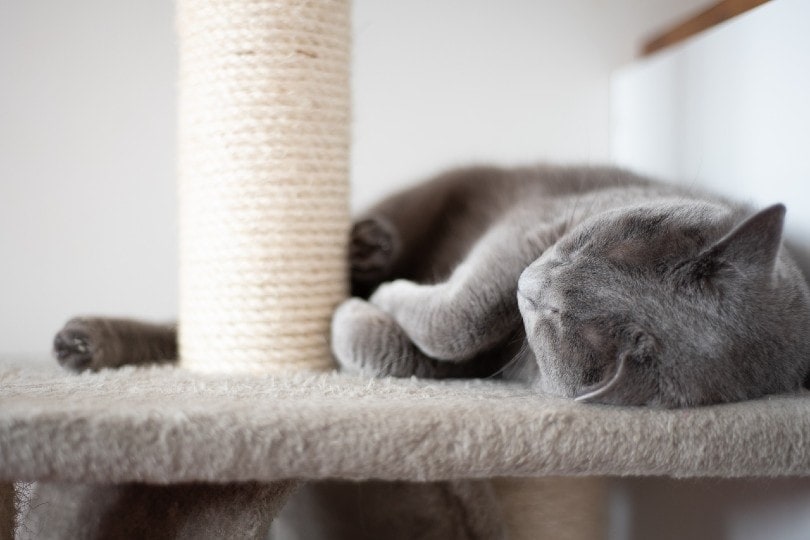 It's a universal truth: cats are nimble climbers who aren't afraid to leap onto dizzying shelves to observe their subjects from the top of their tower! The problem is that they often take the opportunity to kick a few trinkets in their path, which obviously displeases their owners. The solution? DIY a great cat tree that will keep them busy while decorating your living room in style!
In this article, we'll take a look at PVC cat tree plans. Why PVC? Because it is an extremely durable and lightweight material, in addition to being cheap. Most of the plans below are simple and easy to build, while others require a little more know-how. But don't worry, no matter what you're looking for, you're sure to find a cat tree plan that's right for you and your fabulous kitty!

The Top 6 DIY PVC Cat Tree Plans
1.

Cuteness Modern Cat Tree
| | |
| --- | --- |
| Materials: | PVC pipes, PVC pipe cutter or hacksaw, tee PVC fittings, PVC elbows, PVC end caps, straps, screws, plywood, cement, spray paint |
| Tools: | Power drill |
| Difficulty Level: | Beginner |
Cuteness Modern Cat Tree is perfect if you like the industrial style. It is an extremely simple cat tree but has a modern look that is different from popular cat trees. Almost everything is made of PVC: pipes, elbows, end caps…even the cement! However, it does not include scratching posts or a small hiding place, but nothing prevents you from adding them. A bit of sisal rope around the PVC pipes and you're done!
---
2.

The Experimental Home Large Cat Tree
| | |
| --- | --- |
| Materials: | PVC pipes, concrete form, plywood boards, sisal rope, carpet, lag bolts, cat hammock, glue sticks, staples |
| Tools: | Saw, drill, protractor, screwdriver |
| Difficulty Level: | Advanced |
If you have a bit of DIY cat tree experience and are keen to put your skills to the test, this amazing cat condo will have you covered! Designed by The Experimental Home, the construction of this palace will take at least a day, if not more.
However, the end result is quite spectacular, with the many scratching posts, the hammock, the cozy little house, and the soft perches. Your cat will be able to climb, hide, play, and rest while leaving your shelves alone!
---
3.

HGTV DIY Cat Tree with Basket Beds
| | |
| --- | --- |
| Materials: | PVC pipes, baskets, brackets, screws, sisal rope, glue |
| Tools: | Hack saw, screwdriver |
| Difficulty Level: | Beginner |
This cat tree featured on HGTV is simple to make and super cute. You can choose the desired height and the number of baskets to add. These will be cozy little nests inviting your felines to a well-deserved nap!
---
4.

Cool Cat PVC Cat Tree for a Small Space
| | |
| --- | --- |
| Materials: | PVC pipes, sisal rope, plywood, foam cushion, fleece, screws, glue sticks, rocks |
| Tools: | Bandsaw, screwdriver |
| Difficulty Level: | Beginner |
Are you running out of space in your living room? Cool Cat's step-by-step tutorial shows you how to make a small PVC cat tree that your naughty little cat will love. Of course, it's not an ideal tree if you have multiple cats, as they will run out of space to play and hide. On the other hand, it will be perfect for tiny kittens! They'll quickly get used to this little cat tree and you can build a bigger one once they're all grown-up.
---
5.

Duct Tape & PVC Cat Tree
| | |
| --- | --- |
| Materials: | PVC pipes, permanent marker, cardboard, duct tape, PVC end caps, sisal rope |
| Tools: | Mallet, scissors, PVC pipe cutters, utility knife, metal measuring stick |
| Difficulty Level: | Medium |
A cat condo made with duct tape and PVC? That's what the Instructables have to offer! This tiered cat condo has the advantage of offering multiple hiding places for your kitties, soft cushions for napping, and scratching posts to sharpen their ferocious predatory claws.
You can follow the instructions exactly or create your own spectacular and unique cat condo. There are almost endless possibilities with PCV structures, so take advantage of them!
---
6.

PVC Cat Tower- Instructables
| | |
| --- | --- |
| Materials: | PVC pipes, shower curtain rings, PVC end caps, plywood |
| Tools: | Hacksaw, sandpaper, needle, drill, glue, screws |
| Difficulty Level: | Beginner |
Another ingenious invention from the Instructables is this cat tower with hammocks. It is really very simple to make, but perhaps a little less aesthetic than the other options—it all depends on taste! Your cats can have fun with the hanging toys and take a nap in one of the many hammocks!
Or, if you're thinking of getting your cat something a little different, that entices play and looks like a modern piece of furniture in your home, you might think about giving our Hepper Hi-Lo Cat Scratcher a try! Its curved design targets a full range of motion, and with three height configurations and a durable design, you can be sure your cat is getting the exercise, height, and adventure they naturally desire.
Click here to learn more about our innovative, functional, and funky, Hi-Lo cat scratcher. 
Conclusion
The best part about making your own PVC cat tree is that you can customize it to include all of your cat's favorite things. Build them a tunnel to crawl in or make them a hammock to relax. The options are truly endless!
---