6 DIY Snoopy Dog House Plans You Can Build Today (With Pictures)

Building a dog house that looks like Snoopy's house from the classic comic strip, "Peanuts," is a fairly simple task — especially if you have experience building furniture or have worked with other lumber projects. A Snoopy dog house has a simple gabled design, and we have featured five plans on this list that will teach you how to build a snoopy dog house and get you started with minimal effort. They range in skill level, so you can find the one that best suits your ability.

The 6 DIY DIY Snoopy Dog Houses
1.

Simple DIY Gabled-Roof Dog House by HGTV
HGTV offers a dog house project that is a great size for small- to medium-sized dogs up to 50 pounds. They recommend using high-quality plywood without splinters and cracks and only using pressure-treated wood where your dog can't chew, such as the base of the house. They have step-by-step plans that are clear and concise and offer videos of each step that teach you how to build a snoopy dog house with ease. The skill level for this house is for a beginner and takes approximately half a day to build.
---
2.

Simple DIY Dog House Plan from Lowes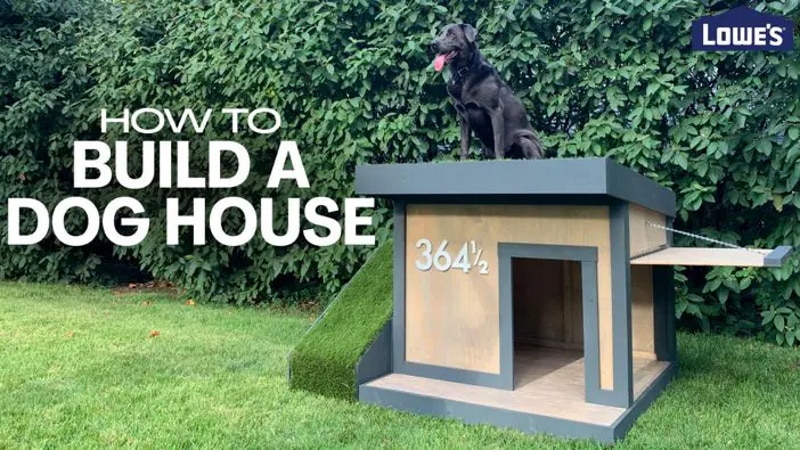 Lowes has a simple dog house plan that with a coating of red paint, could look like Snoopy's dog house. Their plans are concise and the instructions simple to understand. It is designed for average-sized dogs, but you could easily scale it up or down to accommodate your dog. This dog house could be built by someone with very little carpentry experience, since the instructions are so detailed. You will need a circular saw and a table saw to cut the lumber. They also teach you how to shingle the roof to add extra protection for your dog.
---
3.

BuildEazy DIY Doghouse
BuildEazy has free plans for a basic doghouse that can be modified to look exactly the way you envision. They offer detailed instructions and plans for this house that will be big enough for larger dogs. Tips and tricks abound with these plans, and you will find everything you need to complete this project from start to finish. There is the option of a PDF download, but it isn't free. Otherwise, you can scroll through the site and find everything you need.
---
4.

DIY Snoopy Doghouse From Used Moving Boxes by TMT Blogs
If you don't have a lot of building materials or tools, this is a great project for you. This DIY Snoopy Doghouse is made from moving boxes (either new or used) and only requires packing tape, a black marker, Exacto knife, and some red spray paint. This project can be done in an afternoon because it does not require a laundry list of materials or a lot of craftsmanship. However, this dog house will not hold up in the rain or snow. But this is a great way to give your dog some shade during the day after they are done playing in the yard.
---
5.

DIY Cartoon Dog House by Ana White
This DIY Cartoon Dog House project involves crafting a sturdy exterior plywood dog house with a detailed truss design for additional strength. The project demands a variety of materials, including exterior plywood, different lengths of 2 x 2, 1 x 3, and 1 x 2 boards, and screws of varying sizes. Cutting instructions provide specifics for each piece, including angled cuts for trusses and trim. The resulting structure features a 39 x 29-inch plywood floor, distinctive front/back and side trim, a door, and a roof made from two large plywood panels. The end result is a dog house that embodies the charm of a real Snoopy house!
---
6.

The DIY Red-Roof Inn by Remove and Replace
Do you want a dog house that Snoopy himself would use? This DIY project involves building a raised, weather-resistant dog house suitable for a small to average-sized dog. The design can be scaled to accommodate different sizes. The dog house is crafted from exterior wood siding, 2 x 4 framing, and painted or stained for additional protection. The structure includes a platform with rounded legs for elevation, promoting warmth and preventing water entry. This DIY project is one of the closest you'll find to a Snoopy dog house that looks like the real thing.

Conclusion
We hope that these three plans will help you build the Snoopy dog house of your dreams — or at least, of your dog's dreams — so they have a great place outside that protects them from the elements. Use your creativity skills when building a Snoopy house from these plans so you end up with a one-of-a-kind creation.
Related Reads:
---
Featured Image Credit: Kichigin, Shutterstock