5 DIY Truck Bed Dog Kennels You Can Make Today (With Pictures)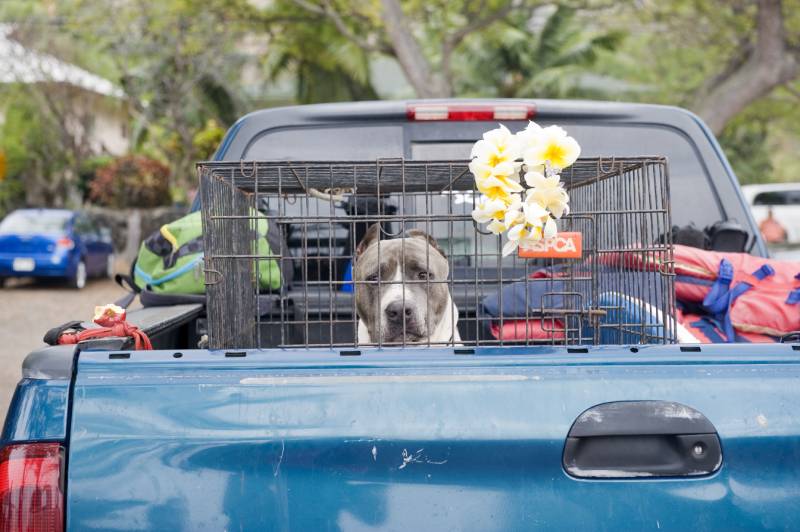 There are a few things that you should keep in mind as a truck owner when you plan to hit the open road with your furry friend in tow. There is a chance that you will be tempted to have your dog jump in the back of the truck and then simply leash them so that they do not fall out. Whilst this solution is convenient, quick, and cheap, it is hazardous and potentially fatal for your furry friend. If they become dislodged from the back of the truck, the leash might choke them. Or if the collar is not very tight, they might slip their leash and fall out.
It is highly recommended that you opt for a kennel or crate for your dog that can be securely placed inside the truck's bed, which will keep your pet safe and comfortable during transit. The good news is that you can purchase a kennel for your truck bed, but if you are hands-on and want to make your own, here are some DIY examples that others have made for their own pets.

The 5 DIY Truck Bed Dog Kennels
1.

Truck Bed Dog Crate – DIY Travel Kennel by Gunflint Designs
| | |
| --- | --- |
| Materials:  | Chalk, plywood, wood offcuts, long screws, insulation, nails, hinges, short screws, paint, rug, latches, handles, anchor points, brackets |
| Tools: | Measuring tape, circular saw, drill, nailgun, jigsaw |
| Difficulty Level: | Advanced |
This design is suitable for people with woodworking skills and some time to spare and ideal for someone with a home woodshop. From the materials and tools listed above, you can tell that this project is a lot more involved than our previous two. There aren't exact instructions for this one, but the linked YouTube video shows you exactly how to measure your vehicle (and your dogs!), make a rough plan, and get to work.
We particularly like the addition of insulation and carpeting in this project—both key comforts for canines who live in colder climates. This project will likely take most proficient DIY enthusiasts several days to complete.
---
2.

Homemade DIY Truck Bed Dog Box from House Dog HQ
| | |
| --- | --- |
| Materials:  | Aluminum/wood, hinges, silicone caulk |
| Tools: | Measuring tape, drill, saw, welder (optional), sander |
| Difficulty Level: | Advanced |
This open-ended DIY guide helps you construct a long-lasting, sturdy, and weather-resistant truck bed kennel for relatively cheap yourself. This plan also notes that you can use wood, aluminum, or even plastic-coated materials depending on what your budget is. Welding the whole construct onto your truck bed is recommended if you have the tools and welding experience, but it's not strictly required—use carriage bolts as an alternative method.
---
3.

DIY Truck Dog Box from WikiHow
| | |
| --- | --- |
| Materials:  | Plywood, galvanized fencing, pine strapping, pressure-treated wood, hinges w/ hasps/latches, carrying handle, eyebolts, straps/chains, tarp, screws, staples |
| Tools: | Jigsaw, measuring tape, drill, fencing tool, staple gun |
| Difficulty Level: | Advanced |
This comprehensive DIY plan from WikiHow walks you through everything you need to build your own truck bed dog kennel and how to go about it. There are handy pictures to help you track your progress, even if they're a tad vague. Experienced carpenters won't have a problem following along, but it might be a little complex for a beginner. We really like that there's no welding involved in this plan, too.
---
4.

DIY Single Dog Kennel from BuildBlueprint
| | |
| --- | --- |
| Materials:  | Lumber, rebar, bolts, screws, paint, screws, dowels |
| Tools: | Pocket hole jig, measuring tape, miter/circular saw, screwdriver/drill, sander/sandpaper |
| Difficulty Level: | Intermediate |
For a more open truck bed dog kennel, you may consider this DIY blueprint, with a specific cut list and a list of necessary power tools. Dowels act as jail-style bars that offer a surrounding view for your dog in transport, and the door is simple, functional, and easy to use. It's a bit more bare-bones than others, but that makes it more accessible if you're on a budget.
---
5.

DIY Dog Crate Cabinet from Woodshop Diaries
| | |
| --- | --- |
| Materials:  | Plywood, boards, dowels, pocket hole screws, hinges, wood glue/putty, banding (optional), paint/clearcoat |
| Tools: | Circular saw, miter saw, dowel jig, nail gun, drill |
| Difficulty Level: | Intermediate |
Easily adapted for use in a truck bed, this DIY dog crate cabinet from Woodshop Diaries is a clever bit of cabinetry put to use for your dog. This plan recommends using iron edge banding to line the front edges of the kennel, but it's not strictly required. You could certainly just sand down the edges or bevel a 45-degree cut to add a bit of visual interest there instead.

Tips on How to Design Your Own DIY Dog Crate for Your Truck
Now that you've looked at a few different designs and approaches to making your own DIY kennel for a dog you might want to flex your creative muscles and come up with your own approach and design. Making a kennel can be as easy or as hard as you want. When designing your own dog box keep in mind how it is going to be used and consider these key factors:
Dog boxes should be very strong and able to withstand the elements.
They should be secured to the truck bed at all times.
Your dogs should be comfortable, so the boxes must be ventilated and insulated against both the heat and the cold.
Easy to clean, move, and secure.

Conclusion
In conclusion, make it comfortable and safe if you need to travel with your dog in the back of your truck. Although there are lots of ready-made products available, there is no reason why you can't make your own, either by re-purposing an existing kennel you own or building one from scratch. You don't have to be a skilled engineer to make your own dog crate, but if you are, and you have the tools, and the time there is almost no limit to what you can do.
See also:
---