Do Cane Corsos Drool a Lot? Normal & Excessive Amounts Compared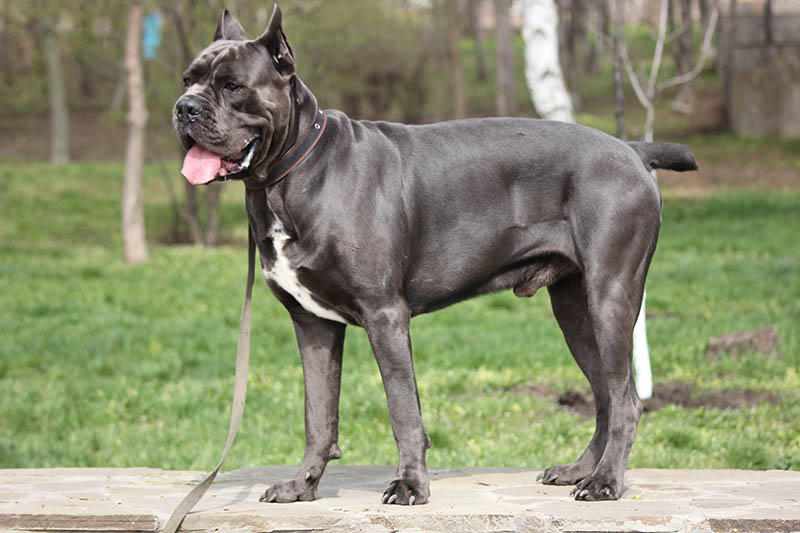 As direct descendants of Mastiffs, the Cane Corso is moderately prone to drooling, though not as much as their ancestors. In fact, Mastiffs are in the top 10 dog breeds who drool the most. The Cane Corso, on the other hand, ranks 3 out of 5 on the AKC scale, with 5 being the most slobbery breeds of the bunch. Why do Cane Corsos drool so much? Is there anything you can do to slow down the slobber? While every Cane Corso will drool some—and more so during strenuous activities or in hot weather—excessive drooling could actually be a warning sign. Here's what you need to know about your dog's inevitable slime.


Why Do Cane Corsos Drool So Much?
The St. Bernard with their giant jowls drools more than any other breed. Mastiffs follow suit, since they also have big jowls. While the Cane Corso is derived from the ancient mastiff, they typically don't have such a loose facial structure, so they aren't as prone to drooling.
Every dog drools when they see or smell food. When a mound of fried chicken drifts into the room, your dog's brain sends its body into reactionary responses that prepare them to receive what they're craving. However, the design on some dogs' muzzles catches the drool better than the jaws on a Cane Corso. That's why you won't necessarily see a slobbery puddle fall from your Poodle, but you might from a Labrador Retriever. Even though both dogs drool over the same stimuli, the Poodle simply has a better built-in way to retain the pool.
Is Excessive Drool Ever a Problem?
Even though all dogs drool, excessive slobber can definitely signify that there's a problem with your Cane Corso. It's important to distinguish between normal dog slobber and an excessive amount because some of these issues require urgent medical attention.
Cane Corsos ran with the ancients. They served as dogs of war during the Roman Empire and later took on the role as the genteel protectors of Italian estates. Back in the day, they were trained and adept at killing wild boar. While no one would ever argue that the Cane Corso is a weak breed, the weather seems to be their Achilles heel. Temperatures in the US on both extremes sharply contrasts with the relatively mild climate they're accustomed to in the Mediterranean. Excessive drool could be a sign that they're not adjusting to the temperature well and need to rest in order to prevent heat stroke.
The Cane Corso is actually a brachycephalic breed, though to a lesser extent than their snub-nosed Pug cousins. The squished shape of their noses makes breathing difficult, especially in extreme temperatures. When a Cane Corso overexerts itself in the summer heat, their body responds to their elevated internal and external temperature by panting to try to cool them off. However, since their respiratory systems aren't as efficient as other breeds, the Cane Corso can develop heat stroke if the situation isn't quickly remedied. This is why it's recommended to exercise your vigorous Cane Corso early in the morning and late in the evening during the peak of the summer months.
It's important to be able to recognize the signs of heat stroke since it can come on suddenly with potentially devastating consequences. Call your vet immediately if you notice:
Elevated heart rates
Pale or sticky gums
Respiratory distress
Lethargy
Seizures
Collapse
Other potential reasons for excessive drooling include dehydration, anxiety, ingesting a toxic substance, and nausea, especially from car sickness. If you believe your Corso is drooling more than they should, monitor them for any other unusual signs, and call your vet if anything changes.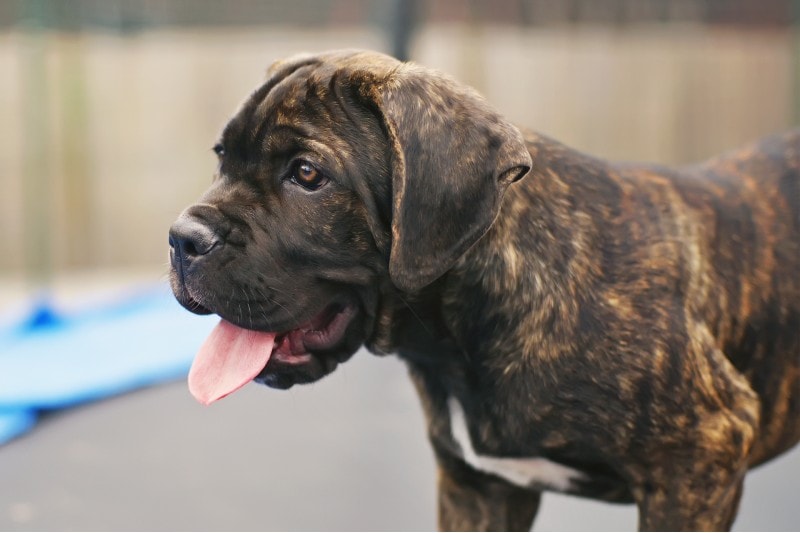 Conclusion
While every Cane Corso drools some, you shouldn't be noticing an excessive amount unless they're responding to stimuli such as food or exercise. A moderate amount of drool is expected, but take note if they're drooling excessively, or if they appear to be feeling unwell. Since they're a brachycephalic breed, they're at a high risk of heat stroke. It's important to make sure they always have access to water, especially when they're outside. Avoid running them in harsh temperatures and give them a break if they seem too winded. If you notice signs of heat stroke, call your vet immediately. Otherwise, give them a pinch of the cheeseburger they're salivating over, and accept the drool as a form of a kiss.
---