Do Corgis Get Along With Other Dogs? Compatibility Facts & FAQ
Corgis are irresistible dogs thanks to their short legs, long bodies, and, in the case of the Pembroke Welsh Corgi, stubby tails. These dogs have been rapidly growing in popularity, with the Pembroke being somewhat more popular than the Cardigan Welsh Corgi. With that increase in popularity comes more people having interactions with Corgis at places like patios and dog parks.
Corgis generally get along well with other dogs, but individual temperament, socialization, and training play a significant role in their compatibility with other canines. Whether you're looking to get a Corgi or you know you and your dog will likely encounter one, it's important to understand the temperament of these breeds and how they get along with other dogs.

The Pembroke Welsh Corgi's Temperament
Believe it or not, Corgis were bred to be herding dogs, but their instinct to herd people and other pets is less strong than that of breeds like the Border Collie. This means that they are less likely to be the type of dog that nips at ankles in an attempt to herd.
They are considered an agreeable breed, often being considered one of the most agreeable of all the small dog breeds. They are loving dogs that love the companionship of their people, but they aren't typically known for issues like separation anxiety.
Their agreeable temperament often extends to other pets within the household, making them suitable companions for other pets. However, they may be standoffish or even snippy with other dogs. This is because they were bred to help protect a flock, so your Corgi may not like being around other dogs, especially if they're in your dog's territory or personal space.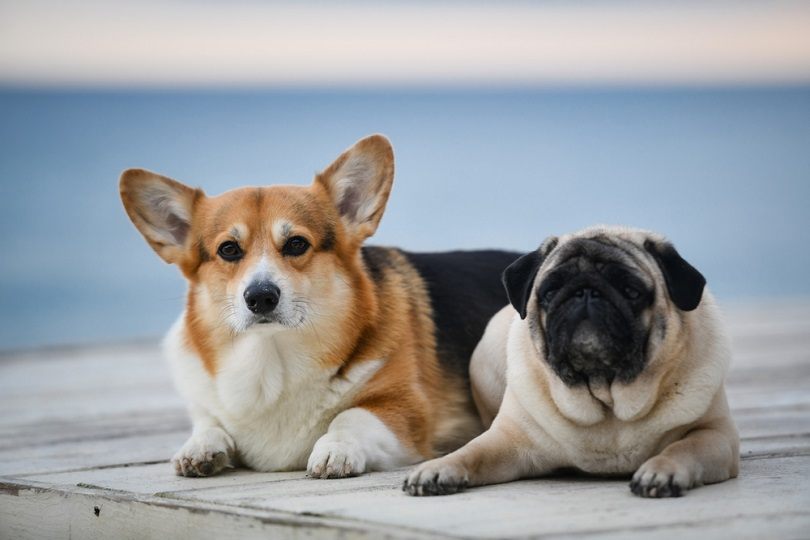 The Cardigan Welsh Corgi's Temperament
The Cardigan Welsh Corgi has a similar temperament to its Pembroke cousin, but this breed may be slightly more prone to herding family members and other pets. This means that you may have to work with your dog to train them to not nip at the heels of other pets since this can be frightening or annoying to other dogs and may lead to tension or fights.
This breed likes having something to do, and they can excel at dog sports and jobs. They are intelligent and trainable dogs with a stronger sense of independence than the Pembroke. This doesn't mean they won't stick around, though. The Cardigan loves spending time with its people, and they are known to be pretty cuddly.
Cardigans are, overall, less social than the Pembroke, so they are often aloof with strange people and animals, including other dogs. They are alert dogs that make great watchdogs, but not great friends for other dogs. Their tendency to be less friendly and more standoffish with both people and animals likely explains why their stubby-tailed cousins are the more popular of the two.

Final Thoughts
How good a Corgi might be with other dogs is often tied to which breed of Corgi you're talking about. The Pembroke Welsh Corgi tends to be a little standoffish with strange dogs, and they may require lots of socialization and training to feel comfortable in social settings.
The Cardigan Welsh Corgi, on the other hand, is typically far more standoffish and less friendly than the Pembroke. They are less likely to befriend other animals, and they can be quite territorial, especially if they feel that their people or territory are being threatened.
---