Do Dachshunds Like To Cuddle? What You Need To Know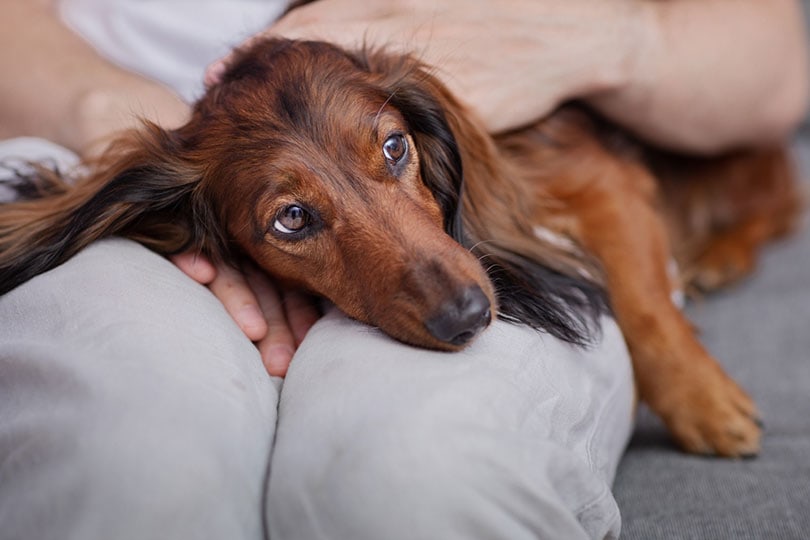 Dachshunds or "sausage dogs" are small, affectionate dogs that are notorious for enjoying being close to their owners, which includes being accepting of cuddles. Dachshunds are easy to pick up, and they even make great company.
Cuddling is a way humans can show affection to their beloved canine companions, but not all Dachshunds will want to be cuddled, as it depends on their personality and past experiences with being handled by humans. Some Dachshunds might be big cuddlers, while others prefer to lay near you but not be held.

Are Dachshunds Cuddly Dogs?
Dachshunds can be quite cuddly and are often described as one of the cuddliest dog breeds that love being near their owners. These affectionate dogs can form strong bonds with their owners and cling to them. Most Dachshunds enjoy interacting with their owners and show their loyalty and devotion to those they love.
Dachshunds will typically only be interested in cuddling with their favorite person, and they may not want to cuddle with strangers. Some Dachshunds may prefer their independence, especially if they did not grow up being cuddled and held by their owners.
A reason Dachshunds may be so cuddly is because of their hunting ancestry, as they would burrow in the wild, which is why Dachshunds can be seen trying to sleep underneath blankets or pillows rather than on top of them. Therefore, many Dachshund owners will notice that their dogs nuzzle up to them or will willingly lay on their laps.
Should I Cuddle My Dachshund?
There is nothing wrong with cuddling with your Dachshund if they feel comfortable and relaxed, but it can be stressful for Dachshunds who do not like to be held or cuddled.
A Dachshund will mainly cuddle for safety and warmth, and most Dachshunds like to be held and petted by their owners which makes them more tolerant of being cuddled.
If your Dachshund has a bond with you and enjoys being handled, then they will be comfortable enough to cuddle with you. If you have a Dachshund that prefers to be independent and does not show much affection, then they might not be interested in cuddling, and it can make them uncomfortable if they feel forced to cuddle you.
Most Dachshunds will only cuddle and show affection to owners that they feel familiar with, which means it is important to form a strong connection with your Dachshund first before you start to cuddle them. Even though the Dachshund dog breed is known to be overly clingy, cuddly, and affectionate, they still need time to feel comfortable with you before they can be cuddled.
What Does It Mean If My Dachshunds Likes To Cuddle?
It is not unusual to have a Dachshund that likes to be near you all the time, and this can come off as overly clingy behavior. Your Dachshund might try to lay on your lap, against you, or try to be petted whenever you show them affection. This is usually a sign that your dog trusts and loves you, and some Dachshunds may be more affectionate and cuddlier than others.
Dachshunds may like to cuddle if they feel connected to you and see you as one of the members of the "pack". Dogs who have a more affectionate nature will be more likely to cuddle you or allow you to pick them up and cuddle them. Some inquisitive Dachshunds will try to initiate a cuddling session by nudging you with their nose or following you around the house to be picked up and cuddled.
Can Dachshunds Be Taught To Cuddle?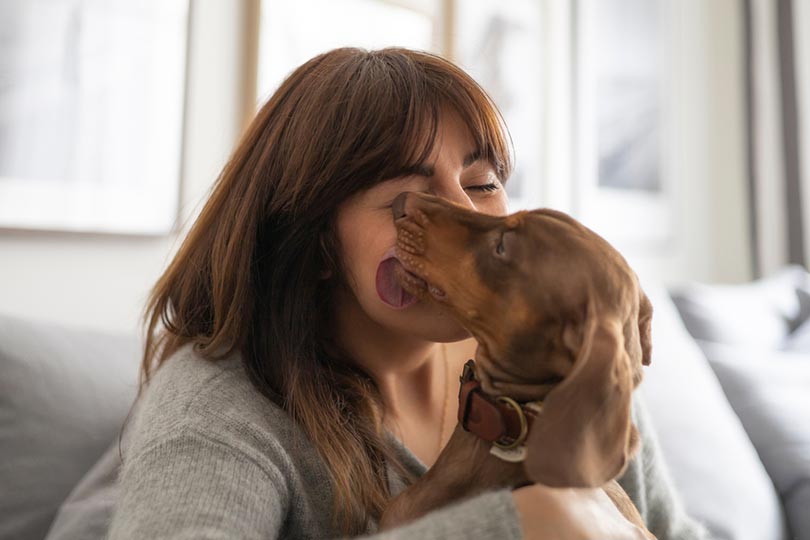 Dachshunds naturally have a clingy personality and enjoy being close to their owner, which makes them interested in being cuddled by the owner that they feel most comfortable with. Like most dogs, cuddly behavior depends on the dog's personality, and it is not always because of their breed.
It can be difficult to teach your Dachshund to cuddle if they are not naturally affectionate, as some Dachshunds like their space and prefer to be on their own. Cuddling may not be something all Dachshunds feel comfortable doing, so it is important to read your dog's body language and make sure they are relaxed and content when cuddling with you. If your Dachshund is not enjoying being held during cuddling, then perhaps you can rather allow them to lay next to you while you pet them instead.
If you want your Dachshund to become cuddlier, then it is important to bond with them and make sure that they associate being petted and cuddled with something positive which makes it a good bonding time for them.

Conclusion
Dachshunds can make great cuddle buddies and they will appreciate the time they get to spend with their favorite owners by being petted and cuddled. There is no guarantee that all Dachshunds would like to be cuddled, but in comparison to other dog breeds, the Dachshund is known for being more likely to cuddle because of their affectionate and clingy personalities.
---
Featured Image Credit: Leka Sergeeva, Shutterstock