Do Embassy Suites Allow Dogs? (2023 Update)

We're living in a world where the hospitality industry has finally realized that consumers enjoy services being provided to them more if they are allowed to bring their dogs along—because dogs are not just animals, but family. That's why most Embassy Suites in the country have no problem catering to your needs, as well as those of your four-legged friends.
If you're a pet parent, and you'd like to check into one of their establishments with your dog, they'll always be ready to welcome you with open arms. But before you do, do your due diligence. Because not all Embassy Suites often market themselves as dog-friendly locations.

Things You Need to Know Before Checking Your Dog into an Embassy Suite
It's safe to assume that the Hilton is one of the biggest brands in not just America, but in other countries as well. In total, they have more than 500 hotels across six continents, which have been fashioned to offer a bedrock of remarkable travel experiences to anyone who walks through their doors.
What some people might not know is that if you're listed as a Hilton Honor member,1 you get the option of choosing your preferred suite even before you arrive. And they made that possible using their digital floor plan.
As things stand, dogs are allowed in more than 100 Embassy Suites by Hilton. But you'll have to go through their standard pet policy before checking in because they seem to vary from one location to the next.
The only common denominator from the information we've gathered is that they all allow only two pets per visitor, and both of them should not weigh more than 75 pounds. Of course, you'll be charged an additional fee for the room, which typically ranges from $25 to $75 per pet, per stay.
Your dog will certainly feel special, safe, and comfortable, as they'll be spending most of their time in a designated pet relief area. Those areas have toys meant to help them stay physically and mentally stimulated, in addition to treats that you could incorporate into their diets.
Embassy Suite Pet Policies
To prove to you that they're serious about making sure that you and your fur baby enjoy your stay at their hotels, they drafted several policies. We have to mention, though, that these policies vary with the embassy's location.
All dogs are served a full breakfast every morning. The breakfast will be complimentary, and the menu will only include a list of foods that have been certified to be dog-friendly.
Embassy Suite guests who have pets will receive an "attention package" every day, even if it's their last day of stay. The package will consist of various toys and treats meant for their dogs.
Pet parents will be given the option of requesting a "Furry Pal Access" room. A room where their furry friends can spend some alone time.
The Furry Pal Access rooms will only have features designed to cater to the dog's For example, the beds will be elevated and the sheets will have paw prints. This is meant to ensure that the dog feels comfortable.
The dogs must be leashed in public areas. This is meant to ensure that guests feel safe.
Guests are expected to clean up after their pets.
All dogs must be vaccinated and their name has to be on the government's registry.
How To Enroll Your Dog in an Embassy Suite
Enrolling your four-legged pal in any Embassy Suite isn't difficult. You could do it in person if you wanted to, but we prefer working on it online. Once you've contacted the hotel's reservations team, they'll send you a form to fill out. The form will ask you a bunch of questions, including any concerns that you might be having.
The most important information is the dog's name, your arrival date, and the phone number that they might want to use to send you regular updates. Make sure that piece of information is right before sending back the form.
If you need to make some more inquiries or want to be assisted to fill out the form, one of the representatives from the reservations team will be on standby to assist.
Dog Safety at Embassy Suite
There's nothing wrong about leaving your dog at an Embassy Suite if you have some other business to take care of. Any Embassy Suite that's dog-friendly usually comes with a wide variety of amenities that are supposed to offer special treatment to the dog. Suffice it to say, they will have more than enough food, water, and toys to play with.
What's more, they'll be monitored all the time by staff members who have a vast wealth of experience in training and handling different animals.
It's worth noting that Embassy Suites are not your typical hotels. They often enforce their policies and invest heavily in innumerable resources to guarantee that their spaces are safe, clean, and welcoming to all their furry guests.
Nonetheless, it's not always a good idea to leave dogs alone in hotels, even if they are in good hands. They might become stressed or anxious just because they are not used to spending time with strangers.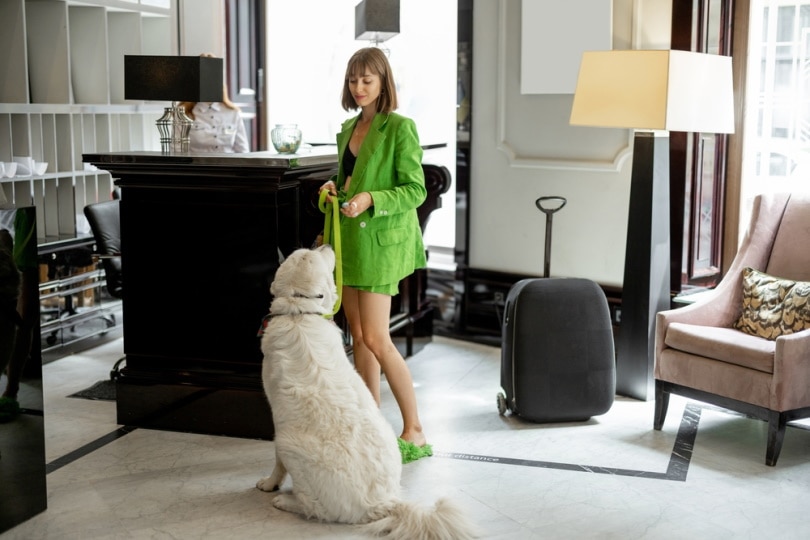 Conclusion
We'll go out on a limb here and say one of the many reasons why the Embassy Suite by Hilton is so popular and successful is because they deliver world-class services to all their visitors, including our furry friends.
Their policies are also friendly, seeing as they sometimes allow people to have more than one dog in their suites—on condition that they've all been given their shots and registered by the government.
Related Read: Does Hilton Allow Dogs? A Complete Guide
---
Featured Image Credit: Embassy Suites (Image Credit: Xnatedawgx, Wikimedia Commons CC BY-SA 4.0)