Does Allegiant Allow Dogs? 2023 Update & Safety Tips

Are you considering flying via Allegiant? You must be wondering whether it allows dogs on its flights. The answer is yes. The airline will allow you to bring your dog onboard, provided you comply with its guidelines regarding pets.
Flying with your pet can be a memorable experience. But it can quickly become a nightmare for everyone involved without proper regulations. Allegiant has stringent rules to ensure pets travel comfortably without inconveniencing other passengers.
This article breaks down Allegiant's pet policy, telling you all you need to know before you can book a flight for yourself and your pup. Read on to learn the dos and don'ts, including tips on how to fly with your dog safely.

Allegiant's Official Pet-In-Cabin Policy
Allegiant allows dogs and domestic cats into the aircraft cabin for flights within the 48 US states sharing a border. But it doesn't permit any pets on flights to international destinations.
Those who intend to bring pets on board must adhere to the guidelines. Otherwise, they risk being denied boarding.
First, they must arrive at the ticket or gate counter an hour before the flight's scheduled departure. Here, an agent will confirm whether they have complied with the airline's pet-in-cabin policy before they can get a boarding pass.
Each paid traveler can only bring one pet carrier, carrying no more than two pets. Its dimensions mustn't exceed 9″L x 16″W x 19″H. And the pets should fit comfortably, not protruding or touching the sides, and be able to stand up and turn around.
Although Hard-sided options are also allowed, Allegiant strongly recommends a soft-sided carrier. However, they must all be fully enclosed and leakproof.
Allegiant will charge you a non-refundable $50 per segment per carrier bag. The carrier will still count towards your maximum two items per flight, which means you can only carry one more thing on the aircraft.
Does Allegiant Allow All Pets?
Allegiant only allows dogs and domestic cats onboard. But they must be at least eight weeks old, harmless, non-disruptive, and odorless. A health certificate is not required. However, pets deemed ill or in physical distress can be denied boarding.
It is imperative to note that Allegiant assumes no responsibility for the health and well-being of any pets you bring on board.
Does Allegiant Allow Service Animals?
Allegiant allows people with disabilities, whether physical, psychiatric, mental, or sensory, to bring their service animals on board, provided they are trained and vaccinated against rabies.
However, you need a Service Animal ID from SAFP to travel with your service animal. Additionally, you must file a request with Allegiant 48 hours before the flight's departure.
You can get a Service Animal ID by going to the Service Animal Forms Portal (SAFP) and completing the Department of Transportation (DOT) Service Animal Transportation Form and questionnaire. You'll need to fill in critical details such as the veterinarian's name and phone number, the trainer's name and number, and the rabies vaccination date and expiration.
The service animal ID is valid as long as the rabies vaccine has not expired. Once it does, you must reapply to update your dog's vaccination records.
Any flight delays or postponements will not invalidate your request to travel with a service animal. But carrying hard copies of the approval email and the US DOT Service Animal Air Transportation Form is advisable in case of technical difficulties.
Allegiant Service Animal Guidelines
Allegiant only allows domestic dogs as service animals, provided they are well-behaved. The canine shouldn't be aggressive or engage in disruptive behavior, such as the following:
Excessive barking
Growling
Snarling
Biting
Wandering about
Jumping on other passengers
Relieving itself in the cabin
All service animals should be leashed or securely harnessed unless doing so might impede their ability to assist the handler. But either way, the handler should never lose control of the animal or allow it to encroach on other passengers' spaces.
One may be required to pay for an extra seat if the animal encroaches on another traveler's foot space.
Allegiant prohibits pups from occupying seats. The service dog should stay on the floor or under the seat, occupying the foot space allocated to the handler without extending into the aisle.
It's essential to note that state and local animal laws also apply. These usually vary depending on the location, and you must familiarize yourself with them.
Additionally, any destination outside the 48 US states might have more restrictions regarding the type of service animal you can bring on board. The responsibility to know and adhere to these laws and regulations also falls on you.
Law enforcement, search and rescue, and service dogs in training are also welcome on board. But you must notify Allegiant 72 hours in advance.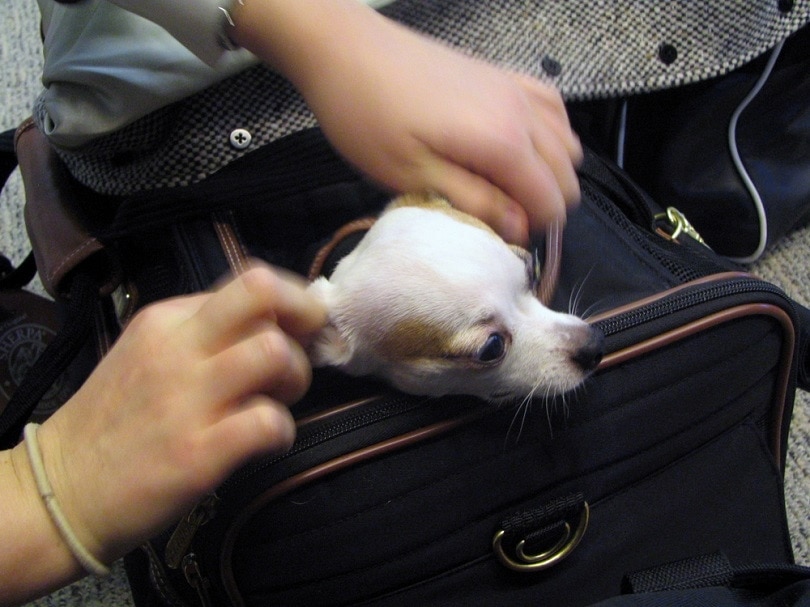 Does Allegiant Allow Emotional Support Animals?
Before 2021, the law obligated airlines to allow support animals on their planes with proper documentation. The rules changed upon the Air Carrier Access Act amendment, giving airlines a choice to allow or deny ESAs.
Allegiant revised its policy following the amendment and excluded ESA from the status of service animals. Henceforth, the airline can only allow emotional support animals on their planes when traveling as regular pets (in carriers).
However, federal law protects psychiatric service dogs. So, Allegiant can allow your emotional support animal on the plane if you train it as a psychiatric service dog and get all the necessary documentation.
Sitting Restrictions
There can only be a maximum of two pet carriers per row and only one pet carrier per side in an Allegiant flight. The passengers cannot sit on an exit row or a row immediately adjacent to an exit row. And they can't sit on a bulkhead seat.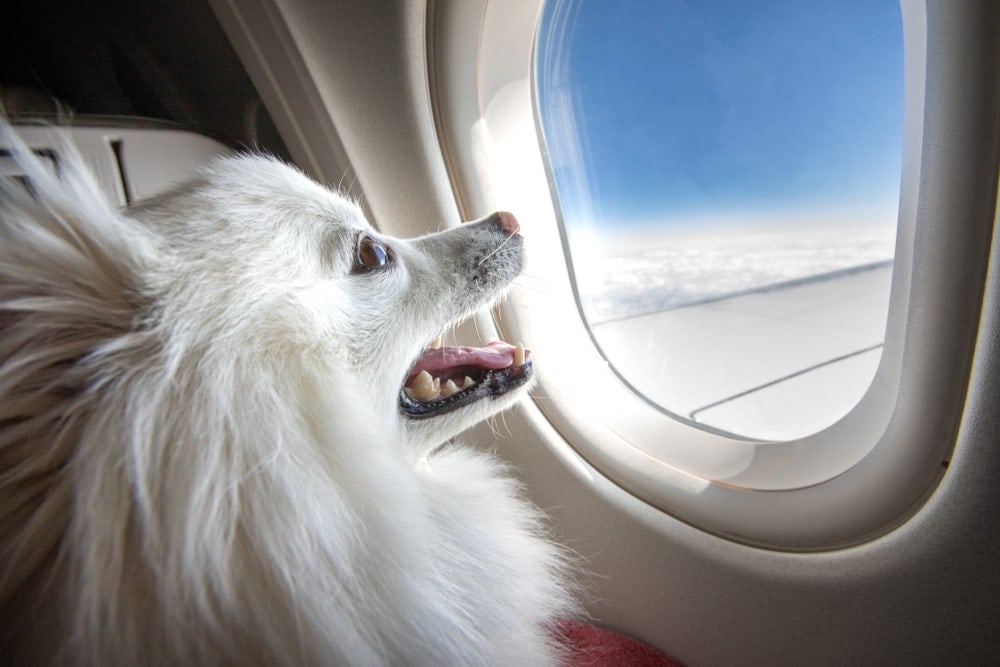 The 4 Safety Tips for Flying With Your Dog
Flying with your dog the first time can be a bit scary. But it can be a fun and safe experience if you follow the tips below.
1.

Consult Your Vet
Visit a vet before you book the flight to ensure your dog is healthy and up-to-date with its vaccinations. You can also use the opportunity to get your pup's health certificate since most airlines require you to get one within ten days of departure.
There could be more healthcare requirements if you travel outside the United States. Therefore, ensure you contact the foreign country's office for more information.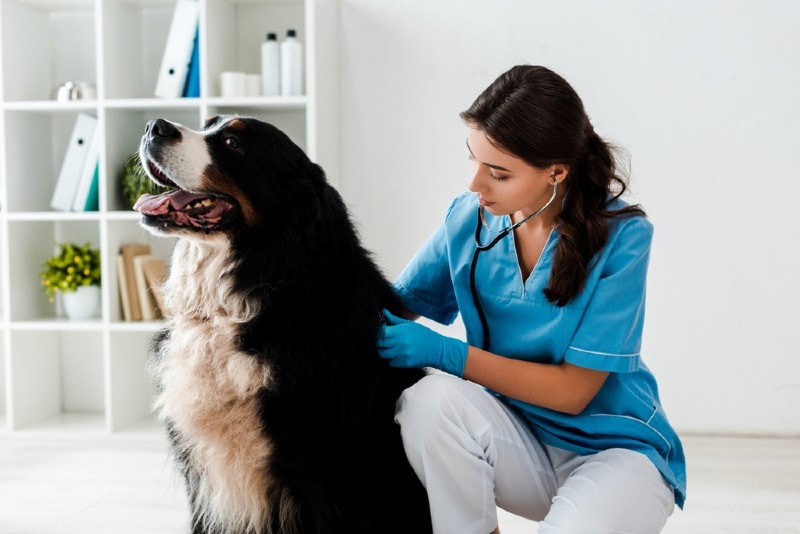 ---
2.

Acclimate Your Dog to the Carrier
Flying can be stressful for your dog, especially if it must stay in the carrier the whole journey. Familiarizing your pup with the kennel beforehand can be helpful. It will make the dog consider the kennel a safe and comfortable place.
Ensure you put the dog in the kennel enough times before the flight to allow it to acclimate. You can also set its bedding and put its favorite toys inside to make the carrier feel like home.
---
3.

Avoid Sedatives
You might feel tempted to sedate your dog during the flight. Please don't do it unless prescribed by a veterinarian. Tranquilizers can hinder your pup's breathing and inhibit its ability to regulate the body's temperature at such high altitudes.
Instead, consider safer alternatives to keep your dog calm if you're worried it might get too anxious. These may include anxiety vests and supplements. However, consult your veterinarian before giving your dog any supplements to ensure they are pet friendly.
---
4.

Beware of the Dangers in Cargo Hold
It is better to travel with your dog in the cabin. But flying with your pet in the cargo hold is the only option sometimes. In such cases, there are several measures you can take to ensure your furry friend is safe during the trip.
If possible, book a direct flight. Many mistakes can occur when connecting flights, and baggage personnel might mishandle your pup during loading and unloading.
Also, choose the best time to travel since temperatures can get too high or low in the cargo hold. Mornings and evenings are safer to travel during the summer, while midday is the safest during winter.
Labeling your dog's carrier is essential. So, consider a sign saying, "Live animal inside," and use arrows to show which side is up. Additionally, you can write your name, phone number, and address for proper identification.
Lastly, inform the airline personnel that you have a pet onboard. You also can ask them to check on your dog if problems arise.
Conclusion
Allegiant allows all dogs on their flights regardless of breed. But you must transport them in a carrier large enough for them to stand and turn around but small enough to fit under the seat.
The pet carrier counts towards your maximum of two items per flight. And you can only carry one, holding a maximum of two pets.
Allegiant also allows service pets. But the handlers must provide proper documentation and apply 48 hours before the flight's departure. Moreover, they should train the service dog how to behave in public.
All passengers wishing to travel with their dogs must report to the ticket gate an hour before the flight departs. That allows the agents to check whether they have complied with all the guidelines before allowing or denying boarding.
---