Does the Holiday Inn Hotel Allow Pets? What You Need To Know!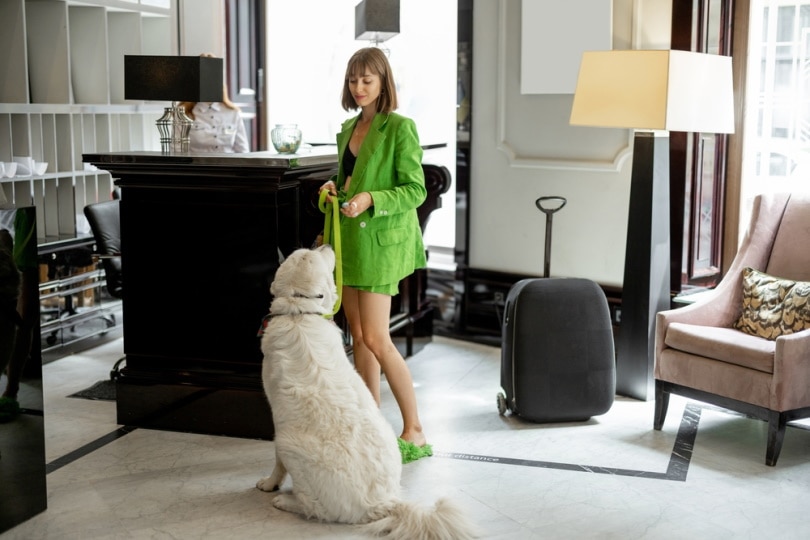 Pets are a part of our family, so why would we leave them at home when we can take them with us on vacation? Nowadays, many different hotels allow pets, so you can relax in comfort even when you have your cat or dog with you. So, does the Holiday Inn Hotel allow pets to stay in the rooms? This is a great question that deserves a thorough answer! Here is what you need to know.
Yes, Many Holiday Inn Hotels Are Pet Friendly!
The bad news is that not all Holiday Inn hotels are pet friendly, but the good news is that most of them are. While all Holiday Inn locations accept service animals, you will have to call ahead of time to find out if the specific hotel that you plan to stay at will accept your kitty or pooch during your stay. Each location maintains its own rules, regulations, and policies when it comes to welcoming pets. If the hotel that you want to stay at does not welcome pets, the staff should still be able to tell you which location closest to them does accept pets, so you don't have to spend your time tracking a place down yourself.
There May Be a Few Stipulations
Even if the Holiday Inn that you want to stay at does accept pets as guests, there may be a few stipulations that will affect your experience overall. For example, some hotels have breed and size limitations for dogs. If you don't know what the rules are, you may be turned away when you show up to check in to your room because your dog is too big or the "wrong" breed. Other stipulations that you should be aware of include:
Pet Deposits: Some Holiday Inn hotels don't require a deposit for a pet stay, while others may charge anywhere from $10 to $250 (more or less), depending on pet policies in place.
Outdoor Pet Access: Many Holiday Inn hotels have designated outdoor areas for pets and restrict other areas from pets to accommodate the guests who don't want to be around animals.
Room Supervision Rules: Some Holiday Inn hotels don't mind if you leave your pet alone in your room for a while. However, others require that you always stay in the room with them or take them with you when you leave, to avoid the possibility of barking and meowing, which could affect neighboring guests.
It's a good idea to inquire about these topics ahead of time so you are fully prepared for your visit to the hotel, and you can ensure that everything goes as planned.
Tips for a Successful Stay With a Pet at the Holiday Inn
Once you find a Holiday Inn hotel to stay at with your pet, there are a few things that you can do to ensure that the stay is successful and comfortable. First, pack a bag with all the necessities because you don't know what will be available at the hotel. Items that you should pack include:
Enough pet food for at least 2 days longer than you plan to stay at the hotel
Plastic food and water bowls and paper plates in case you can't wash dishes
A pet carrier, harness, and leash (for both cats and dogs!)
Bags to pick up waste on walks
A few favorite toys
A blanket that smells like home
Pet first-aid kit
A list of emergency veterinarian phone numbers
You should also make a list of questions to ask the hotel before your arrival so you know what to expect from the services that they offer. Questions to consider include:
Is any pet bedding provided?
Are pet walking and/or sitting services available? If so, what are the rates, and what is the scheduling process?
Are there any nearby dog parks or pet-friendly destinations to visit?
Packing a bag and asking plenty of questions before your Holiday Inn hotel visit should help ensure a fantastic stay for both you and your pet.
A Quick Recap
Many Holiday Inn hotels allow pets as guests, but not all of them. Therefore, you should always call ahead to verify even if the hotel states that it is pet friendly online. Policies change, so a phone call with a staff member is necessary to ensure that you are up to date on those policies during your time of travel. Traveling with a pet can be stressful, but a pet-friendly Holiday Inn can make the experience more enjoyable for everyone involved.
---
Featured Image Credit; RossHelen, Shutterstock