Does JetBlue Allow Dogs? 2023 Update & Tips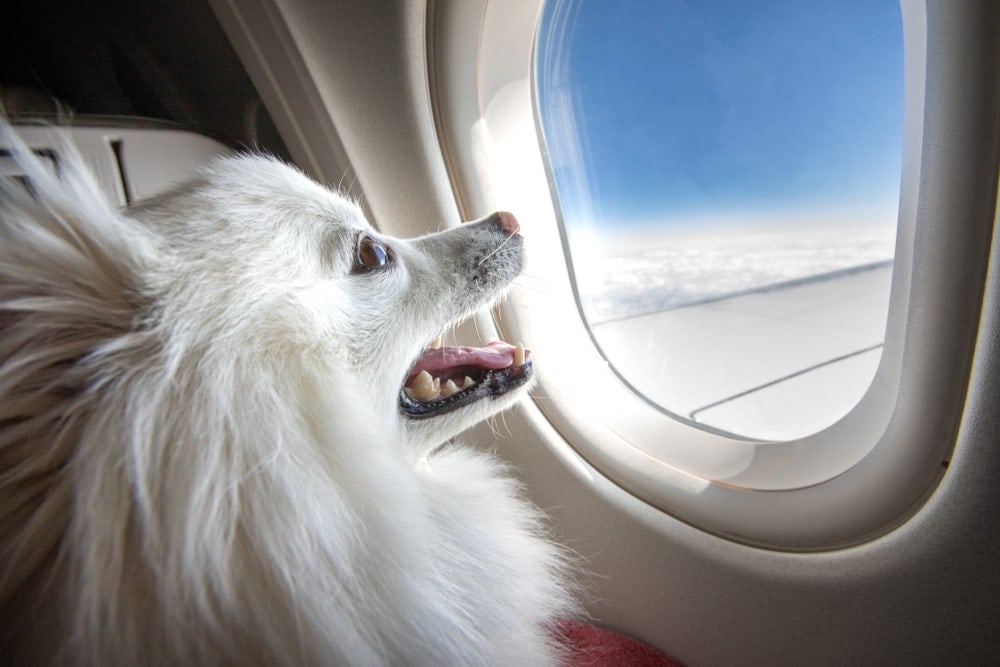 Flying is a convenient mode of travel that many people use when going abroad on a vacation or heading to the next state for a family reunion. Some airlines also let pets ride with you in the cabin. JetBlue allows you to travel with dogs or cats, provided that you pay an extra fee and have a carrier for each animal. That said, the airline has several strict regulations when it comes to traveling with dogs.
Knowing JetBlue's pet policy will help ensure that your trip with your dog is safe, comfortable, and as straightforward as possible.

The 6 Tips for Traveling With Your Pet With JetBlue
Whether you've booked a short domestic flight or a long international journey, traveling with your pet isn't the easiest thing to do. JetBlue is one of the most pet-friendly airlines in the U.S.A., but it also has many passengers to cater to. The pet policy is put in place to protect you, your dog, the passengers, and the staff and ensure that the flight is enjoyable for everyone.
Here are a few tips to help you travel with your dog if you're a first-time flier with JetBlue.
1.

Book Your Flight Early
JetBlue might allow pets, but there is a limit to the number of animals allowed on each flight. While passengers are allowed to travel with a maximum of two pets each, there is a limit of six pets per flight.
To ensure that your dog has a space with you on the plane, your best bet is to prepare for your travels by booking your flight well in advance. Making an early reservation gives you the best chance of catching a flight that hasn't already reached the limit for canine or feline passengers. Flights with your dog can be booked online via the website, through the free JetBlue app, or by phone.
---
2.

Pay the Fee
Each pet requires you to pay a fee of $125 every time you fly with them. This can get pricey if you travel with two pets, especially since you need to pay a second pet fee and the cost of a second seat.
---
3.

Pack Supplies
Whether you're taking a short domestic flight or a long international one, you'll need to pack supplies for you and your pet. Your pet won't be allowed out of their carrier in the airport or on the plane itself, which can be a stressful experience. The flight itself can be uncomfortable too, especially if your dog has never traveled that way before.
While you'll likely be able to buy chews and treats when you arrive at your destination, you should pack a few for the flight itself. Their favorite toy should be kept in their carrier with them.
---
4.

Provide Updated Records
Whenever you travel with a pet, it's always a good idea to have records of their recent vaccinations and other documentation on hand. You'll need to research which records you'll need for vaccinations in particular, as the requirements can vary depending on your destination. The documents that you will need include your pet's ID and license.
If you've never traveled with your dog before, you'll need to make sure all these records are up to date and update them as necessary if you plan to travel in the future.
---
5.

Understand JetBlue's Pet Policy
Most JetBlue planes allow dogs, but there are a few regulations that you will need to follow to ensure that your trip goes as smoothly as possible and you're not delayed by accidental oversights. Understanding JetBlue's pet policy will help you meet the requirements and simplify the process of flying with your pet.
JetBlue allows up to six pets on each flight and recommends that you choose a window or aisle seat in coach, where there's more legroom available and more space for you to slide the carrier under the seat in front. Your dog won't be allowed to leave the pet carrier in the airport or on the plane—except during the preflight security check, when the empty carrier is scanned. You can earn extra points for traveling with your dog if you're a TrueBlue member.
---
6.

Use an FAA-Approved Carrier
If you take a pet on a JetBlue flight, they'll need to be kept in a carrier no bigger than 17" L x 12.5" W x 8.5" H; this is to ensure that the carrier fits under the seat in front of you during the flight.1 The carrier needs to be big enough for your dog to be able to turn around comfortably with the door shut. For flights where you're accompanied by two dogs, you'll need separate carriers for both of them.
Unfortunately, the need for a carrier means your large dog breed won't be able to fly in the cabin with you unless they're a fully trained service dog.
Are Service Dogs Allowed on JetBlue Planes?
Service dogs are allowed to accompany their handlers on JetBlue planes, and they have much fewer restrictions than pet dogs. However, there are still many regulations to follow when it comes to flying with your service animal. First, you'll need a Service Animal ID, which you can apply for online before your flight.2 You'll need to supply your service dog's vaccination information and the contact details of your veterinarian and trainer.
Only fully trained service dogs are allowed on JetBlue planes, and your flight must be booked at least 48 hours in advance. You'll also need to purchase a second seat if you have more than one service dog, to ensure that they won't interfere with other passengers or block the aisle. Service dogs are allowed in JetBlue's Mint seating, where pets are not permitted.
Can You Fly Everywhere With Your Pet via JetBlue?
Although JetBlue does allow pets on all of its domestic flights, there are limitations for international flights. JetBlue doesn't allow pets on any of the flights to Trinidad & Tobago or to and from Europe and the U.K.
Each destination—whether inside the U.S.A. or not—will have different requirements to meet for you to travel with your pet. This includes requesting certain vaccinations and other documentation that will prove that your dog is healthy and identifying characteristics, such as breed, color, sex, and age. Certain international destinations also have extensive importation requirements that will need to be fulfilled at least a month before your flight.

Conclusion
As a popular and affordable airline in the U.S.A., JetBlue carries many passengers to locations throughout the States and the rest of the world. It also caters to the four-legged variety, so small dogs—and cats—can accompany their owners on their flights.
Dogs need to be kept in a carrier while in the airport and during the flight and have up-to-date vaccination records. You should also book your flight online before your traveling date to ensure that your dog has a spot on the plane, as JetBlue only allows six pets on each flight.
See Also: Does Spirit Allow Dogs? Pet Policy & Exclusions
---