Does PetSmart Groom Cats? The Interesting Answer!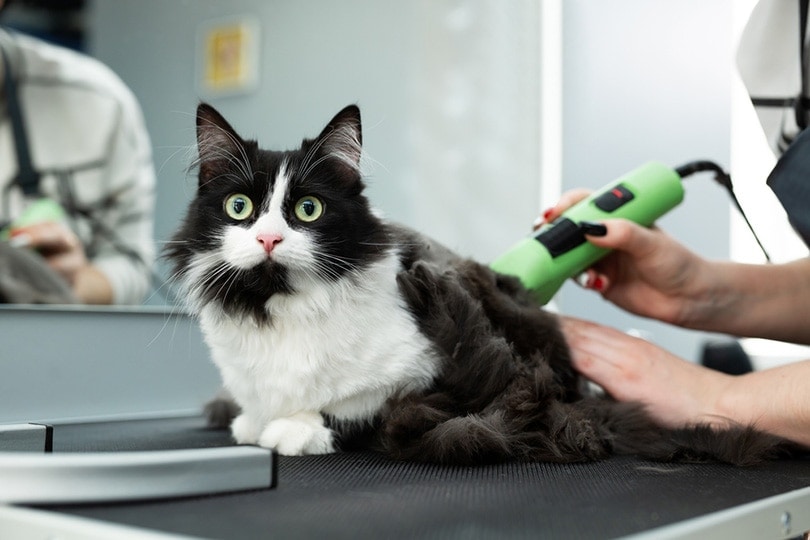 With nearly a 30% share of the multi-billion dollar pet product industry, PetSmart is a major player and a well-known brand. It is the #1 pet supplier in the United States, where millions go for all the best pet products, advice about their pets, and even veterinary services. PetSmart provides a wide range of cat grooming services, including bathing, brushing, cutting, claw trimming, and de-shedding. PetSmart also offers bathing and trimming services for kittens.
However, PetSmart doesn't have cat grooming services in all of its locations. Also, if a store provides cat grooming services, you still need to make an appointment to ensure a cat groomer is available. That's because some cat groomers don't keep the same hours as their PetSmart stores.
Now that you know that PetSmart has cat grooming services at some of its locations, you might have other questions about the store and its pet services. How long does PetSmart take to groom a cat, for example, and how much does PetSmart charge for their cat grooming services like washing, clipping, trimming, etc.? To get the answers to these and other cat-grooming questions, read on!
How Long Does It Take to Groom a Cat at PetSmart?
Like all pet grooming services, the time it takes to groom your cat depends on your particular cat and whether it's longhaired or shorthaired. The time it takes also depends on the services being performed. For example, if your cat only has their nails trimmed, that might take 10 minutes. However, if they're having a trim, bath, blow-dry, brush, and other grooming services, it could take anywhere from 2 to 4 hours. Cat grooming experts recommend allowing for a 3 to 4-hour block if your cat receives several grooming services on the same visit.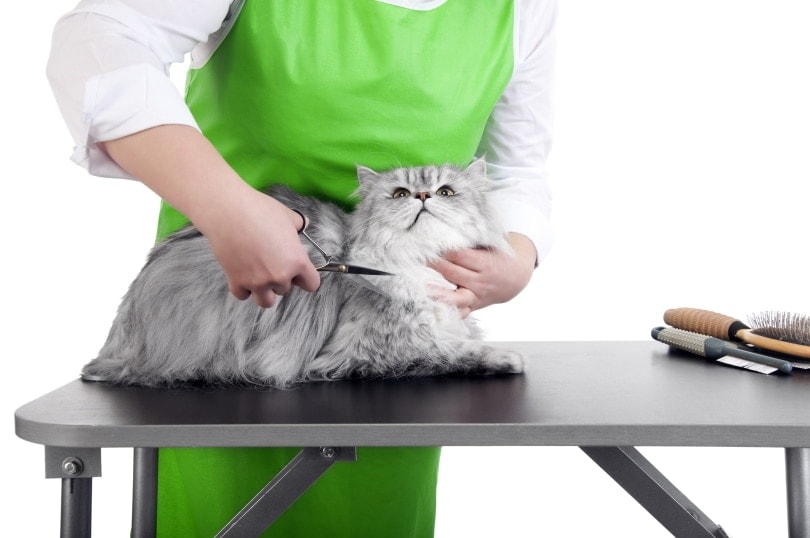 How Much Does PetSmart Charge for Its Cat Grooming Services?
According to the PetSmart website, a basic grooming package for a cat starts at $15.00 and includes, as you might imagine, basic grooming services. The store's full-service cat grooming package costs $60.00 and includes trimming your cat's nails, cleaning their ears, bathing them, and brushing them afterward. Occasionally PetSmart offers discounts and coupons that can help you save a few bucks on cat grooming services, and it's recommended to check their website often and sign up for PetSmart's newsletter.
Which Cat Grooming Services Does PetSmart Provide?
PetSmart offers all of the cat grooming services your cat could need, with the caveat that not all locations offer every service, and several, although few, offer none. Depending on your local PetSmart, chances are good that you will find the following cat grooming services:
Anal gland expression
Bathing
Brushing
Ear cleaning
Ear flushing
Flea and tick prevention
Nail trimming
Nail Grinding
Sanitary trimming (genital area)
Teeth brushing (plus breath freshener)
PetSmart also offers several packages of cat grooming service plans called their "PAWdicure" and "PAWdicure Plus" plans. The former includes ear cleaning and nail trimming, while the latter has both services and includes teeth brushing and breath freshening.
Who Provides the Cat Grooming Services at PetSmart?
Cat grooming services at PetSmart are provided by PetSmart employees who are also professional groomers. The company requires that their groomers and stylists have at least 800 hours of training and an apprenticeship of 6 months. PetSmart is proud that being a stylist for their company takes over a year of learning and training (they mention it on their website).
What that means as a pet parent is that you can put your precious cat in the hands of PetSmart's groomers, knowing they will take very good care of your pet and handle them professionally and caringly. You should also note that while they do have walk-in services, PetSmart recommends making an appointment so that your cat can be attended to immediately and you can get on with your day faster.
Which Cities Have the Most PetSmart Locations?
PetSmart's excellent cat grooming services and top-notch groomers make an unbeatable combination if you're a cat parent. Of course, it helps to have a PetSmart nearby since digitally grooming a cat hasn't been invented yet. In Houston, Texas, where there are 17 PetSmart locations, chances are there will be one close by no matter where you live in the city.
In Anchorage, Alaska, however, there's only one PetSmart. Most American cities have at least one. With 1,500 stores across the United States, that's not a surprise, although big cities tend to have more locations. Speaking of which, below are the Top 10 cities in the US in terms of the number of PetSmart locations they can claim.
Houston, Texas – 17
Phoenix, Arizona – 11
San Antonio, Texas – 10
Las Vegas, Nevada – 9
Miami, Florida – 8
Tucson, Arizona – 8
Chicago, Illinois – 8
Oklahoma City, Oklahoma – 7
Austin, Texas – 7
Fort Worth, Texas – 7
Final Thoughts
As we've seen, PetSmart offers a wide range of cat grooming services in most of its locations across the United States. The well-liked pet store is one of the premier pet product-providing companies in the United States. More importantly, the cat groomers at PetSmart are very well-trained, including a 6-month apprenticeship, so they know what they're doing. In other words, taking your cat to be groomed at PetSmart is a great idea and highly recommended by cat experts and veterinarians.
---