10 Homemade Dog Cake Recipes (Vet-Approved)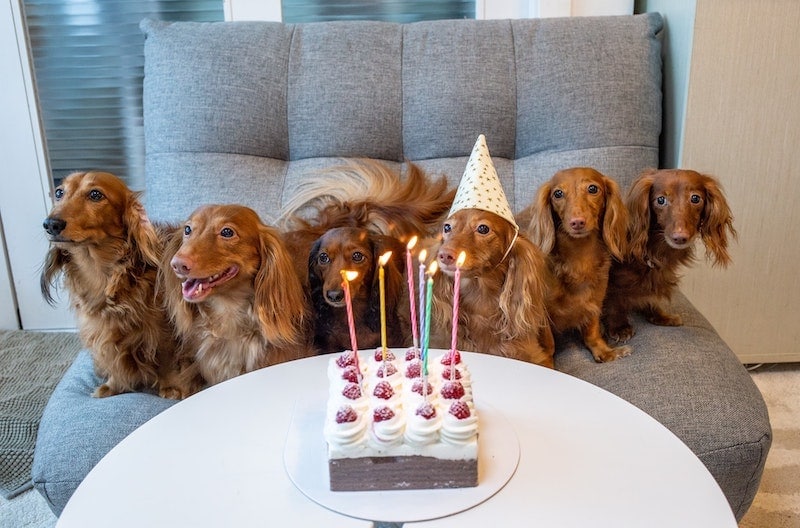 If you really want to spoil your dog, why not learn how to make a dog cake? Celebrate your furry friend's birthday, adoption day, or any other day!
Here are 10 great dog cake recipes, including layer cakes, cupcakes, and gluten-free options. These recipes all use dog-friendly ingredients, but keep in mind that your dog could have food sensitivities or different dietary needs. Talk to your veterinarian if you're not sure which recipe will work best for you and your dog!
It is important to know that these cakes are only for special occasions and should be served to your dog in small amounts, as a very special treat. Your dog's main diet should be based on animal-derived proteins, healthy fats, and a low amount of healthy carbohydrates. But yes, also doggy deserves to celebrate and have a treat!
Let's get started! Scroll down to find a delicious and healthy dog cake recipe:

Top 10 Easy Dog Cake Recipes (Vet-Approved):
1.

Once Upon a Pumpkin Dog's Birthday
We start our list with a great recipe. It comes together by combining simple dog-and-human-friendly ingredients like pumpkin, oats, baking soda, eggs, peanut butter, and yogurt. The best part is that not only your dog will love this special treat, but he can also share it with you! Please when choosing the ingredients, make sure you choose them without artificial sweeteners, such as Xylitol as they can be very toxic for dogs. Get the full recipe here.
---
2.

Healthy Dog Birthday Cake Recipe
---
3.

Healthy Dog Birthday Cake With Bone Broth
---
4.

Carrot Peanut Butter Dog Birthday Cake Recipe
---
5.

Decadent Dog Cake
---
6.

Bacon Dog Cake Recipe
---
7.

Dog Carrot Cake
---
8.

Birthday Pup-Cakes
---
9.

Mini Layer Cake for Dogs
---
10.

Four-Layer Cake
The Bottom Line
We hope you've enjoyed learning how to make a dog cake from this list of 10 delicious and healthy dog cake recipes. No matter which you choose, your dog is guaranteed to have a very special day! From carrot layer cakes to bacon-topped delicacies, there are so many fun ways to celebrate your dog.
If you want to try your hand at another dog recipe, why not bake homemade dog treats, cook chicken dog food, or try a raw dog food recipe?
RELATED READS: