Dog Dementia Treatment: 8 Supplements & Practices That Can Help
Just like humans, dogs can show cognitive decline with age. Senior dogs may experience canine cognitive dysfunction (CCD), a condition similar to dementia in humans, which is characterized by symptoms like disorientation, confusion, and a decline in learning and comprehension. This progressive condition worsens with time, often leading to symptoms like increased barking, tossing and turning at night, getting "lost" in the house, and forgetting housetraining.
While there is no cure for dementia in dogs, you can manage the symptoms and slow the progression. Take a look at the eight supplements and practices that can help.

The Top 8 Supplements & Practices That Can Help with Dog Dementia
1.

Anipryl
| | |
| --- | --- |
| Availability  | Prescription |
| Cost | $$$ |
Anipryl (Selegiline) is an FDA-approved drug from Pfizer Animal Health that is used to treat age-related behavioral issues. Originally formulated for Cushing's disease, Anipryl is now used in lower doses for dementia. This is the same drug as Eldepryl, which is used for humans to halt the progression of dementia. Anipryl is given orally, once daily, and has minimal side effects, though it may not be effective for all dogs.
FDA-approved
Shown to be effective in dogs with CCD
May be cost-prohibitive
Minimal side effects
---
2.

Omega-3 Fatty Acids
| | |
| --- | --- |
| Availability | Over the counter |
| Cost | $ |
Omega-3 fatty acids have been shown to slow the progression of CCD in studies. In humans, epidemiological studies have reported that reduced intake of omega-3 fatty acids is associated with the risk for age-related cognitive decline or dementia. Increased intake of docosahexaenoic acid (DHA), found in fish oil, has shown neuroprotective effects for Alzheimer's and dementia. Several commercial dog food brands have specially formulated cognitive diets rich in omega-3 fatty acids to support cognitive health, and supplementation with omega-3 fatty acids or DHA specifically may slow the progression of the condition. It's best if used in the early stages of the condition and in conjunction with other therapies, however.
Widely available
Effective for slowing the progression of dementia and age-related decline
Best if used in early stages
---
3.

SAMe
| | |
| --- | --- |
| Availability | Over the counter |
| Cost | $ |
S-adenosylmethionine (SAMe) is often used in human medicine to treat a variety of conditions, including cognitive decline. The theory behind SAMe is that it increases the turnover of serotonin and boosts dopamine, two neurotransmitters that regulate similar functions but have different effects, which include regulating mood and muscle movement and controlling the sleep-wake cycle (two disruptions with CCD). While the exact mechanism is hard to pinpoint, it's possible that SAMe has a similar role to antioxidants.
In addition, there's an age-related decline in SAMe in various organs, and it isn't found in dietary sources in sufficient amounts. SAMe deficiencies are associated with increases in compounds that are toxic to the brain, so though not much clinical data on the connection with dementia exist, it may be beneficial to treat the symptoms and improve quality of life. SAMe is generally well tolerated and has few—if any—adverse effects.
Minimal adverse effects
May be effective for dementia
Well tolerated
---
4.

MCT
| | |
| --- | --- |
| Availability | Over the counter |
| Cost | $ |
DHA deficiency, inflammation, and chronic oxidative stress are risk factors for dementia in humans and may also be in dogs. Medium-chain triglycerides (MCTs) have been shown to enhance cognitive function and slow cognitive decline in both humans and dogs. Marked improvement was noted in dogs whose owners continued to feed MCTs after the study was completed. The main symptoms addressed were sleep-wake cycles, housetraining issues, altered activity, and disorientation and social interactions to a lesser degree. This can be easily supplemented with commercially available MCT oil or foods rich in MCT, such as coconut oil and yogurt. Purina Vibrant Maturity food is a commercially available food containing MCT.
Widely available
Shown to reduce symptoms of CCD
---
5.

Solliquin
| | |
| --- | --- |
| Availability | Over the counter |
| Cost | $ |
Solliquin is a dietary supplement from Nutramax that's intended to calm dogs and treat symptoms like fear and anxiety, which can be seen in dogs with dementia. The proprietary blend contains l-theanine, floral extracts, and whey protein to calm dogs and address the clinical signs of fear, stress, and anxiety. In a clinical study, over 87 percent of owners committed to continuing with the supplement and were pleased with the overall response. One dog was reported to be nauseous, and another developed a rash, but it was well tolerated otherwise.
Addresses fear and anxiety
Well tolerated
Not intended to treat cognitive decline
---
6.

Melatonin
| | |
| --- | --- |
| Availability | Over the counter |
| Cost | $ |
Melatonin is an important component of the sleep-wake cycle, and changes in melatonin metabolism may contribute to disturbances seen with dementia. During the normal aging process, melatonin secretion declines, and a deficiency is common with neurodegenerative disorders like dementia in humans. Melatonin also has neuroprotective, antioxidant, and anti-inflammatory properties and is generally safe for dogs. Supplementing with melatonin in the evening may help with sleep disturbances in dogs with dementia.
Generally safe
May help with sleep disturbances
---
7.

Antioxidants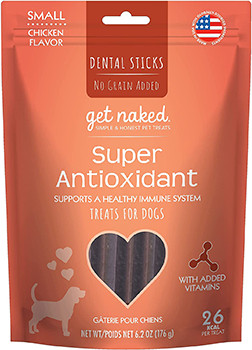 | | |
| --- | --- |
| Availability | Over the counter, dietary sources |
| Cost | $ |
Antioxidants are molecules that decrease oxidative stress caused by free radicals. Many antioxidants are found in dietary sources, including vitamin E, vitamin C, selenium, L-carnitine, alpha-lipoic acid, flavonoids, and carotenoids. Research has shown that antioxidants can be used to decrease the production of free radicals and slow the progression of cognitive decline caused by oxidative damage. In studies, senior dogs given antioxidant-rich foods showed significant improvement in cognitive function. Conversely, young dogs showed no increase in learning or memory, indicating that antioxidants are addressing the decline caused by oxidative stress and damage.
Effective
Found in dietary sources
Available as supplements
The efficacy of individual antioxidants isn't known
---
8.

Environmental Enrichment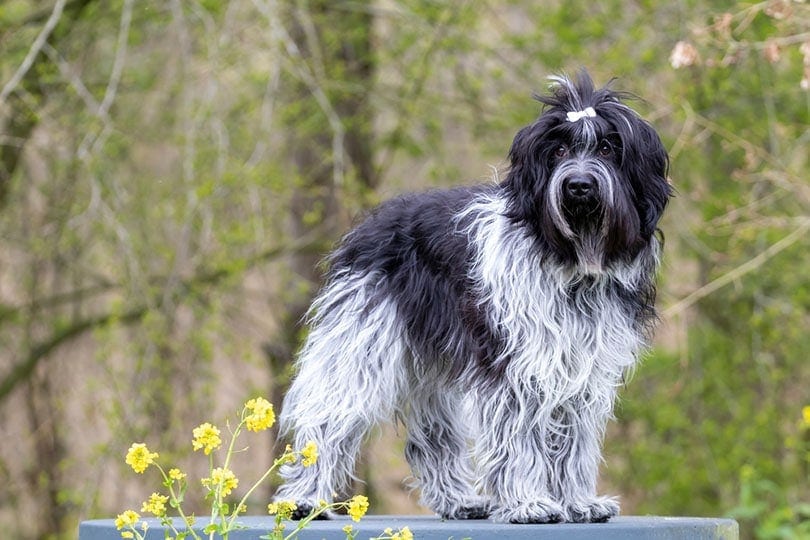 Environmental enrichment can enhance other therapies by stimulating your dog's brain. In studies, dogs that were given a supportive diet and regular, appropriate exercise, interactive toys, and social stimulation showed more improvement in CCD symptoms than those with diet alone.
Generally safe
May help with sleep disturbances
A Note About Veterinary Evaluation
Dementia is common in older dogs, but similar signs can also be caused by other conditions. It's a diagnosis of exclusion, meaning other conditions are evaluated and ruled out until only dementia is left. If you suspect your dog has dementia, it's important to consult with your vet to rule out other possible conditions, such as vision loss, hearing loss, kidney disease, arthritis, urinary tract infections, and inflammation or other conditions of the brain. It's also vital to speak with your vet about any medications, supplements, or dietary changes to ensure the dosage is correct and the intervention is safe for your dog.
Conclusion
As dogs live longer lives, the veterinary community is seeing more and more cases of CCD and its associated symptoms. While there's no cure for dementia, supportive therapies and supplements can slow the progression of the condition, address the symptoms, increase cognitive function, and improve quality of life.
---