15 Shocking UK Dog Fighting Statistics & Facts: 2023 Update
Note: This article's statistics come from third-party sources and do not represent the opinions of this website.
Dog fighting is the ultimate form of cruelty. Despite the fact that it has been banned in the UK for almost 200 years, it still happens.
But why? People encourage this "activity" to make money through violence and killing. But rather than try to ignore the issue of dog fighting because it is incredibly heartbreaking, it is important to know some facts and statistics about it in the hopes that it can be stopped.

The 15 UK Dog Fighting Statistics

Dog Fighting Laws and Regulations
1.

Dog fighting was banned in the UK in 1835.
(RSPCA and UK Government)
Animal fighting, such as dog fighting, cockfight, bear-baiting, and badger-baiting, was outlawed in the UK in 1835. Despite this, some fights still continue across the UK, and dog fighting is one of these examples. It was then made illegal by the Protection of Animals Act 1911. Under this new law, not only was "fighting or baiting any animal" illegal but so was allowing the use of premises for fights.
---
2.

The maximum prison sentence was extended from 6 months to 5 years in 2021.
(UK Government)
On June 29th, 2021, tougher prison sentences for animal cruelty came into force with the Animal Welfare (Sentencing) Bill. The maximum prison sentence for animal cruelty was raised from six months to five years. This new penalty enables courts to take a firmer approach in cases of dog fighting, kitten and puppy abuse, illegally cropping dog's ears, and neglect of farm animals. Offenders can also receive an unlimited fine, as well as a prison sentence.
---
3.

Tougher punishments for animal cruelty have been proposed this year.
(BBC)
There has been updated guidance in England and Wales that will affect sentences for crimes such as tail docking and animal fighting. Under new proposed sentencing guidelines, courts will be granted powers to hand out tougher punishments for serious animal cruelty crimes.
These guidelines are designed so judges and magistrates are consistent when it comes to sentencing. This will affect the strength and length of a sentence; for example, crimes that result in an animal dying, sustain life-threatening injuries, or experience substantial pain and suffering will attract a strong sentence. This guidance follows on from the Animal Welfare (Sentencing) Bill.
---
4.

Dog fighting is still legal in some countries.
(NPR)
Dog fighting has been outlawed in most of the world; however, it is still legal in Japan and parts of Russia. Sometimes the legality does not stop it from being popular. Dog fights are held in parts of Latin America, Pakistan, and Eastern Europe openly. They operate clandestinely in the US and UK.
---
5.

Approximately 65% of abused animals are dogs, and Pit Bull Terriers top this list.
(UK Government and The Humane Society)
According to The Humane Society, dogs are the most common victims of abuse, with Pit Bulls coming top of the list of dog breeds. Countries have subsequently banned this breed, because of its connection to dog fighting and aggression.
For example, there were a total of 15 fatal attacks in England and Wales from 1981 to 1991 involving this breed which led to them being banned in 1991. Pit Bulls were bred for blood sports, such as dog fighting, bear-baiting, and bull-baiting. The other breeds of dogs also banned in the UK are the Japanese Tosa, Dogo Argentino, and Fila Brasileiro.

Dog Fighting Facts
6.

People involved in dog fighting tend to be involved in other criminal activities.
(PETA)
If a person is involved in dog fighting, they will likely be involved in other forms of illegal activity, according to PETA. Dog fighting can be linked to other crimes, such as illegal gambling, drug activity, murder, and even human trafficking.
---
7.

The RSPCA had more than 9,000 reports of organized dog fighting between 2015 and 2020.
(RSPCA)
Dog fighters are notoriously secretive, so it can be difficult to catch them in the act. The RSPCA relies on tip-offs from members of the public or other agencies who are investigating other types of criminal activity. Reports are followed up to try and build up intelligence on people involved in the training of fighting dogs as well as the organizers of the fights themselves.
---
8.

There are three types of dog fighting "levels."
(UK Parliament)
The three types of dog fighting levels are Street Rolls, Hobbyists, and Professionals. Street Rolls are likely to occur every day. These take place on housing estates and parks, with little to no rules or money being exchanged. Hobbyists take place every couple of weeks in abandoned buildings or bedrooms converted into a "pit." These are often gang affiliated with gambling involved. Professionals are likely to occur every few months with much stricter rules, high stakes gambling with £100,000s wagered. The dogs entered would be highly trained, from the UK and abroad, and considered to be from "reputable bloodlines."
---
9.

You can receive a reward of up to £1,000 for information that results in the arrest and conviction of a dog fighter.
(League Against Cruel Sports)
Agencies tackling dogfighting rely on one another and the general public to help them target the people behind this horrific animal cruelty. The League Against Cruel Sports offers a reward of up to £1,000 for information if it leads to the arrest and conviction of an individual connected to dog fighting.

Number and Frequency of Dog Fighting
10.

In 2018, Greater London counted for most of the fights that occur in the UK, with 653 reported cases of dog fighting.
(Express)
In 2018, the RSPCA dealt with 1,583 cases of illegal dog fights alone. Greater London counted for most of these fights, with 653 reported cases. Next, with 456 reported cases, was the West Midlands, and Greater Manchester and West Yorkshire were closely behind with 380 cases between them.
---
11.

Fights can last as long as five hours.
(League Against Cruel Sports)
Dog fights can last anywhere between 30 minutes and 5 hours, although the average duration is 1–2 hours. Dogs are trained intensively to build up stamina. Submissive actions like lying down would bring a fight to a stop, so dogs are trained for hours at a time each day on treadmills to stop this from happening. The length of time a fight lasts is not an indication of how hurt a dog can become. Amateur fights called "Street Rolls" can last only minutes, but dogs can still get seriously injured in that time.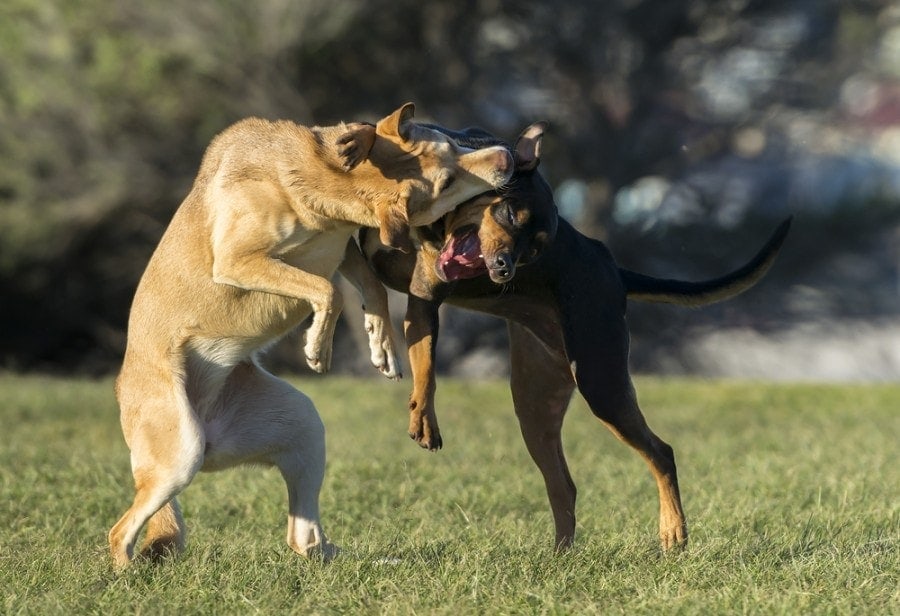 The Harsh Realities of the Dog Fighting World
12.

Dog fights are not always to the death, but the dogs may succumb to their injuries later.
(ASPCA)
Both animals involved in the fight may suffer injuries, including puncture wounds, blood loss, lacerations, crushing injuries, and broken bones. While the fight isn't always to the death, one or both dogs may succumb to their injuries later.
If a losing dog isn't from a valuable bloodline or has a history of good past performances, it may be discarded, killed, or simply left to die from untreated injuries. If the loss is considered to be particularly embarrassing to the owner, a dog may be brutally executed as part of the crowd's "entertainment."
---
13.

Major raids have resulted in seizures upward of a little under £400,000.
(ASPCA)
The question of why people take part in dog fights is multifaceted, but big contributing factors are money and greed. Money can be made from the fights themselves and stud fees or the sales that occur for puppies from "desirable" bloodlines.
---
14.

Fighting dogs can cost upward of £2,500.
(BBC and PETA)
The price of a fighting dog depends on several factors, such as experience, success rate, breeding, and lineage. Dogs who win fights are then used to breed puppies for profit in the hopes their "desirable" traits that make them such good fighters are passed onto the puppies. These traits range from aggression, strength, and the dog's ability to fight through the pain, something called "gameness." These dogs can keep on fighting even when pain and blood loss has caused them to go into shock. One successful fighter made his owner $100,000 in a year in stud fees as he was deemed to be so desirable.
---
15.

Fighting dogs will be disfigured by their owners.
(PETA)
Owners will train their dogs by making them tread water and walk on treadmills for hours. They will starve them and inject them with steroids, and they will also go so far as to disfigure their dogs. They will sharpen their teeth, cut off their ears, dock their tails, and add roach poison to their food in the hopes it makes their fur taste bad to an opposing dog.

Frequently Asked Questions
What Happens at a Dog Fight?
These events usually take place on a dirt or carpeted floor measuring between 14 and 20 ft², surrounded by a wooden enclosure that is around 3 feet high. This is called the "pit." Dogs are placed at either end of the pit, and sticks are used to pry apart dogs who clamp down so fiercely they "fang" themselves. This describes a bite so hard it goes through their own lips. Dogs will fight to the death or until one or both are seriously injured unless the fight is stopped by the owners, which is only allowed when the referee says so. (ASPCA)
Are "Bait Dogs" Real?
Unfortunately, yes. Many of the dogs who don't fight or who lose the fights are called "bait" dogs. Other animals have also been known to be used, such as kittens or rabbits. Bait dogs can be puppies, small dogs, or large dogs with their mouths taped shut, teeth filed down, or nails removed so they don't injure the fighting dog. Once the bait dog has fulfilled its role, they have been known to the abandoned, tortured, or killed. (PETA)
Where Are Bait Animals Usually Found?
Bait animals range from wild or stolen animals to animals obtained through "free to good home" adverts. They are used to test how ferocious a fighting animal is and also for practice before a fight.
Bait animals are also used in training. They will be placed just out of reach of a tethered dog, encouraging the fighting dog to strain against its leash which strengthens the dog's upper body. (ALDF)
Does a Dog Ban Work?
Owners have argued that having a blanket ban on dog breeds doesn't work, an opinion that is backed by organizations like the League Against Cruel Sports, the RSPCA, and the Kennel Club. A breed designed for fighting isn't inherently unsafe, just as any dog can be dangerous in the wrong hands.
It's been argued that while these banned dogs are strong, muscular, and very powerful, and could potentially cause great harm because of this, the blanket law suggests that all other dogs are completely safe, which is not true. (BBC)
What Happened to the Dogs the Blanket Ban That Weren't Dog Fighters?
While the police had the power to take a dog away if you owned one after the ban came into effect, there were ways to protect your dog. Banned breeds could be lawfully kept if they did not pose a threat to the public and the owner was considered to be a good fit for the dog.
To get a certificate of exemption, the owner had to get special insurance, be over 16 years of age, and the dog had to be kept on a muzzle and leash when out in public. Identifying banned breeds isn't an exact science, so officers would go by what the dog looked like. Sadly, since 1991, many "banned" dogs have been euthanized. (BBC)

Conclusion
Dog fighting may have been banned in the UK in 1835, but it still happens. Whether it is at an amateur or professional level, it's undeniable the animals involved go through horrific torture. Organizations rely on the general public for help in spotting the occurrence of dog fights. While it might not seem possible, dog fights happen daily, at any time, anywhere.
Signs a dog is forced to fight are cropped ears and docked tails, physical signs of abuse, especially to the dog's face, chest, and legs. Abused dogs are usually tied outdoors with heavy chains and collars, with little-to-no shelter and a lack of food and water. They are also confined in crates, packed closely in basements or warehouses. If you suspect an animal is being abused, speak up, you may just save some lives.