4 Amazing Dog-Friendly Beaches in Chicago, IL in 2023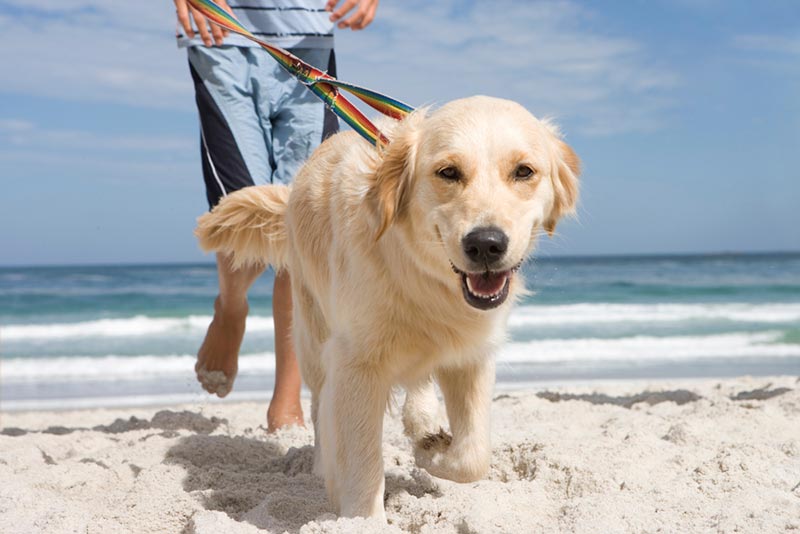 While Illinois may seem landlocked in the Midwest, Chicago is home to many beautiful beaches located along Lake Michigan. Chicago is a relatively dog-friendly city, but it has very strict leash policies for beaches1. So, it's important to get to know all the appropriate places where your dog is free to run around off-leash.
Fortunately, there are a few dog-friendly beaches in Chicago. Our list has all the information you need on dog beaches and some other safe alternatives for dogs that like making a splash.

The 4 Dog-Friendly Beaches in Chicago, IL
1.

Montrose Dog Beach
Largest dog beach in Chicago (3.83 acres)
Fences run along three sides of the beach
All dogs must have updated vaccination records
Three dogs per one person are allowed
Clean-up area and wash station on site
---
2.

Belmont Harbor Beach
A smaller beach that's great for small dogs or more timid dogs
Beach is fully fenced
There's little shade, so make sure to bring an umbrella and sunscreen
Free parking Monday – Saturday
Located in a fun neighborhood with unique local restaurants and shops
---
3.

Foster Avenue Beach
| | |
| --- | --- |
| 🗺️ Address: | 📍5301 N Lake Shore Dr, Chicago, IL |
| Open Times: | Memorial Day – Labor Day |
| Cost: | Free, but DFA tag required |
| Off-leash allowed?: | Yes, but only in dog-friendly area |
Separate off-leash dog-friendly area near beach
Restroom available on site
Can be difficult to find free parking
Close to Montrose Dog Beach
---
4.

Evanston Dog Beach
Must have an approved member application form before entering
$50 fee for the first dog and $10 fee per additional dog
Ample parking is available at Evanston's Pooch Park (2.7 acres)
The city of Evanston is working on developing a new dog beach in a better location
---
Alternatives to Dog Beaches
1.

Doggy Paddle
| | |
| --- | --- |
| 🗺️ Address: | 📍1430 W Willow St, Chicago, IL |
| 🕐 Open Times: | Monday – Friday 8:00 AM – 9:00 PM, Saturday – Sunday 9:00 AM – 4:00 PM |
| 💲 Cost: | $100-$240 monthly membership fee |
| 🐕 Off-Leash: | Yes |
Safer, indoor swimming pool for dogs new to swimming
Offers swimming lessons, group fitness swims, and wellness swims for rehab
No sign-up or cancellation fees
Private lessons available for shy dogs
Salt-water and UV aquatics system keeps the water safe for dogs
---
2.

Pet Care Plus
https://www.instagram.com/p/CTNEGF8rnp-/?utm_source=ig_web_copy_link
Heated saltwater dog pool with gradual entry
Webcams in all play spaces
Reserve pool parties for up to 20 dogs
Discount swimming packages are available
Facility also offers boarding, daycare, and grooming services

Conclusion
Although Chicago is a bustling city, there are plenty of spaces where you can let your dog play in the water. The dog beaches are perfect for hot and sunny summers, and indoor pools are great alternatives for dogs that want to swim during the cold winters. So, if swimming is a form of exercise that your dog enjoys, you can find several excellent options for letting your dog swim all year long.
---