Top 8 Dog-Friendly Beaches in Alabama (2023 Update): Off- and On-Leash Places to Visit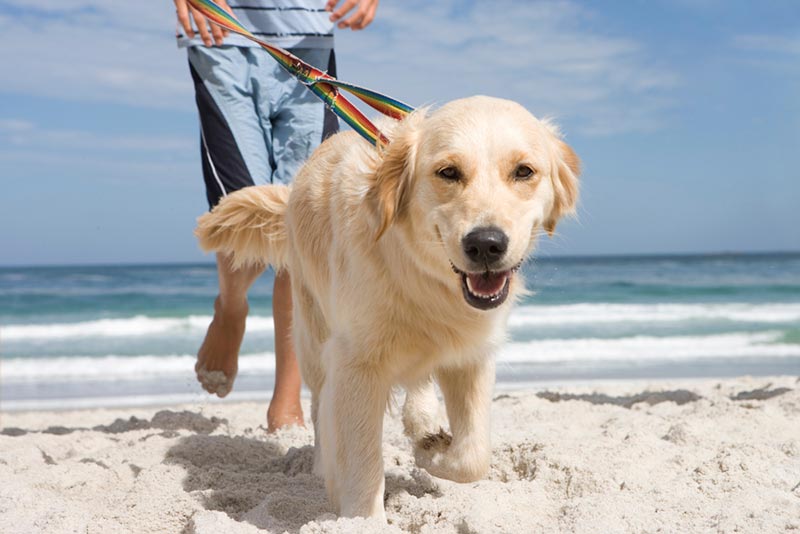 Alabama's coastline along the Gulf of Mexico is one of the top attractions the state has to offer, attracting over 8 million visitors each year.  There are gulf, bay, river, and lakefront beaches, no matter what you prefer in the way of water leisure. If you're visiting Alabama and traveling with your dog, you may be wondering if there are dog friendly beaches in Alabama, and if so, what are the best ones? In this article, we've rounded up 8 of the best beaches in Alabama where you can take your furry friend.

The Top 8 Dog Friendly Beaches in Alabama
1.

Dauphin Island Public Beach
Fewer crowds than other Alabama beaches
Island accessible by road: 2-hour drive from mainland Alabama
Can also access by ferry as long as dogs are leashed and well-behaved
Dogs are prohibited past the border of West End Beach Park
Island-wide leash law means your dog must be leashed at all times
---
2.

Dauphin Island East End Beach
Closest dog-friendly beach to Dauphin Island ferry
Walk along the coast past historic Fort Gaines
Dogs must remain leashed to avoid disturbing sea turtle nests and bird sanctuary
---
3.

Orange Beach Waterfront Park
Bayside beach, not Gulf side
Dogs must remain on a leash
You must clean up after your dog
More crowded with other pet owners at sunset
Great for a leisurely stroll and relaxing in the sand
---
4.

Fort Morgan State Historic Site
| | |
| --- | --- |
| 🗺️ Address: | 📍 110 AL-180, Gulf Shores, AL |
| 🕐 Open Times: | Fort: 8 AM to 4:30 PM every day; Beach: Always open |
| 💲 Cost: | Fort: $8 adults, $5 children 6-12 and seniors; Beach: Free |
| 🐕 Off-Leash: | No |
Historic military fort with public beaches
Dogs are allowed on the fort and bayside beach, but not in the museum
On the bayside beach, dogs must remain between the Old Fisherman's Wharf and the Old Fort Morgan Pier
Dogs must remain on a leash and you must clean up after them
---
5.

May Day Park
Park nestled on Mobile Bay
Walk your dog on the boardwalk, sandy beach, or in grassy fields
Watch for alligators and snakes
Canoe and kayak launches for boating with your dog
---
6.

The Dog Pond at Lake Shelby in Gulf State Park
Lakeside beach in Gulf State Park
Dogs must remain on a leash until reaching the dog beach
Grassy area with agility course
Benches and picnic tables for human companions
---
7.

Pirate's Cove
| | |
| --- | --- |
| 🗺️ Address: | 📍 6664 Co Rd 95, Elberta, AL |
| 🕐 Open Times: | 8 AM to 9 PM Monday-Thursday, 8 AM to 10 PM Friday & Sunday, 8 AM to 11 PM Saturday |
| 💲 Cost: | Only if buying food; cost varies |
| 🐕 Off-Leash: | No |
One of the most dog-friendly spots in coastal Alabama
Beachfront restaurant and RV resort
Restaurant serves hamburgers and pizza
Boat launch for boating with your dog
Dogs must remain leashed
---
8.

Graham Creek Nature Preserve
| | |
| --- | --- |
| 🗺️ Address: | 📍 23030 Wolf Bay Dr, Foley, AL |
| 🕐 Open Times: | 10 AM to 4 PM Monday-Friday, 10 AM to 2 PM Saturday, closed Sundays |
| 💲 Cost: | Free |
| 🐕 Off-Leash: | No |
Hiking trails leading to dog-friendly beach
Creek for dogs to play in
Canoe and kayak launch
Picnic tables and other visitor facilities
Dogs must remain leashed to protect wildlife

Conclusion
So there you have it! If you want to enjoy some time near the water when visiting Alabama's beaches, you need not worry about leaving your pet behind. There are plenty of dog-friendly beaches in coastal Alabama that you and your dog can enjoy together. Just make sure to follow any leash rules and keep a close eye on your furry friend to keep them from disturbing local wildlife.
---