Top 7 Dog Friendly Beaches in Bodega Bay, CA (2023 Update): Off & On Leash Spots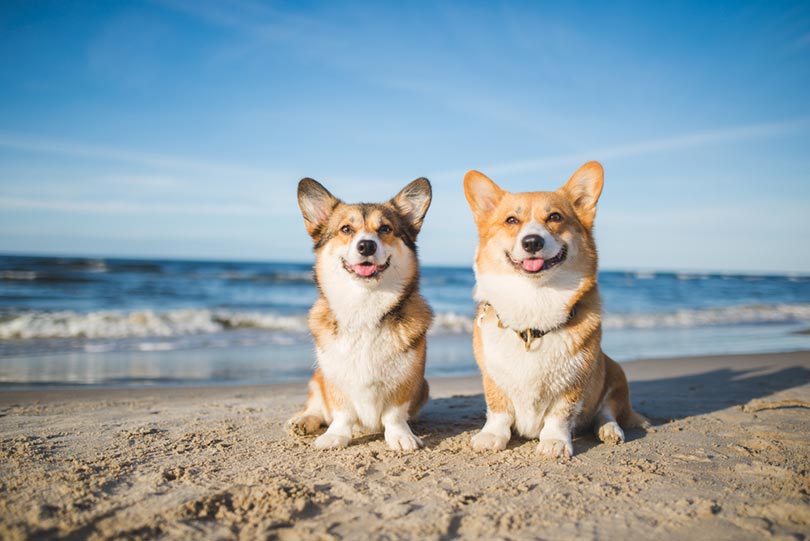 A tiny town on California's southern coast, Bodega Bay is charming, quiet, and a great place to explore with your dog. The beaches here are as picturesque as they come, and a couple of them in Bodega Bay allow dogs and their humans to have a great time together. You'll find several more dog-friendly beaches within easy driving distance of Bodega Bay, giving you and your favorite canine plenty of options to hit the surf and have fun in the sand and sun. Read on to discover all the amazing dog-friendly beaches in Bodega Bay and have an unforgettable day with your furry friends.
The Top 7 Dog-Friendly Beaches in Bodega Bay, CA
1.

Dillon Beach
This is a small beach that's even smaller at high tide
It costs $10 to park Mon to Fri, but $20 on the weekends.
Go early on the weekend as parking fills up fast
Beware of the lagoon area
Some sources say off-leash is allowed, and some claim it is not
Water and waste bags aren't provided
---
2.

Doran Regional Park
Large on-leash dog beach with a small, rocky area for off-leash play
The beach is much larger at low tide
Water and waste bags aren't provided
The off-leash area is only accessible at low tide
The beach is gorgeous and a lot of fun to walk and explore with your pup,
There's not much shade on sunny days
---
3.

Kehoe Beach
A small but beautiful and secluded beach for exploring with a leash
The beach is very large, especially at low tide
A quiet and relaxing area, especially during the week
It's a short but invigorating and scenic walk from free parking to the beach
Water and waste bags aren't provided
Dogs aren't permitted south of the trail from March 1st through September 30th
---
4.

Limantour Beach
A very wide, long beach you can walk for hours with your dog on a leash
It's a 20-minute walk to the beach, and the roads around it need repairs
The water is frigid, so be aware if your dog (or you) goes swimming
The water's edge is protected and calm, making it easy to enjoy it with your dog
Water and waste bags aren't provided
---
5.

Monte Rio Public Beach
A small riverside beach about 30 minutes from Bodega Bay on the Russian River
On the west side of the bridge is a small, off-leash area for dogs
You can rent a kayak or canoe and have some fun on the river with your dog
Mallard ducks are prevalent on the beach and may tempt some dogs
Water and waste bags aren't provided
---
6.

Point Reyes Beach (aka Great Beach)
Beautiful beach with dark sand and a protected coastline
The beach gets much smaller at high tide
Water and waste bags aren't provided
Parking is very close to the beach but fills up quickly on the weekends
Dogs aren't permitted north of the North Beach entrance
---
7.

Sonoma Coast State Park
Large state park with several beaches
Dog-friendly beaches include Blind Beach, Wright's Beach, Shell Beach, Gleason Beach, Carmet Beach, and Goat Rock Beach
You can also bring your pups to the Bodega Dunes campground
Off-leash is tolerated at Blind Beach when it's not busy
The beaches are beautiful, long, and a combination of sand and pebbles
Water and waste bags aren't provided
Final Thoughts
Bodega Bay, CA, has a couple of amazing dog-friendly beaches for you and your furry family members to enjoy. There are several more choices nearby, but most of them require leashes. Beach experts recommend checking the tide before you visit any of the dog-friendly beaches in Bodega Bay and, when possible, visiting at low tide. There's much more room at that time. No matter when you go, we hope you and your canine cohorts have a fantastic time exploring all the dog-friendly beaches Bodega Bay has to offer!
---