3 Dog-Friendly Beaches in Bradenton, FL 2023: Off-Leash & On-Leash Places to Go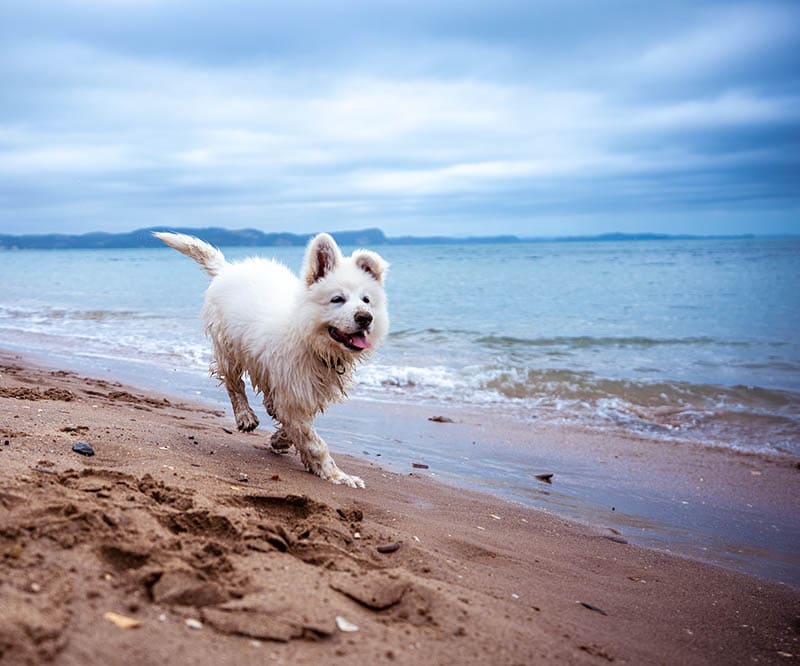 Bradenton, Florida is nestled south of St. Petersburg and is home to a few dog-friendly beaches. Our canine kiddos deserve a day on the beach or a play session with other furry friends in one of the many dog-friendly parks in Bradenton.
In this guide, we'll list three amazing dog-friendly beaches in the area, followed by the dog-friendly parks Bradenton has to offer. Read on to learn more!

Top 3 Dog-Friendly Beaches in Bradenton, FL
1.

De Soto National Memorial Beach
All dogs must remain on a leash no longer than 6 feet
Restrooms available
Dogs are allowed on the hiking trails and the beach
Don't forget to pick up your dog's waste
Must bring your own waste bags
---
2.

  Palma Sola Causeway Park
Features restrooms, grills fishing, picnic tables, picnic shelters, water fountains, trash receptacles, and a dock
Heads up: sea turtle nesting occurs from May 1 through October 31
One of the best beaches to take your dog in the area
Dogs must remain on a leash
---
3.

Fort De Soto Dog Beach
Located near St. Petersburg
Features a designated area on the beach for off-leash play
Named America's Top Beach by Trip Advisor in 2009
Features 2 fenced-in areas for large and small dogs near the beach with water stations
Restrooms, 15 picnic shelters, and concessions are available

Dog-Friendly Parks
If the beach isn't your style, you can always take your dog to a dog-friendly park for a day of fun, and there are many in the Bradenton area. Below, we'll list these parks so you know where to go. Let's check them out.
Bayfront Park
Bayfront Park is located in nearby Sarasota and is an excellent place to take your canine pal. It's open from 7 a.m. to 11 p.m. daily, and dogs can roam on-leash and explore the park with you. Restrooms, a fishing pier, grills, a playground, and a paved trail are just some of the amenities this park has to offer.
Creekwood Park/Paw Patch Dog Park
This dog park features 2 acres of a fenced-in area where dogs can roam and play off-leash. Amenities include a doggie drinking station, doggie waste bags, a pavilion, and a safe, enclosed area for small or elderly dogs. It's open from sunrise to sunset daily but closed from 7 a.m. to 11 a.m. on Tuesdays for maintenance.
Laurie Crawford Dog Park
This park, formerly known as Happy Trails Canine Park, is located in the northeast corner of G.T. Bray Park and offers 3 acres of fenced-in paradise where dogs can play and sniff off-leash. It has trees for shade and an enclosed area for fragile or small dogs.
This park provides picnic tables, pavilions, free waste bags, and a doggie drinking station. It's open from sunrise to sundown, with maintenance occurring on Mondays and Tuesdays from 7 a.m. to 10 a.m. and the last Friday of every month from 2 p.m. to 7 a.m.
Blackstone Dog Park
Blackstone Dog Park is open from sunrise to sunset and is a fun place for your doggie to play leash-free. This park provides free waste bags, covered shelters, and an enclosed area for small, fragile, and elderly dogs. All dogs must wear ID tags and be vaccinated.
Dog Leg Canine Park
Dog Leg Canine Park offers the same amenities as the parks listed above and is located in Buffalo Creek Park. It contains 3 acres of off-leash fun for your canine kiddo, and dog waste bags are provided. The park is open from sunrise to sundown.
Bird Key Park
Located in nearby Sarasota, Bird Key Park features two pavilions, picnic tables, fishing, kayaking, and excellent wildlife to observe. Dogs must remain on-leash but can enjoy all the amenities with you, and it's open from 5 a.m. to 11 p.m. daily.

Conclusion
Whether you prefer a beach or a park, you have several options in Bradenton, Florida, where you can take your dog on an adventure.
Always observe and follow the beach or park rules, and don't forget to pick up after your pooch. Many places listed in this article provide waste bags and drinking water, but it's always a good idea to bring your own, just in case.
We hope our list helps you in knowing where to go and, most of all, have fun!
Other dog-friendly beaches you can visit:
---