7 Beautiful Dog-Friendly Beaches in Ohio: 2023 Update
When the warmer months hit, you and your family are probably looking for tons of things to do to keep you occupied. Who doesn't love packing up the cooler and spending a nice day at the beach?
In Ohio, we might not have oceans, but we have many other options for waterside sitting. Luckily, there are plenty of dog-friendly beaches, so your canine pal can tag along.

The 7 Dog-Friendly Beaches in Ohio
There are several dog-friendly beaches in Ohio. However, we picked out the best ones we could find.
1.

Edgewater Park
It sits on 147 acres, but dogs are only allowed off-leash in the westernmost portion.
Tons of activities to keep you both busy.
Edgewater Park is full of picnic tables, parks, fishing areas, and nature trails.
Your dog is welcome to attend events and get to know the rest of the campers.
---
2.

Columbia Beach
Perfect place for any dog who loves the water.
Columbia Park has a trail you can walk on to get to Lake Erie directly.
Dogs must be leashed at all times.
The park also has a 40-foot waterfall.
---
3.

Kelleys Island State Park
Kelleys Island State Park has a beautiful view of the water.
Accessible via 20-minute, dog-friendly ferry ride that leaves from Marblehead, Ohio.
You may take your car on the ferry as well.
Dogs are permitted at this throughout the trails and on Pebble Beach.
You must also leave and clean up after your dog as needed.
---
4.

Harrison Lake State Park
Beautiful in all seasons, Harrison Lake State Park, located in Fayetteville, Ohio is a beautiful place to take your pooch.
There is a swimming designated area just for dogs!
Even though your dog is permitted to be on the dog beach area without a leash, the park prefers you keep them on a leash for the rest of the areas you visit.
The park also offers hiking trails, boating, fishing, etc.
---
5.

Salt Fork State Park
Ohio's largest state park.
Salt Fork State Park gives way for many different activities with your dog.
There is a beach area where dogs are permitted to swim at their will, and there are also tons of grassy areas to romp around.
Lack of shade on the beach areas, so make sure to bring shade and water for you and your dog.
---
6.

Delaware State Park
Delaware State Park is super dog friendly!
They have an entire beach designated to canines where your beloved canine pal can splash around.
They also have a fenced-in dog park, so if you ever need to let your dog run off some steam, you can let them explore the space.
Your dog will love making new friends, and it's a terrific place to relax in nature.
Dogs are allowed off-leash only in the designated dog areas.
---
7.

Nickel Plate Beach
| | |
| --- | --- |
| 🗺️ Address: | 📍 Huron, OH 44839 |
| 🕐 Open Times: | 8AM to 8PM, dogs are only allowed at certain times |
| 💲 Cost: | Free |
| 🐕 Off-Leash: | No |
Nickel Plate Beach is a beautiful sight located in Huron, Ohio.
Your canine can be on the beach before 10 AM and after 6 PM.
Dogs must remain on a leash while on the beach.
Tons of other fun activities like paddle board, kayaking, volleyball, ping pal, and other fun activities.

Proper Beach Etiquette
When you take your dog into a public space, cleaning up after your animal is essential and ensuring everything goes smoothly. Here are a few tips before you go.
Check Beach-Specific Rules
Every beach will be different. Some will want you to leash their dog, while others don't care if a dog is off the lead. Check the specific beach's rules so you can make sure to follow them without running into any issues on your vacation.
Read the Room
Be mindful and respectful of others on your trip—furry and fleshy alike. Keep an eye on any other dogs or people that might be nearby. You never know how certain animals will react to one another, so it's best to keep your eye on playtime at the beach.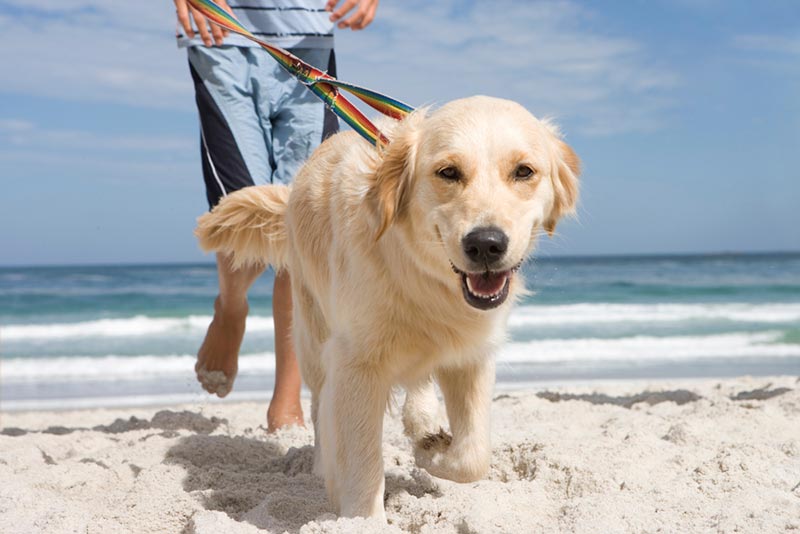 Bring Clean Up Supplies
Your dog will have to go to the bathroom from time to time. Be sure you bring any poop bags or other items you use to clean up after them. Also, check to see if there's a designated area the park would prefer you take your dog in these circumstances.
Be Mindful of Other People Without Dogs
Not everyone has dogs. So if you see a person or couple that does not have a dog themselves, make sure your dog is giving them space. Some people are terrified of dogs, and others just don't like them. It's best to keep to yourself and let other people enjoy themselves as well.
Make Sure Your Dog Is Compatible with the Environment
Some dogs do not do well off the leash. If there's a lot of action going on, and your dog is the type to get distracted or aggressive in these situations, you might want to go to a beach where every dog is leashed. However, if your dog is a friend to all, you might want to go to a beach where your dog can be free.

Final Thoughts
So now you know a bunch of cool places to check out with your four-legged best friends in the state of Ohio. Each of these places is beautiful and some might not be that far from you! It's best to check them out and don't stop there.
If you are planning trips for next year's warm months, check out other locations that also allow pets. Ask friends, family, and locals in the area to see if they have any dog-friendly suggestions.
---