10 Spectacular Dog-Friendly Beaches in Texas (2023 Update)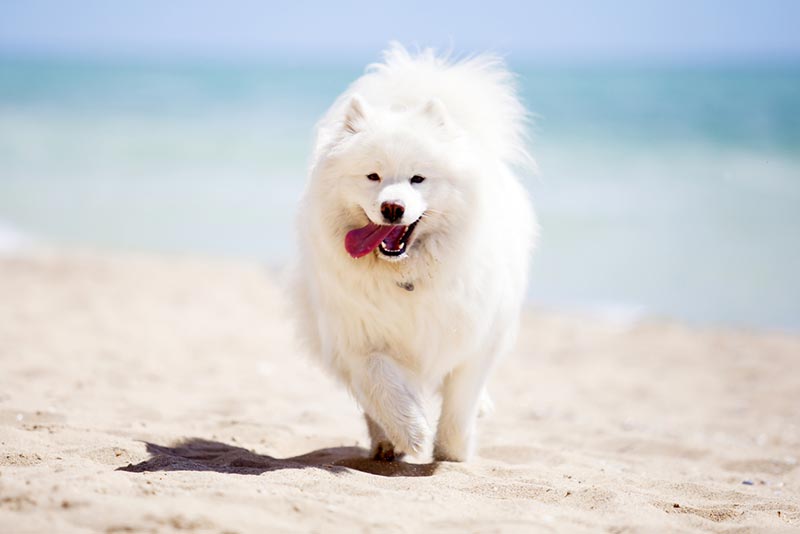 There's nothing quite like enjoying the beauty of the shoreline alongside your four-legged best friend. Texas is home to over 350 miles of Gulf Coast shoreline and features both tourist hotspots and quieter, more relaxed beachfront access.
If you are looking to enjoy a sunny beach day with your pup, you have to make sure the area you are visiting is dog friendly, and that's where we come in. We've taken a close look at the most popular beaches along the Texas coast that will welcome your pooch with open arms.

The 10 Dog-Friendly Beaches in Texas
1.

Padre Island National Seashore
Dogs are permitted nearly everywhere in the park, including camping areas as long as they are on a leash at all times.
Dogs are not allowed on the deck of Malaquite Pavilion or in any of its facilities. They are also not permitted on the boardwalk or the short stretch of beach directly in front of the pavilion.
There is a convenient pet-access trail that leads from the parking area to the beach with accessible restrooms and showers nearby.
The nearest amenities to the park are about 12 miles away, so be prepared before your visit.
Pets should never be left unattended, and owners are responsible for picking up after them.
---
2.

Surfside Beach
There are plenty of things to do at Surfside Beach. You can visit the local surf shop to get some gear and even rent surfboards, jet skis, kayaks, and paddle boards.
You can either hike or bike the Surfside Bird & Butterfly Trail to catch a glimpse of various birds, butterflies, and other local wildlife.
There are plenty of delicious food options in Surfside Beach, which includes eight local restaurants that serve a variety of food ranging from burgers to seafood.
Make sure your dog is leashed at all times when visiting Surfside Beach and make sure to clean up after them.
There are no glass containers permitted on the beach and the city asks that you please not litter.
---
3.

Mustang Island State Park
| | |
| --- | --- |
| 🗺️ Address: | 📍9394 TX-361, Corpus Christi, TX 78418 |
| 🕐 Open Times: | Daily from 8:00 am to 5:00 pm |
| 💲 Cost: | Adults and Children 13 and Older: $5 per day, Children 12 and Under: Free |
| 🐕 Off-Leash: | No |
Mustang Island State Park is located south of Port Aransas, TX, and features 5 miles of shoreline.
You can pick which activities suit you best at Mustang Island State Park. You can swim, surf, kayak, camp, fish, have a picnic, bird watch, or just hang out in the sand.
The entrance fee to the park is $5 each for adults and children 13 years of age or older. Children 12 and under can enter for free. Texas State Parks Passes are available for $70 per year.
Dogs are permitted throughout the park but are not allowed in any buildings. They must be leashed at all times and the leash must be no longer than 6 ft. in length.
---
4.

Stewart Beach
Stewart Beach was named one of the "10 Best Beaches for Families" by the Family Vacation Critic.
The park has lots of convenient amenities including restrooms, showers, concessions, chair and umbrella rentals, a volleyball court, and much more.
There is a $15 parking fee that is valid all day long.
Dogs are permitted on the beach but must remain on a leash at all times
Hours of operation vary depending on the season, so you'll want to be prepared depending on which time of year you plan to visit.
---
5.

East Beach
🗺️ Address:
📍193-199 Seawall Blvd, Galveston, TX 77550
🕐 Open Times:
Weekday Hours- March-May: 9 a.m. – 5 p.m. June – September: 9 a.m. – 6 p.m.
Weekend Hours- March-May: 9 a.m. – 6 p.m. June – September: 8 a.m. – 7 p.m.
First two weekends in October: 9 a.m. – 6 p.m.
💲 Cost:
Free
🐕 Off-Leash:
No
East Beach is located on the eastern tip of the island and is one of the only beaches that permit alcohol.
Dogs are permitted on this beach and all other Galveston beaches as long as they are leashed.
East Beach features a boardwalk with an entertainment stage and plenty of family-friendly activities.
Keep an eye out for the concerts and festivals held during the summer months.
There is a children's playground, restrooms, showers, concessions, umbrella and chair rentals, and many other amenities.
---
6.

Port Aransas Beach
Port Aransas is very dog friendly and even allows off-leash on the Coastal Bend as long as they are under verbal control.
In all other areas of Port Aransas coastline, dogs must be kept on a leash no longer than 6 ft. in length.
Port Aransas holds fishing tournaments year-round and also features a variety of festivals including art, food, live music, and nature festivals.
There are plenty of local restaurants, shops, and boutiques to visit in the area.
When you visit the beach, don't forget to clean up after your pup!
---
7.

McGee Beach
McGee Beach is a very popular, pet-friendly tourist attraction in Corpus Christi.
Enjoy the beautiful shorelines while being close to the activities downtown. There's even the Water's Edge Park across the street.
Parking is free and easily accessible along the Seawall or at the parking lots directly across the beach.
Throw on your sunglasses and slap on some sunscreen for a fun-filled beach day with a variety of activities to choose from.
Dogs must be kept on a leash at all times and owners must pick up all their messes.
---
8.

Quintana Beach
Quintana Beach is part of the 52-acre beachfront Quintana Park located along Texas' upper Gulf Coast.
The park features full-service RV campsites, self-contained cabins, restrooms and showers, picnic tables, grills, a playground, a volleyball court, hiking trails, and a wooden lighted fishing pier.
This area is pet friendly as long as you keep your dog on a leash wherever you go.
Quintana Beach is considered a natural beach and is maintained by the tides and the weather. It may contain large amounts of seaweed and the occasional driftwood.
The park is open daily from 8:00 am through dusk. A $5 parking fee applies from Memorial Day through Labor Day per vehicle.
---
9.

North Beach
North Beach is located north of downtown Corpus Christi and has been a popular tourist attraction for over 100 years.
This beach is conveniently located close to many local attractions including the Texas State Aquarium and the USS Lexington Museum.
There are plenty of family activities to explore and several places to eat nearby.
Dogs are permitted on North Beach as long as you keep them leashed.
Don't forget to pick up after your pet; this is a hotspot for many and there's plenty of foot traffic along the beach.
---
10.

Magnolia Beach
Magnolia Beach features 1.5 miles of shoreline located 11 miles from Port Lavaca, TX.
This beach is free of charge and offers a much quieter and more relaxed environment; just be sure to keep your dog on a leash.
There are convenient public showers, restrooms, and grills available for visitors to use as needed.
Magnolia Beach is RV-friendly with ample parking space available.
The sand is hard-packed and full of crushed shells and while it is easy to drive along, you may not want to go barefoot and should be cautious of those paw pads.

Conclusion
Texas has plenty of coastline to explore from South Padre Island up to the Galveston area. There's certainly no shortage of dog-friendly beaches to visit, and while most of them require your dog to be on a leash, there's plenty of fun to be had. Make sure you get all packed up and prepared before setting off on your sunny adventure. Don't forget to load up on poop bags and keep that leash nearby!
See also:
---