Dog-Friendly Guide to Pittsburgh, PA (Hotels, Restaurants, Bars)
| | |
| --- | --- |
| Population: | 312,205 |
| Off-leash Dog parks: | 7 |
| Dog Friendly Hotels & Accommodation: | Fair |
| Dog Friendly Restaurants, pubs & cafes: | 132 |
| Most popular dog breed: | Labrador Retriever |
Our pets are extremely important to us, and we don't like to leave them behind, even when we go on vacation. It can be expensive to find a sitter, and sometimes the only option is a kennel. Some cities have more pet-friendly options than others, and Pittsburgh is one such city. So, if you plan on visiting The Steel City, keep reading as we provide you with several dog-friendly places and things to do in Pittsburgh. We cover hotels, restaurants, and bars, so you and your best friend can stay entertained during your visit.

Looking for a specific dog-friendly guide to Pittsburgh? Try:

The Top 3 Dog-Friendly Hotels in Pittsburgh
1.

Omni William Penn Hotel
530 William Penn Pl, Pittsburgh, PA 15219
The Omni William Penn Hotel is a fantastic place to stay that allows dogs. It also comes with free and paid Wi-Fi, a 24-hour fitness center, and the 24-hour business center to help you get your work done. Enjoy the traditional afternoon tea service and enhanced cleaning procedures due to the COVID-19 pandemic.
---
2.

Drury Plaza Hotel Pittsburgh Downtown
745 Grant St, Pittsburgh, PA 15219
The Drury Plaza Hotel is a pet-friendly family-oriented place with plenty to do while you stay. Enjoy the free hot breakfast, free Wi-Fi, and 5:30 kickback, a snack unique to this hotel chain. You can also use the free business and fitness centers or enjoy the pool. It also offers packages to the local zoo, museums, science centers, and even the opera.
---
3.

The Oaklander Hotel
5130 Bigelow Boulevard, Pittsburgh, PA 15213
The Oaklander Hotel is a beautiful place to stay. It provides you with a spectacular view, fine dining, great-tasting coffee, and large rooms with a traditional feel and all the modern amenities. In each room, you'll find a large 55-inch screen TV that already has many of your favorite streaming services, and there's a coffee and espresso maker ready to go, along with free Wi-Fi.

The Top 4 Dog-Friendly Restaurants in Pittsburgh
1.

Jerome Bettis Grille 36
393 N Shore Dr, Pittsburgh, PA 15212
Jerome Bettis Grill 36 is one of the most popular restaurants in Pittsburgh, and the employees love when you bring your pets. It serves a huge selection of burgers, sandwiches, and premium steaks that get them many high reviews on several sites. It has indoor and outdoor seating, and the staff will even offer your dog a bowl of water while you relax and enjoy your food. It's right along the river, so you can enjoy a nice walk afterward.
---
2.

Redfin Blues
100 Waterfront Dr, Pittsburgh, PA 15222
Redfin blues is a dog-friendly restaurant that enables you to sit on a large deck and enjoy the warm breeze from the water while eating a great-tasting meal. It has a large menu that includes shrimp, crab cake, tuna, wings, cheeseburgers, and wraps. It's only open seasonally, from April through October, but you can visit 7 days a week during that time, and it's right on the river, so there are plenty of places to take your pet walking while taking in great views.
---
3.

Luke Wholey's Wild Alaskan Grille
2106 Penn Ave, Pittsburgh, PA 15222
Luke Wholey's Wild Alaskan Grille is a restaurant with a long history in Pittsburgh and a passion for the family business. It has a large menu that serves many types of seafood, including cod and lobster shrimp. You can also get pasta, steak, chicken, and dessert. This restaurant is a popular place to get sushi, and it also offers online ordering so you can take your food home.
---
4.

Bado's Pizza Grille & Ale House
307 Beverly Rd, Pittsburgh, PA 15216
Bado's Pizza and Grille Ale House is half restaurant, half bar, and is welcoming to dogs. It always has 20 different rotating beers on tap and an extensive menu where you can choose sandwiches, salads, and pasta. The staff will bring a bowl of water out for your pet, and there's plenty of outdoor seating.

The Top 3 Dog-Friendly Bars in Pittsburgh
1.

Grist House Craft Brewery
10 E Sherman St, Pittsburgh, PA 15209
If you are out for a walk with your pet and would like to get a drink, the Grist House Craft Brewery is one of the best places that you can stop in Pittsburgh. This pet-friendly bar has a large outdoor area where you can enjoy a beverage with your pet in a welcoming environment. It has craft brews and many are varieties available, so even the pickiest drinker can find something that they love.
---
2.

Southern Tier Brewery Pittsburgh
316 N Shore Dr, Pittsburgh, PA 15212
The Southern Tier Brewery is a fantastic place to take your pet and get a drink. It has more than 30 drafts available, with a full complement of wine offerings and regular soft drinks and iced tea. You can choose from several beer-infused items on the large menu, including smoked wings, house-made pretzels, and flash-fried cauliflower. It also hosts events, so it's a great place for bachelor parties, anniversaries, etc.
---
3.

Federal Galley
200 Children's Way, Pittsburgh, PA 15212
The Federal Galley is a large food hall and full-service bar that welcomes pets in its outdoor areas. It's a family-based organization that offers several different draft beers, ales, lagers, and a full menu. It also hosts events, so it's a great place to have your next party, and you can also get your order to go.
Interesting Facts
Pittsburgh has a special resort made just for dogs. It's called Lucky Paws Resort, and it contains both an indoor and an outdoor dog park. The best part is that the outdoor portion of the park contains a giant swimming pool just for pooches. Make sure to bring proof of your dog's vaccinations as the park focuses on safety as a top priority.
Though Pittsburgh doesn't have as many off-leash dog parks as some major cities, they make up for it with dog events. Events such as Pet 'n Play at Hartwood are dog-centric events that have loads of pet-specific entertainment, such as a canine agility course, pet parade, and pup-friendly photo booths.
Technically, the most popular breed in Pittsburgh is mixed. Of course, mixed isn't really a breed, which is why the Labrador Retriever is Pittsburgh's most popular pooch. Still, more mixed-breed dogs are registered than any other breed. Labs are next, followed up by Lab mixes, showing just how popular Labs are in Pittsburgh.
Same as the rest of the country, Bella is the most popular female dog name in Pittsburgh. Unlike the country as a whole, Max isn't the most popular name for a male dog, though it is second place. In Pittsburgh, Buddy is a more popular name for a best friend by a fair margin.
Leash Laws & Licensing
All dogs in Pittsburgh that are older than three months must be licensed with the city. The license is good from January 1st to December 31st each year, so regardless of when you purchase it, you'll be renewing at the start of the new year. Luckily, Pittsburgh offers one, three, and 12-year renewals. In addition to a dog license, you're also required to keep proof of your dog's rabies vaccinations, which are required by three months of age.
When out in public, dogs must be leashed on a chain or leash no longer than six feet. They must be under control and cannot be unleashed, except in the city's seven off-leash dog parks. At your residence, dogs must still be contained in a manner that prevents escape. Female dogs must be kept inside the entire time they're in heat.
Average Cost of Ownership
Though there are many pet-friendly places to stay or live within Pittsburgh, it might come at a price. However, unlike in many cities, you can find some places that don't charge exorbitant fees, deposits, and pet rents. That said, some places still charge these, so you'll have to do some searching. Of the places that charge pet rents and fees, a $200 refundable and another $200 non-refundable deposit seemed to be the average, similar to many cities. Plus, there was an additional $25 per month per pet added in pet rent.
Compared to other major cities, pet care in Pittsburgh is quite cheap. If you're looking for someone to walk or watch your dog, the average rate is just $11.75 per hour, according to care.com.
One of the major expenses of dog ownership in Pittsburgh is licensing. For a dog that's not fixed, you'll pay $20 for a one-year license, $50 for three years, and a 12-year license costs $175. If your dog is spayed or neutered, then you'll pay just $10 for one year, $25 for three, or $75 for a 12-year license.
Shelters & Rescue Centers
Compared to some cities, Pittsburgh is a bit limited in pet-adoption resources. There are still several options though. Rescue centers and shelters dot a map of the city, so you shouldn't have to travel far to find a good place to adopt. But in Pittsburgh, adoption prices vary widely, so you might benefit more from shopping around.
You could pay less than $100 to offer a puppy a place in your home, or you could spend nearly $500 if you go to the All 4 Paws Rescue. Animal Friends offers some of the most affordable adoptions in the city, including special programs to help veterans adopt for free and to help senior citizens adopt at reduced rates.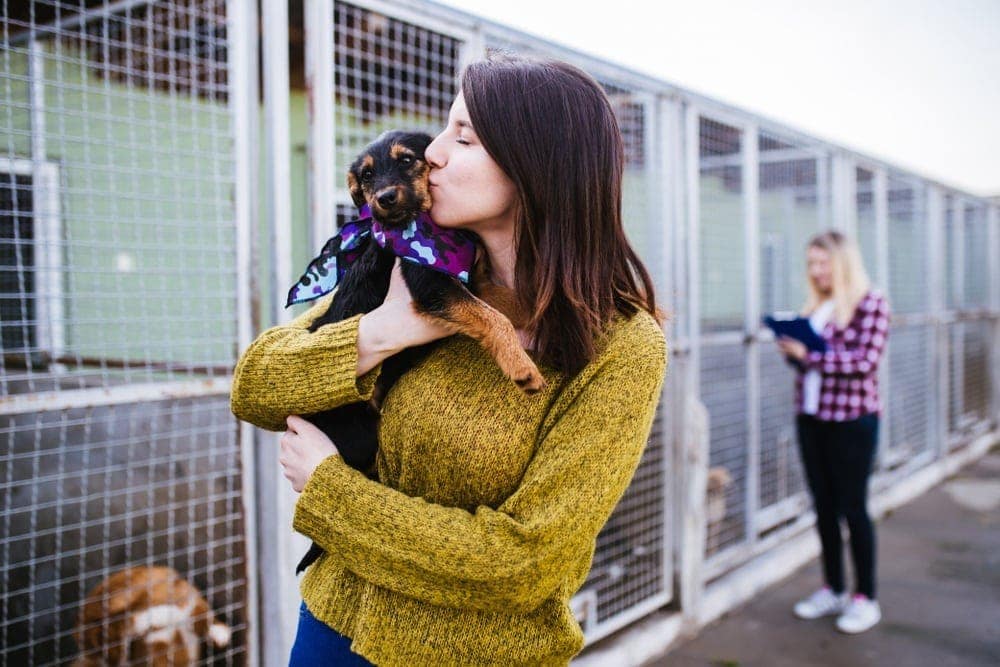 For a full list of our top picks for dog-friendly cities, check out our reviews here.
Conclusion
There are plenty of pet-friendly places to visit in Pittsburgh, with many more if you look around, as pets are a big part of this city. If you can only stay a few days, we recommend sleeping at the Omni William Penn hotel and trying out food at Jerome Bettis Grille 36 or Redfin Blues. Later, grab a drink at Grist House Craft Brewery for some of the best craft beer that you'll ever try.
---
Featured Image Credit: Philly Traveler, Shutterstock