10 Homemade Dog Treat Recipes Without Flour

If your dog has a wheat allergy, you may want to think about making treats at home. That way, you can control all of the ingredients and make sure your pup's food is healthy and safe.
To do that, you'll need the right dog treat recipe. We've gathered 10 delicious, affordable, and easy homemade dog treat recipes from all over the internet — all without troublesome flour! Keep reading to learn more about flour substitutes and how to make the best possible homemade dog treats.

What can you substitute for flour?
If you want to make a dog treat recipe without flour, you'll need to find a dog-friendly substitute! Rolled oats are a great option, since they're gluten-free and won't activate your pup's food allergies. You can also try alternative flours like rice flour, almond flour, coconut flour, or oatmeal flour. These flours aren't made of wheat, so they won't cause an allergic reaction, but keep in mind that you can't just substitute them one-to-one for regular flour. These alternative flours absorb different amounts of liquid and require a little recipe adjusting.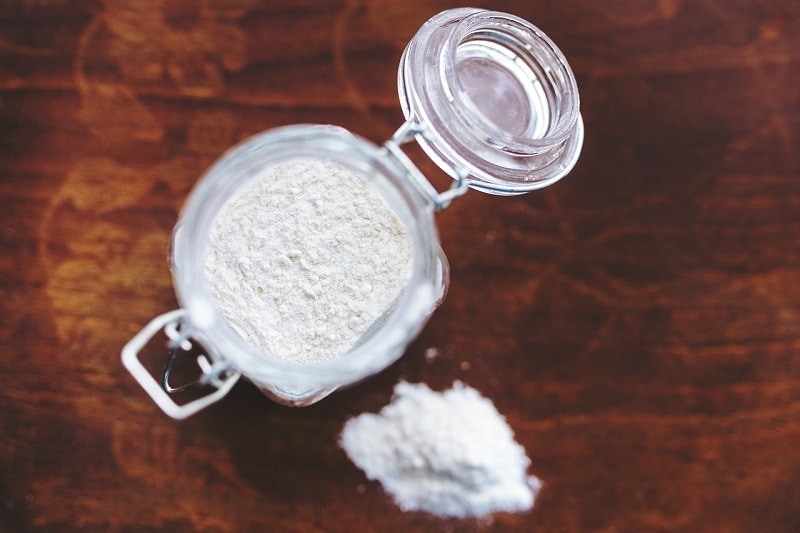 That's where these recipes come in! Scroll down to find out how to make dog treats without flour with these ten recipes:

Top 10 Delicious Dog Treat Recipes Without Flour:
1.

3-Ingredient Peanut Butter Dog Biscuits
These easy dog treats only have three ingredients — and none of them are flour! Mix together bananas, oats, and peanut butter to make these healthy and affordable treats. Get the recipe here.
---
2.

Tasty No-Bake Oat Treats
Not only do these treats not have flour, but you also don't have to bake them! What could be easier? Roll them in extra oats for a fun twist. Get the recipe here.
---
3.

Cinnamon & Oat Dog Treat Recipe
Cinnamon, oatmeal, pumpkin, peanut butter… these treats sound good enough for us to eat! Whip up a special snack with this dog treat recipe without flour. Get the recipe here.
---
4.

Ground Meat & Sweet Potato Dog Cookies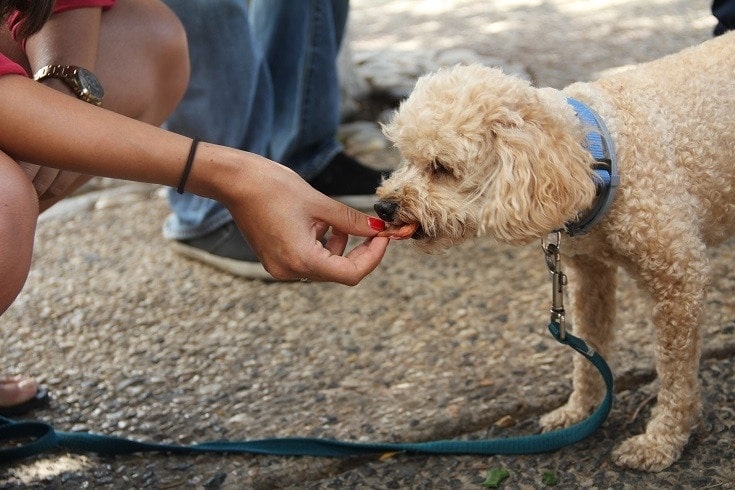 Your pup is guaranteed to love these dog-friendly cookies, which are full of ground meat, oats, and sweet potatoes. Delicious and nutritious! Get the recipe here.
---
5.

Bean Flour Dog Biscuits
These gluten-free dog treats use bean flour from Bob's Red Mill, plus pumpkin puree, eggs, and peanut butter. A bit pricier than using rolled oats, but your pup will thank you! Get the recipe here.
---
6.

Dog-Friendly Gingerbread Treats
Does your dog want to celebrate the holidays with you? Mix together a bunch of dog-friendly spices, plus molasses and gluten-free almond flour, and you've got a festive treat! Get the recipe here.
---
7.

Frozen Apple Dog Treats (Without Flour)
Want to make a refreshing treat for your furry friend? Freeze apples, yogurt, and water to make these tasty, nutritious treats. Get the recipe here.
---
8.

Easy Peanut Butter & Coconut Oil Dog Treats
All you have to do to make these dog treats is mix peanut butter, coconut oil, and cinnamon. Pour the mixture into an ice cube tray or paw-shaped silicone mold, freeze for a few hours, and you'll have a tasty, flour-free treat! Get the recipe here.
---
9.

Applesauce Dog Pretzels
These cute dog treats use oat flour, rolled oats, and applesauce. Twist the dough into pretzels and you'll have treats fit for a king! Get the recipe here.
---
10.

Chicken & Rice Dog Biscuits
These easy dog treats use rice instead of flour to make a wheat-free biscuit. Your dog will love the chicken breast and you'll love the breath-freshening parsley! Get the recipe here.

Flourless Dog Treats: Conclusion
There you have it: 10 delicious, healthy recipes that teach you how to make dog treats without flour. Swapping flour for substitutes like rice or oats doesn't have to be expensive, and your pup won't miss the ingredient! Whether you choose a frozen apple treat, a peanut butter banana biscuit, or an applesauce dog pretzel, your favorite dog will appreciate the tasty treats.
Try another delicious dog treat recipe:
---
Featured image credit: Pixabay