Picture a shaggy dalmatian, a pearly white coat with flecks of greys and deep blues, occasionally even black, with fringes of fur running down the length of its legs, tail, chest, and belly. What a beauty! In addition to a stunning coat, the English Setter has some of the most desirable qualities a dog could have. They are fuelled by determination, renowned for their endurance and athleticism, and are often referred to as the "Gentlemen by Nature".  English Setters are wonderful family pets who get along well with other animals and children. 
So if you've adopted one of these lovely dogs, you're likely looking for a name that compliments their multifaceted personality and captivating appearance. Below are wonderful suggestions for female and male dogs, hunting suggestions for the sporty pups, popular names among the breed, and finally, a list of traditional ideas to honor their gratefulness.

Female English Setter Dog Names
Bella 

Maddy 

Cleo 

Misty 

Abby 

Roxy 

Coco 

Missy

Juno 

Annie 

Molly 

Brandy 

Rosie 

Lilo

Venus 

Flora 

Dixie 

Lucy 

Daisy 

Ruby 

Honey 

Lola 

Zoe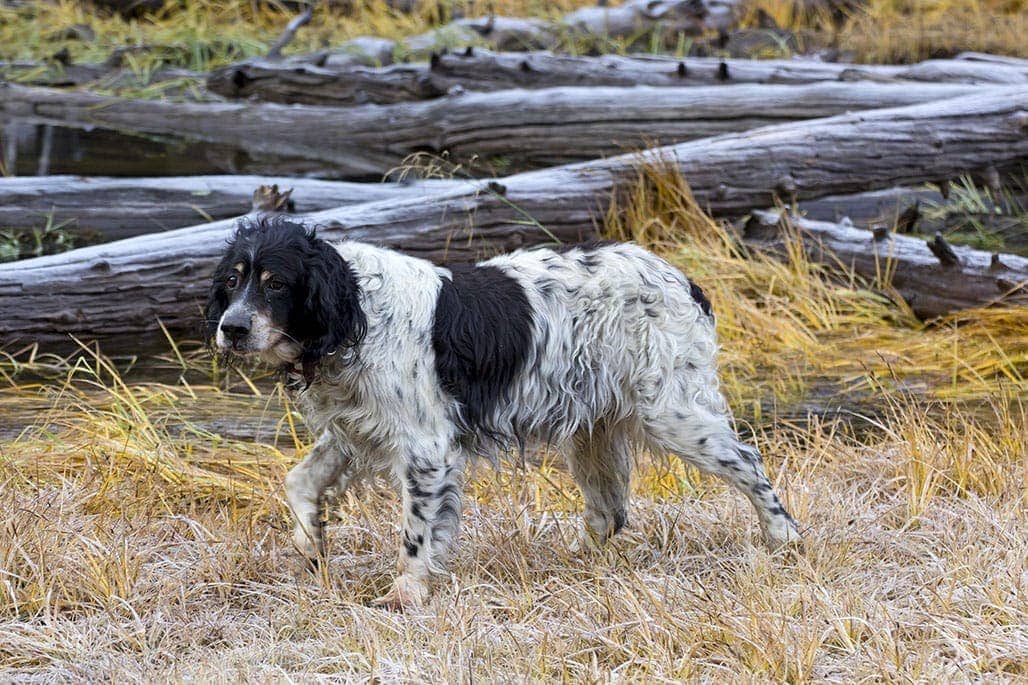 Male English Setter Dog Names 
Gus 

Smokey 

Felix 

Sparky

Socks 

Pluto

Riley

Duke 

Pickles

Jack

Buster 

Oakley 

Jinx

Harvey

Pax

Ripley 

Rusty 

Moo

Tucker 

Bruno

Ollie

Pepper 

Checkers 

Dudley 
Hunting Names for an English Setter 
While your pup may be a great companion, you won't believe what natural and incredible hunters English Setters are. If you are someone who is constantly on the trail or need an extra paw to help flush the bush, a name inspired by the hunt is sure to be an ideal match for this breed. 
Dozer 

Hunter 

Zeus 

Maverick

Apollo 

Zena 

Moose

Champ

Duchess

Boomer 

Marx 

Reba 

Empress

Grizzly 

Sabre 

Ursula 

Rogue 

Sultan 

Bear

Persis

Bandit 

Kahuna 

Jett
Popular English Setter Dog Names
You may be interested in choosing your English setters name from the most popular and commonly used names for Setters. Seeing an English Setter at the dog park is likely an uncommon occurrence so there is no need to worry about name sharing and confusing your pup! 
Chance 

Duke 

Marmalade 

Cookie 

Zero

Chester 

Journey 

Zeus 

Lucky 

Candy 

Tux 

Pippi

Diva 

Charlie 

Alpha 

Mittens

Kaiser

Almond 

Perdita 

Harley 

Paws
Traditional English Setter Dog Names
The English Setter's stunning appearance and regal and often professional personality make English Setters perfect candidates for a timeless traditional dog name. These classic ideas are graceful and polite – just as your new pup is! 
Milton 

Gracie 

Lester 

Sophie 

Alvin 

Winston

Alfred 

Myrtle 

Ezra

Chaplin

Gideon 

Elmer 

Marcel 

Bertha

Joy 

Rosie

Archie 

Martha 

Lady 

Gretel

Oliver 

Leonard

Finding the Right Name for Your English Setter 
You want to know that you've done right by your puppy by choosing a name that's just as fun and adorable as it is suitable to their personality. There may be a bit of added pressure when it comes to selecting just one as there are so many great ones to choose from. If you are able to narrow it down to your favorites, we've listed a few helpful suggestions that might guide you to the perfect one for your Setter: 
Keep it simple!

A single syllable name is best practice when choosing a name. Your puppy will learn and understand it much quicker than a long-winded name. 

Choose a name ending in a vowel.

A name that ends with an "A" or "O" will make your puppy's name distinguishable from other words and therefore, easier for them to respond to! Belle could be turned into Bella or Bello. 

Ask for a few opinions.

If all else fails, you can always recruit a few trusted people to bounce a few ideas off of. Remember, at the end of the day, this is your puppy and you will be the one using the name the most frequently. Ultimately, you should love the name you choose! 
Hopefully, the winning name for your new dog was among our list of the 100+ English Setter names. Of course, you might not spot something on your first look and you might be interested in getting a few other ideas before making a decision. In that case, below are few other popular dog name posts sure to give you the additional inspiration you need: 
---
Feature Image Credit: Gonzalo Jara, Shutterstock