Essence Dog Food Review 2023: Recalls, Pros & Cons
Review Summary
Our Final Verdict
We give Essence dog food a rating of 4.5 out of 5 stars. 
Essence Dog Food might be a brand you come across if you are on the hunt for a limited ingredient diet for your dog. Finding out your dog suffers from food allergies can be a complicated time. Finding dog food that won't trigger any sensitivity in their system can be challenging at first.
If you know that your dog requires a limited ingredient diet, Essence has plenty to choose. Your vet might put you on a series of food trials before finding one that works best for your dog. Keep in mind that we wrote this review for owners who have a dog diagnosed with food sensitivities. Here we're going to explore the targeted nutrition and comment on what dogs benefit most from these selections.
Click to skip ahead:

At a Glance: The Best Essence Dog Food Recipes
Rating
Image
Product
Details

Our Favorite

Essence Limited Ingredient Recipe

Ideal kibble size and texture
High protein
Free of irritating ingredients
Check Price

Essence Limited Ingredient Ranch Recipe

High protein, modest calories
Only two novel proteins included
No irritating ingredients
Check Price

Essence Ocean & Freshwater Recipe

Several fish sources
Excellent protein
Provides extra hydration
Check Price
Essence Dog Food Reviewed
Whenever you're switching your dog food recipes, it is really beneficial to get to know the company itself. What are they all about? What kind of quality ingredients are they putting in your dog's food bowl? Is the price worth the quality?
These are all valid and valuable questions, and we hope to clear up a lot of those for you. This brand's dog food recipes are technically grain-free, making them incompatible with certain healthy adults. We recommend checking your resources, as Essence will not work for all dietary needs.
However, we think that you will be impressed with their composition and quality products.
Who Makes Essence Dog Food and Where Is It Produced?
Pets Global owns Essence dog food and other popular brands like Zignature and Fussie Cat. The main company aims to provide holistic and healthful dog and cat foods that improve the livelihood and longevity of pets.
Which Type of Dog Is Essence Dog Food Best Suited For?
Essence dog food is completely crafted to nourish dogs with food sensitivities. They exclude potatoes, legumes, grains, and other irritating ingredients that are common allergy triggers and commercial dog foods.
By doing so, they have created an extensive lineup of nutritious limited ingredient dry and wet food diets. These diets are technically grain-free, perfect for any pooch with gluten sensitivity or intolerance.
Which Type of Dog Might Do Better with a Different Brand?
If you have a normal healthy adult dog with no known sensitivities, this diet probably isn't going to work for you. Essence tailors their recipes to meet the needs of dogs who have trouble with digestion in some form or another.
If you have a healthy adult, they should really have grain-inclusive dog food as their primary energy source. When it comes to exquisite premium dog food selections, we highly recommend Purina. It has similar pricing with grain-inclusive options and a comprehensive list of additional targeted recipes.
However, suppose you want similar nutrition at a higher savings rate. In that case, we think Purina has many recipe lines from super-premium to baseline—and they seem to strive to offer solid nutrition for every pet parent budget.
---
Discussion of the Primary Ingredients (Good and Bad)
Here, we are going to take a look at the additives in Essence recipes. For example, we will use their most popular recipe—Essence Limited Ingredient Recipe Ranch Dry Dog Food.
Lamb is a rich red meat that is protein dense. It's not as commonly used in commercial dog foods so that it can make an excellent novel protein for pups sensitive to common meat like chicken, beef, and fish.
Pork is a common protein to us, but you don't see it in many dog foods. Many premium commercial dog foods have started incorporating pork into recipes because it is generally a novel protein that is packed with exceptional nutrients.
Lamb meal is concentrated lamb material that is exceptionally high in protein, catering to muscle, joint, and cartilage health.
Pork meal is a highly concentrated form of pork material that has unmatchable protein content.
Quinoa is a fibrous grain considered a seed until grown and cultivated. It has a substantial amount of digestive properties and health benefits.
Pork fat contains vitamin B1, also called thiamine. It is also a super great source of extra protein.
Pumpkin is an easily digestible carbohydrate source that replaces many common grains and dog food. Pumpkin is soothing for the digestive tract and full of fiber, helping everything function as it should.
All in all, we don't see anything here that should really raise concern. The company seems to use an adequate amount of protein-rich animal content with easily digestible carbohydrates.

Essence Targets Dogs with Dietary Sensitivities
Essence has an incredible lineup of dry kibble and wet canned food that caters to different health and dietary sensitivities. These recipes are crafted with premium, high-quality ingredients that nourish your pet's digestive tract depending on the issue.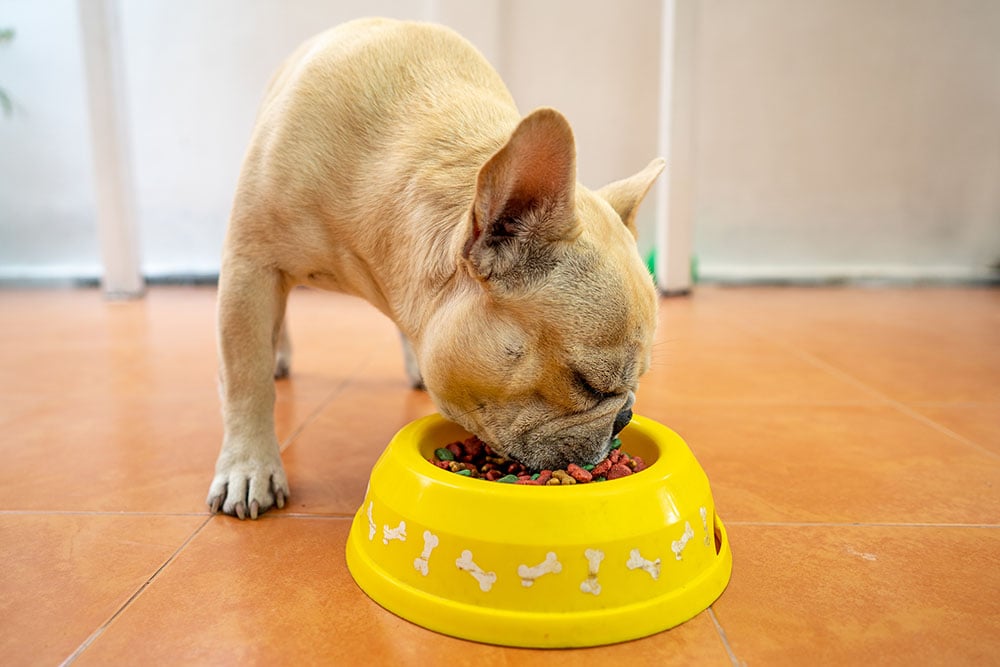 Essence Is Expensive, But Premium
We want to point out that this dog food will not work on just anyone's budget. It is a high-quality recipe, and the price reflects that. It is substantially more expensive than middle-of-the-road dog foods and can get very pricey if you're buying for a large canine.
Clean is the name of the game with Essence. They offer top-of-the-line, completely safe and nutritious ingredients in all of their recipes. Their entire aim is to give canines a clean and healthy approach and life, and they do so by creating special formulas in both wet and dry forms.
Essence offers a 100% money back guarantee on their products.
Essence Dog Food: What Does It Lack?
What we found interesting about the Essence brand is that none of their premium dog foods are fortified with pre or probiotics. This is surprising considering the fundamental aim of Essence dog food is to promote optimal digestion and overall health for dogs with sensitivities.
Because there are no live pre or probiotics, you might have to give an additional supplement to some dogs to make up for what their dog food lacks, and who wants to do that?
The recipes are grain-free, even if they contain lentils and other legumes. While this can be extremely healthy for some dogs and even reasonably necessary, they don't require these foods unless your dog has a grain-specific allergy.
Even though Essence aims to provide dogs with non-allergy triggering recipes, they tend to use quite a few protein sources in every batch, which can lead to the increased likelihood of additional allergies and can make it really hard to pinpoint what is triggering your dog if an unknown allergen is present.
We here love to recommend companies offering grain-inclusive recipes for dogs. This, as a whole, aims to give dogs with various sensitivities a better dining experience. But, these recipes will not work for all active and healthy canines. You should definitely seek veterinary approval if you plan to feed a dog with no diagnosis.
Some Essence recipes contain quinoa, one of those grains everyone seems to feel differently about. You might read one source that says quinoa is a seed, while others claim it is a grain.
Reviewing Essence for What It Is
We could go on and on all day long about how grain-free recipes need veterinary approval and should only be fed to dogs with an intolerance or sensitivity.
However, the entire aim of Essence was to provide dietary options for dogs who have a limited number of recipes available to them commercially otherwise. These diets were meant to target specific areas of health to reduce allergy symptoms and alleviate troublesome Side effects.
Having said all of these things, our review of Essence dog food is based solely on the company's mission, understanding perfectly well that these recipes will not work for all dogs. We can't stress enough that these dog meals were explicitly crafted for canines with digestion issues.
So, while they might be sufficient for some dogs who have not been properly diagnosed, you still should seek guidance from your veterinarian anytime you make a diet change just to ensure you're doing the right thing medically.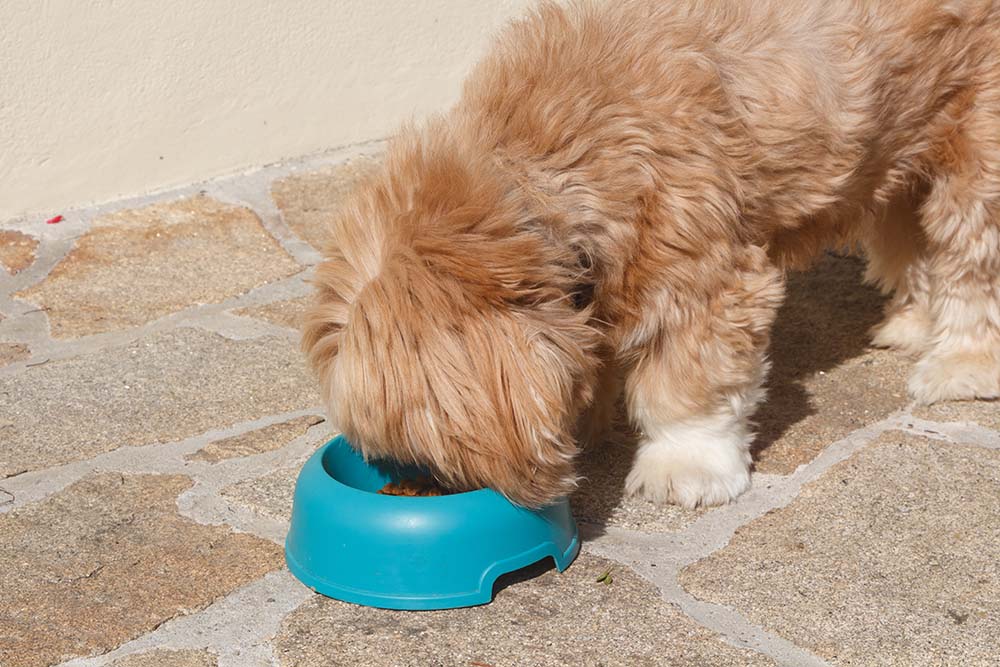 A Quick Look at Essence Dog Food
Quality ingredients
Meat is always the first ingredients
Offers less common protein content
Many recipes for limited ingredient diets
No recalls to date
All recipes are technically grain-free
Recall History
If recalls are a big deal to you, you'll be happy to know that this particular brand has no recall history. This speaks volumes, as they put a lot of quality control into their products.
So, you can purchase with Peace of Mind knowing that your dog is highly unlikely to come across anything in their recipes that could upset their stomach or make them sick.

Reviews of the 3 Best Essence Dog Food Recipes
1.

Essence Limited Ingredient Landfowl Recipe
| | |
| --- | --- |
| Main Ingredients: | Turkey, chicken, turkey meal, chicken meal, quinoa, pumpkin chicken fat |
| Protein: | 35% |
| Fat: | 18% |
| Calories: | 429 per cup |
Essence Limited Ingredient Diet Landfowl Recipe is excellent for dogs who need a little extra care in their daily diet. Packed with premium ingredients, this recipe contains many beneficial perks—like excellent nutrients and yummy animal content.
This diet contains so many meat sources in the first several ingredients, which we love to see. The recipe is totally gluten-free and has two primary sources of fiber for optimal digestion.
It is entirely free of potatoes, legumes, fish, and red meat to avoid most allergy triggers.
This recipe contains 35% protein on the guaranteed analysis. This is a very high amount for any dog food, nourishing the muscles of your canine companion. Sometimes with limited ingredient diets, companies will give a lower protein quality which is definitely not the case here.
We absolutely love seeing this in this limited ingredient diet recipe. Plus, the kibble is delicious, with the perfect size and favorable crunch.
Ideal kibble size and texture
High protein
Free of irritating ingredients
May contain a protein trigger, check ingredients list fully
---
2.

Essence Limited Ingredient Ranch Recipe
| | |
| --- | --- |
| Main Ingredients: | Lamb, pork, lamb meal, pork meal, quinoa, pork fat, pumpkin |
| Protein: | 35% |
| Fat: | 18% |
| Calories: | 408 per cup |
We absolutely recommend the Essence Limited ingredient Ranch Recipe. It is another recipe in their lineup that uses as few ingredients as possible while promoting the most optimal diet. Like all of their limited ingredient diets, this particular recipe is free of potatoes, legumes, fish, and any poultry.
Instead, they used two novel proteins, lamb and pork. Both of these are highly unlikely to cause any digestive upset as it's probably not been introduced to your dog's diet before. So, if you have a dog with a protein allergy, we recommend this recipe specifically.
Lamb is an incredibly protein-dense red meat that is packed full of nutrients for your dog. It is arguably Essence's most popular recipe for the largest variety of dogs. This recipe contains plenty of fiber, fat, and Omega fatty acids for total body health.
We were impressed that this recipe was high protein without an absurdly high-calorie count.
High protein, modest calories
Only two novel proteins included
No irritating ingredients
May be hard to find in stores
---
3.

Essence Ocean & Freshwater Recipe Wet Food
| | |
| --- | --- |
| Main Ingredients: | Trout, fish broth, salmon, whitefish, sardines, herring, catfish, mackerel, lentils |
| Protein: | 38% |
| Fat: | 18% |
| Calories: | 457 per cup |
We think Essence Ocean & Freshwater Recipe Wet Food is an outstanding wet dog food that hits all targets of canine health. This recipe makes a wonderful standalone diet and a great wet food topper for dry kibble.
It contains so many freshwater ingredients like trout, salmon, whitefish, sardines, herring, catfish, and mackerel. If that's not a mouthful, I don't know what is. It also contains other water-based ingredients like seeking help, which aids in dietary fiber.
The protein content in this recipe is higher than many other competing products, scoring at 10.0% on the guaranteed analysis. This product is high in calories, so make sure to use it sparingly and stretch it out if you use it as a topper.
If you use this recipe as a primary diet, we recommend ensuring your dog is properly active to prevent weight gain.
Several fish sources
Excellent protein
Provides extra hydration

What Other Users Are Saying
There seems to be a lot of varying opinions on Essence dog food. When it comes to major dog food reviewing companies, most have raving opinions about this. Some claim it is a godsend and has alleviated their pet's allergies, while other customers feel it didn't live up to their expectations.
Essence is targeted to dogs with some sensitivity in their daily diet. They are not meant for average everyday dogs with no known sensitivities. However, most companies that get veterinary approval on opinions like to raise the observation of dietary needs.
This might not deter some pet parents from choosing the brand anyway. Still, we recommend getting in touch with your veterinarian so you can go over the pros and cons professionally.

Conclusion
Overall, we think that essence dog food is a premium, quality dog food brand that truly does aim to provide nourishing recipes to sensitive dogs. We don't recommend any Essence dog food recipe to healthy adult dogs, as they would thrive best with a grain-inclusive recipe.
However, as a limited ingredient diet that takes care of many allergies, Essence is top of the line. If you were on food trials with your veterinarian to pinpoint your dog's allergy, make sure to choose an essence recipe with fewer protein sources so you can better analyze the cause.
---