10 Essential Australian Shepherd Supplies & Products: 2023 Vet-Reviewed Guide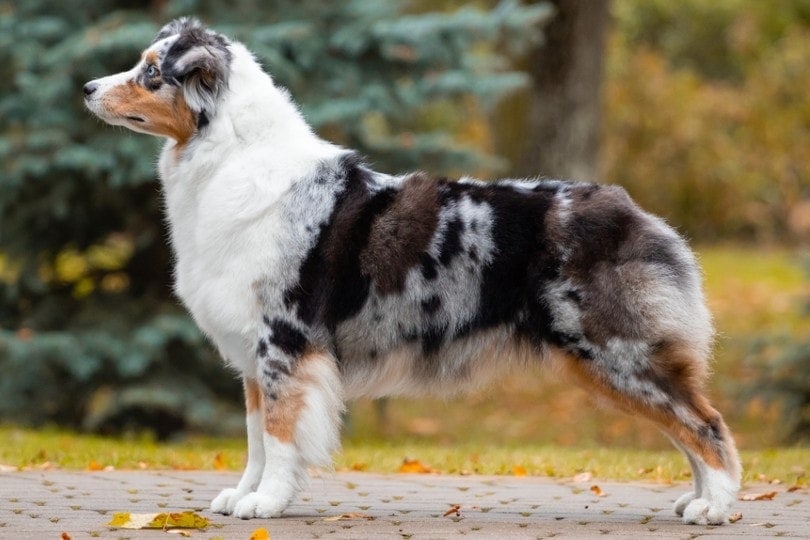 Bringing home a new Australian Shepherd puppy is an exciting time. You want to be as prepared as possible so you can focus on spending time and bonding with your new family member. Having everything that you need will help your puppy transition smoothly into your home.
We listed the essential supplies that you'll need before your pup's arrival. Once you've learned your dog's personality, you can get more supplies based on their preferences. For now, here's a list of everything that you need to get started.

The 10 Essential Australian Shepherd Supplies & Products
Food and Feeding Supplies
1.

Food
Your growing Aussie pup will need high-quality food to keep them healthy and energetic. Before you bring your dog home, ask the breeder or shelter what they were eating originally. You might want to stick with that particular food at first and then switch your Aussie to the food of your choice. You'll have to transition them to the new food slowly to avoid digestive problems. Start by mixing 25% of the new food in with their old food, and go up to 50% the next week. If you don't see any sign of stomach issues, use 75% new food and 25% old food in the third week. By the fourth week, they should be eating 100% new food.
If you have the opportunity to switch to fresh, it is way better! Some of the benefits of feeding good quality fresh dog food include a shinier coat and fewer trips to the vet. The Farmer's Dog fresh dog food has everything that a growing pup needs. Their delicious recipes come in four different flavors, all prepared with fresh, human-grade quality ingredients and delivered right to your door. The high-quality protein content of 38-49% on a dry matter basis supports lean muscle development and gives your pup the energy that they need.
---
2.

Food & Water Dishes
The food and water dishes for your Australian Shepherd should be large enough to accommodate your dog's size. They will need to hold the proper amount of food for each meal and be comfortable for your dog to eat and drink out of without their cheeks or chin hitting the sides with each bite.
The Frisco Diamond Double Bowl Diner comes in two sizes, so you can choose the right one for your pup. The bowls are elevated, relieving any stress on your dog's neck while they eat. The bowls are dishwasher safe, and the elevated stand can be cleaned easily by hand. The modern look of this set fits in easily with any décor.

Walking Your Dog
3.

Collar
A collar that properly fits is important to have, especially before you pick up your dog for the first time. Puppies are active and don't know how to walk on a leash yet. The collar needs to fit well so they don't get out of it. If you're bringing your dog home from a breeder or animal rescue, you'll need to keep them safe during transport.
The PetSafe Quick Snap Martingale Dog Collar is a great option because the martingale feature gently tightens the collar if your dog pulls. This makes it impossible for them to slip out of it, but it doesn't choke the dog or cause them discomfort. Its main purpose is safety. It comes in five colors and sizes.
---
4.

Leash
A sturdy leash to attach to the collar will keep your pup secure during walks, training, and transporting. Keeping your dog leashed at all times when outdoors in open areas, especially while they are not yet trained, is the best way to keep them safe.
The Frisco Solid Nylon Dog Leash is an inexpensive, durable leash that is great for everyday use. If you're unsure of which leash you want to get, this is an option for a starter leash until you decide on a more permanent one as your dog grows. It comes in several colors and sizes and will work well with any collar.


Comfort
5.

Crate
A crate for your Australian Shepherd puppy will help with housetraining and keeping them safe while you're not home. If you choose to crate train your Aussie pup, you'll need to choose the right size crate for success. A crate that's too small will be uncomfortable for your dog. One that's too big will enable them to use one end of the crate for a bathroom and the other for sleeping. This will not only be frustrating, but it will also set you back in housetraining, which defeats the purpose of the crate altogether.
The Midwest LifeStages Double Door Wire Dog Crate has a divider panel that you can adjust as your dog grows to give them the room that they need. This means you can get a crate that will comfortably hold your dog from when they are small to when they are fully grown and use the divider instead of buying multiple crates in various sizes. The two doors offer your Australian Shepherd convenience, and the entire crate is collapsible for easy storage when it's not in use.
---
6.

Dog Bed
Your Australian Shepherd pup is going to be full of energy. They'll play hard so they'll need a place to rest hard too. A dog bed will give them a place to go to feel safe, to rest without being in anyone's way, and to spend time without taking up a spot on the couch. If you get a large bed while your dog is a puppy, they will learn to use it while young and still fit in it when fully grown without you having to replace it.
The Dog Bed King USA Sofa-Style Dog Bed comes in two colors and three sizes. It has a three-sided bolster for your dog to snuggle against for support or use as a pillow. There is a non-skid base so your dog won't slip as they enter and exit the bed. It also has a machine-washable cover so it's easy to clean.


Treats and Toys
7.

Chew Toys
Australian Shepherd puppies love to chew! Having a selection of chew toys available will save your fingers and possibly your household items. Chew toys are especially important during teething. Your dog will want to chew whatever they can, and the right supplies will make this period easier for both of you.
The Nylabone Puppy Chews come in a variety pack that will keep your puppy interested and engaged. A textured bone toy is included to relieve teething pain as your dog chews. It tastes like chicken to keep their interest. The smooth white bone also tastes like chicken and teaches your puppy healthy chewing habits. The brown bone is edible. It tastes like apple and lamb and will satisfy your dog's chewing instincts while giving them a treat at the same time.
---
8.

Treats
Once you bring your Aussie pup home, training should begin ASAP. They should be learning new things every day, and treats can encourage them to do so. They also work as rewards for good behavior so your dog is likely to repeat it. While treats can be given to your dog at any time just because you love them, they are vital in training to show your dog how to behave.
The Get Naked Biteables Puppy Treats are made with real chicken, as well as colostrum and probiotics to support your dog's growth and healthy development. They are soft and chewy, so they're easy for teething puppies to eat. Their size makes them perfect for training rewards.
---
9.

Squeaky Toy
Your Aussie pup should have various toys to play with to keep them entertained and from getting bored. If your dog likes to instantly chew through the stuffing of a plush toy and pull out the squeaker, other toys are available that can give them the squeaker without the mess.
The Outward Hound Invincibles Stuffing-Free Squeaky Toy is more durable than many other plush toys. The fabric is strong but the toy is soft. Even if your dog does manage to chew through the fabric, there is no stuffing to pull out and make a mess. Your dog might not be able to destroy this toy so quickly and can happily squeak away.

Grooming
10.

Brush
Keeping your Australian Shepherd's coat clean and shiny is important to keep them looking their best. Puppies are high-energy and always playing. You may need to brush them daily to keep their coats tidy and remove any loose hair or debris. Brushing your dog regularly also reduces shedding.
The Li'l Pals Slicker Brush is made with flexible wire pins that contour to the body for comfort while brushing. Each bristle tip is coated in plastic, so they won't cause any injury or discomfort to your dog. You can keep their coat looking fresh and clean with this brush and help distribute their skin's natural oils throughout the hair to add shine.

Conclusion
There are many important pet supplies to stock up on, but one that many people forget is pet insurance. Companies like Lemonade offer balanced, personalized plans that can help you keep vet costs under control.
We hope that you've enjoyed this article and now know what to get before you bring your Australian Shepherd puppy home. With this list of supplies, you'll have everything that you need to start out and fully enjoy spending time with your dog. Over time, you can get more supplies to suit both your and your dog's preferences. Congratulations on your new pup!
---