13 Essential Cat Supplies & Products: 2023 Update
Bringing a new cat home, especially if you've never owned one before, is definitely something to be excited about. However, you also want to make sure that you're prepared and have everything your cat needs waiting for him upon his arrival. Cats need essential supplies such as food, food and water dishes, litter, a litter box, grooming tools, and even a collar.
Shopping for these supplies can be almost as exciting as bringing the cat home, but it can also be overwhelming as well due to the sheer number of products that are available. That's why we've created this list of 13 essential cat supplies, along with our top product recommendations and reviews for each one to help make shopping a bit easier.
Top 13 Essential Cat Supplies and Products
Food and Feeding Supplies
1.

 Cat Food
| | |
| --- | --- |
| Ingredients: | Human-grade quality: chicken, turkey, or beef |
| Type of Food: | Fresh, gently cooked |
The right cat food is perhaps the most important supply that you can buy for your cat. The best cat food for a cat should have a minimum of 26% protein in it as well as have meat as at least the first ingredient. Some cat foods have plant-based ingredients as the first ingredient, and since cats are obligate carnivores, most of their nutrients should come mostly from meat since they can't digest plants as well as they can digest meat.
Since cats are obligate carnivores that rely on their prey as a hydration source, providing them with the right diet is essential for them to thrive. Our favorite is Smalls Human-Grade Fresh Cat Food, a gently cooked food that contains plenty of high-quality proteins, moisture, and healthy fats. Basically, everything your little carnivore needs to thrive! And the best part: it's delivered right to your doorstep. Unlike most commercially available options, this amazing food is low in carbohydrates and free from artificial preservatives. By feeding your cat a species-appropriate diet today, you can save on vet bills tomorrow.
---
2.

Food and Water Dish


| | |
| --- | --- |
| Bowl Capacity: | 1o oz |
| Dimensions | 16″W x 9″D x 2″H |
You could just use any bowl that you have around your house to put food and water in, but they may not be the most comfortable for a cat to eat out of. Any food or water dish you buy for your cat needs to be wide enough that your cat can eat comfortably, but shallow enough so that your cat can reach the food.
We like the Hepper NomNom Cat Bowl. Both bowls are slightly elevated, which makes it more comfortable for your cat to eat at his level without having to bend his neck too much. They're dishwasher safe, on the top rack, so that they can be cleaned easily. The dishes are also created shallow enough to avoid the dreaded whisker fatigue cats often experience with deeper cat bowls. The best part is it is made with a wide lip that catches any food or water that may spill over the edge of the dish, keeping your floor free of any messes! It may seem a touch pricier than other dishes, but its worth the investment since it will last you a lifetime.
You might have guessed, this is our own product – but we love it so much we just have to share it, and hope you get to own one too!
Comfort
3.

Litter Box
| | |
| --- | --- |
| Dimensions: | 24" x 18" x 10" |
Even if your cat is going to be spending time outside, he still needs a litter box indoors to do his business. Without a litter box, your cat will pee or poop on whatever surface he can find, which can ruin your floors and furniture. With that being said, not all cats will automatically use the litter box, you may have to train them first.
We like the Frisco High-Sided Litter Box. As the name implies, it has high sides, which means that it helps to prevent litter from getting scattered all over the floor when your cat covers his messes up. It's just a basic plastic litter box, so there's nothing really fancy about it, but it is easy to clean with just soap and water. Plus, the extra-large size will fit even the largest cat breeds. The downside would be that it's not covered, which means you'll have to look at your cat's messes and some cats may not feel safe using it.
---
4.

Litter
| | |
| --- | --- |
| Litter Material: | Clay |
| Dust Free: | Yes |
Just as important as the litter box is the litter that goes in it because without the right litter, your cat may avoid using the litter box at all. But, you also want a litter that is easy for you to scoop as well. Clumping litter is good to have because it forms clumps when your cat pees on it. This makes it easy for you to remove just the soiled clumps when you clean the box without wasting litter. With that being said, you do still need to change out the litter completely at least once a week, but clumping litter is easy to scoop in between changes.
We like the Tidy Cats Free and Clean Unscented Clumping Clay Cat Litter. This litter is also 99.9% dust-free and it's unscented to help prevent any allergies that you or your cat may have. The downside is that clay litter can stick to your cat's paws and get tracked through the house.
---
5.

Litter Scoop
You will still need to scoop out messes in between litter box cleanings to cut down on odors and make sure that your cat has a relatively clean place to use the bathroom. If the litter box is too messy, your cat may stop using it. Having a litter scoop is important when you need to scoop messes out of the litter box in between weekly cleanings.
Other cat litter scoops are made of plastic and can bend and break easily, but we like the Tidy Cats Free & Clean Unscented Clumping Clay Cat Litter because it's made of aluminum so that it can easily dig deeper into the litter box and pick up large clumps of litter without breaking. It also has a soft-grip handle that makes it comfortable to scoop litter with. The downside is that it costs a bit more than plastic scoops, but you're paying for the durability that you get with this scoop.
---
6.

Cat Bed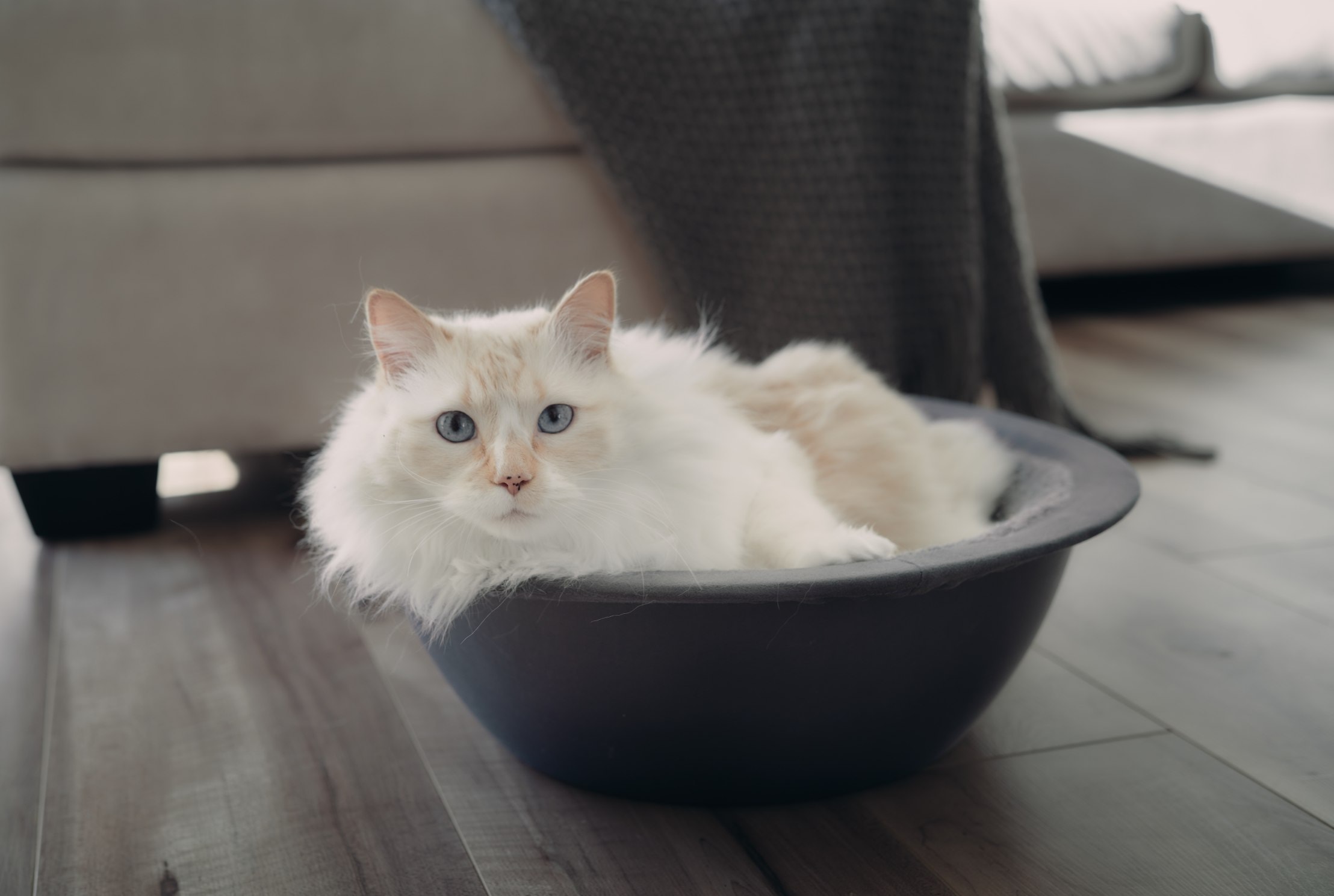 | | |
| --- | --- |
| Material: | Sherpa fleece and soft-touch foam |
| Dimensions: | Overall size 17.5″W x 17.5″D x 5.75″H. Bed area is 15″ diameter, 5.5″ deep |
Did you know that cats sleep an average of 15 hours per day? They'll sleep in any comfy place that you allow them to, but why not give them a bed of their own to snuggle up in? Cat beds come in all shapes, sizes, and materials, so finding the perfect one for your feline can be challenging.
We recommend the Hepper Nest Bed for several reasons – the first being the self-warming supportive shape. Your cat will feel cozy and secure in this rounded bed and rest easy on the wide lip, created to cradle your felines head while they sleep. The sherpa liner is machine washable and the foam shell repels cat hair and can be wiped clean with a damp cloth. Best of all, the lightweight Nest bed is portable, meaning your cat has a comfortable place to sleep at your side no matter where you are – the floor, bed, desktop, and more.
You might have guessed, this is our own product – but we love it so much we just have to share it, and hope you get to own one too!
---
7.

Collar
| | |
| --- | --- |
| Material: | Nylon |
| Features: | Bell, reflective stitching, breakaway, waterproof |
Cat collars are important for helping you find and identify your cat, especially if he goes outside or gets lost somehow. Some collars have features such as a bell so that you can hear your cat, others are reflective so that your cat is more visible in the dark, and some are breakaway collars to prevent your cat from getting snagged on something.
The Pawtitas Nylon Reflective Breakaway Cat Collar comes in 10 different colors, so you're sure to find a color that suits your preferences. Other features of this collar include reflective stitching and a breakaway snap. The bell is also removable just in case you can't stand the jingling noise. However, one downside is that the collar may break away too easily if your cat scratches at it aggressively.
Grooming Supplies
8.

Nail Clippers
| | |
| --- | --- |
| Material: | Steel and plastic |
The thing about cats is that they will scratch on any scratchable surface they find in order to keep their claws sharp, which is their main defense mechanism. Many people declaw their cats in order to prevent surfaces in their homes from becoming damaged, but declawing cats can negatively affect their health. It's better to regularly trim their claws instead in order to reduce damage to surfaces in your home.
The best nail clipper for cats is the JW Pet Gripsoft Nail Clipper. It's affordable, made of durable materials, and has a soft-grip handle that is made to fit your hand. The downside is that some cats don't like having their nails clipped, but you can talk to your vet about how to clip your cat's nails properly as well as things you can do to make your cat comfortable while having his nails clipped.
---
9.

Toothbrush
Dental disease is one of the most common medical conditions seen in cats but regularly brushing your cat's teeth can prevent dental disease from occurring. Having his teeth brushed is another thing that your cat will have to get used to, but you can make it easier with a finger toothbrush. Finger toothbrushes slide over your finger which enables you to brush your cat's teeth easier.
The Jasper Finger Cat Toothbrush has bristles all the way around it so that you can clean your cat's mouth with just a few swipes. It's made of silicone instead of hard plastic so that it's more comfortable inside your cat's mouth. The downside is that the Jasper Finger Dog and Cat Toothbrush is more expensive than regular plastic toothbrushes, but you get a pack of two.
---
10.

Deshedding Cat Brush
| | |
| --- | --- |
| Material: | ABS plastic, stainless-steel needles |
Cats don't necessarily need regular bathing the way that dogs do. They do a pretty good job of grooming themselves. But many cats like to be brushed, especially if they have long hair. Plus, brushing your cat can also help reduce shedding and keep your cat's coat looking its best.
The Hepper Deshedding Cat Brush is a good option for long and short-haired cats because it's pins are sturdy yet gentle enough to penetrate all kinds of cat fur. The cat hair can easily be removed with a push of a button. The bristles retract and you can pull the hair right off the face of the brush. This brush also has a comfort-grip handle and comes in a few different colors.
You might have guessed, this is our own product – but we love it so much we just have to share it, and hope you get to own one too!
Treats and Toys
11.

Toys
| | |
| --- | --- |
| What's Included: | 6 balls, 3 pom poms, 2 catnip mice, 1 catnip fish, 1 wand |
Cats need to play and exercise, and the best way to make sure they get that exercise is to provide them with plenty of toys. But, your cat is likely to lose toys or he may prefer certain toys over others, so a toy variety pack is the way to go.
The Hartz Just for Cats Toy Variety Pack is affordable and includes 13 different toys, some of which are infused with catnip, that your cat can play with by himself or with you. The downside is that the wand toy that comes with this pack may not be as durable as other wand toys.
---
12.

Cat Tree/Scratching Post
| | |
| --- | --- |
| Height: | 57 inches |
| Features: | Scratching posts, hanging toys, cat condo, platforms |
At the very least, your cat needs a scratching post to give him a place to sharpen his claws. Or, you could provide him with a place to sharpen his claws and exercise at the same time with a cat tree. Cat trees also provide your cat with entertainment when you're not at home to play with him.
The Frisco Faux Fur Cat Tree & Condo has scratching posts as well as hanging toys, platforms, and a cat condo for your cat to hide in. It doesn't take up as much space and is affordable as well. The downside is that this particular cat tree may be too small for multiple cats to use at once.
Cleaning Supplies
13.

Stain & Odor Remover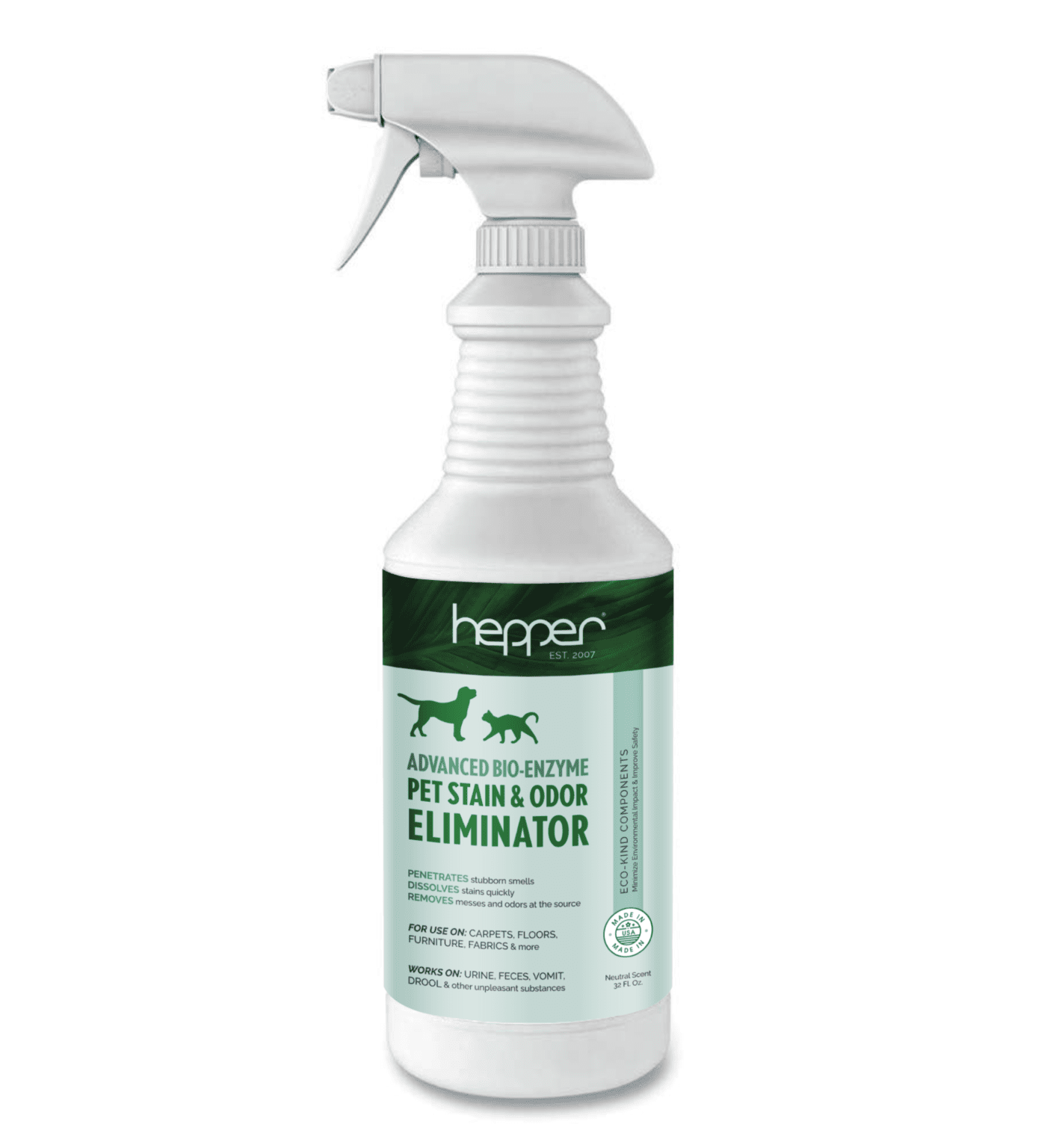 | | |
| --- | --- |
| Material: | Nylon |
| Features: | Bell, reflective stitching, breakaway, waterproof |
While not all pet parents experience the dreaded stains and smell that come with pet ownership, a lot do. Be prepared for whatever your feline may throw at you by keeping an effective mess and odor remover on hand. Not only will this come in handy when your cat has accidents, but it will also be a great cleaner for your litter box!
Our recommendation goes to Hepper Advanced Bio-Enzyme Pet Stain & Odor Eliminator. It is a multi-surface cleaner which means you can lift stains and odors from your carpet, hardwood, laminate, and fabric, among other materials. This formula is all-natural so you know that it can be used safely around your pets. The natural scent leaves your home smelling fresh and is an effective agent for removing even the toughest of pet stains.
You might have guessed, this is our own product – but we love it so much we just have to share it, and hope you get to own one too!

Conclusion
Bringing home a new cat is exciting, but it can also be overwhelming and expensive with all of the supplies you have to buy. Hopefully, you were able to use this list to give you an idea of what supplies you need for your cats, and hopefully, you found the specific product reviews helpful for making your decision. Ultimately, whichever products you choose should make your cat healthy and happy because that's all that matters in the end.
There are many important pet supplies to stock up on, but one that many people forget is pet insurance. Companies like Lemonade offer balanced, personalized plans that can help you keep vet costs under control.
---