15 Essential Dachshund Supplies and Products (2023 Update)
If you are getting ready to bring home a Dachshund, it's no secret you are about to be in for a lifetime full of love, fun, and adventure.  One of the most important parts of being a dog owner is preparedness. There are many supplies you will want to have on hand before you bring home your new furry bundle of joy.
We will go over all the essentials for a Dachshund owner, from the painfully obvious to some things that may not have even crossed your mind during the excitement. Here's a list of 15 Dachshund essentials and our recommendations for each.

The 15 Essential Dachshund Supplies
1.

High-Quality Food
Our Pick: Freshpet Vital Nutrition
| | |
| --- | --- |
| Lifestage: | All Life Stages |
| Size: | 16lb per case |
Providing your dog with high-quality food that is suitable for their size, activity level, and current life stage is essential for their overall health and well-being. There is no getting around the importance of a balanced diet, so you want to ensure you are feeding your Dachshund the healthiest food possible.
It's best to discuss your dog's dietary needs directly with your veterinarian to ensure they are on a well-balanced meal plan that is suitable for their individual needs. Fresh pet foods are gaining popularity because of the health benefits and the fact that even the pickiest eaters don't have issues with dinner time.
Freshpet Vital Nutrition comes in different recipes, is non-GMO verified, and made without any preservatives, meat by-products, or rendered meals. This food is also great for dogs of all life stages, can help improve digestion, maintain a healthy weight, and is great for the skin and coat.
Fresh food can be quite a bit more expensive than traditional kibbles and must be kept in the fridge or freezer. If fresh food isn't right for you, there are plenty of great kibbles on the market as well.
---
2.

Leash
Our Pick: Red Dingo Classic Nylon Dog Leash
| | |
| --- | --- |
| Material: | Nylon |
| Length: | 6 ft |
Leashes are an absolute necessity for all dog owners. They are needed for daily walks and to keep your dog safe and secure while out and about.
With eight different color choices and four different sizes available, the Red Dingo Classic Nylon Dog Leash is a great leash to have handy. It's constructed with nylon and an abrasion-resistant ribbon to ensure the leash is durable and long-lasting.
The size is conveniently adjustable to your needs between 3.5 and 6 feet. For your comfort, there is also a soft, comfortable padded handle and the lead clips are interchangeable. If you're looking for a versatile and high-quality leash for a good price, you can't go wrong here. Some users did report some fraying after extended use, which is typical.
---
3.

Collar
Our Pick: Frisco Polyester Personalized Dog Collar
| | |
| --- | --- |
| Material: | Polyester |
| Width: | 5/8 inch |
One of the staples of dog ownership would be the collar. After all, you need a place to put the ID tag and rabies tag, and it's the best way for others to recognize your dog belongs to someone if they were to get loose.
Frisco has many different great collar choices available, but we love the Frisco Polyester Personalized Dog Collar because it comes in a variety of color and pattern choices and provides some extra security by having your information imprinted directly on the collar. While nothing beats microchipping, if your tags were to fall off you can rest assured there's still some information on the collar itself, up to 24 characters to be exact.
The collars are constructed to be durable and reliable, and they also have some matching leashes available as well. There are four different size choices available, and the collars are easily hand-washable.
---
4.

Harness
Our Pick: Frisco Small Breed Soft Vest Step In Back Clip Dog Harness
| | |
| --- | --- |
| Material: | Mesh |
| Closure Type: | Buckle |
Harnesses can help to reduce strain on your dog's neck during walks. While it's not specific to small dogs, smaller breeds are known for putting a lot of strain on their neck when walking with a leash and collar. A harness is good to have available for daily walks.
This soft, mesh harness is perfect for daily strolls. The step-in design makes it easy to put on and take off and the adjustable strap will make sure it fits just right. The fabric is breathable to keep your dog cool on hot days.
This harness comes in four different color choices, including black, blue, red, and pink. It is a very affordable choice for those that are just wanting to try out harness use. It also comes in five different size choices, so it's important to measure your dog's girth and check the size chart to ensure the perfect fit. While it's a highly rated harness, there were some complaints about the Velcro wearing more easily than expected.
---
5.

Food and Water Bowls
Our Pick: Bone Dry Striped Dog Bowl Set
| | |
| --- | --- |
| Material: | Ceramic |
| Size: | .75 cup, 1.5 cup, 3 cup |
You'll most definitely need some size-appropriate food and water bowls for your dachshund. There's no shortage of options on the market and this will come down to personal choice.
The Bone Dry Striped Dog Bowl Set includes two bowls to cover both your food and water needs. They are stylish, coming in color choices of blue and gray, and will blend well with most home décor. You can choose from 3 different sizes, so if you have more than just a Dachshund in the home, you can get matching bowls for everyone.
The bowls come complete with a silicone rim to prevent sliding on even the most slippery of floors.  To really top it off, these bowls are made of ceramic, so they are also dishwasher safe. You can even add in a stylish mat to help prevent food and water mess from getting all over the floor.
---
6.

ID Tag
Our Pick: GoTags Personalized ID Tag
| | |
| --- | --- |
| Personalization Method: | Laser engraved |
| Material: | Stainless steel |
No one wants to even bear the thought of losing their dog, but you need to be prepared. It's a good idea to have an ID tag attached to their collar in case they were to wander away.
Our recommendation for an ID tag is the GoTags Personalized ID Tag. It's available in two different sizes and comes in color choices of black, red, pink, purple, and blue. You can get up to 4 lines of text on each side to ensure all the information needed is on the tag. You can even get this tag in a traditional shape or opt for bone-shaped.
Overall, this ID comes highly rated by many and is not only convenient but very affordable. The downside is that some dogs like to try and chew their tags right off their collar. In those cases, different style ID tags may be a better choice.
---
7.

Gate
Our Pick: Frisco Steel Extra Wide Auto-Close Dog Gate
| | |
| --- | --- |
| Material: | Steel, plastic |
| Type: | Pressure mounted |
There are always going to be areas in the home where you need to limit access, whether it be certain rooms or even the stairs. That's where a pet gate comes in as a necessary supply to have on hand.
The Frisco Steel Extra Wide Auto-Close Dog gate is 30 inches tall and has 6.9-inch, 8-inch, and 12-inch extensions so that it can fit a variety of door frame sizes. This gate is perfect for keeping pets (or children) out of certain areas of the home.
The gate is durable with a double-lock safety release system and the door is self-closing, though it will remain open if past 90 degrees. Installation does require a screwdriver or drill for the wall mount, but it only takes about 10 minutes to fully install.
---
8.

Crate
Our Pick: MidWest iCrate Fold & Carry
| | |
| --- | --- |
| Material: | Coated Metal, plastic |
| Features: | Divider, Removable Pan, Carrying Handle |
Having a crate is a sure-fire way to keep your dog safe and secure when left unsupervised. Crate training is highly recommended and not only keeps your dog safe but helps prevent destructive behavior, is helpful during housetraining, and is also great for travel. You should get a crate that will be suitable for your Dachshund's size when it is fully grown. For an adult Mini Dachshund, you will probably need a 24″ x 18″ x 21″ crate. For an adult Standard Dachshund, you will need a 30″ x 19″ x 21″ crate.
The MidWest iCrate Fold & Carry is a durable, secure dog crate that provides good quality at a very reasonable price. It has protective rubber feet to prevent floor scuffing, a leak-proof plastic pan, and a secure locking mechanism.
It is super easy to assemble and folds up nicely for storage. It even has a carrying handle for when you need to travel. The biggest complaint among dog owners was that the larger the crate, the less durable it was. Some larger, more powerful dogs were able to bend the bars and even escape.
---
9.

Toys
Our Pick: Goody Box x KONG Puppy Toys & Treats
| | |
| --- | --- |
| Breed Size: | All sizes |
| Included toy types: | Plush Toys, Treat Dispensers, Chew Toys |
Toys are certainly a must-have for your playful little Dachshund. Having access to a variety of toys is great for mental stimulation and enrichment as well as providing a healthy outlet for those chewing needs.
There is no shortage of great toys available on the market but with a Goody Box, you not only get some great quality toys, but you also get some top-of-the-line treats to go along with it. There are a variety of Goody Box choices available but this particular one includes three durable KONG toys and two full-size treat bags. To top it off, there is no subscription needed!
---
10.

Dental Kit
Our Pick: Vetoquinol Enzadent Enzymatic Poultry Flavor Dog & Cat Dental Kit
| | |
| --- | --- |
| Breed Size: | All sizes |
| Included Contents: | Toothbrush, toothpaste |
One thing that may not cross your mind when buying necessities for your new dog is dental supplies. Did you know that dental disease is one of the most common ailments treated by veterinary professionals? In fact, over 80 percent of dogs over age three are said to have active dental disease and small breeds are at a higher risk of early-onset dental issues and faster progression. Preventative care is key in keeping your dog's oral health in check.
This dental kit includes a traditional dual-ended toothbrush, a finger brush, and a poultry-flavored enzymatic toothpaste that helps remove plaque and polish the teeth. The brush is specifically designed for dogs and cats of all sizes and the toothpaste requires no rinsing and is considered safe if swallowed.
---
11.

Shampoo
Our Pick: Earthbath Oatmeal & Aloe Dog & Cat Shampoo
| | |
| --- | --- |
| Size: | 16oz, 1 gal |
| Suggested Use: | 6 weeks or older |
There is no better way to combat a dirty dog than with some dog shampoo. Since you can't use human products on your pets, you better have some shampoo handy for those inevitable baths, planned or unplanned.
One of the most highly rated dog shampoos on the market would be Earthbath Oatmeal and Aloe Dog & Cat Shampoo. This soap-free formula is composed of oatmeal and organic aloe vera to help moisturize and soothe dry, itchy skin.
This product is free of parabens and phosphate and is 100%biodegradable. It is very versatile, as it can be used for dogs or cats over 6 weeks of age and leaves coats clean, well-moisturized, and smelling nice. To top it off, the price is very reasonable.
---
12.

Brush
Our Pick: Hartz Groomer's Best Slicker Brush for Dogs & Cat
| | |
| --- | --- |
| Material: | Plastic |
| Brush Type: | Bristle |
Dachshunds' coats come in different lengths so their grooming needs will be based on the type of coat they have. Regardless, having a brush on hand for grooming sessions is a must.
The Hartz Groomer's Best Slicker Brush is a great, affordable brush option for your Dachshund. The tips of the bristles have a protective coating for extra comfort, though they tend to fall off after frequent use. This brush can be used on either long-haired or short-haired dogs and can help reduce shedding.
The small size makes it ideal for small breeds, so whether you are in for a grooming session to bond with your dog or you need to give them a quick brush to untangle some hair or help reduce excess shedding around the house, this little brush is great to have handy.
---
13.

Nail Trimmer
Our Pick: Safari Professional Nail Trimmer for Dogs
| | |
| --- | --- |
| Breed Size: | Small breeds |
| Material: | Plastic, stainless steel |
Little Dachshund nails can grow out of control, so having a decent nail trimmer on hand is necessary to keep them at a comfortable length. Nail trimming tools need to be part of every dog owner's grooming supply arsenal.
The Safari Professional Nail trimmer is made of durable, long-lasting stainless steel and has a non-slip and comfortable grip that can be used easily whether you are left or right-handed. The tension spring and double blade cutter are in place to make the trimming as swift and safe as possible. These trimmers are designed to reduce the risk of injury, though all pet parents should be aware of how to safely trim nails without hitting the quick.
---
14.

Ramp
Our Pick: Pet Gear Free-Standing Foldable Dog Ramp
| | |
| --- | --- |
| Material: | Plastic |
| Features: | Foldable, Non-slip Tread, Non-skid |
With their incredibly short legs and elongated bodies, Dachshunds are not exactly well equipped for jumping. For the sake of their health and well-being, owners need to do what they can to prevent disc herniation and other back problems they are prone to.  Since these precious pups are inevitably going to want up on furniture to cuddle, ramps are a necessity for this breed.
The Free-Standing Foldable Cat & Dog Ramp from Pet Gear is great to have on hand to allow vehicle and furniture access to your Dachshund. The mat is designed to keep pets from slipping and is also easily removed for cleaning. The rubber grips on the bottom help keep the ramp secure during use, though some reported it was a bit slippery on the tile. It's also easily foldable for storage when not in use.
---
15.

Pet Odor and Stain Remover
Our Pick: Hepper Bioenzymatic Pet Stain & Odor Eliminator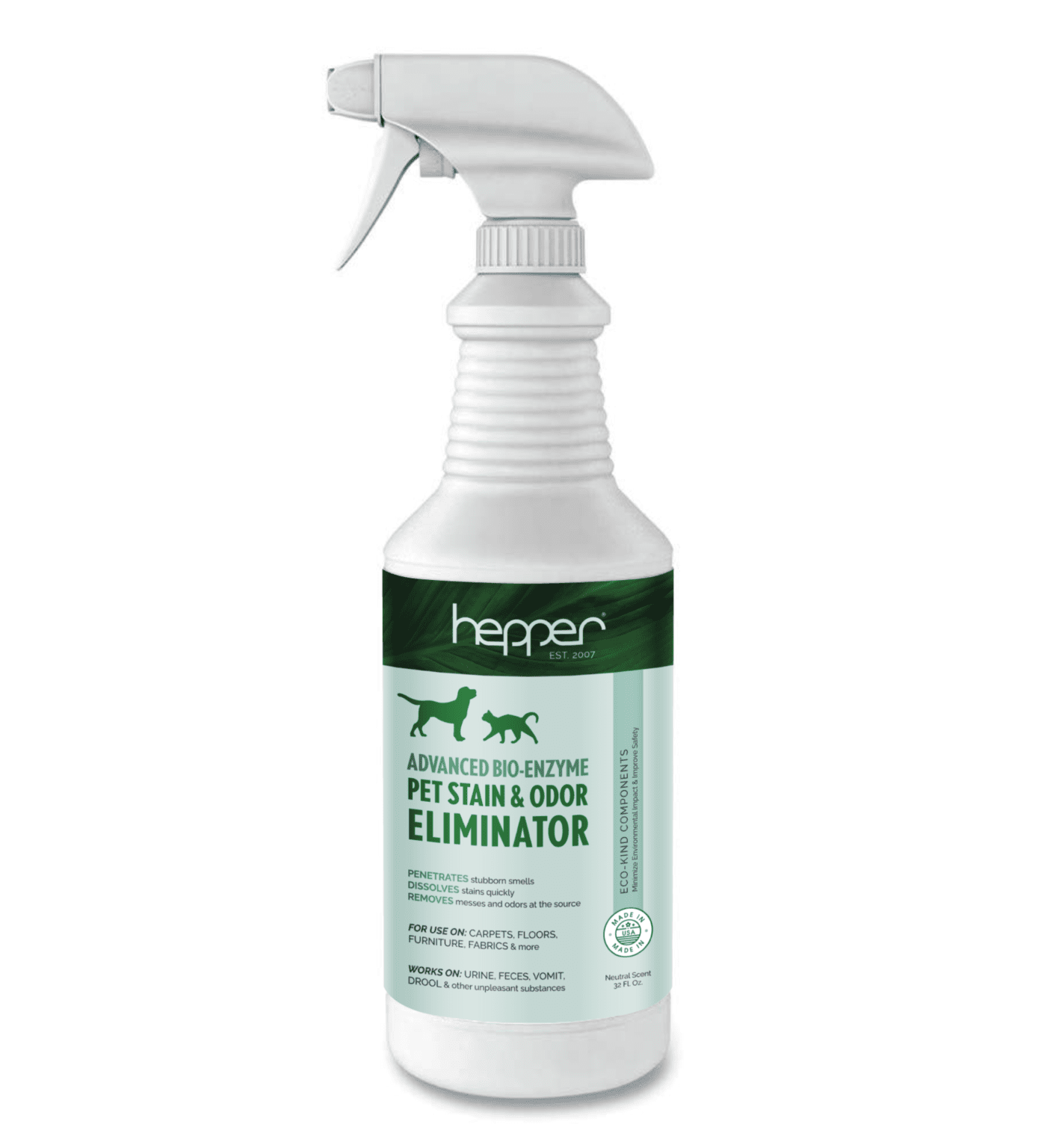 | | |
| --- | --- |
| Cleaner Type: | Deodorizer, stain remover |
| Surface Use: | Carpet, hard surfaces, bedding, laundry |
Let's face it, every pet owner needs something to combat the stains and odors that are left behind from accidents. Whether you own a Dachshund or a Great Dane, you'll want to always have an effective cleaner on hand.
Enzyme cleaners work by breaking down the source of the stain to eliminate both the stain and the odor. They are a great way to clean up puppy accidents while still potty training. The Hepper Bioenzymatic Stain Eliminator is a highly effective enzyme-based cleaner that can help remove stains and odors caused by urine, feces, and more.
This cleaner is handy for carpet, rugs, and upholstery, although you should spot test an inconspicuous area before using it on larger stains.  Because this cleaner doesn't include any harmful chemicals, you don't have to worry about using it around your pets or family.
You might have guessed – this is our own product – but we love it so much we just have to share it, and hope you get to own one too!

Conclusion
These essentials will certainly help you get started on the right foot with your new Dachshund. Now that you know what you'll be needing, the only thing left to do is shop. Here's to a bright future ahead filled with love, joy, and doggy snuggles.
---
Featured Image Credit: Masarik, Shutterstock