11 Essential Dalmatian Supplies & Products for Your New Pup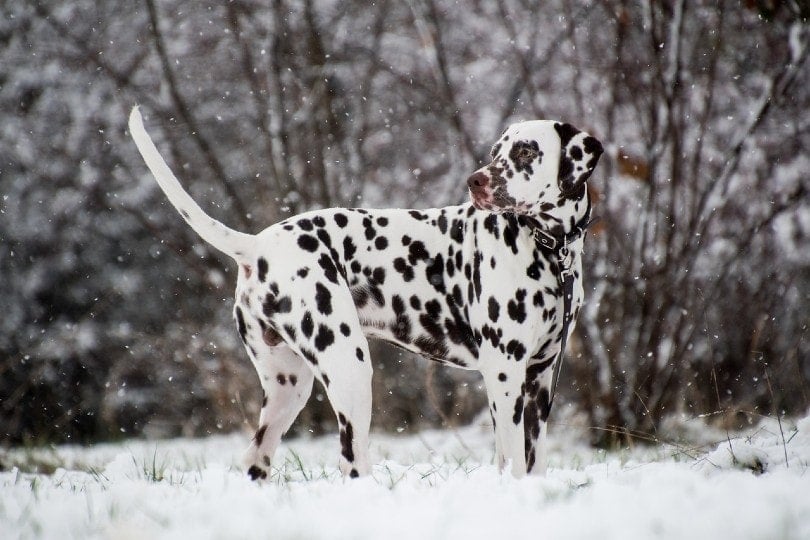 Thanks to films like 101 Dalmatians, their distinctive spotted coats, and their role as iconic fire dogs, Dalmatians are still an incredibly popular dog breed. If you've got a Dalmatian puppy, you'll need a variety of supplies to keep your bundle of spots happy and healthy.
Here are the 11 essential Dalmatian supplies and products for your new pup!

Top Dalmatian Supplies & Products
1.

Dry Puppy Food
| | |
| --- | --- |
| Protein | 28% |
| Fat | 13% |
| Calories | 361 kcal/cup |
Dalmatians are a medium breed, but they're on the larger end of medium. Fully grown, a Dalmatian can weigh over 70 pounds. They're also athletic dogs, despite being in the non-sporting group, and benefit from dog food that supports their activity levels.
Purina ONE +Plus Natural Large Breed Puppy Formula Dry Dog Food is a great choice to help your Dalmatian pup grow strong and healthy. Real chicken is the first ingredient for muscle development, followed by DHA for vision and brain development and omega fatty acids for a healthy coat and skin.
---
2.

Dog Treats
| | |
| --- | --- |
| Protein | 15% |
| Fat | 12% |
| Calories | 3,200 kcal/kg |
Treats are an excellent way to train your puppy and build good habits with rewards. Excessive treats can lead to obesity, however, which is why it's important to choose healthy treats that give your pup plenty of nutrition.
Wellness Soft Puppy Bites Grain-Free Lamb & Salmon Recipe Dog Treats are tasty, bite-sized treats that are perfect for your training sessions. Formulated for puppies under one year old, these treats provide pure meat protein and an added dose of DHA and omega-3 fatty acids to support your pup's health.
---
3.

Dog Bowl Set
| | |
| --- | --- |
| Size options | 0.75 cup, 1.5 cup, 3 cup |
| Colors | Gray, blue |
| Features | Dishwasher safe |
Food and water bowls are a must for your Dalmatian puppy. This cute set of food and water bowls comes in multiple sizes to suit your needs and two color options. Both bowls are dishwasher safe and have a silicone rim to keep them from sliding along the floor.
---
4.

Dog Crate & Mat Kit
| | |
| --- | --- |
| Size options | Large, extra-large |
| Design | Open |
| Features | Two doors, removable divider |
Crate training is an effective way to housetrain your puppy and limit destructive behaviors during development. Dalmatian puppies need a crate that's at least 42 inches, which gives them enough space to move around comfortably but still creates a closed, cozy environment.
This Frisco Heavy Duty Fold & Carry Double Door Collapsible Wire Dog Crate & Mat Kit comes with a heavy-duty crate with a protective coating and a perfectly sized mat for your pup to lay on. The crate has two doors to allow easy positioning in your home or vehicle. The crate also comes with a removable divider panel to create a smaller space until your puppy grows into it. The fold-and-carry construction with adjustable handles also makes this crate easy to travel with or store.
---
5.

Dog Toys
| | |
| --- | --- |
| Dimensions | 9.75L x 3.07W x 7.25H inches |
| Lifestage | All |
| Material | Polypropylene |
Dalmatians are active and intelligent dogs, so a puzzle toy is a great option to keep your puppy enriched and entertained. This Outward Hound Puppy Tornado Dog Toy is a durable toy with a challenging puzzle game for hours of fun. All you have to do is put treats in the spaces of the spinning compartments and let your pup "solve" the puzzle to find them.
---
6.

Collar and Leash
| | |
| --- | --- |
| Neck size | 14 to 20 inches |
| Width | ¾ in |
| Length | 6 feet |
Your puppy will need a collar and leash that it can grow into. The bundle of the Frisco Outdoor Heathered Nylon Collar and Leash are perfect for a medium breed like a Dalmatian. The neck measures 14 to 20 inches and is adjustable, so you can increase its size as your pup grows. It also features an X-style buckle, a D-ring for the leash attachment, and a separate tag ring. The leash has a secure lobster clasp at the end and a D-ring to hold your waste bag dispenser.
---
7.

Pet Stain & Odor Remover
| | |
| --- | --- |
| Size options | 32-oz spray, 1-gal refill |
| Safe for | Carpets, upholstery, bedding, fabric toys, clothing |
| Features | Discourages repeat accidents |
Accidents are inevitable during housetraining. An enzyme cleaner will help you remove pet odors and stains that ruin your home and encourage repeat marking. The Simple Solution Extreme Spring Breeze Pet Stain & Odor Remover is a powerful pet urine stain and odor remover that's formulated with enzymes to break down, neutralize, and remove urine, feces, and vomit stains. This spray is safe for all surfaces that can be cleaned with water.
---
8.

Dog Waste Bag & Poop Scooper
| | |
| --- | --- |
| Material | Nylon |
| Includes | Scooper and waste bag |
Whether you're cleaning your yard or you're out for a walk with your puppy, a pooper scooper and waste bags are a must. The Whager Reusable Smell Proof Designer Dog Waste Bag & Poop Scooper is a discrete solution with a smell-proof bag that's water resistant and easy to clean. It also comes with a scooper for quick and convenient cleanup. Both have leash attachments as well.
---
9.

Dog Toothpaste + Toothbrush
| | |
| --- | --- |
| Includes | Toothbrush and toothpaste |
| Features | Enzymatic toothpaste |
If you want to keep your puppy's teeth healthy, it's best to start with brushing early on. Your puppy will lose its puppy teeth, but you can teach it to tolerate regular brushing with a pet-safe toothpaste. The Virbac C.E.T. Enzymatic Poultry Flavor Toothpaste and Toothbrush come in a handy bundle to teach your pup to tolerate tooth brushing. The toothpaste has C.E.T. dual enzymes to inhibit the formation of plaque, and it's completely free of foaming agents, so your dog can swallow it safely.
---
10.

Dog Shampoo
| | |
| --- | --- |
| Size options | 16-oz, 32-oz |
| Features | Anti-itch |
Dalmatians are short-haired dogs and have minimal grooming needs, but you'll still need to give your pup regular baths to remove dirt and oil. Burt's Bees Oatmeal and Colloidal Oat Flour Dog Shampoo is a safe and gentle formula that cleans your dog's fur without drying out its skin. This shampoo has no artificial fragrances, chemicals, parabens, phthalates, petrolatum, or sodium lauryl sulfate that can irritate your dog's skin.
---
11.

Nail Clippers
| | |
| --- | --- |
| Protein | 7L x 3W x 1H inches |
| Fat | Stainless steel |
| Calories | Micro-adjustable blade |
Part of your puppy's regular grooming is nail trimming. The clippers you use can make a difference in your and your dog's comfort level and the Zen Clipper Precise Adjustable Dog Nail Clippers feature an ergonomic design, and a smooth cutting motion that minimizes stress. It can also accommodate claws of multiple sizes, so your pup can grow into it.

Other Puppy Supplies
This list covers the essential supplies you'll need for your Dalmatian puppy, but you may need some additional supplies depending on your needs.
If you have areas of the house you want to restrict your pup from entering, you may want to invest in puppy gates or playpens. These give your dog more freedom than a crate but prevent it from going into restricted areas of your home.
You may also want to invest in more toys, such as chew toys, tug toys, and puzzle toys. If your puppy struggles with separation anxiety, a calming toy can help it learn to self-soothe and adjust to time on its own.
Some other costs to consider include veterinary exams and vaccinations, flea, tick, and heartworm medication, pet insurance, professional grooming, and professional dog sitting or walking services.

Conclusion
Bringing a puppy home is a big decision. It's best to be prepared and get all your supplies before you bring your puppy home, so you can spend all your time giving your new puppy love and attention.
---
Featured Image Credit: Rebecca Scholz, Pixabay