7 Essential Rottweiler Supplies & Products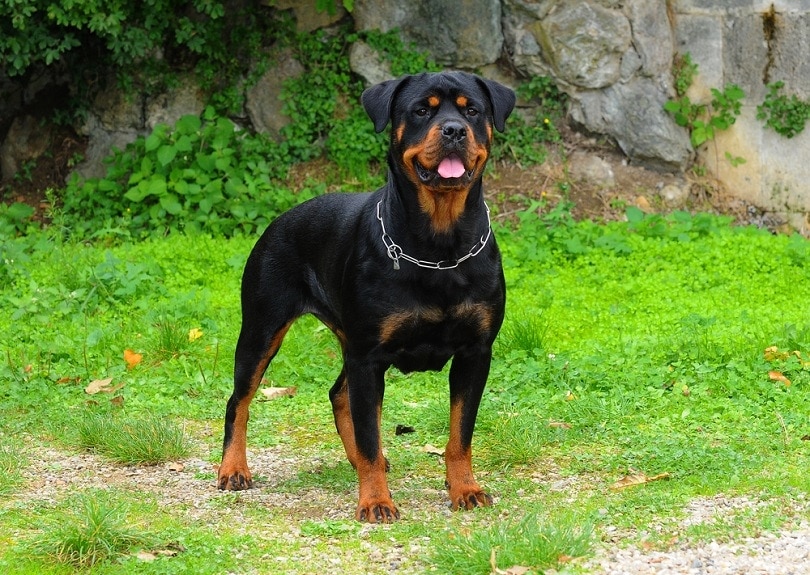 First of all, let us congratulate you on bringing home your new best friend. Whether you are adopting an adult or purchasing a puppy, there is nothing unremarkable about welcoming a new dog into the home.
If you're a little nervous and want to make sure that you're covering your bases, here are 7 of the essentials you'll need when owning a Rottweiler. Notably, these are pretty similar to what you would need for any type of canine, but there are some specifics, too. Let's dive right in.

The 7 Essential Rottweiler Supplies & Products
1.

Kennel/Crate
As your puppy ages and learns the ropes of potty training, they might be able to stay overnight outside of the kennel. However, before they learn the basics, it's best to have them contained when they're not being supervised. Puppies are notorious for chewing and eating things that are non-edible and potentially destroying personal items due to boredom.
Also, they might pee on your fabrics or upholstery without you knowing it, making cleaning a lot more complicated. For the safety of your new Rottweiler and the items in your home, having a suitable kennel is absolutely necessary when bringing home your dog or puppy.
We do want to mention that because Rottweilers are a moderately active breed, they are not excellent candidates for kennel stays while their owners are away at work all day. You will need to work out something else so they can stretch their legs while you're away.
---
2.

Durable Collar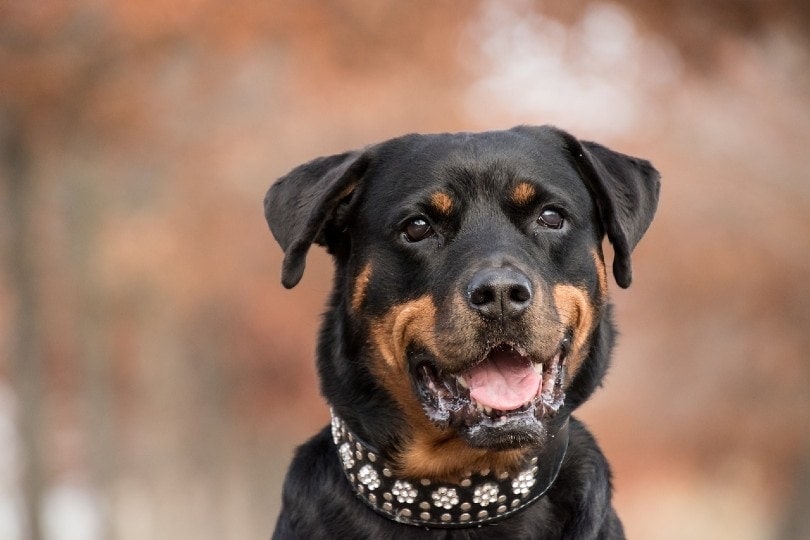 Your Rottweiler might not need a collar for a leash, but they will definitely require one for identification purposes. Even though we have additional measures to find our pets, such as microchipping, collars with informational tags are some of the easiest ways that your pet can get returned home safely if they are lost or stolen.
If you're buying a suitable collar, you're not going to want one that will get lost, be too tight, or otherwise uncomfortable for your dog.
Companies make all kinds of collars to serve different purposes. The most common types are:
Spiked collars
Decorative collars
Basic collars
Buckle collars
Breakaway collars
A great idea is to use their collar to put on their dog tags showing that they've had their immunizations. This is also a great way to display your dog's name and how to contact you if they escape.
You can even choose to personalize collars that have your dog's name engraved on the side or as an add-on to the D ring portion.
By the way…
There are many important pet supplies to stock up on, but one that many people forget is pet insurance. Companies like Lemonade offer balanced, personalized plans that can help you keep vet costs under control.
---
3.

Harness and Lead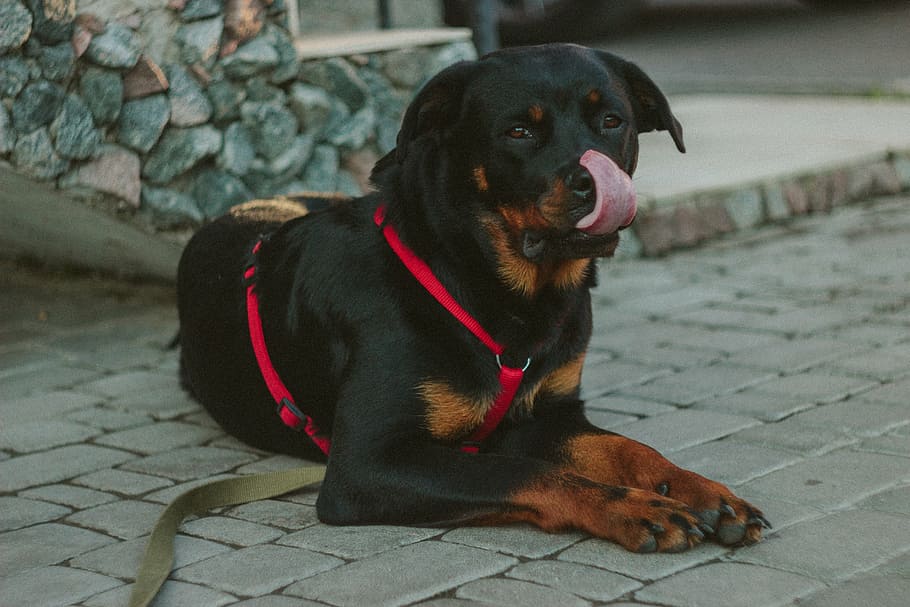 Since some Rottweilers are prone to obstructive airway syndrome walking them using only a collar is completely inadvisable. The collar pushes on the sensitive parts of the neck, worsening already-terrible breathing problems. Teach your dog to walk on a harness and lead to make sure you weren't applying any unnecessary pressure.
The harness gently but securely fits the dog around the front part of the chest and middle of the body, not pushing on any particular part. The equal weight distribution allows you to control your dog while walking comfortably.
The harness and leash you get will depend on how manly your dog is on the lead. Some are designed with a front during attachment for training, while others only have an attachment on the back portion. Making sure to do your homework to choose the right style and the correct size is a crucial part of ordering, as it ensures the safety and comfort of your dog.
---
4.

Interactive Toys
If your Rottweiler is anything like the rest, they love romping around with a new squeaky or fun play toy. Especially in the puppy stage, you want to make sure that these things are readily available for them at any time. Any dog with restless or pent-up energy could exhibit unwanted behaviors if they don't have proper outlets.
Your Rottweiler is classically a very active breed, especially as puppies. To ensure they have enough mental and physical stimulation, get them a variety of interactive toys. You can buy them tons of things to play with together, with another canine partner, or even as a solo event.
Toys are one of those things that you're likely to have to replace as they break down over time. Having an excellent site to browse on is really important. Sites like Chewy offer lots of products aimed specifically at household pets, especially our canine pals. You can find a variety of toys and sizes to accommodate the life stage and activity level of your Rottweiler.
Even though every Rottweiler will be different, these dogs tend to love chewing on different objects. Getting them durable toys specifically designed for tough jaws will make your dollar stretch further to channel this behavior correctly. And it might just save your favorite pair of shoes too.
---
5.

Quality Diet
To prevent developing health issues and make sure that your puppy grows into a healthy adult, the right diet is absolutely essential. Whether you're adopting a Rottweiler or getting in a home for the first time, it is one of the things that matter right off the rip. It would be best if you never skimped on dog food quality.
There are tons of different options on the market today, so you can work with your veterinarian to determine the best option for your particular Rottweiler. Because Rottweilers are large breeds that have heavy muscle structures, it's best to get dog food that supports their joints, bones, and muscle.
Each recipe you choose should be appropriate for your dog's life stage. There are tons of different options as far as consistency and ingredients go. But the most common options you will see as far as diet is concerned are dry kibble, wet dog food, homemade dog food, fresh food, and raw meat options.
If you choose to make a homemade diet for your pooch as a standalone diet or a topper to commercial dog food, you'll need to ensure that your recipe is nutritionally complete. Run your ingredient list by your veterinarian to make sure that you are using the proper foods for total body health. You can also check out The Farmer's Dog's DIY options, which provide you with a recipe and the necessary supplements to help you prepare a complete and balanced homemade diet. This combination packs in all the micro and macronutrients that your Rottweiler needs to thrive!
If you want a hassle-free way to get your dog food every month, you will love The Farmer's Dog's ready-made, top quality fresh dog food. It will be delivered right to your doorstep!
Potential for Allergies
As your dog grows, you might realize that they have a food allergy or sensitivity that might alter its diet. Always look for signs and symptoms to allergies and commercial pet foods as they're quite common. The most well-known allergens are common proteins.
Even though grain-free dog foods get quite the buzz these days, they are often unnecessary. Unlike cats, dogs require healthy grains in their daily diets. The lack of grain in a dog's diet leads to replacement fillers such as peas being added to the formula.
These ingredients have been linked to heart issues in dogs in clinical studies. So before making any decision about specialized diets, make sure that you're doing the right thing.
For health reasons, many owners are turning to homemade or raw dog food diets for their dogs. If you feel called to do the same, you can research the exact ingredients and supplements needed to make it happen.
You are in full control over every ingredient in your dog food, so you know that you're not being misinformed on product labels. Many people like the freshness factor and agree that their dogs do too. Of course, prep time is a lot more intensive with homemade options, so people with strict schedule restrictions might find it difficult to provide homemade meals to their dogs every time they eat.
---
6.

Grooming Tools
Rottweilers are generally pretty easy to maintain, although they do shed quite frequently. These dogs have medium-length beautiful black coats with tan masking. Like most other canines, they will need a thorough deep clean once every 4 to 6 weeks.
You can bathe them and pamper them at home or take them to a professional groomer for a full-body makeover. It would be best if you always got your puppy acclimated to a routine everyday brushing so they can get used to the process.
Removing dead hair and dander will prevent allergy transmission and keep your belongings hair-free. If you were looking for a starter grooming kit, you could find some terrific selections here. If you have any questions or concerns about these items, always make sure to read reviews to get a real-life view of what other consumers are saying.
---
7.

A Cozy Bed
If you don't let your dog share a spot next to you at night, getting them a cozy bed is a terrific way to create comfort in the home. They might like having a cozy spot to escape when the chaos is too much. Or they just might like a nice sunny spot near a window where they can relax.
There are tons of commercial beds on the market, and you can get one as simple or as fancy as you please. We recommend an elevated dog bed for Rottweilers to support their sensitive joints and bones.
However, there are tons of enjoyable DIY projects floating around the web on how to make upcycled animal beds out of items you already have in your home. So, if you're looking for a fun, creative, and cheap option, you could whip something up today.

Tips to Remember: Bringing Your Pup Home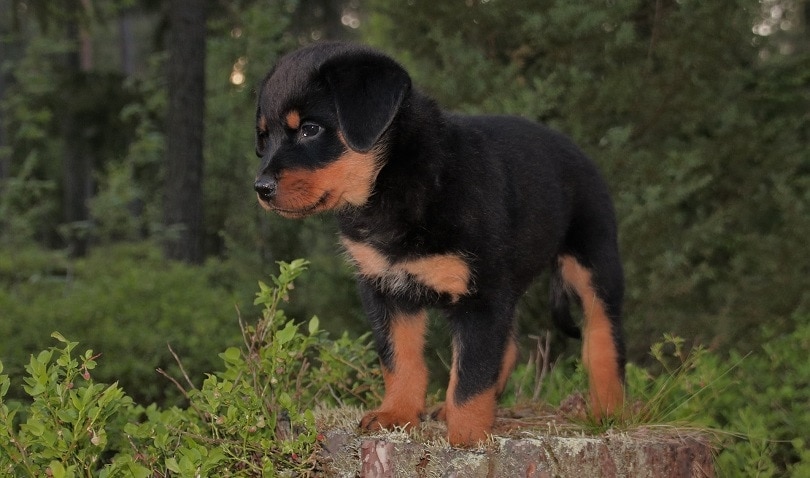 Just remember to breathe. That's our best advice when bringing home your new puppy. We know as dog owners, you want to make sure that you're doing everything right by your best friend. But with just a few basic elements and a house full of love, you can really set the foundation for a lasting friendship you'll never forget.
The first year is always the hardest when you bring home your puppy. Regardless of whether you are getting a fresh eight-week-old puppy or a senior, dogs take time to adjust to their new environment, and the new environment takes time to adjust to the dog.
Here are a few things to think about.
Vet Visits
Keeping up with your Rottweiler's health is very important. As purebred dogs, these pups are prone to several different health issues. Many of these can be eliminated through careful specialized breeding. Breeders typically screen both parents for potential health issues in the bloodline and prevent them from spreading to further puppies.
Many breeders offer a health guarantee. If anything happens to your dog within the first year of life, he will be covered. Taking your puppy to a routine that visits in the first year will set the bar for what to expect for the rest of their lives.
It might seem like you and your vet are getting to know each other quite well in the first year. You'll need to take your dog for routine check-ups, opt for spay and neuter surgery, get all vaccinations and boosters, and receive any flea or de-wormer treatment as needed.
Afterward, your Rottweiler will need to see their veterinarian at least once annually to ensure that their systems are working as they should. After all, if something happens in the year, you'll want to get ahead of any developing health issues as some don't show symptoms until problems are very advanced.
Slow Acclimation
Remember your Rottweiler is seeing your face, those in your home, and the entirely new environment for the first time. Everything is unique to them, and they're probably a little bit nervous.
If you're getting a puppy, this is the first time they will have been away from their siblings and mother. If you are adopting, depending on the previous situation, your new dog probably isn't understanding what to expect. They may have been thrown around from different homes or shelters, and they do not really know if this is a forever situation.
In any case, your dog will need to get used to all these new things. This is both exciting and pretty scary. Being extremely patient and working with the individual dog based on personality is absolutely huge. Try to be understanding and create a safe space for your newcomer until they start to feel at home.
Pick a Name
Picking out a name for your Rottweiler has to be one of the most exciting things happening right now. Sometimes you already have one picked out that you've loved for so long. Other times, you will gather names based on favorite book characters or even celebrities. And sometimes, you have to see your dog's personality before you can make that choice.
There are tons of interesting name boards on sites like Pinterest. Just remember to choose a name that feels right to you. Because after all, you're the one that's calling them their whole life and no one else.
Introduce to Others Slowly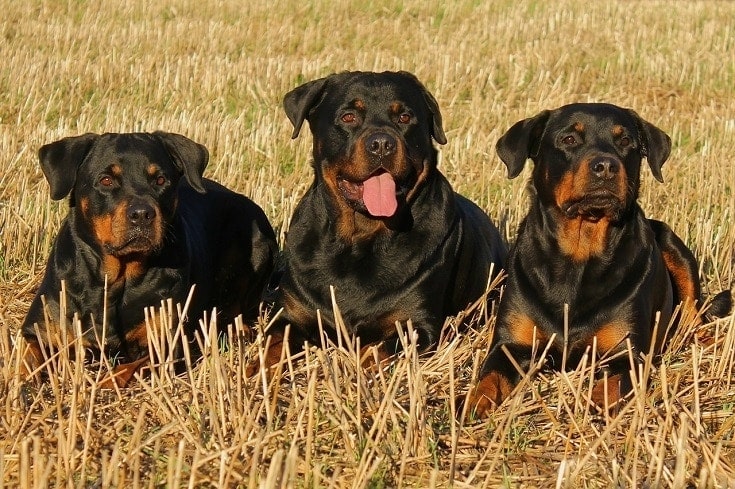 If your new puppy or adult Rottweiler is going to be spending a majority of their time with other pets in the home, it's nice to make introductions slowly. Not only could a newcomer make your existing pets feel threatened, but the new dog is also going to have some feelings of their own.
Soon, all parties will probably be coexisting in harmony and even playing together. Be prepared for anything. Sometimes it takes dogs no time to warm up, and other times it takes several months. If you have an adult Rottweiler, they might take a little longer to come around.
If you notice any conflicts between existing household members, behavioral training and special attention might be required. It's always best to plan ahead for things like obedience training if it is a serious option.

Conclusion
We know you don't feel like you're ever quite prepared for this sort of thing. Even though it can be a little nerve-racking, everybody's going to adjust beautifully, even if you don't get everything right.
We have to say congratulations on your latest family member, and we know you will do a marvelous job raising your new best buddy.
---
Featured Image Credit: Ricantimages, Shutterstock