8 Essential Yorkshire Terrier Supplies and Products
Introduction
Whether you're welcoming a new puppy or becoming more terrier-savvy, here are 8 special products perfectly tailored to this iconic small breed. We've included food, treats, toys, beds, accessories, grooming, and a little something for you or the Yorkie lover in your life.

1.

Food
Unless they're special needs (senior, puppy, pregnant, or have an illness such as diabetes) all dogs need an omnivorous diet with roughly 30% protein. Yorkies have about the same nutritional needs as other dogs, but they don't need as much food due to their small size. They will also require more frequent feedings to prevent hypoglycemia and because they tend to burn calories faster than other dog breeds.
Your dog doesn't necessarily have to go grain-free unless recommended by a vet, but grains don't pack a lot of nutritional value for a dog. In general, real meat should always be the first ingredient regardless of the brand you pick. Try to find a food that's selective about the grains it uses and doesn't rely on fillers (and common allergens) like corn or soy.
Nowadays dogs have the privilege of having fresh food delivery services available. Fresh dog food is made with whole, high-quality ingredients that are considered human-grade because they are made with real meats instead of highly processed meals. We highly recommend The Farmer's Dog's personalized fresh food recipes that are free of preservatives, meals, and confusing label tricks. This amazing fresh food is delivered right to your door!
If your Yorkie still prefers dry food check out. Taste of the Wild Appalachian Valley Small Breed dry dog food because venison and lamb meal are the first ingredients, not a meat by-product or filler. This food is grain-free, non-GMO, and contains probiotics and tons of nutritious vegetables.
---
2.

Treats
Weighing only 3-7 lbs., Yorkshire Terriers don't need to eat a lot, but they love to be spoiled with treats. Training treats are bite-sized morsels that will allow you to pamper them more frequently. Go ahead, teach them a trick or two!
Zuke's Mini Naturals are good for Yorkies because they're small, healthy, and don't contain any artificial ingredients. These corn and grain-free treats feature wholesome ingredients and come in a variety of flavors, including chicken, peanut butter, and salmon. Zuke's Mini Naturals only contain 3 calories per treat, making them an easy way to reward frequent good behavior.
---
3.

Toys
Yorkies are known to be aggressive chewers and need small toys that will support their behavior and size. Stuffed toys are good for snuggle time but will require close supervision because your Yorkie might tear it open. For this reason, we prefer stuffing-free toys.
Overall, we liked Kong Squeakair Tennis Balls because Kong usually makes durable toys that can handle Yorkie chewing and encourage your energetic pup to run. These mini-sized toys are tougher than traditional green tennis balls but have the same fun appeal. If your Yorkie likes to hide their toys or stuff them under the sofa, this 3-pack could be the set for you.
---
4.

Beds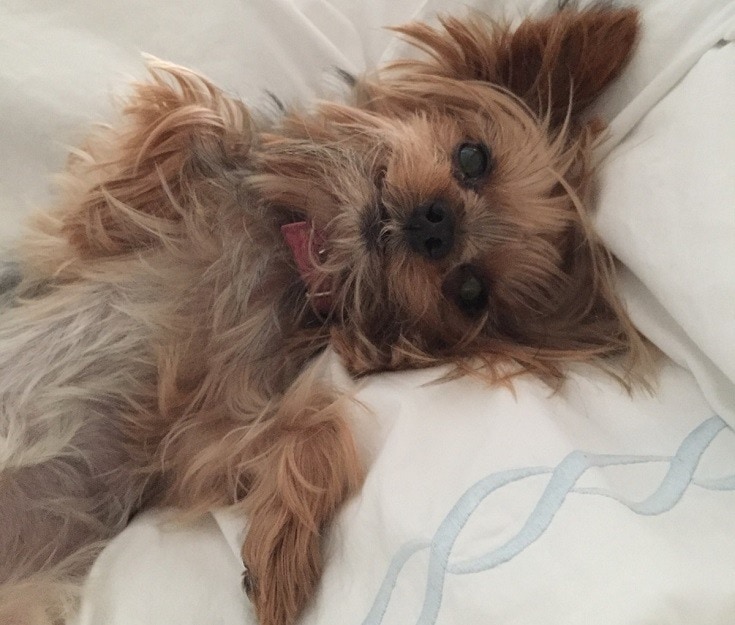 The perfect bed for a Yorkie would ideally provide plushy support and be low to the ground so they don't have to jump up and down, stressing their joints as they age.
FURHAVEN Plush & Suede dog bed combines posh and comfort. This sofa-style lounger looks very chic and your dog will love the support from the orthopedic foam mattress. It also comes in a variety of colors to match your home décor.
---
5.

Dog Brush
Due to their non-shedding coat, your Yorkie's fur requires daily brushing. It's the price we have to pay for fur-less furniture, but the plus side is their shiny coat is easy to style and looks cute with hair accessories.
Because your Yorkie's fur is so soft and delicate, never use a slicker or deshedding brush on their fur. It can damage their fragile hair. The best type of brush depends on the length of your Yorkie's fur. We like a soft bristle brush like ConairPro Pet-It Boar Bristle Brush that's made from boar's hair for dogs with shaved or short coats, and a pin brush like Petkin Soft Grip Bamboo Brush for longer coats.
The best all-in-one brush for any length of yorkie fur is Hartz's Groomer's Best Combo Brush which has bristles on one side and pins on the other.
---
6.

Dog Shampoo
Yorkies can also benefit from a weekly bath. But you don't want to use human shampoo, so you'll need to look for one that is suitable for dogs. For shampoo, look for an oatmeal-based formula that doesn't rely on fragrances for smell. Artificial fragrance oil can irritate a dog's sensitive skin. Yorkies should be bathed no more than once a week to prevent their fur and skin from drying out.
Earthbath Oatmeal & Aloe Dog Shampoo is a plant-based formula that uses food-grade extract to source its vanilla-almond scent. We like how it contains colloidal oatmeal and aloe vera, which is very good for their skin and coat.
---
7.

Harness and Leash
For walks or going out on the town, we like Chai's Choice harness because it prevents the leash from pulling on their neck, has reflective tape for nighttime trips, and has a built-in handle on top of the harness for buckling your dog into the car. This versatile harness comes in a variety of colors and we think you'll like all of the features.
Flexi Classic Nylon Tape Retractable Dog Leash matches the reflective tape look of the Chai's Choice harness. Retractable, it's easy and convenient to use and won't tangle.
---
8.

Gifts for Yorkie Lovers
If you're looking for Yorkie fan merch or a gift for your yorkie lover, we like this earthenware beige and black yorkie mug by Pet Gifts USA. This would be a good idea for someone who likes to begin their day with a cup of coffee and their Yorkie by their side.

Conclusion
Yorkies are cute, special dogs that pack a lot of personality into their small frame. Because of their uniqueness, it's important to find products that are the right fit for their needs. At the end of the day though, their core need is going to be your love and attention and they'll appreciate these extra treats and toys you provide.
---
Featured Image Credit: Nel Botha, Pixabay