30 Most Famous Dogs From Movies & TV (With Pictures)
Dogs are loveable, devoted, smart, and hilarious, so it's no wonder there are so many famous movie and TV dog stars. You might be surprised to learn that dogs have been gracing our screens for over 100 years!
There have been many memorable dogs that we have gotten to know over the years, with some being more famous than others. A few aren't even technically real! But whether cartoon or fluffy realness, there's a reason that our beloved dogs star in so many TV shows and movies.
So, without further ado, here's our list of 30 of the most famous dogs. Maybe you'll even find a movie to watch tonight!

The 14 Most Famous Dogs From TV
We decided to separate this list into the dogs that were TV stars and those that became famous through film. So, here are 14 dogs that either starred in their own show or were featured enough that they were an important part of their TV family.
1.

Astro ("The Jetsons") (1962–1963)
The animated series, "The Jetsons," featured a family living in outer space in 2062. Astro (voiced by Don Messick) was the well-loved family dog. He was a Great Dane and a valuable and funny member of the Jetson family. He is known for his "Ruh-roh" catchphrase.
---
2.

Brian ("Family Guy") (1999–Present)
Brian is one of the main members of the Griffin family in "Family Guy," which has been renewed for a 21st season. He's voiced by Seth MacFarlane and is a white Labrador that walks and talks, debates, and only sometimes acts like a dog. His character has been written to be intelligent and sophisticated, but he does stupid things sometimes!
---
3.

Clifford ("Clifford the Big Red Dog") (2000–2003)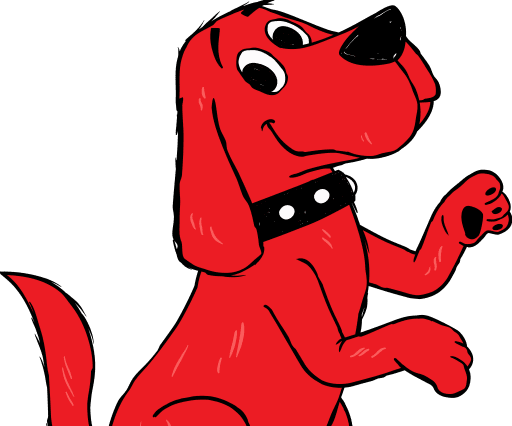 Clifford started in eponymous children's books in 1963 by Norman Bridwell, which were turned into a cartoon series from 2000 to 2003. John Ritter was the voice of the beloved giant-sized red dog that always meant well but would get into trouble because of his size (also, there's a Clifford movie coming out in the fall of 2021).
---
4.

Comet ("Full House") (1987–1995)
"Full House" was a popular sitcom about a relatively large family all living under the same roof. The show wasn't centered around Comet, but he made a significant impact, anyway. Comet was a beautiful Golden Retriever that showed up in the series' third season and was an essential member of the Tanner family.
---
5.

Eddie ("Frasier") (1993–2004)
The Emmy award-winning show "Frasier" aired from 1993 to 2004 and starred Kelsey Grammer as the title character. Eddie was a wire-haired Jack Russell Terrier played by a dog named Moose for the first six seasons. When he retired, he was followed by his son, Enzo, for the remaining four seasons. Eddie was famous for his long-drawn-out stares with Frasier.
---
6.

Lassie ("Lassie") (1954–1974)
At one point in time, Lassie was the most famous dog of them all. The series ran from 1954 to 1974 and featured a beautiful Rough Collie. She was a well-loved family dog that found adventure and saved the day most of the time. There were several movies as well, but the TV show is where Lassie found her fame.
---
7.

The Littlest Hobo ("The Littlest Hobo") (1979–1985)
Maybe not everyone has heard of "The Littlest Hobo" because it came out of Canada, but it was popular at its time. It ran from 1963-65 and then again from 1979-1985 and featured London, a German Shepherd with a reverse mask that made him look more like a Husky mix.
The Littlest Hobo was a (happily) homeless dog that traveled around and saved people from misadventures and bad guys.
---
8.

Pete the Pup ("The Little Rascals") (1929–1938)
"The Little Rascals" was a series with 13 episodes released in 1955, though they were actually filmed from 1929 to 1938. They were part of a series of short movies called "Our Gang." Pete the Pup (known as Petey by the Little Rascals) was an American Pit Bull Terrier made famous for the large ring around his eye. He was well-loved by the children and entertained and protected them.
---
9.

Pluto (1930–Present)
Pluto made his debut in 1930 and became a regular favorite as Mickey Mouse's dog. He's a bloodhound that is well-trained and smart but does get into trouble on occasion. In the world of Walt Disney, some might wonder if Goofy is a dog, but he seems to be more of a person, at least compared to Pluto! That said, they currently share the same voice actor, Bill Farmer.
---
10.

Rin Tin Tin (1954–1959)
An enormously famous dog was Rin Tin Tin, which bridged the gap between the movies and television. He was a German Shepherd that starred in at least 27 films in the 1920s and became a television star in the 1950s (with a different dog, of course). The series followed the adventures of Rusty and his dog, Rin Tin Tin, in the Old West.
---
11.

Santa's Little Helper ("The Simpsons") (1989–Present)
The Simpsons has been churning out humor since 1989 and is still a popular animated show. Santa's Little Helper is a Greyhound that belongs to the Simpson family but is more specifically Bart Simpson's dog.
He appears quite regularly on the show and has had several episodes in which he was the center of the plot. He's very much a dog but does show human-like qualities on occasion.
---
12.

Scooby-Doo ("Scooby-Doo, Where Are You!") (1969–1970)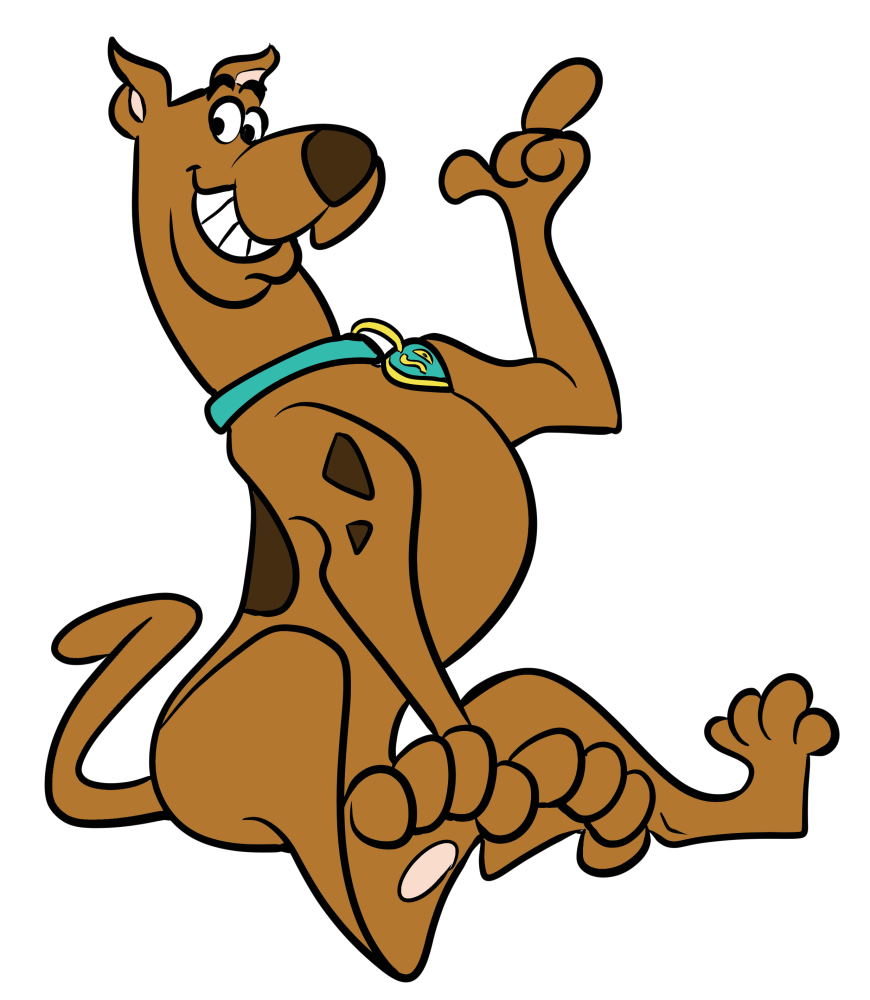 Depending on what generation you're from, Scooby-Doo can be in both the TV and movie categories. But if you watched "Scooby-Doo, Where Are You!" regularly as a kid, you know that he belongs in the TV category.
Scooby-Doo is a Great Dane that speaks similarly to Astro of "The Jetsons" (and was voiced by the same actor, Don Messick, for many years) and is known for being a scaredy-cat! Perhaps he's not the best fit for solving mysteries involving monsters! That said, he's been unmasking monsters for over 50 years!
---
13.

Snoopy ("Peanuts") (1965)
This one was hard to designate because the "Peanuts" gang appears in TV and movies. Charles Schulz created the "Peanuts" comic strip, but the characters became famous in the TV movies, especially the Christmas special. Snoopy is a Beagle that is Charlie Brown's pet, but he's quite self-reliant and has a strong fantasy world that he escapes to in his mind. Happiness is a warm puppy, right?
---
14.

Wishbone ("Wishbone") (1995–1998)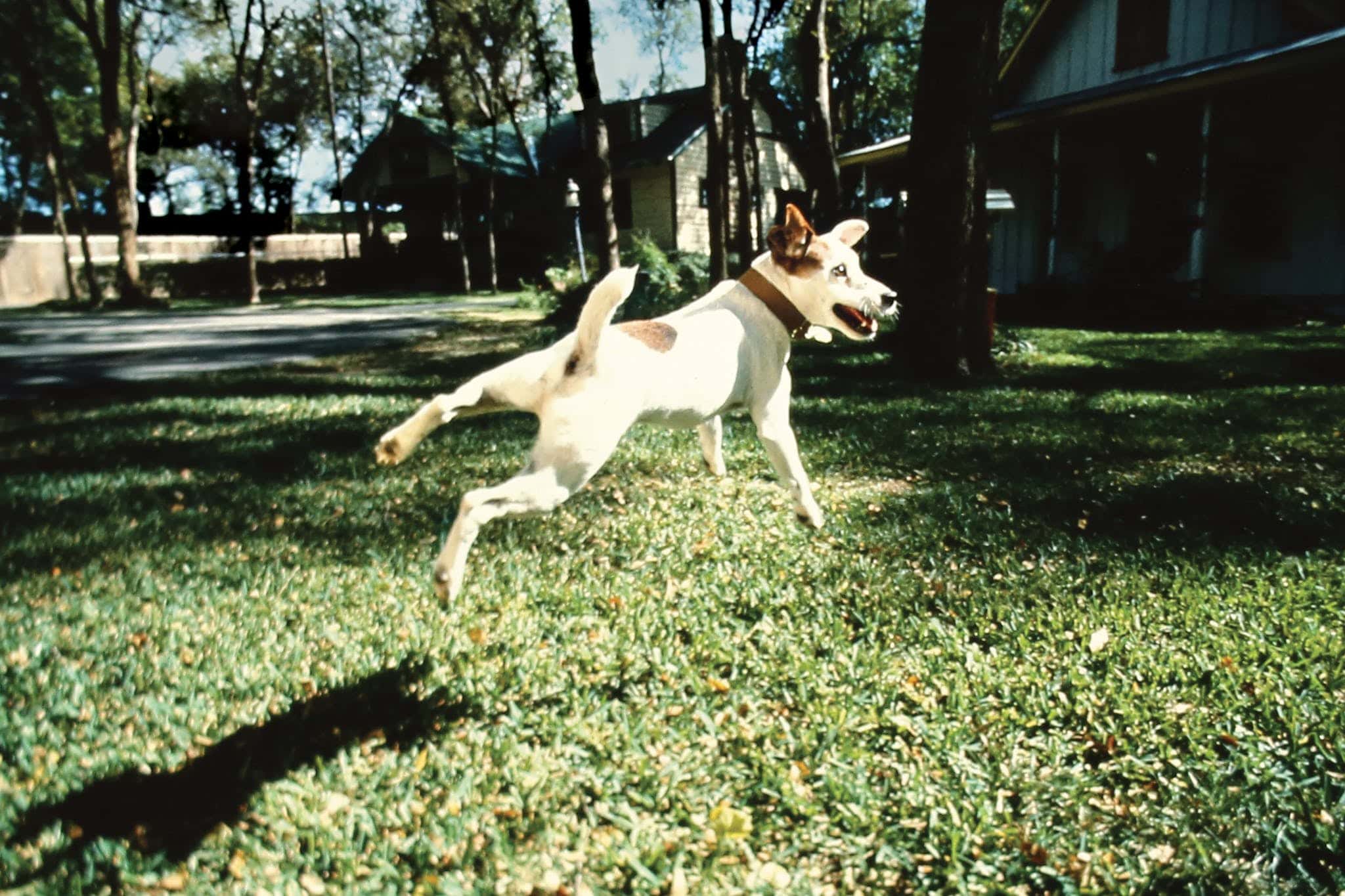 What's the story, Wishbone? "Wishbone" was a children's TV show that ran from 1995 to 1998 and featured Wishbone, a Jack Russell Terrier that introduced classic literature to children in a fun and engaging way. Wishbone narrated the live-action stories while he had adventures in the real world as well.
The 16 Most Famous Dog Movie Stars
Dogs have been starring and featured in movies since at least 1902. The first canine movie star was Jean, a Rough Collie (like Lassie), that starred in silent movies from 1902 to 1916. Dogs have remained popular ever since! Here are 16 dogs that we have grown to love on the silver screen.
15.

"101 Dalmatians" (1996)
Technically, this entry is not about one dog, but 101! Or more like over 200, because that's how many puppies were apparently used for the movie! Pongo and Perdita were the parents of 15 puppies that multiplied into 99 after all the puppies were kidnapped by the villain, Cruella de Vil. Dalmatian adults and puppies are all stars in this one!
---
16.

Beethoven ("Beethoven") (1992)
You can't have a list of famous movie dogs without the St. Bernard, Beethoven. Many people grew up watching this hilarious movie with the large, clumsy, and slobbery dog that worms his way into his family's hearts. This movie proved so popular, it had four sequels based around the loveable Beethoven.
---
17.

Benji ("Benji") (1974)

Benji was quite the phenomenon in the 1970s! This adorable mutt—one of the only dogs on this list that is not a purebred—had several popular movies in the 70s. Like many dogs in this article, Benji is a hero and saves children who have been kidnapped. The world needs more Benjis!
---
18.

Bruiser ("Legally Blonde") (2001)
While Elle Woods is the focus of these movies, her cute little Chihuahua, Bruiser, is who we all enjoy watching! The second movie, "Legally Blonde 2: Red, White & Blonde," gives Bruiser a more substantial role via a reunion with his long-lost mother and a romance with a Rottweiler named Leslie.
---
19.

Chance & Shadow ("Homeward Bound") (1993)
"Homeward Bound" is a charming children's movie about two dogs and a cat traveling for 300 miles across the wilderness to find their family. The dogs are young Chance, an American Bulldog, and older Shadow, a Golden Retriever. The animals take care of each other and form a strong bond, so it makes a wonderful family movie.
---
20.

Cujo ("Cujo") (1983)
As loving and heartwarming as all these dog movies and shows are, we had to make room for one horrifying dog. "Cujo" is a book legend due to Stephen King's incredible writing skills and is a terrifying movie that is the stuff of nightmares. A young boy and his mother trapped in a car with a rabid St. Bernard is no one's idea of a good time. For better or worse, Cujo is an unforgettable dog.
---
21.

Dug ("Up") (2009)
How much does everyone love Dug from Pixar's "Up"? Dug is a Golden Retriever that has a special collar that allows him to speak. His speech sounds like what any dog would say if given the same chance. He's a loveable, playful, and enthusiastic dog and is definitely one of the best parts of this movie.
---
22.

Fly ("Babe") (1995)
Babe might be about a pig, but it has fantastic dogs, namely Fly. Fly is a Border Collie who takes young piglet Babe under her wing and essentially becomes his surrogate mother. She teaches Babe about sheepherding, and she learns a few lessons from her little sheep pig herself. "Babe" is an award-winning movie that is truly a fantastic family film.
---
23.

Hooch ("Turner & Hooch") (1989)
Turner is the awesome Tom Hanks, a detective partnered up with Hooch, a Dogue de Bordeaux. Hooch was a witness to a murder, so Turner, much to his annoyance, is paired up with the slobbery and rambunctious dog. It's a funny film, and you can't go wrong with Tom Hanks and a Mastiff-type dog in the same movie!
---
24.

Lady & Tramp ("Lady & the Tramp") (1955)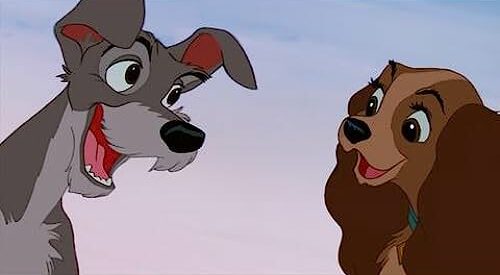 The two titular dogs, Lady, a Cocker Spaniel, and Tramp, thought to be a mixed breed with a bit of Terrier in there, share spaghetti and romance in this classic Disney film. That spaghetti scene has been mimicked and copied so many times over the years, this movie and its dogs will always be timeless.
---
25.

Marley ("Marley and Me") (2008)
Marley is a Labrador Retriever that wreaks havoc, albeit the best kind, on his family. Not as well trained as he should be and a little high-strung and excitable, he still brings tons of love and laughs to his movie family. This film is also known for being a tearjerker, so enter at your own risk.
---
26.

Milo ("The Mask") (1994)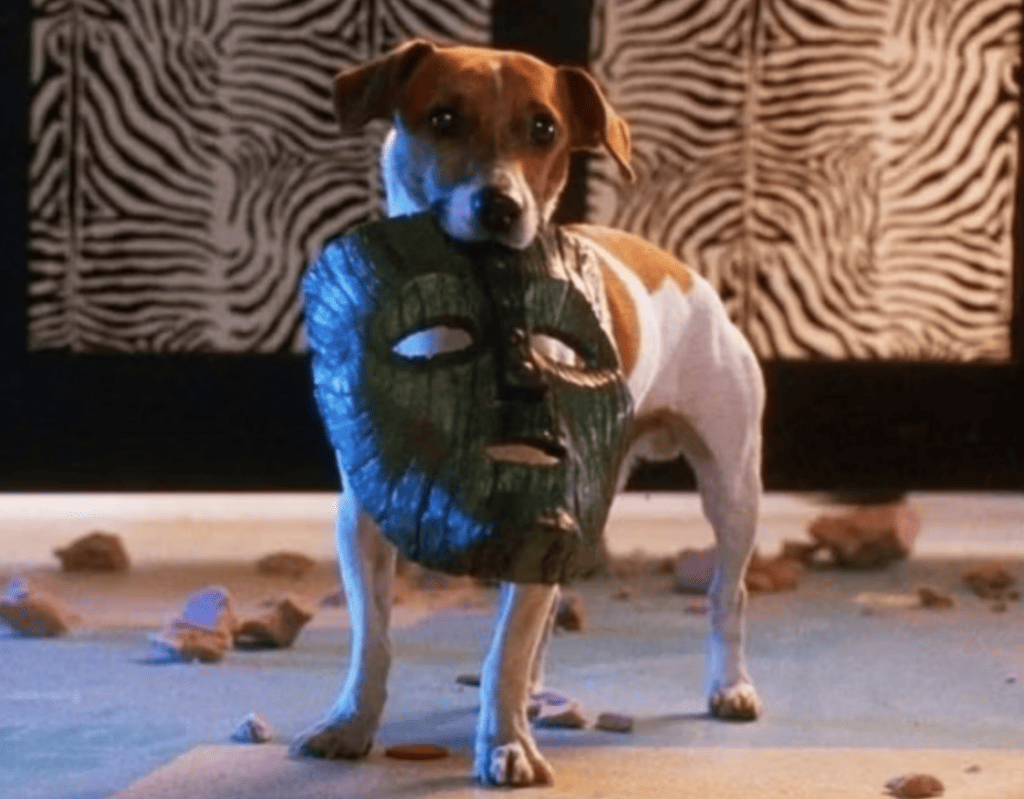 What do you get when you put a Jack Russell Terrier and Jim Carrey in the same movie? Hilarity and a ton of energy! Milo is smarter-than-the-average-dog and helps out Jim Carrey's character, Stanley, when he gets into trouble.
---
27.

Old Yeller ("Old Yeller") (1957)
Probably the biggest tearjerker of them all, "Old Yeller" is about a boy and his dog. Old Yeller is a Mastiff and Yellow Lab mix and becomes an integral part of Travis's and his family's lives. We won't say any more. This movie is a masterpiece but prepare yourself!
---
28.

Pit Bull ("John Wick") (2014)
John Wick, played by Keanu Reeves, gets his dog at the end of the first movie. But he also appears in the rest of the series (and he will probably show up in "John Wick 4" in 2022). John Wick adopts him from a shelter to save the dog from euthanasia.
The dog looks to be a Pit Bull or more likely, a Blue Nose Staffordshire Bull Terrier. While a loving and faithful companion, John Wick never names the dog and only calls him "Boy" or "Dog."
---
29.

Slinky Dog ("Toy Story") (1995)
Slinky isn't technically a real dog because he's both animated and a toy, but for those of us who grew up with a Slinky Dog, he still counts. Plus, he's just so lovable! Part of what made Slinky so great was his voice actor, Jim Varney, who unfortunately died and only managed to voice Slinky in the first two movies. Slinky is as loving and loyal as any dog, so he deserves a spot on this list.
---
30.

Toto ("The Wizard of Oz") (1939)
Beloved little Toto is Dorothy's faithful and well-loved companion during her trip to the land of Oz. Toto was a Cairn Terrier and instrumental in Dorothy's ride in the tornado and into Oz. Dorothy's deep love and devotion to Toto is something that we can all relate to, which is why we love Toto (and our own dogs) so much!

Conclusion
Many of these popular movies and TV shows have also had spinoffs or sequels that we haven't listed here. You just need to do a bit of searching to find them!
We hope that you enjoyed getting to know these amazing dogs. There's a reason that they're so famous—they're truly outstanding. But aren't all dogs?
See also:
---