Figo Pet Insurance Review 2023: Pros, Cons, & Verdict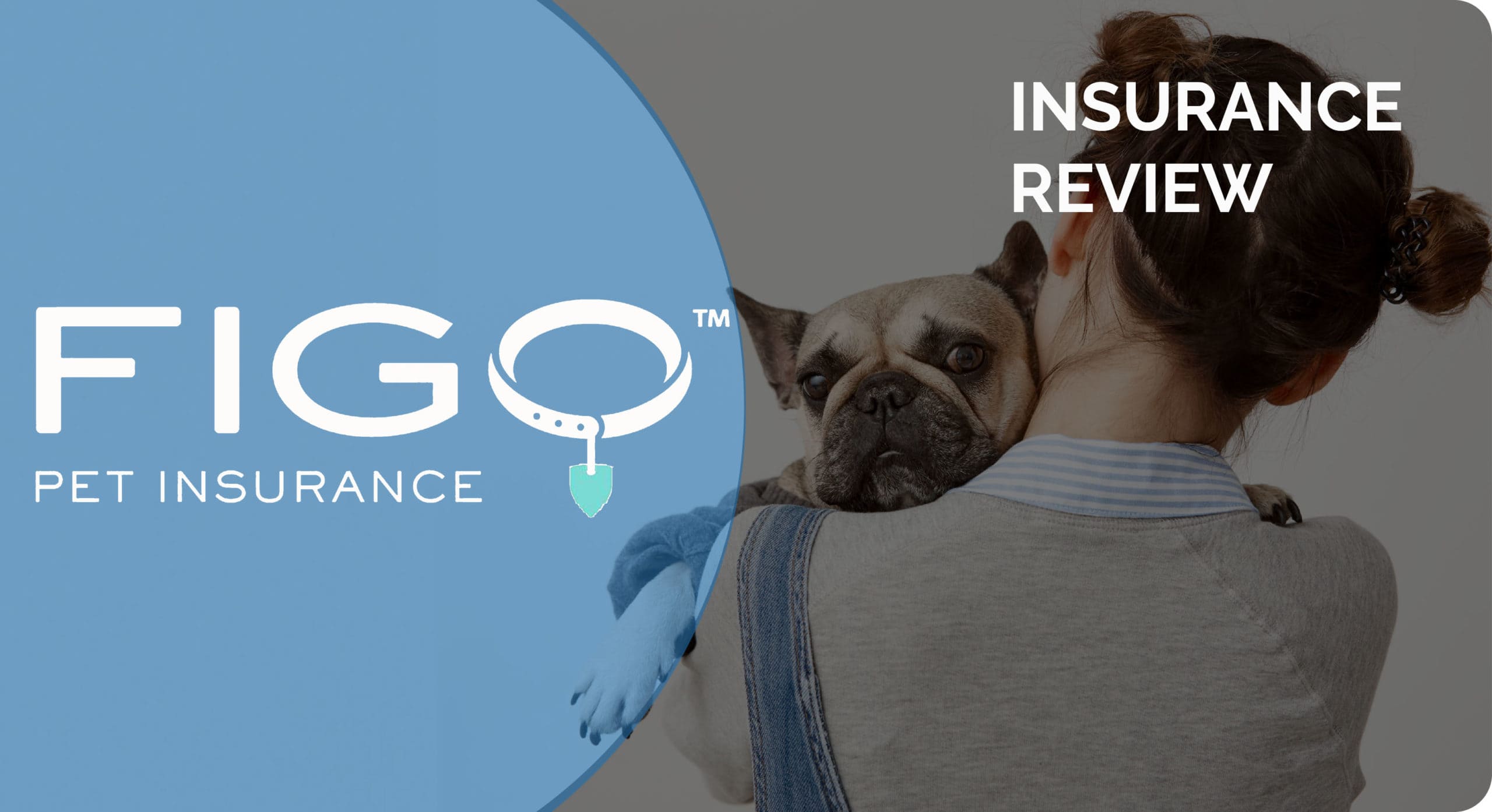 In This Review: Our Review | Pricing & Plans | Customizations| Deductibles & Claims | FAQ | Conclusion
Figo is a pet insurance company headquartered in Chicago, USA, that offers plans for pet owners in all 50 states. It was developed by pet parents with the goal of offering flexible plans, catering to a variety of lifestyles, and making pet insurance accessible and straightforward.
Our Verdict
We give Figo Pet Insurance a rating of 4.5 out of 5 stars.
---
Figo Pet Insurance Review
Unlimited annual coverage option
Choose your own reimbursement and deductibles
Variety of reimbursement and deductible options
One-day waiting period for injuries
Typically, quick claim settlements
No upper age limits
30-day money-back guarantee
Live 24/7 vet chat
Only cats and dogs covered
Does not insure pets under eight weeks old
No accident-only plan
---
Other Top Rated Pet Insurance Companies
---
About Figo
Figo's business model is centered around simplicity and flexibility, which is made evident by the plans, reimbursement and deductible options, and add-ons it offers.
In both 2021 and 2022, Figo was rated as offering the best comprehensive coverage by CNET. In 2022, Money rated Figo best for reimbursement, while Rover rated the My Pet Cloud app offered by Figo as the easiest-to-use app. In September 2022, Forbes Advisor rated Figo as "great" for its short accident coverage waiting period.
One of Figo's winning features is that it offers three types of plans with varying annual coverage levels (including unlimited) and allows you to choose your own reimbursement percentage and deductibles. This level of flexibility which caters to all kinds of budgets is sure to be appreciated by U.S. pet parents. Figo is also known for its speedy settlement of claims, which are typically settled within days.
On the other hand, one of Figo's drawbacks is that it only offers coverage for cats and dogs—no other pets. This is pretty common among pet insurance providers, though. It also doesn't offer an accident-only plan. Accident-only plans are typically cheaper than standard accident and illness plans, so some pet parents may be disappointed about that.
Find The Best Insurance Companies in 2023
---
Pricing & Plans (Updated in 2023)
Pet Insurance Cost Comparison
Note: Please bear in mind that these are just sample prices, and the actual cost will differ depending on your pet's breed, age, and location. Please get a quote from each provider for a more accurate estimation. Please also note that Trupanion uses a per-incident deductible model, which is different from the standard annual deductible model most companies offer.
| | | | |
| --- | --- | --- | --- |
| Company | Sample Monthly Cost for Dogs | Sample Monthly Cost for Cats | Learn More |
| Figo | $31.34 | $18.18 | Get Quote |
| Lemonade | $19.44 | $11.00 | Get Quote |
| Spot | $36.54 | $16.51 | Get Quote |
| Wagmo | $46.03 | $30.12 | Get Quote |
| Trupanion | $70.12* (please see above) | $30.88* | Get Quote |
---
Base Policy
Figo offers three plans—essential, preferred, and ultimate—and each plan has a different annual coverage limit. The essential plan offers a $5,000 annual coverage limit, the preferred plan offers a $10,000 annual coverage limit, and the ultimate plan offers unlimited annual coverage.
Coverage and benefits of these plans include:
New illnesses and accidents
Diagnostic tests related to illnesses and accidents
FDA-approved prescription medications
Prescription food (optional)
Surgeries
Prosthetics
Chronic conditions
Hereditary and congenital conditions
Knee conditions (including ACL)
Hip dysplasia
Hospitalization
Cancer treatments
Vet specialist treatments
Coverage and benefits of these plans include:
Imaging
Non-routine dental treatments
Rehabilitation
Mobility devices
Behavioral training/medication ($500-1,000)
Holistic & alternative treatments
Euthanasia
Emergency services
Advanced treatments
Visit any licensed vet in the world
Live 24/7 vet chat
No per incident cap on claims
No upper age limits
Figos plans do not include
Pre-existing conditions
Routine and preventative care (though there is a wellness add-on that covers routine and preventative care)
Spaying and neutering
Preventative dental care
Prescription food (unless the Veterinary Exam Fee option is added on to your plan)
Exam fees for accident and illness visit (must purchase an add-on for this)
---
Customizations
Figo's emphasis on flexibility is reflected in the add-ons it offers, which are called "powerups". These powerups are not compulsory but can be added to your plan if you think you may benefit from them. They include:
Veterinary Exam Fees for Accident and Illness Visit
This add-on helps you cover veterinary consultations or veterinary exams necessary to diagnose and treat your pet for eligible conditions and accidents. Please note that this option is designed for accidents and illnesses only—not routine care.
Extra Care Pack
Figo's extra care pack offers up to $250 for other problems you may encounter as a pet parent that do not fall within the accident and illness coverage. This includes up to $250 for burial and cremation, advertising your lost pet, vacation cancellation resulting from a pet-related emergency, boarding costs, pet theft or lost pets (up to $150), and third-party property damage liability (up to $10,000 per policy period).
Wellness
This option covers routine and preventative care, for example, microchipping, deworming, fecal tests, vaccinations, wellness exams, fleas, ticks, heartworm, and more.
---
Figo Price Comparison for Dogs
Note: Please note that these comparisons are based on Figo's preferred plan.

| | | |
| --- | --- | --- |
| | Labrador Retriever  | Mixed Breed 21–50 lbs. |
| Male or Female | Female | Male |
| Age | 5 years | 1 year |
| Location | California | Washington |
| Reimbursement Level | 80% | 80% |
| Annual Deductible | $250 | $250 |
| Annual Max | $10K | $10K |
| Price per month | $91.85 | $48.50 |
Note: These quotes are based on some of the most popular dog breeds in the U.S. They are also based on Figo's preferred plan.
| | | |
| --- | --- | --- |
| Breed | Under 1 | 5 Years Old  |
| French Bulldog | $119.48 | $125.44 |
| Golden Retriever | $102.23 | $107.34 |
| Poodle | $80.18 | $84.18 |
| Yorkshire Terrier | $56.35 | $59.17 |
| German Shepherd | $93.76 | $98.44 |
| Beagle | $78.42 | $82.33 |
| Mixed Breed Medium (21–50 lbs.) | $65.58 | $68.85 |
---
Deductibles & Claims
The reimbursement level is the percentage of fees that Figo takes care of, whereas the deductible is the amount that you have to take care of. For example, if you choose a reimbursement level of 90% and a deductible of $250, you will pay $750 of a $5,000 vet bill, whereas Figo will pay $4,250.
Figo is flexible with its reimbursement and deductibles options, allowing you to choose your own levels for both. Reimbursement ranges from 70% and goes up to 100%, whereas deductibles range from $100 to $750.
The below table shows the options for reimbursement, deductibles, and maximum coverage that Figo offers.
Reimbursement Options:
70%, 80%, 90%, 100%
Deductible Options:
$100, $250, $500, $750
Annual Coverage:
$5,000 (Essential Plan)
$10,000 (Preferred Plan)
Unlimited (Ultimate)
---
What Does Figo's Wellness Add-on Cover?
Basic Wellness Add-on
| | |
| --- | --- |
| Coverage Item | Annual Limit |
| Wellness Exam | $20 |
| Vaccines | $30 |
| Tests | $20 |
| Spay/Neuter or Teeth Cleaning | $40 |
| Microchipping/Health Certificate | $15 |
| Deworming | $10 |
Premium Wellness Add-on
| | |
| --- | --- |
| Coverage Item | Annual Limit |
| Wellness Exam | $40 |
| Vaccines | $50 |
| Tests | $45 |
| Spay/Neuter or Teeth Cleaning | $75 |
| Microchipping/Health Certificate | $30 |
| Deworming | $10 |
Covered by Wellness Add-on
Wellness exams
Vaccines
Flea, Tick and Heartworm
Heartworm preventative
Rabies
DHLP
Parvo/Corona
Bordetella Lyme
Canine Influenza
FVRCP
Leukemia
Other AVMA-approved vaccines
Spaying and neutering
Tests
Fecal Test
Urinalysis Test
FeLV Test
Microchipping
Health Certificate
Deworming
Not Covered
Accident coverage
Illness coverage
Pre-existing conditions
---
Pre-Existing Conditions
Figo, like most other insurance providers, does not cover pre-existing conditions. Pre-existing medical conditions are illnesses or injuries your pet showed symptoms of prior to the date your policy takes effect. You can still enroll pets with pre-existing conditions, but you can expect these pre-existing conditions not to be covered.
If you are unable to provide medical records dated within 12 months of your effective policy date, then Figo can determine pre-existing conditions from the first documented veterinary exam after your policy takes effect.
Figo's website states that they might cover "curable" conditions, but you have to contact Figo's customer experience department to find out if this is an option for your pet. You can still enroll pets with pre-existing conditions, but you can expect these pre-existing conditions not to be covered.
---
Waiting Periods
Figo policies take effect at 12:01 a.m. standard time the day after you have enrolled your pet. However, there are waiting periods and their length of time differs depending on the situation. You are reimbursed only when the waiting period is up.
Please note that it's possible to waive the waiting period for orthopedic conditions if a healthy orthopedic exam has been conducted within the first 30 days of the policy period. We recommend checking your Figo waiver form carefully to find more detailed information on this or speaking to an advisor.
| | |
| --- | --- |
| Situation | Waiting Period |
| Injuries caused by an accident | 1 day |
| Illness | 14 days |
| Canine orthopedic conditions | 6 months |
---
Reviews from Customers
Figo has received mostly positive but somewhat mixed reviews from customers. Positive reviews praised Figo for its quick response to claims, how Figo makes everything understandable for those who are new to pet insurance, and its excellent communication and customer service.
The Figo My Pet Cloud app—which allows you to keep medical records of your pets as well as photos, vet bill information, adoption records, and more—was also praised as superb.
Customers who weren't happy with their experience said that they felt their claims were being turned down unfairly with pre-existing conditions being given as the reason. Some customers felt that these exclusions make it difficult to get reimbursed.
When checking out customer reviews, one thing that consistently stood out was Figo's customer care team's responsiveness and desire to get to the bottom of what caused issues for customers.
---
FAQ
Does My Pet Need a Veterinary Exam to Enroll?
No. However, without evidence of a health exam dated within the last twelve months, Figo may use the first exam after the date the policy takes effect as evidence of pre-existing conditions.
Can I Visit Any Vet?
Yes. You can visit any licensed vet in the world, including specialists and emergency situations.
Does Figo Have an Age Limit?
Figo insures cats and dogs that are at least 8 weeks old. There is no upper age limit.
Does My Pet Need to Be Desexed to Enroll?
No. Just bear in mind that Figo's plans do not cover spaying and neutering.
Is There an Enrollment Fee?
Figo might charge a fee for enrollment depending on the state you live in.
Is There a Money-Back Guarantee?
Yes. Figo offers a 30-day money-back guarantee.
Where Can I Find My Figo Policy Documents?
You can find your policy documents in "Inbox & Docs" in the My Pet Cloud app.
Find The Best Insurance Companies in 2023
Our Verdict
We consider Figo to be a great insurance provider in terms of its flexibility, short waiting period for injuries, fast claim settlements, and how it utilizes technology to help you keep all your documents in one place.
We also love that you get access to an online vet 24/7 via the My Pet Cloud app, which adds an extra layer of reassurance for concerned pet parents. On the subject of technology, we had a great experience with Figo's website, on which we were able to quickly find the answers to our questions and navigate our way around. Everything was clearly outlined, and we greatly appreciate that!
On the other hand, Figo isn't suitable for those with pets that are not cats or dogs and those looking for an accident-only plan. On the basis of our research and customer reviews, we have decided to award Figo 4.5 out of 5 stars overall.
See Also:
Hepper acknowledges that it is not licensed as an insurance agent, and therefore will not offer any advice regarding insurance, nor recommend a particular coverage, policy, or insurance company.