Fitbark Dog GPS Tracker Review 2023: Is It a Good Value?

Our Final Verdict
We give Fitbark GPS a rating of 4.6 out of 5 stars.
Quality: 4.8/5
Ease of Use: 4.2/5
App: 3.5/5
Features: 4.5/5
Value: 4.2/5

What Is the FitBark GPS?
The FitBark GPS is the second generation of dog location and health tracking devices from FitBark. The FitBark GPS aims to track everything about your dog's health in order to improve their quality of life on a daily basis. FitBark GPS tracks your dog's steps, active minutes, playtime, sleep score, distance traveled, and overall health. It even tracks your dog's location, which can be a godsend for anyone who has a dog that likes to escape the yard from time to time. The GPS feature allows you to ping your dog's location at any time to get an accurate read on where they are at. The app will even alert your phone every time your dog leaves the house. If you get a notification that your dog is leaving, but they are supposed to be home, you will know right away that your dog got out, and those extra minutes can be extremely helpful when tracking down a loose dog.
FitBark GPS works by tracking your dog's activity from a device attached to your dog's collar. The device stores the information inside itself and waits for you to sync with the device. The device syncs with your phone via a BlueTooth connection. After the data gets transferred to your phone, it is uploaded by the FitBark servers, which compile it and send it back as a comprehensive health report for you to view at a glance.
Everything worked smoothly right out of the box with simple setup instructions. You do need a USB charging port to charge the device. The charger is a unique clamp that works well and is able to charge the device straight from your dog's collar. The device gets attached to the collar via zip ties. That was a head scratcher at first, but the zip ties are extremely strong, and it makes sense. We have had other dog fitness trackers that have popped off during rough play outside and disappeared into the grass, which is a huge bummer. The FitBark GPS has not had that problem so far.
The thing that I had the most issues with was the app. Documentation for certain things like paying for a subscription, missing information, and bad sync attempts was severely lacking and left me confused on more than one occasion. Once I figured it out, it was smooth sailing, and the customer support line was extremely active and helpful, which was a big plus.

Reviewing the FitBark GPS

Getting Started
The FitBark GPS shows up in a small box. When you get it, you have to plug it into a computer to start charging using the provided charger. Then you must download the FitBark app, available from the Google Play Store or Apple App Store. When the FitBark GPS is charging, the app will sync it up to your phone and then prompt you to create a profile for your dog by filling out some basic information. The FitBark GPS device must charge for 120 minutes before being fully activated. You should also buy a subscription plan when you are setting up your dog's profile so you can gain access to all of the best features right off the bat.
After the device is done charging, you attach it to your dog's collar using the included zip ties, and you are done. Recharge when the battery indicator gets low, as tracked on your app.
---
Contents
1 FitBark GPS device
1 pack of zip ties for attaching to your dog's collar.
1 charger specially designed for your FitBark GPS
Access to the FitBark health tracking app
2 FitBark GPS device covers
Quick Start Guide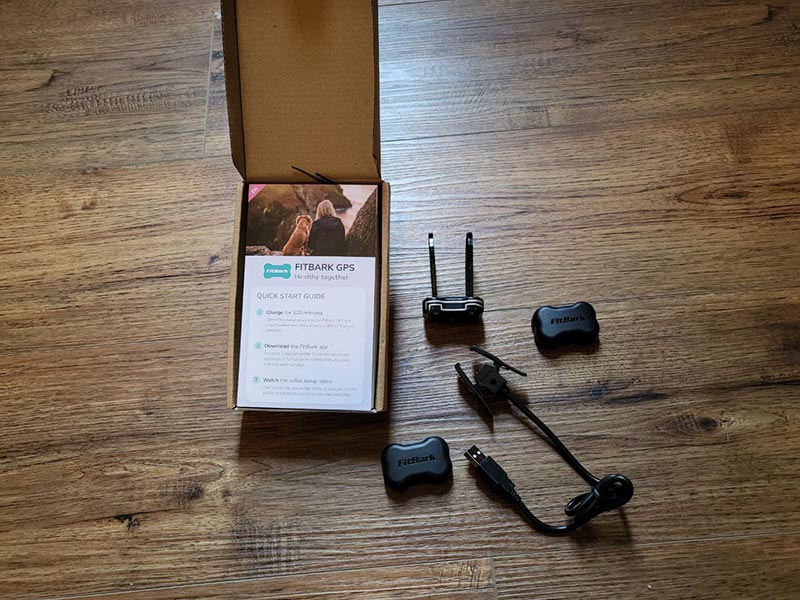 ---
Health Tracking Features
The health tracking features are great and are the strong central pillar of this product. The FitBark GPS tracks active minutes, distance, calories burned, time spent resting, sleep score, steps, health goals, streaks, health index score, and location. Most of this data gets tracked and visualized as graphs that display your dog's performance over time. You can stack your dog up against generic dogs of certain sizes and ages or specific dogs that you add as friends through the app. The data is interesting, plentiful, and visualized extremely well.
---
Quality and Durability
The overall quality and durability of the FitBark GPS seem stellar. The device comes with a rugged case that protects the inner parts very well. It attaches to the dog's collar and doesn't move once it is in place. My dog rolls around with it, runs around, wrestles, sleeps, and tugs with it. Through all of that, the device has not budged. The battery life is long, lasting for days at a time, and the device charges back up in just two hours.
---
The App and Documentation
The app tracks and visualizes your data very well. The app was also the only thing I ran into trouble with. The first issue came when the data from my dog was not syncing and displaying properly. At this point, I had not set up a subscription because I believed that the subscription only applied to the GPS features of the device. Everything looked like it should be working, but the information screen was blank. I had to get support on the line to clarify about the subscription.
Then, I went to put my review code into the subscription center, and I again ran into a problem where it would not take my code. I had to put my credit card information in and then apply the code. Little things like these were common where documentation and clear information about what to do next was lacking. After I muddled through all of that, everything started working like a charm, but there were some hiccups with the app and the app's documentation that were not 100% clear.
Otherwise, everything works great. The information is clear and precise. The app now syncs regularly. Cycling through data is done with just a few taps. I get notifications about my dog's location, goals, and activity throughout the day.
---
Subscription & Pricing
The FitBark GPS retails for $49.95 on their website. The product frequently goes on sale for up to 20% off. If you can catch a coupon when you are looking at buying, it can drop the price down to $39.95. The FitBark GPS will not work properly without a subscription, so a subscription is required. Without a subscription, you can set up a profile on the app and get your dog's average steps (called bark points) on a daily basis, but that is it. No analysis, no health profile, no GPS location, and no additional data. The app also prompts you to buy a subscription every time you open it until you buy one.
The subscription costs start at $9.95 per month, billed monthly, but the price gets cheaper the longer you sign up. You can buy a monthly subscription, yearly subscription, bi-annual subscription, and even a tri-annual subscription.
| | |
| --- | --- |
| Length | Price Per Month |
| Monthly | $9.95 |
| Yearly | $7.95 |
| Every Two Years | $6.95 |
| Every Three Years | $5.95 |
The option to buy for longer periods of time at a discount is a nice touch. You can save up to 40% if you buy long term plans which allow you to pay once and forget about it for years at a time.
---
In Summary
Durable fitness tracker designed to keep up with your dog's daily health.
Tons of in-depth data and information available at a glance.
Gives you precise location information for your dog, so you always know where they are.
Long battery life and fast charging mean little downtime.
When you get the app working smoothly, it is very intuitive and helpful.
Customer support was extremely helpful and responsive. I talked with a real person within minutes of having an issue.
Documentation on the app was lacking in some regards, leaving me confused during setup.
At first, zip ties seem like an odd choice for attaching to the collar.
You cannot get general health information from the FitBark GPS without a subscription.

Is FitBark GPS a Good Value?
The value of the FitBark GPS is going to depend on how much value you place on tracking your dog's health, activity, and location. If you do not plan on actively tracking your dog's data on a weekly and monthly basis, then the price of admission will probably be a little too high for you. Some people buy these devices as a gimmick and try them out for a couple of weeks before losing interest. This service shines the best when you get long-term data and information to keep track of, which makes the subscription price worth the squeeze. If you are curious, you can always buy a monthly subscription and try it out for a month or two before deciding on a long-term investment in the subscription.
As for the price of the device itself, it is in the same ballpark as similar products. You will not save or overspend on the physical device at the current price.

FAQ
Do You Need a Subscription to Use FitBark GPS?
Yes. For the newest generation of the FitBark GPS health tracking device, you need a monthly subscription. You will not get access to all of the best features without a subscription. Without a subscription, the FitBark GPS is not worth the purchase price of $49.95, so only buy if you are willing to invest in the subscription features.
---
How Does FitBark Stack Up Against Similar Products?
FitBark GPS stacks up well against competing products. The app provides a lot of really in-depth information and access to granular data that is a joy to keep track of. Getting the app working was a bit of a challenge at first, but after it got settled, it was a breeze to use on a daily basis. One thing that really stood out about the FitBark GPS was the zip ties to attach it to the collar. At first, I was skeptical about the idea, but after using it for a couple of weeks, I saw the appeal. Other fitness tracking apps either got stretched out, loose, or lost after extensive use.
---
Do the GPS Features Really Work?
Yes. The GPS features for the FitBark GPS work extremely well. The GPS gives you very precise location data about your dog so you can quickly and easily figure out exactly where they are. In order for this feature to work, you have to let your phone access your precise GPS location data at all times, which might be an issue for some users.

Our Experience with the FitBark GPS
Overall, my experience with the FitBark GPS has been very positive. Despite a few small issues, I have enjoyed my time with the product. The problems allowed me to interact with the customer support team which was very helpful and responsive. It is always good to buy from a company that has good customer service and technical support, both of which are a rarity in today's world.
I put my FitBark GPS on my dog Bolt. He is a three-year-old mutt that is part Boston Terrier and part Chihuahua and Shih Tzu. He is pretty active and loves to play outside in the yard. The device has accurately tracked his steps, overall fitness level, and location since I've had it. Charging the device is pretty simple though it does have to charge on the collar after you take the cover off. I've only had to charge it twice since I received it a couple of weeks ago. Once to get it started out of the box and then again, a week later.
I plan on keeping my subscription active for the foreseeable future and am curious to see what kind of profiles the app builds the longer I use it regarding my dog's health. Bolt has no idea that there is a device on his collar, and it has not bothered him in the slightest since I put it on him. It is also fun to see how Bolt stacks up against other similar dogs since he is pretty active.
I like the FitBark GPS, and I would recommend it to dog owners who like data and health tracking services or are worried about their dogs getting loose or lost. If you enjoy the types of information this device tracks, you will get a lot of value out of the subscription.

Final Thoughts
The FitBark GPS is the latest health and location tracker from FitBark. It works in tandem with an app and a subscription to provide you with up-to-the-minute information about your dog's activity, health, and location. The device is easy to use, and the information will appeal to anyone who enjoys data. The data that is tracked and visualized is really quite good and very fun and interesting to keep track of.
FitBark GPS is available on their website for $49.95.