100+ Football Inspired Dog Names: Ideas for Athletic & Tenacious Dogs

Football is one of those sports that has the magical ability to bring people together – whether you are cheering for the same team or have developed exciting rivalries among friends, the undeniable love for this game is shared by many. You could be a weekend warrior subbing in on exhibition games or holiday traditions, attend universities (as a player or a cheerer!) in hopes of taking your shot in the big leagues, have a hand in building a team and leading them to victory, or simply found your permanent position as a true and loyal spectator. Where ever you fall, football will always have a spot for you and is ready to recruit new supporters! Your pup is so exception! From the tiniest of two paw touchers, such as chihuahuas and pugs to the real hard hitters like Great Danes or mastiffs – no matter their size, a football name is a great way of representing your doggos tenacity, passion, and shared love for action! 
Read on for a comprehensive list of football dog names inspired by the many corners of the sport! We have ideas for female and male pups, a few inspired by the various leagues and lingo among many others! Surely you will find one here that you love and your dog will truly appreciate! 

Girl Football Dog Names
Bronte | Bronter Zeiher (Legends)
Abbey | Abbey Vestal (Semi-Professional)
Sami | Sami Grisafe (WFA Champ & Game MVP, 2 Time Olympic Gold Medalist) 
Quincy | Quincy Hewitt (Legends)
Stango | Jennifer Stango (First Female Coach in HS Football)
Paralee | Paralee Adams (Coach)
Miles | Malissa Miles (Legends)
Zelee | Whitney Zelee (WFA Record for Most Touchdowns in Single Game)
Duffy  | Carole Duffy (Hall of Fame)
Marjorie | Marjorie Herrera Lewis (University Coach)
Violet | Violet Bidwill Wolfner (Fist Woman to Own NFL Team)
Hodge | Rae Hodge  (Hall of Fame)
Fergy | MD Ferguson (Hall of Fame – Coach)
Chastity | Chastity Morales (Legends)
Sowers | Katie Sowers (Full Time NFL Coach)
Boy Football Dog Names 
Jerry Rice |

NFL

Reggie White

| NFL

Joe Montanan |

NFL 

Drew Brees

 |

NFL

 

Gronk | NFL
Tom Brady |

NFL

Dan Marino

|

NFL

 

Julio Jones |

NFL

 

Walter Peyton |

NFL

OJ Simpson

|

NFL

 

JJ Watt |

NFL

 

Peyton Manning |

NFL

 

Forrest Gregg |

NFL

 

Terry Bradshaw |

NFL

 

Dick Butkus |

NFL

Otto Graham |

NFL

 

DeAndre Hopkins |

NFL

 

Football League Dog Names
You might already be aware of the various leagues that have sprouted across the United States over the past century. Consider one of these unique names for your pet. 
Minor 

Amateur 

Mason Dixie 

NFL

Elite 

Uni 

Futbol 

League

Freedom 

Community 

Gridiron 

Rival 

Pro 

Fantasy

Legends 
Football Lingo Dog Names
From slang, proper terminology all the way to positions. We have a list of the most current and up to date football lingo that each double has adorably fun dog names. 
QB 

Bootleg 

Linebacker 

Safety 

Gunner

Huddle

Fumble 

Pigskin 

Yard

Jammer 

Tightend

Gridiron

End Zone 

Scrimmage

Tackle

Punt

Zone 

Juke 

Offside 

Spiral 

Punter 

Roster 

Blitz 

Kicker 

Pocket

Scramble 

Rush
Football Team Dog Names
Likely the most recognizable of the bunch, a name from this next list will be a definitive tip to anyone who meets your pup that you are a football fanatic.  
Charger

Falcon 

Steeler 

Giant

Buccaneer

Bengal

Raider 

Packer 

Bear

Viking

Bronco 

Chief

Jets

Titan

Saint

Niner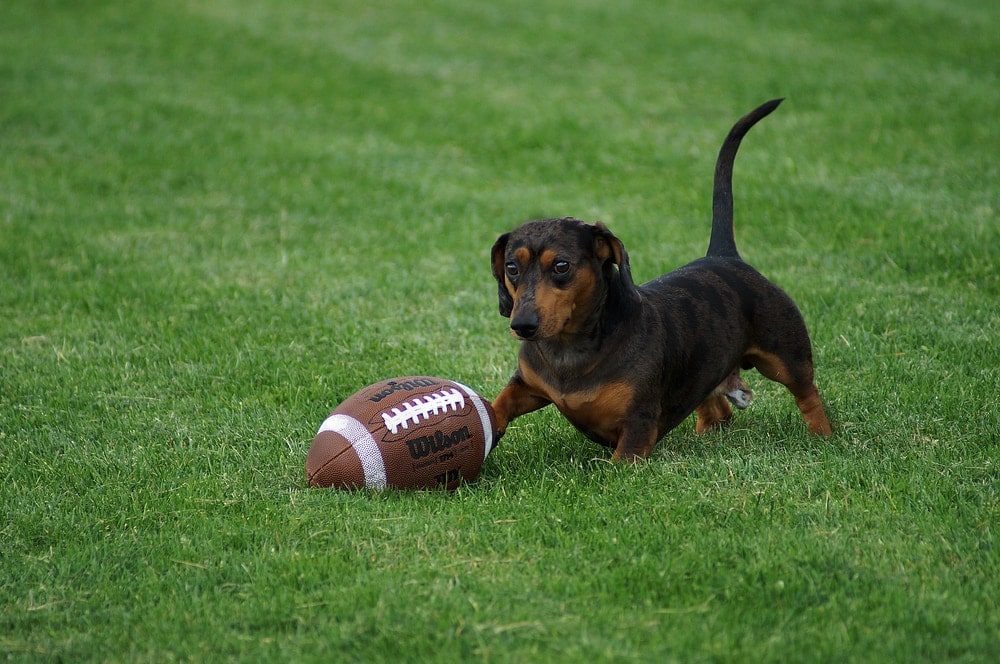 Football Award Dog Names
Naming your fur baby after a coveted football award might just be the perfect yet subtle idea if you are a big-time fan of the sport. 
MVP 

Grey Cup 

Rooney 

Comeback 

Rookie

Brunswick 

Coach 

Payton 

Super Bowl 

Whizzer 

Lombardi 

Bart 
Famous Football Players Dogs 
Many famous football players also share a deep love for dogs and have adopted some of their very own along the way. Learn more about these players' pups and the names they have chosen for their loyal companions.
Jaz | Brett Favre
Rommy | Eric Decker 
Hunter & Max | Matt Leinart
Boujee | JuJu Smith Schuster
Boomer | Scot Zolak
Cupcake & Pumpkin | Mitchell Schwarts 
Lua, Scooby & Fluffy | Tom Brady
Riggs, Jersey & Henley | Carson Wentz
Steel & Silver | Patrick Mahomes
Swagger | Cleveland Browns
Turf | Bobby Wagner
Rambo & Chauncey | Travis Kelce
da Don | The Packers Dachshund
Zoe | Solomon Thomas

Finding the Right Name for Your Dog
There you have it! A full list of everything football – each idea the fun tribute and an adorable name for your new dog. We hope that you have found a match! If you are unsure about the choices you have it narrowed down to – remember that your dog will love whatever you choose, so as long you enjoy it, they will too! 
Although we love all of these names for pups, they might not be for everyone. if you are looking for additional inspiration, try one of our other popular dog name lists linked below! 
---
Feature Image Credit: Daria Photostock, Shutterstock